Seanbaby likes explosives and binge drinking.
I'm private
My girl and I this year on Halloween.
I started the day at 4 am to finish up a script, spent several hours being hilarious, and then Eddie and I drove over to train
Amy
into an engine of Muay Thai destruction. This picture was taken before she kicked through the time barrier and we stopped Joseph Stalin's Futuresaurs in the Old West.
Later we went to the Greg Hastings Paintball video game release party, titular paintball celebrity pictured above. Greg Hastings is much better at Greg Hastings Paintball than I am at Seanbaby Tank Battle, or at least would be if someone was awesome enough to invent Seanbaby Tank Battle.
As per my agreement with my liver, I got tore up.
Despite the fact that I had keg stands for dinner, Eddie and I are apparently the best virtual paintball players in the media, and won $1000 in the Greg Hastings Paintball tournament. I asked them just to throw the prize directly on us so we could swim in it, but it turns out it's almost impossible to swim in ten bills. We also discovered the floor hadn't been mopped that well since Bryan's mouth and throat (holding tap 1 picture up) violently rejected several seconds of his keg stand all over the floor.
Justin and David, two members of the media who are not as good as Eddie and I at Greg Hastings Paintball. Suck on it.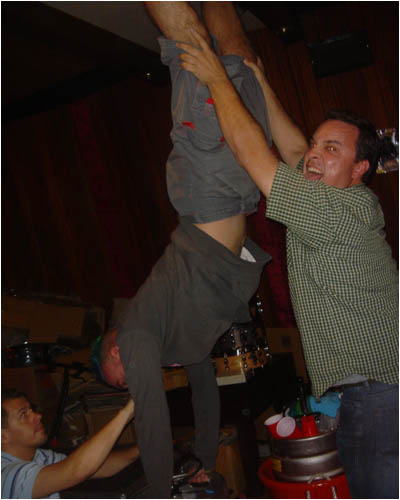 I did one for the road, since we were heading to the Hotel Roosevelt and I figured they'd make me drink out of a glass like some kind of fag.
We met up with Aeon, who, if she was our 14th president, would actually be named Franklin Pierce and be many years into a terrifying unlife, walking the Earth unkillable.
When we went to Fred 62's, Eddie and I remembered that we love Gabby.
Hal stopped by after a day of celebrity guesting at a porno convention. Don't be fooled by our clownery-- any one of us could kill you, and probably already has.
Hal brought a glass dildo that Gabby seemed to take to. Hal is a real sponge of knowledge, and brought this knowledge back from the convention: glass dildos aren't porous, so they don't spread disease. Which is great news for us, who after breakfast were planning on ramming it into many, many strangers without stopping to wipe it off then returning it to its swampy carrying bag to start again tomorrow. Thanks, physical properties of glass!
To see the rest of the last year or so of my life in pictures, you can go to my
giant, unedited photo album
that I really should spend several hundred hours organizing.
I ran into this totally cute chick in LA.
Viva Mexico! This is going to be a crazy ass few weeks. I'm heading down to Mexico City in a couple days to sign autographs at some convention, and the guys from EGM Mexico are taking me out for cock fights. I hope my bad Spanish conveyed that I want to watch evil chickens attack each other, not get up to gay antics.
Then I'm back here for three days to take my girl skydiving and finish up an article about her and her team of hot girl gamers. Then Sony is flying me down to New Orleans to cover an event. I haven't told them this yet, but all three magazines I pitched the article to can't fit the feature in. So Sony might be flying me down just to see how much of a dent my drinking can put in their credit card. No big deal. If the journalism thing falls through, I'll just be sure to be extra delightful when we're partying.
I land back here in SF for Halloween, for which I have no costume, then I have a meeting with a guy about starting my new career as an, I swear to God, Michael Jackson impersonator. It's a long story. Some event coordinator dude saw my silly ass doing karaoke at a wedding recently, and actually, I guess that's kind of the end of the story.
Two days later I fly down to LA to play Burgess Meredith to
luckybestwash
's Rocky, and shout derogatory inspiration at him until he's a deadly Jiu Jitsu beast for his tournament in Vegas. Then we go to Vegas and I watch him tear the arms off people.
I have a Portland trip planned four days after I land back here, but I have a feeling I'm going to need a week or so to sleep. Also,
Seanbaby.com
is up and moving again.
In Future News: 1000 Turkmenistanians Found Unexplainably Crushed in Large Puddle

In the country of Turkmenistan, President Niyazov has launched an unexpected project. Despite its hot weather and struggling economy, Niyazov has announced that his country will construct an ice palace large enough to house 1,000 people. Obviously, this is a challenging if not mad project likely to receive harsh criticism from the non-dumbass community. This, however, is unlikely to happen since as described by the CIA website, "President NIYAZOV retains absolute control over [Turkmenistan] and opposition is not tolerated." Whether this is accurate or not, the desert country's top ice architects say that they have all confidence in the success of the project, mouthing the words "Help us!" while helplessly gesturing at the inhibitor collars set to detonate should they fail to conquer the laws of thermodynamics.

During a TV broadcast, Niyazov told his people that when the ice palace is completed, "Our children can learn to ski! We can build cafes there, and restaurants!" Presumably, he then pressed a button on his chest console to drop an icicle cage around the production crew and told them, "I'm afraid your usefulness to me has ended, gentlemen. Freezoid Soldiers! Put them on ICE!" And with a sweep of his cape and his arms thrusting skyward, he laughed, "The gods themselves will fear our frosty might!!!" Reports that his Cryo Boots then rocketed him away on an ice glider could not be substantiated.

There is no word yet on Niyazov's plans after the ice palace is built, but there is a lot of buzz about the president's idea for a spaceship that turns sand into singing money, and his schematics for Milkbrella 78, the umbrella made out of milk.
When I was in Vegas, I saw a lounge duo where one guy would spontaneously start singing like easily impersonated celebrities no one has heard of in 30 years. Sometimes his partner would give us an excited warning:

"Uh oh. Oh no, ladies and gentlemen! It's... my god, it's WALTER BRENNAN!!!"

My favorite part was how no one thought it was funny but me. They even did the Terminator as, get this, Elvis! "I'm in love! I'm all ... PUMPED UP!" That was an advanced impression that involved sunglasses and a rubber flattop wig.


I got back from E3 just in time for the SG Prom, and my doctor has diagnosed me with 8 new strains of alcoholism.
E3 was pretty eventful - I led a photo scavenger hunt that'll be in the next issue of GMR that had 15 grown men and women searching through crowds for a picture of a nerd's exposed ass crack. On the way, I met Gallagher, Tom Green, Trishelle from the Real World, and Choda Boy from Orgazmo. I also filmed some promos of me dancing with the G4 panda mascot that I beat up last year.
At the Sony party, I ran into Torrie Wilson who seemed to be arguing with her husband Billy Kidman. They seemed happy when I interrupted them, and they grabbed me and Stacy Kiebler (and Stacy Kiebler's mom) and we got in a limo to go down to a club in Hollywood. Since they're ridiculously famous and hot beyond reason, the bar put us in the VIP room and threw liquor at us. I was making a cocktail when Torrie tapped me and asked me if I wanted to meet the Rock. I did.
A couple seconds later they saw Leo DiCaprio walking by in a trucker hat and went to giggle near him. The Rock, by the way, rules.
So although I hate LA, shit like that doesn't happen to me very often up in San Francisco. Or thousands of years into your primitive "Earth" future where I'm originally from.
There are pictures of the trip plus random scenes from the last two weeks of my life
here
and since I have to write 7 articles in the next 8 days, forgive me if they're not captioned with hilarity.
I thought I'd have trouble adjusting to being single and in San Francisco, but I was suprised to find that the city provides robots for me to kill on nearly every major street.
Work is getting out of control, though. Every time I walk through my magazine's corporate office, an editor screams out that they want a column from me. Apparently, no one in this city calls writers... they just wait until one wanders past their cubicle.
I have about 318 articles to write this week about the usual nonsense, but my weirdest gig is that I'm heading down to LA next weekend to film some sort of fighting video with a UFC friend of mine and some celebrity fighters at TV's Fear Factor's Joe Rogan's house. I'm assuming he's going to make us eat poisonous beetles out of a donkey's asshole from a moving circus train at some point during the shoot.
I should really be writing something hilarious with so many deadlines this week, but instead I posted about 60 new pictures on the
Seanbaby.com Photo Album
. There's a new page in the Suicide Girls, Costume, and Celebrities sections, and two pages of Miscellaneous ones.
They all had pretty standard captions, but in an effort to entertain anyone who clicks through, I spent an hour or two making them funnier. And since I hate throwing away work, I kept the original captions to use in future work. Look for my pieces, "Above: me and friends, drinking at a birthday party," and "Here are me and my cousin at the Grand Canyon," in an upcoming Maxim.
JANUARY 2006
1
2
3
4
5
6
7
8
9
10
11
12
13
14
15
16
17
18
19
20
21
22
23
24
25
26
27
28
29
30
31
DECEMBER 2005
1
2
3
4
5
6
7
8
9
10
11
12
13
14
15
16
17
18
19
20
21
22
23
24
25
26
27
28
29
30
31
NOVEMBER 2005
1
3
4
5
6
7
8
9
10
11
12
13
14
15
16
17
18
19
20
21
22
23
24
25
26
27
28
29
30
OCTOBER 2005
1
2
3
4
5
6
7
8
9
10
11
12
13
14
15
16
17
18
19
20
21
22
23
24
25
26
27
28
29
30
31