I'm private
**MUSIC RELATED BLOG-POST**
SoundCloud Page 11+ hours of music / radio shows!
It's been a good long while sine I have been on her and longer still, since I have posted anything of relevance. After a 5 years on the same job (which I still enjoy) I have still found a way to make room for my lifeblood. Drum and Bass. Since the first semi-broken turntable of my childhood until now, I have found time to play tunes and loudly. After moving from townhouse to condo and eventually a house, the guys over at BassDrive kept me on the radar for a show and offered me one, when I was in a place - both mentally and physically - where I could broadcast a show without having to deal with travel and the fear of being evicted because of the overt disturbance to a building full of people not wanting to be massaged by bass waves and 174 BPM breaks. Maximum respect to all the heads who used to support, showed love and those who continue to do so and especially to those new fans and listeners, every week, whether it be on the radio show or at the love events. Playing shows now, after doing it for over 15 years feels more like i am cultivating a harvest of musical knowledge rather than grasping at trends and hurling them, haphazardly, back at the listening audience. I can truly say that I feel a connection with an audience (on most occasions) when I am lost (found?) in the music. Not to use the aforementioned cliche lightly, but in humble honesty. It's not about the money or the name on a flyer, it's more about putting my whole metal state out there on an aural canvas, layers at a time. The landscape may change in the background but the imagery is always themed on funk, soul and some intangible compound composed of all those who influence me both near and far. As pretentious as that all may sound, it's probably the most honest way I can express my feeling toward the music as it flows through me just as freely as blood. I hope you take the time to visit the page and check out some live shows. Check out the
River City Rinse-Out 003 w/ iLL Omen
for a solid hour of flavor.
Cheers SG Fam!
I should have posted a blog this past Monday but after such a fun weekend, I was beat. I was able to catch a few college basketball games around Richmond and it was nice to be out and around people yelling so passionately about people they don't know very well and screaming at other people they hate simply because they are wearing the opposing teams colors. AWESOME!!!
I was able to see my nephew as well. He is a tough little guy. All he wants to do do is run around the woods and wrestle and try and outrun me. I wish we could harness the energy of an 8 year to run our vehicles.
I also had a wonderful visit from my very lovely friend, Kerrie, who lives in Cleveland. We had not seen each other in far too long so it was nice to catch up. We intended on running around the city, snapping photos of interesting places but all I managed to catch on film was a very "down and out" Brats Doll with no feet and need for a bath, with its head caved in and left for dead in the parking lot of Denny's. A sad but funny site indeed.
After a seemingly long year and plenty to bitch about I decided to just say that I have much to be thankful for and things to look forward to in the new year. My job is great and I have a car that is reliable and clothes on my back which is more than a great majority of people in the world have so i don't take those things lightly.
In the past month I was able to spend a considerable amount of time at my grandparents house just 1-1/2 hour northeast of where I live in the city. For the first time in a while, I was able to really harness a feeling of peace and tranquility while walking the many acres around the property. It really reminded me of the times my brother and I would hide from each other in rule-heavy, elaborate games of "hide-and-seek". Devising plans to assault the others make believe fortress that was really one of the dilapidated, outlying buildings around the property. We would ride our bikes along tractor paths through the woods all the way down to a rather large stream that would get damed-up by beavers every spring just to catch a glimpse of the rather destructive but entertaining critters. My brother, Shane, was not only my closest of blood but my best friend. We were only separated by 2 years but we grew up more like twins. After my mom and dad decided on a better life apart from one another, my brother and I became inseparable even through the vicious brotherly disagreements and rowdy slap-boxing sessions. His friends were mine and mine became his and the whole lot of us grew to epic proportions. Through avenues of mixed media, music, and art in it's many forms, we made life-long friends who can recall with incredible accuracy, the most ridiculous of happenstances. We got our hair cut at the same downtown barber shop every other weekend to escape the world around us for 2-3 hours while flipping through car magazines and boasting about which one to get as soon as you come into the money.
It has been 8 long years since he passed away in the month of October. I always feel nostalgic this time of year so that would explain this outpouring of thought. In the holidays past I always felt a little hollow and undone but this one felt different. It was replaced with smiles and thanks for the things my brother left behind for me to cherish. Photos are nice but I have complete movie reels of footage in my mind that are always "On-Demand" for my viewing purposes. He also presented the world with a very handsome son who, at times, stands before me as a pale simulacrum, reminding me of my brother with his mannerisms and quirks.
Thank you for taking the time to read this elongated thought - It ended up a bit longer than anticipated.
Happy New Year to you all & here are some pics of the farm and surrounding land along with a link to the rest.
Farm House Album
<--- YOU CAN CLICK THIS ONE TO SEE MORE
Thanks to everyone who attended the Kriss Kross Charity Event this past Saturday, October 11.
Big ups to ALL of the artists, sponsors and staff that made the night a success. Extra special thanks to the 4th Dimension guys who brought in almost all of the equipment and sound reinforcement for the front room. Another big thanks to Kristy from Nite Hype Photography and my sponsors at Outlook Skateboards along with Konversion for all of the great gonzo photography throughout the evening and driving over 100 miles to attend the show. It was nice to have my cousin, Jason come out to the show after taking a hiatus from the club scene for such a long time. Here are some of the great images from the event.
THE KRISS KROSS PARTY - Saturday Oct. 11 @ Element RVA
Come out and support some great local acts in the Richmond, VA area. DJ culture and killer live bands come together to smash it up on a Saturday night in dirty downtown Richmond. I myself will be joining the guys from Fourth Dimension and my best mate Will Miles for a first time, 6 man tag team on the wheels. Lots of transitions and flavor across the board. Don't miss this set and don't miss out on a ton of great acts combined with a stellar venue. There will be reinforced sound for this night as well. If i know you on here, come out and say "what's up" and if you are reading this and are in the central Virginia area and need something to do, hit the club early and stay late. Cheap, stiff drinks and a ton of ladies and gents to eyeball and fall into by 1:00 am.
THE KRISS KROSS PARTY
@ ELEMENT LOUNGE SAT. OCT.
11TH
PERFORMING LIVE IN THE FRONT D.J. ROOM:
4TH DIMENSION VS. ILL OMEN VS. WILL MILES
(special 6 man tag team drum and bass set)
SHUGADADDEE VS. HOTPOCK3TZ
(breaks & fidgit house tag team set)
JEREME ROMETTI VS. TAPEWORM
(special hip-hop tag team set between brothers)
--------------------------------------------------------
PERFORMING IN THE BACK ROOM LIVE IN CONCERT:
CULDERA-(progressive / alternative / rock)
these boys are the most talented and popular band in the state they are the 2005 Local X-posure winners and they have even played chili cook off. Their set of guitar and vocally drivin' originals and some of your favorite covers that are sure to keep your fist pumping.
SYNTHETIC NIGHTMARE-(goth/industrial/rock)
If you've never seen them dont miss them. These guys are one the most creative bands around with a stage show rivaled only by the gods in GWAR themselves.
Be afraid be very afraid
WITH HASTE-(progressive/alternative/punk)
A band from Stafford Va, that's hard and has a style that's untouchable like Elliot Ness
----------------------------------------------------------
PLUS RAFFLES ALL NIGHT FOR RICHMOND HOCKEY FIGHTS CANCER
with prizes from:
TRUE TATTOO
R.V.A.
TATTOO
ZUPPA
BISTRO 104
ELEMENT LOUNGE
OUTLOOK SKATEBOARDS
&
PLUS MORE
----------------------------------------------------------
DOORS OPEN 9:00 P.M.
18 AND UP
GUYS:
$10 AT THE DOOR
$5 WITH BACKWARDS CLOTHES
$5 WITH R.S.V.P.
LADIES:
$5 ALL NIGHT LONG
ELEMENT LOUNGE
119 N. 18TH ST.
(shockoe bottom across from tiki bob's)
RICHMOND VA.
23223
SUPPORT LOCAL MUSIC
I am not much on "blogging" (is that now a word?) but here goes.
i just had the experience of buying a new car from a dealership. I had my eye on a newer vehicle for quite some time and have been slaving and working toward the goal of getting it. My old car was on its last leg and i milked every ounce of money i eve sank into it. The old Honda had just over 210,000 miles and was asking to be set free after all of its faithful service. She was replaced buy a shiny 2005 Audi A4 Quattro. I had always purchased my cars with cash, outright, and never financed a damned thing except for my student loans. I did every ounce of research and made the sales person and manager work hard for some money. They had to sell me a car in this busted economy for 500.00 UNDER list value and it was in pristine condition with less than 40,000 miles. I could see the frustration in their faces but it was done and dammit i feel good. I know that it is just material possession but hey, i need reliable transportation to and from work since there is no real public system here and i am always driving myself to and from shows that i am either playing or supporting. With that slice of life behind me, i can now drive in safety and comfort with reasonable gas mileage no matter where i am going.
Pictures to follow!
ZOOM!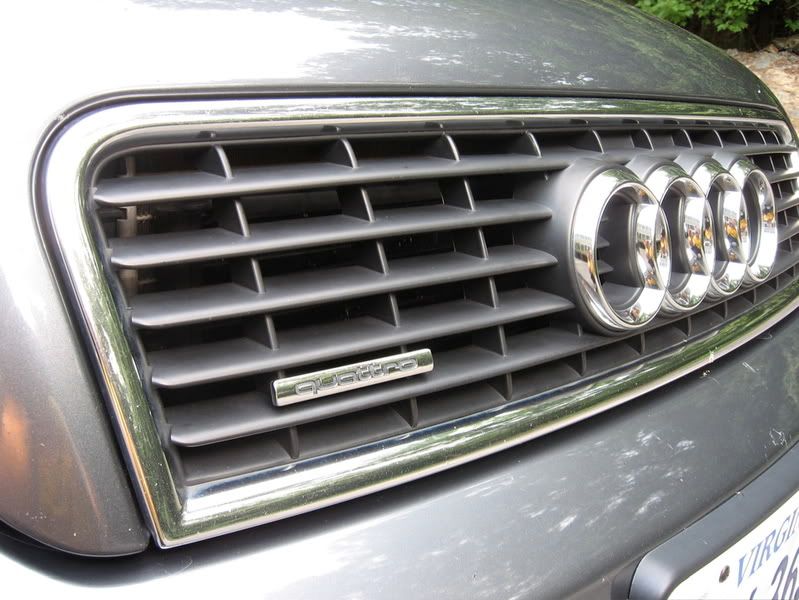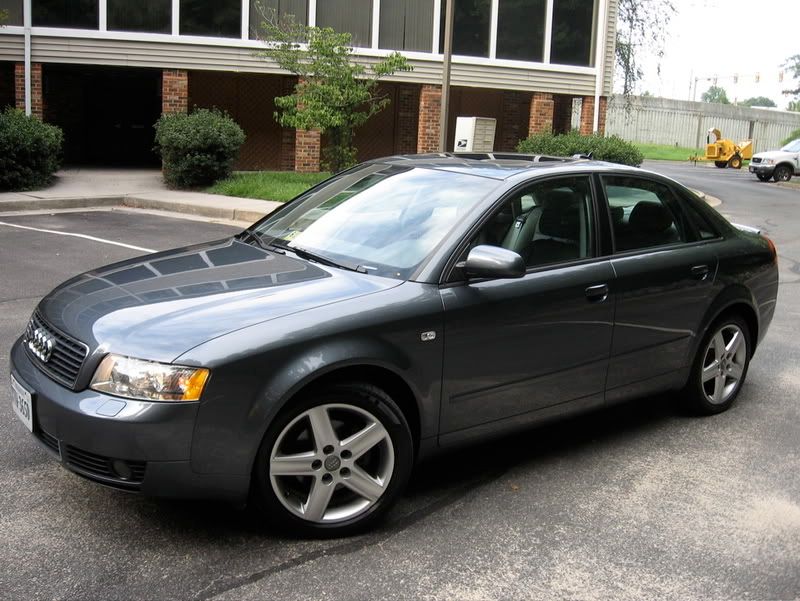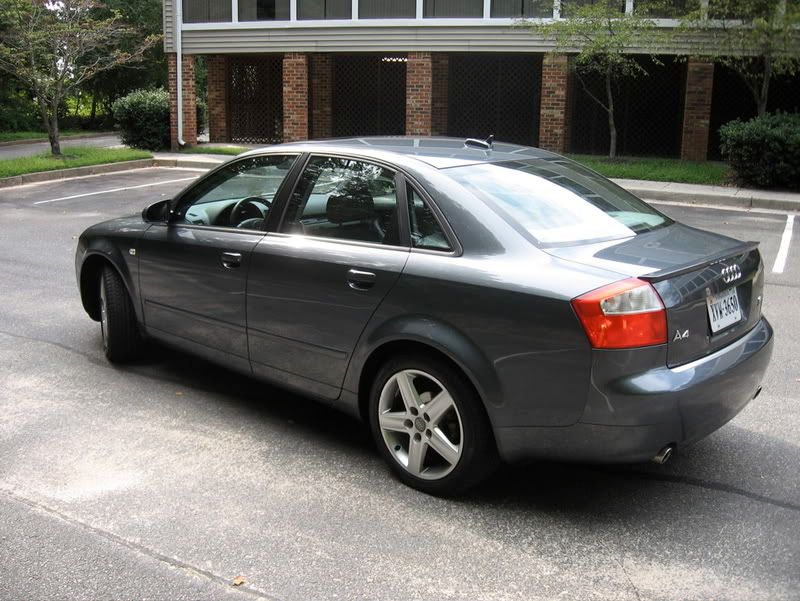 MAY 2013
1
2
3
4
6
7
8
9
10
11
12
13
14
15
16
17
18
19
20
21
22
23
24
25
26
27
28
29
30
31
APRIL 2013
1
2
3
4
5
6
7
8
9
10
11
12
13
14
15
16
17
18
19
20
21
22
23
24
25
26
27
28
29
30
MARCH 2013
1
2
3
4
5
6
7
8
9
10
11
12
13
14
15
16
17
18
19
20
21
22
23
24
25
26
27
28
29
30
31
FEBRUARY 2013
1
2
3
4
5
6
7
8
9
10
11
12
13
14
15
16
17
18
19
20
21
22
23
24
25
26
27
28