I'm private
I want to be a cat.
Cats don't get their periods.
I wish so bad right now that I was a cat.

I got a haircut. Now I have Nikki Sixx hair that I am still getting used to.


One of my friends somehow got me on the bar at coyote ugly this past friday.
The song that came on when I got up there was Tom Jones - It's not unusual.
yea.
So I did the carlton dance, because that is all you can do to that song!




Lots has been going on recently.
I have been trying to find a suitable job. It's kind of difficult. I am available only from 7pm on. Because the boyfriend works during the day and I have the baby.
I don't want to put her in daycare either. At least not until she can tell me if something bad has happened to her.
I am back to being little again. no more baby weight!
Maybe I'll finally shoot a set for SG and send that bitch in.
Boyfriend's band
IMtheDEVIL
got an article in a local paper.
hooray for them. Their cd is going to be out soon too. Can't wait for that!
I met someone that didn't believe in dinosaurs.
"it's a conspiracy" he said.
he also said that the skeletons were made from cow and buffalo bones.
pppffffffffffttttttttttt.
this friday I might be doing guest vocals for
IMtheDEVIL.
fuck yes.
one of the singers will be in jacksonville or some crap.
short update:
I am planning my wedding already.
I have bangs now and I liked them for a day and now.. hate them and wish I didn't do it. grrrrr
Worried about my tarantula, she hasn't really healed well and I just put some crickets in her tank to eat.. she won't go after them... in fact they are nipping at one of her legs that looks like it is boken/retarded.
She is sooo big now and I don't want her to die!
OH! my grandfather looks like Johnny Knoxville when he is made up like an old man for jackass 2.
I should post a picture. It's reeaaallly funny.
Have a good Easter everyone!
My spider molted recently and I don't want to throw the old body away. I am so fascinated by it.
The old body is on the left.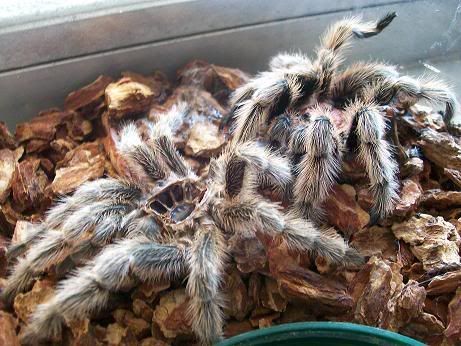 so awesome.
Love my spider.
she is going to have the weirdest toys.
love love the ugly dolls.
i need to learn to sleep when she does.
I reallllllly wish this baby weight would just fall off.
Went to NJ for a weekend. Wished I stayed longer. I wanted to explore the neat cemeteries there. South Florida's cemeteries are so boring.
I have been away forever! I just gave birth to a beautiful baby girl on the 7th! Her name is Makenzie Bela.
Cutest ever, right?
There's a new kitten running around my house. I am supposed to be caring for him until a friend can take him when she moves into a new apartment. He needs a name. He is an orange tabby. so if any of you think of something let me know!
I have to go make copies of shit to send to SG. As well as my set. (let's hope it gets accepted!)
I am so lazy. And I need to find a new job.
SUUUCCKKKSSS
I swear, is there anything worse than job hunting?
R.U.E.
has a new single out titled 41st Floor.
Check it out if you have time..
Ahhh! I can't have a break!
Photoshoots, barbeques, fireworks, cleaning, cats, paperwork, laundry, shopping etc etc etc!
And I still have lots to do.



I really want to go to a waterpark. I don't even remember the last time I went swimming,