I'm private
I'm terrible at keeping up with my blogs... image heavy post ahead though
i've been doing fun stuff, like getting ready for college, buying books, and watching 'Dead Like Me' and 'Carnivale'... and cleaning out my phone.
oh, and dyeing my hair back to a decent shade of un-naturalness
Only issue now is I used some old Raw blue dye i had laying around, and its the hardest thing i've ever tried to get off my skin. It won't budge : / Ideas? I've tried hairspray, and dishsoap, and conditioner, and nail polish remover.... all to limited success. Ughhhh.


Running around the house half naked...because i can



And playing Spore, and making cookies when i get tired of that



And setting up pools in my living-room, because it's so ungodly hot in this city..oh, and being narcissistic



And going to weddings, where i was forced to catch the bouquet, even though i didn't really want it... maybe pics from that when the bride posts them, im sure they're god awful, and charming oh, and kayaking




All in all, busy month, i've been running home every weekend it seems like for bbq's, and to get info for college, and all sorts of stuff. like my tattoo, that i didn't actually get, because the guy that was supposed to do it moved shop without telling his appointments for the week. nice, right? but i did find a new coffee shop while en route there, so it's alright. i'll go through a lot of hassle for good coffee.

PS: edited to fix picture sizes, and then effed that up royally. sorry guys!
Alas, no pictures today. I'm currently without a camera again
Hopefully, i'll have the money for that soon.
We do have updates though
Uno: Working at K-mart sucks balls. but it has it's funny moments. A couple came through my line the other day with a length of rope, and pushup bra, The chick was cracking up and I wouldn't have been able to keep a straight face even if i had a gun to my head. i was trying really hard to be some kind of nonchalant while i was talking to them.... wasn't worth my effort. We all knew what was up.
Dos: I'm quitting that goddamn place before i actually go all Office Space. Hopefully my last day will be the 26th. I've still gotta write my letter of resig...shit. I should have sent that to my boyfriend to print at work today. Anyway, That letter's not getting dropped off til i go back in on friday, so they're getting 6 days notice, whatever. I was only there for 2 months anyway. Same line of thought, I wrote a kick ass resume today, and i'll be dropping it off around Albany tomorrow
And hopefully securing a job up here in the near future
Tres: I'm moving the day after i quit Kmart. Hooray! No more getting razzed about loud sex, or having people bust in on me looking for weed or cigarettes at 7am anymore.
Quatro: I quit smoking cigarettes last Friday. So far, it bites. I haven't gained any weight though, which i figured i would, so i'm kind of happy... but still pretty fucking miserable. I could be laying outside on the porch, smoking and reading a book right now and be 100% relaxed. i keep seeing tons of old ladies with oxygen tanks though, that's goddamn scary. I bet none of them thought they'd be wrinkly and hauling around a tank 30 years ago.
Anyway, here's what i'm listening to today
Shiny Toy Guns
Yayyyyyy, I went swimsuit shopping yesterday
It's been over a month :0 Holy crap. Updates:
-I'm dating my friend Wyatt. He's amazing, totally accepting, adorable, funny, kind, the sweetest man on planet Earth, and my family loves him. Previous boyfriends have never made such a good impression. Last time he came down to see me we went to my great grandmother's birthday party, and he pretty much met the whole famn-damily. And he did considerably well considering everyone wanted to know who the hell he was. lol.
-The roller derby show I talked about last blog was badass. Small-ish towns around me are trying to come up with their own leagues, and i'm def checking it out once I have some spare time.
-Because of the above (new boyfriend): i'm in Albany a lot. I spent all of last week up there with him, and it was pretty goddamn great. We went to the state museum, hung out, held hands and just did corny shit all day. He also bought a 'new' old school nintendo, and he's been teaching about all the games i missed out on as a kid.
- I found a badass coffee shop up there, and I'm pretty much in love with the whole downtown area. It's probably moving things a little quickly, but i've been thinking about college again, and when I brought it up he suggested I try seeing if i could get accepted into one of the schools up there, and then live with him this Fall.... I really hadn't thought college was going to pan out for me, but the more I think about it, the more i'm realizing I want some kind of degree, and the expierience that comes with it. i don't plan on working min. wage jobs forever.
-Next! I filled out and handed in about 12 applications in the last two weeks. I got my taxes back, and was slammed with knowing I owed $1100 because of the way the pizza place I worked for filed. Fuck them. I worked my ass off for 8 months, and still got screwed. Fuck them. My moms graciously helpng me out with payments until I get enough cash to start paying on my own.
-I now work at Kmart because of my frantic job search. First day was today, and I spent 6 hours watching goddamn safety videos, and then walked through a handbook, which told me the exact same shit. They're giving me part time only.... so i'm still on the look out for soemthing better, or another part timer. SIDENOTE: I don't have to be back until Monday, but my manager didn't really tell me what to wear my first 'official' day on the job. suggestions? -shrugs- I'll probably have to call her.
-really thinking about trying to get a hopeful set shot soon. Soooo, i'm on the hunt for a photographer. If anyone knows someone in the Upstate, Binghamton NY area... gimmie a shout.
Anddd here's what you all give a damn about anyway:
I'm in such a pickle. My roots are really growing in, and ideally, i'd like to bleach them and re apply my purple... but my hair is so effing fried right now. I'm scared to put bleach anywhere near it. I let my sister curl it the other day, I slept on it, and then tried to wash it the next morning. Holy shit. It seriously wrecked my already damaged hair. Everything feels thin, and frizzy right now, even after conditioning like crazy. I'm seriously considering dying it brown this afternoon so that I can really pile on the hair masks and deep conditioners/ oil treatments without fear of washing out my color. I love my purple hair, but I'm started to worry it's all just going to break off or fall out. That's the other thing, I was joking with people last week about just chopping all of my hair off, and now i'm seriously considering it. I'm more than a little afraid it won't suit me, or look really dyke-ish... Not that there's anything wrong with that, but it's def not my style. Opinions? Seriously, i'm at the end of my rope here.
In other news, I'm officially unpacked and living at my mom's house. It's weird, and comforting at the same time. I'm not really spending a whole lot of my nights here so far though
When I do it kind of sinks in just a little bit more that i'm not just on vacation. I moved, and i'm going to be sleeping alone on the regular for quite awhile. My friend Wyatt's been really great though. We dated briefly a couple of years ago, but I started dating Josh (a good friend of his) and he moved a couple hours away, so i haven't seen a whole lot of him until this last week. He drove down and drank with me from 10pm to 5am last weekend. It was awesome. I haven't seriously sat down and just talked to someone like that in so long. The after talk cuddling was great too. Sometimes that's really all you need. We actually ended up spending almost all of 3 days together holed up at one of our houses watching movies and making out. It was just really nice seeing someone else, and just feeling appreciated. OH! And he's taking me to a Roller Derby Championship match on the 19th! I'm so effing pumped. The only wrench, so to say, is that i'm trying really hard to to influence or wreck the friendship that he and my ex have .... IDK. It's not like we're dating, Wyatt fully understand that I won't be ready for any kind of dating until at least 6 months from now. It still feels weird though sometimes.
That was the other thing, the bastard's been IM'ing me every couple of days, which is usually fine. We both keep it short, friendly, and pretty safe. Last night he was feeling bad for himself i guess. He tried telling me that he finally understood that he was really 'all alone', and I had all I could do not to tell him to fuck off. It's really sad when you fuck up your life, huh? -rolls eyes- I don't know how much sympathy he thought he had built up, but right after that he tried pulling a 'so whatcha wearing tonight'? I basically laughed, and told him it was too late for that shit. I'm not even tempted to play silly little mind games with him anymore. I dont' want to flirt, at all. For the first time, I don't want him back, and it feels awesome. It's like this giant weight's been lifted off of me. I don't have to worry about his fucking ex girlfriends, or whether or not he's going to leave me, or his divorce, or any of that shit. I'm done
Anyway, to sum this all up, I'm past the drama of moving, and re starting my life.... And I feel like i'm in a pretty good place right now. I'm smoking a ton of weed, and restocking my music collection with non-sappy songs. I've deleted all the messages and pictures he's sent me, and i'm meeting other people. Go me!
Well, shit hit the fan. Apperantly after 3 years, he doesn't love me anymore. Officially single, and trying to keep my game face on while I pack up all my things, and go through everything we bought together... My God, this sucks. If i'm not very active on here for a little while, thats whats up.
Hope everyones having a better day.
I've decded I'm making a new goal for myself. In highschool I was always the chick that could make everyone laugh, and didn't give a shit, about anything. I had a great time, and so did everyone around me. It seems like since i've moved away from home, I got into a new city, and a GIANT rut in my personality. And i'm tired of it I used to be a ton of fun to go out with....not so much in the last 6 months. There's no reason for it. So, i'm taking a step back, and just being myself again, and say 'fuck everyone' that doesn't like it.
Josh and I went out to one of his friends houses in Winchester for a party last night. Supposedly it was going to be a bunch of peple, none of which we knew.... except for the host. Ok, cool. I'm good with new people, whatever. Haha, upon getting there though I realize I have walked into a classic sausage fest. 6 nerdy guys huddled around a guitar, and a laptop looking up video game trailers. Yep, sounds just like the kind of party Josh would take me to. Haha. Don't worry, no big, I don't mind being the only female. Actually, I do. The first 1/2 hour was spent huddled around that laptop while I started drinking my ass off, and then was soon roped into a game of Kings. I'd never played before, and somehow ended up downing a shit ton more that I had expected. I just pick terrible cards, no matter what game i'm playing. Haha By the time we were 1/2 through the game, more poeple did actually show up, someone of them even with cupcakes
Very cool.
After a little mingling, I even found a bathroom buddy. Or, more she found me. It seems the other thing I commonly do at parties is get tagged as the 'lesbian' without even trying. Seriously, the last couple times i've gone out i've ended up with a drunk girlfriend. Haha, but i'm totally cool with it, and so is the boyfriend. last night went a little further than usual though. And it was a blast. At one point we had our legit party photographer, and maybe 4 other guys egging us on while we teased them in the kitchen. It was awesome. Next time there's a party, we're definitely finding each other. haha. And i'm pretty pumped to see the pictures, so somebody had better send them to me ASAP. Unfortunately my 'girlfriends' boyfriend started getting jealous, and pulled her away
Which was seriously not fair.
After everything started to wind down Josh and I said our goodbyes and skipped out. We were out of beer, and down to watching someone to 'magic tricks' which I won't lie, is cool as shit for about 5 minutes. But after that... I'm gonna find something better to do. So, we took our drunk asses to 7/11, picked up some beef jerky and screwed around for awhile. It was in there that I realized i'd had on my 'don't give a shit face' all night, and people really responded to it. I didn't worry about being proper, or restrained, I was just real. I was honest to God friendly, and upbeat... I'm definitely making more of an effort to keep that up. Oh, semi-not cool news, I emailed the tattoo shop in town that I want to apprentice at, and they shot me an email back saying they were on vacation, but would be getting back to me next week. So, at least they got back to me. Until then, I'm still looking for a job that doesn't require waitressing and doing pilates like a madman. Haha, that's one of the exercise routines i've always scoffed at, but that shit really works you. And, I guess that's my update for the weekend.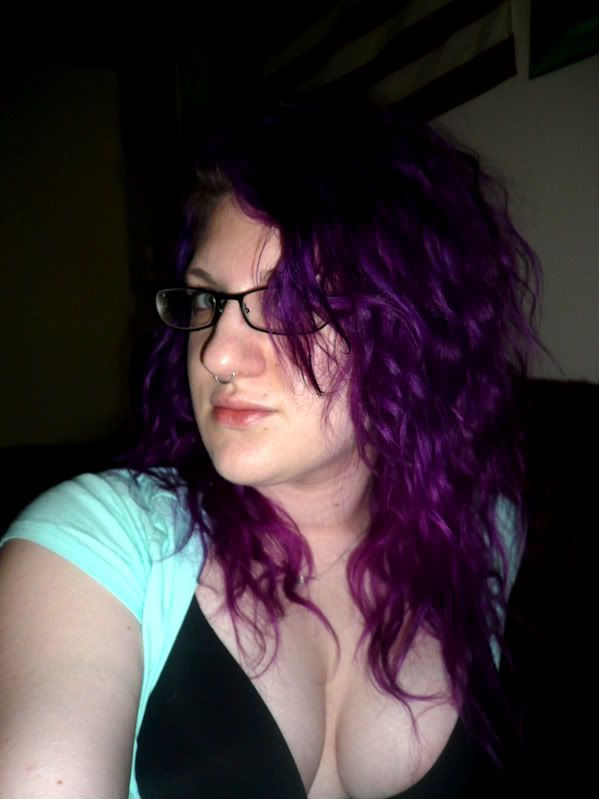 It's been about a month since my last blog... Thing's haven been a little crazy lately. My boyfriend Josh decided to tell me around the end of january didn't know if he wanted to be in a relationship anymore. Ha... The man has great timing. Not only had we just signed a new lease on our apartment, but my friend Amanda was living with us while she was between places herself. Awesome. To make things a little less awkward, I acted like everything was normal, because, for the love of God, what was I supposed to do? Pout all day? Not likely. Because I handled it that way, Josh decided that that was how we were going to deal with it. Mostly I was acting noncholant about it because I didn't want Amanda to feel like she was caught in the middle of something... If she hadn't been around, I probably would have picked a couple fights that night/week.
But since I didn't know what to do, and neither did Josh, I decided to head up to NY for a couple weeks. Was it fun? No, not really, not the first week anyway. I was up there to give him time to get his shit together. My whole family was trying to guess what i'd really come up for, 'visiting' isn't a good enough excuse apperantly. but by the end of it i'd come out of my slump, I wasn't trying to talk to Josh, and I was just enjoying being around my mom, and my friends from highschool. Sometimes I really do miss being there, but the longer you stay the more you realize what a dead end that town can be... There aren't any jobs, the weathers shit, and so are the boyfriend options.. I don't know. My mom was really pushing to get me to stay if things went badly when i came back to VA.. Apperantly she could take my dad back to court, and he'd have to pay for my medical insurance, and my college if I decided I wanted to go.. God. I basically gave up on college when I moved away from home, I knew that even with grants, and loans, I probably wouldn't be able to afford everything on my own... rent, books, clothes, food, gas? Fuck. lol. My mom doesn't make enough to help me out at all. It's scary being completely on your own.
While I was up there I ad a lot of time to think about how committed i really am to staying with Josh, versus my alternative of going back to NY, and getting a 'free ride' basically until i'm 21. I love the man, but he's not making things easy on me. Since I've gotten back to VA, I've tried bringing up the topic of where he got while I was gone... ANd he keeps saying it's not the time to talk about it. He needs to find a good time soon, because in all honesty, I'm not going to let him keep me hanging on a thread forever. I'm torn between trying to find a job , and wondering if it's worth it because if we split i'll have to quit it. I don't know if I should bother setting p roots here... Anyway, that's where i've been.
We've got new color! Hooray!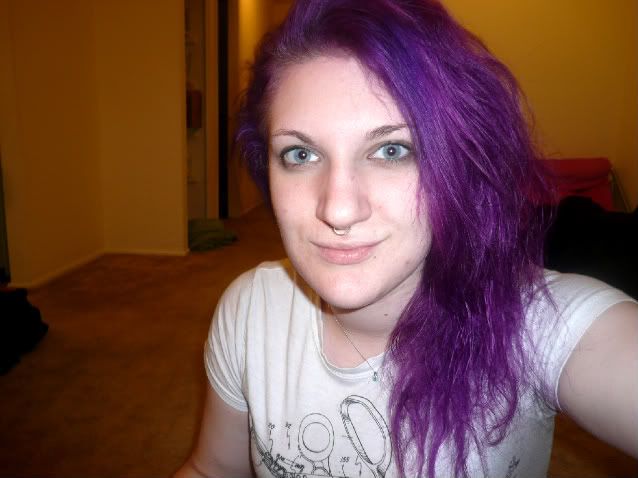 You can all just ignore the washed off makeup and lack of hotness... lol. My hair was fading fast down to a weird pink color, so this is a vast improvement. Chris also gave me an awesome conditioning treatment.... <3
My neighbor Chris and I went shopping today. This mostly consisted of him picking out outfits for me, both of us strutting around in heels in Saks, and general 'fuckery' as he calls it. Haha, he's so much fun to hang out with. After that we came back, and started dying my hair. I can't believe how much it costs to get it done professionally. He mentioned as he was slathering my head in Manic Panic that he charges $100 for it normally... How does anyone afford to get that done every month? Seriously. I'm not knocking the price, I mean, I know hairdressers have to eat too, but that's a lot of cash for something that needs monthly attention
.
The rest of my week hasn't really been all of that exciting. There's been some boyfriend drama... Or lack thereof. I don't know really, sometimes we just don't click for a few days, and then it's gone as soon as it started. As of tonight, I think we're back where we oughta be... It's hard to tell. I'm not sure if I noticed it more this week because we're not really alone in the apartment by ourselves much, or what. Maybe we usually talk about it before things get too strained. He's been working later hours lately, and I know he's tired and stressed out. We did go and watch Season of the Witch a few nights ago
Nicholas Cage movies are always either a serious hit or miss in my humble opinion. This one.... i'm not really sure where to put it. I didn't hate it by any means, but, I'm not sure I liked the plot. And they totally gave away all of the best scenes in the preview...I do hate that. Oh, and Hellboy was in it, like, in human form :p So weird. Josh and I spent the first 5 minutes musing over who the hell he was before we figured it out. Sometimes i'm worried that we're 'those people'. Those totally rude, inconsiderate assholes that talk about the movie the whole time it's playing. -shrugs- We're probably not obnoxious, but sometimes i'm paranoid. It's not like we're whipping out our cellphones, or our video camera... haha. or, oh Lord, the worst one I think, we were in a movie theatre back in NY and these two college age kids come in and sit down in the row behind us and crack open not one or two, but like fucking 12 beers while spilling them everywhere and kicking cans... really? I'm all for getting tipsy, and going to a movie, but you can rent it and do that shit at home lol. Props to her though for fitting all of that in a relatively small purse.
Oh, other thing. I've been fillling out job apps like a madman the last couple of days. More so to make myself feel less like a bum than anything else. I mean, I want a job, but I want a fun job... I don't seriously need a job right now to pay bills or anything, but it would be nice to have spare cash for stuff. I got a call back from Petsmart this morning... And the more I think about it, the less I think i'm actually going to go to the interview in the AM. I mean, they have a 'no visible tattoo, no guaged ears, no facial piercings, no funny colored hair' rule. My chances of actually gettting hired are pretty slim considering I have all of the above. -shrugs- I'm putting in an application to the Gamestop around the corner tomorrow...hopefully that'll pan out. I mean, ideally, i'd love to ask the tattoo shop nearby if they're taking apprentices, but i don't have the cash if they want me to pay for it. I don't have a portfolio either, but I don't really know if you need one of those to take a crack at being a piercer. Which would be really, really, awesome. It would seriously be a dream job.
And that's about all I've got for tonight. Hope everyone's having a great week
Super cool news! Skip got tickets for Emilie Autumn last night! Yayyyyyyyyyyyy! Oh my God, i'm so excited. It's in early Febuary, and I can't wait. I'm so, so, so, pumped about this! Haha, it's going to be awesome. Sometimes I think I might have the best boyfriend in the whole world, flowers, and badass show tickets!? Fuck yes!
In other news, I'm feeling pretty cute today
Unfortunately, I'm not going anywhere. Sooooo, i'll just have to settle for being way too dressed up for doing laundry and mundane house chores. Crap news, Skip and Amanda are both working really late tonight, so i'm going to be bored and lonely for awhile.
Cool news for real: New people moved in across the hall from our apartment. They're young, which is nice, and, flamboyant, completely fabulous, gay men. Thank you sweet baby Jesus, I have awesome neighbors. Haha, my friend Manda and I went out last night for a cigarette and stumbled upon Neighbor #1 skating around the frozen parkinglot in his Uggs
He's the most adorable, pierced and hair colored little man I have ever met. We talked for like 2 minutes before he dragged us inside to see his new apartment, and all the work he and his boyfriend have been putting in.... new floors, new countertops, new stove, new paint.... These guys are going all out lol. They're really great people, and I'm so glad that I met them. Oh, and they have the cutessssssst puppy in the entire world. I officially like living in this building now that I have someone fun to run into.
SEPTEMBER 2011
1
2
3
4
5
6
7
8
9
10
11
12
13
14
15
16
17
18
19
20
21
22
23
24
25
26
27
28
29
30
AUGUST 2011
1
2
3
4
5
6
7
8
10
11
12
13
14
15
16
17
18
19
20
21
22
23
24
25
26
27
28
29
30
31
JULY 2011
1
2
3
4
5
6
7
8
9
10
11
12
13
14
15
16
17
18
19
20
21
22
23
24
25
26
27
28
29
30
31
JUNE 2011
1
2
3
4
5
6
7
8
9
10
11
12
13
14
15
16
17
18
19
20
21
22
23
24
25
26
27
28
29
30