djprolly is living for a dream, loving for a moment.
I'm private
Enough searching to know
that we've lost ourselves
in our slot machines, shotguns, and strip malls
baby your technology
so slick and functional
and me without my nuclear arsenal
And if I could kill without guilt or sin
there would soon be a few less record executives
and if I could kill and receive forgiveness
there would sure as hell be one less president

there's got to be a pill for forgiveness
there's got to be a trigger for happiness
Automatic sensory remote control
weather satellites manipulate your soul
efficiently without a modicum of grace
I want to go out with a smile on my face
Its all happening. Change is more than just coins to me. Its a new year at the end of august. Tour, recording, and a new view for relaxing. I'm still unpacking, i'm still looking for forgotten items. What I have I'm greatful of even if it burns and turns to ash. It's all over this state, and this city, and christmas is about to be extra green this year.

At first glance, people would say im lucky. "Oh that guy lucked out, what a real slackass." Or something fucking retarded like that. With no desire to see my resume, I will be pigeonholed as that overnight success story. To friends and family, they see almost 25 years of schooling while working multiple jobs in the latter decade. All while persuing my dream. Making sacrifice, after sacrifice. Almost dying in a blizzard van crash. Getting jumped in baltimore and getting left in Vegas.

So all I want to say is "thank you" to everyone that was with me and believed in what I've persued in my life. Everyone else that doubted me, well "thank you" as well because you all made me have the persistance to continue the struggle. This will never happen to me? Well it just did and i owe it all to you.

Theres a deeper meaning to every story. So before you figure that you know what somone is all about.......
Think about what people don't know about you and realize that you're not the only one.
I bet the only people enjoying this day more than me are the people who own stock in little debbie.
Happy 420 everyone. Make cypress hill proud.
lots of things going on. going on tour for a couple weeks fom may 22nd to june 6th. we're golng from north to south and back up. this weekend we have a big show with taproot and then I have to be right back home to throw this big party. may is going to be a hectic month but i'm looking forward to it. I'm ready to get the fuck out of here and tour non stop. I hear how people leave tours and get homesick, blah blah blah. I get roadsick all the time and I need to leave. Thank god the winter is gone and the sun is shining over this gloomy city!!!

On an even better note....my band is going to be part of the Mayhem Fest this year!!! I am super stoked for this shit!!! I never thought I would get the chance to play on a tour with Marilyn Manson, Slayer, and Cannibal Corpse......ever!!! And now its happening thanks to jagermeister!!! But first we're goin on this southern trek thats going to be a blast. Here's how its shaped up so far:

May 22 2009 Louisville, Kentucky
May 23 2009 Cincinatti, Ohio
May 24 2009 Fayettville, North Carolina
May 25 2009 Easley, South Carolina
May 26 2009 Richmond, Virginia
May 27 2009 Spartanburg, South Carolina
May 28 2009 Murfreesboro, North Carolina
May 29 2009 Marieta, Georgia
May 30 2009 Millbrook, Alabama
May 31 2009 St. Petersburg, Florida
Jun 2 2009 South Beach, Florida
Jun 3 2009 Doral, Florida
Jun 4 2009 Gainesville, Florida
Jun 5 2009 Mckee, Kentucky
Jun 6 2009 Marion, Ohio

PARTY PARTY PARTY PARTY PARTY PARTY PARTY PARTY PARTY PARTY PARTY PARTY PARTY
Today, a very inebriated bum asked me where I got my hair. Just to clarify things......I don't have a weave, I don't have those fake jamaican dreads you get at the mall. Just long hair. For a second I was almost as puzzled as he was. I didn't want to start a conversation that only one of us would understand so I paused for a second and told him..... "I got it at the salvation army". He believed me and asked me where I got my tattoos and shoes. I figured that I might as well be honest with him at this point since those were respectable questions. He asked for money and that was the end of things.
Sometimes people don't get my sarcasm, but almost everyone gets a joke. This guy didn't. I felt bad for him. He wanted someone to talk to even though he couldn't comprehend the simplist things. It's hard for me to comprehend how people can let themselves get that way. He couldn't possibly be having any fun. Ever. It kinda put me in check on how lucky I am to have bad luck. To have things go wrong. To be pissed off when something isn't working the way it's supposed to. I'm lucky to have those things, and extremely greatful for everything that is right.
Thanks for the reality check Mr. Crazy Face Bum Man......and I hope you didn't go to the Salvation Army searching for these luscious locks of hair
So I learned one very important thing:
You don't have to walk in someone elses shoes to have them ask you about where you got yours.
Hollywood here we come!!!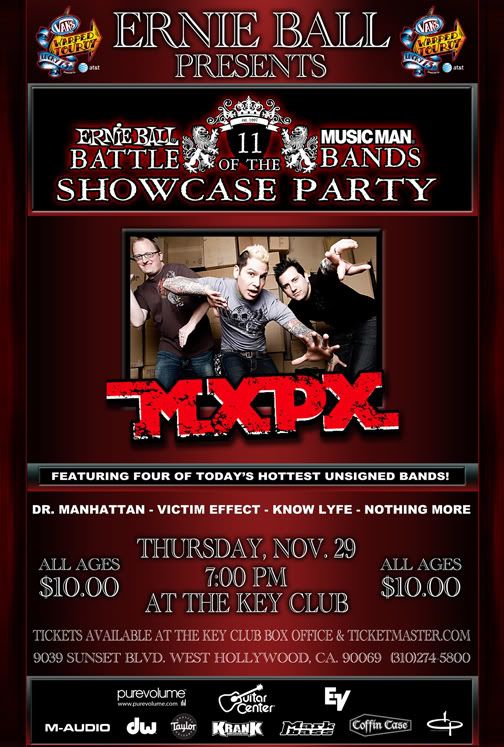 Not only are we getting flown out to the Key Club in Hollywood, but we also get over $20,000 worth of music equipment from all of the sponsors of this awesome event!!!
I remember seeing MXPX videos on Alternative nation and 120 minutes back in the day. When I only had a shitty little peavey guitar, living in a snow filled trap in western michigan. Playing power chords and metallica riffs in my room hoping one day that I would have a band that would even be considered for something like this........and now we won!!!
It's been one hell of a ride so far and I'm in anticipation of what lies ahead in the next few weeks. A lot of this hasn't fully sunken in with me yet. I'm sure it will when we get to Cali and when we start getting all the equipment. wow! It's such a great feeling when you're rewarded for doing something you love by people that love what you're doing. I wouldn't give it up for the world.
So, If anyone is going to be in Hollywood on the 28th or 29th, let me know!!!!
i left toronto without buying this.....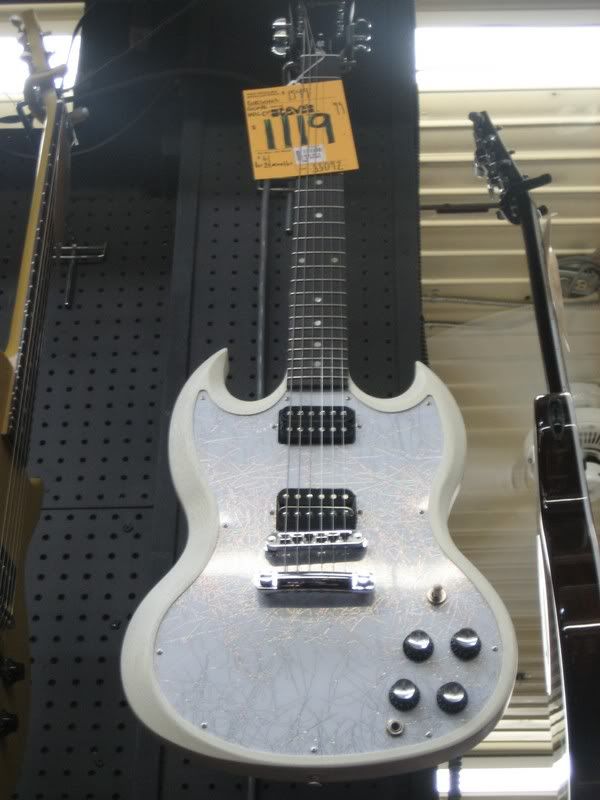 what is wrong with me?!?!?! it's perfect!!!!
This summer has been chocked full of shows, work, shows, shows, work, and waking up every morning swearing off drinking. ha! It's been pretty hectic so far, but I have this weekend off!!! I'm about to relax and do absolutely nothing, except listen to 80's music and drink margaritas!!!
3 more weeks until Detroit Warped Tour. Keep it real.
I had a very hectic week last week. A lot of shit went wrong, and it seemed like the only things that went right was fixing the things that went wrong. The temperature was a lot colder and my mood was a lot gloomer. It seems like the weathers getting better now and my mood IS definately better. Even though I'm getting sick of work and i'm getting really sick of every local band sounding the fucking same. There's no originality in music anymore, and there are so many rip off bands that the artists that actually take things serious and have creative experience, don't get half a chance. I know it's not that big of a deal to a lot of people, but I have to deal with it at least 10 days out of the month. So this is why I stay in the van with my best friend Mr. Captain Morgan and RC Cola. With this off my chest......
..........i'm off


-j.
DETROIT FUCKING MICHIGAN!!!!
Doing it large in march.
Tickets can be bought
here.
We'll be hitting the stage around 7 PM so get there early!!!
It's been a while since I've updated and things are only getting crazier. The snow here in Michigan is only a constant reminder of our van accident last year around this time. Anytime the van slides the slightest bit, I get a little freaked. On the better side of things, Jagermeister has been a huge help to us. They not only get us pretty wasted on many occasions, but also have put us on some very awesome shows, allowing us to meet some very awesome people.
We're doing a few shows with Silent Civilian this week and in a couple months we have a GIANT show at the State Theatre in Detroit. Ever since I first picked up a guitar 13 years ago I've always wanted to play at the State. This will definately be a high point for me in the month of march. The list of goals I've had for many years are quickly getting checked off and it makes me feel real pretty damn good.
Photo shoots, hangovers, and rock n roll will be the story of my week.
MAY 2011
1
2
3
4
5
6
7
8
9
10
11
12
13
14
15
16
17
18
19
20
22
23
24
25
26
27
28
29
30
31
APRIL 2011
1
2
3
4
5
6
7
8
9
10
11
12
13
14
15
16
17
18
19
20
21
22
23
24
25
26
27
28
29
30
MARCH 2011
1
2
3
4
5
6
7
8
9
10
11
12
13
14
15
16
17
18
19
20
21
22
23
24
25
26
27
28
29
30
31
FEBRUARY 2011
1
2
3
4
5
6
7
8
9
10
11
12
13
14
15
16
17
18
19
20
21
22
23
24
25
26
27
28