Squeak [insert world domination monologue here]
I'm private
Just performed several routines in the Awakenings Dance Recital last night!
I had two hip-hop dance numbers, a pole routine, and an aerial sling duet...all in the span of about an hour or so.
It was not easy but I did it.
Okay, so now that it is all over with, I can post some of my practice vids so that you guys can also see the routines.
Here is a video from my aerial sling duet practice:
I shall try to post more later. I will have professional footage and pics of the actual recital performance within the next few weeks.
xoxox!
I'm going to start this blog off with a picture that my friend and longtime photographer took of me on my aerial sling:
Pretty nifty, huh?
Here is another:
I recently took a course on aerial rigging and safety up at the Circus Warehouse in NYC. I now feel confident that I can hang from almost anything! haha
The Circus Warehouse has a fantastic location. I mean, just look at the height they are working with:
I need to try to get up there for more classes and workshops.
Right now I have to focus on work though and getting through this week. I have a big performance coming up this weekend at the studio I work at and I have practice and rehearsal all week long. I will let you guys know how it goes and maybe even try to post a video!
Oh! Actually, here is a video from a month ago of me putting together a routine for a class I was teaching-->
Okay, time to come back down to the ground. I have chores to do and practice tonight!
Hope you all are well! xoxoxox!
You know it is going to be a good day when you wake up to
Bob
on the front page. :-)
Yowza!!
Thanks to Bob for the support and all of you who commented and loved my set in
Member Review.
http://suicidegirls.com/members/Squeak/albums/site/32759/
I am always such a dork when it comes to the comments. I read every single one of them and some of them make me even tear up. (Where were you guys when I was in High School?) Hee hee
Anywho, not to be a cheeseball but I wanted to let you guys know that I really do appreciate it.
Xoxo
My new set just went up in Member Review!

I'll make a proper post about it soon. It is waaaaay too early right now. I gotta hop in the shower and make some tea. :p
Update!!!
Sorry all but for some reason my set got bumped back a day. It is hitting review tomorrow afternoon. Dunno why.
.......
I have a new set hitting Member Review on Tuesday!
Yup, that's right kids, two days from now there will be totally new and never seen before pics of my vagina up on the interwebs.
Among other things...
Here is a totally work-safe preview from the set:
And here is a re-post of one I had shown you guys a few weeks ago:
So please come back on Tuesday and show it some love! It is the first set I've had go into review in quite awhile. I'm kind of nervous. Hahah...I hope I'm not getting too old for SG!
......................................................................................................................
Also, (and this is totally unrelated but it is a current obsession so how can I not make mention of it?) I just got sucked into the time-consuming and craft-filled world of Pinterest.
http://pinterest.com/squeakmachine/
If you have an account, please post the link! I'd love to spy on some of your boards.
.......................................................................................................................
That's it for now!
Lots of love all!!
xoxoxo
Another random picture/info update!
First off, I *slightly* changed my hair color...
Added purple to the bottom. You can also see it in this picture my sister took the other day of my "biker chic" look.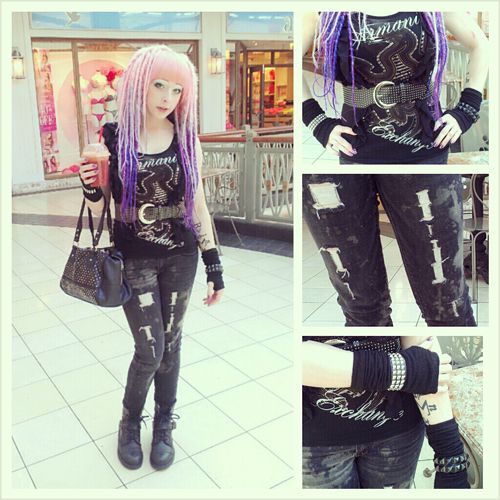 Okay, enough of the hair and fashion pics. Moving on!
-----------------------------------------------------------------------------------------------
The Philadelphia Tattoo Convention was this past weekend. I have recently found myself ready to dive a bit further into body modification and get more tattoos. I am currently on the 2+ year waiting list for Loic. (A french artist who revolutionized Photoshop tattoo art...also known as "trash polka".)
In the meantime, I have some other pieces that I would like to get done. So I thought I might have some luck finding artists at the convention.
I ended up running into a ton of friends!
My friend Leslie Lotus...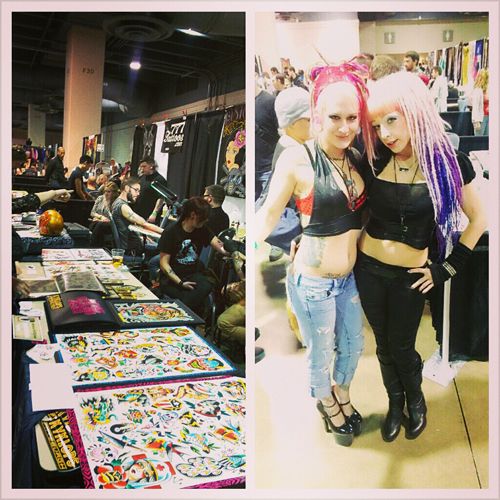 Here I am with Izzy (one of my favorite photogs!)...her boyfriend was getting his bum tattooed.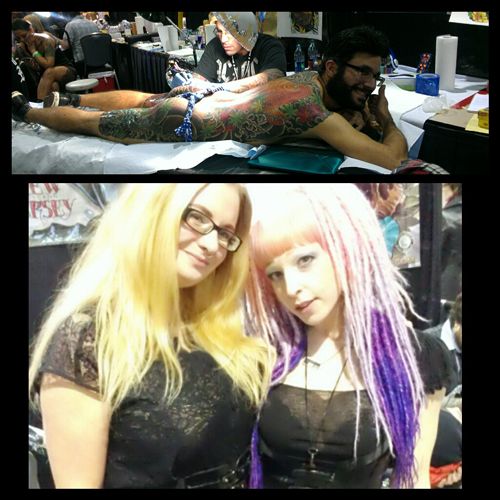 My friend Teeny was working the con...and I believed also placed in an Inked Girl competition. Yay!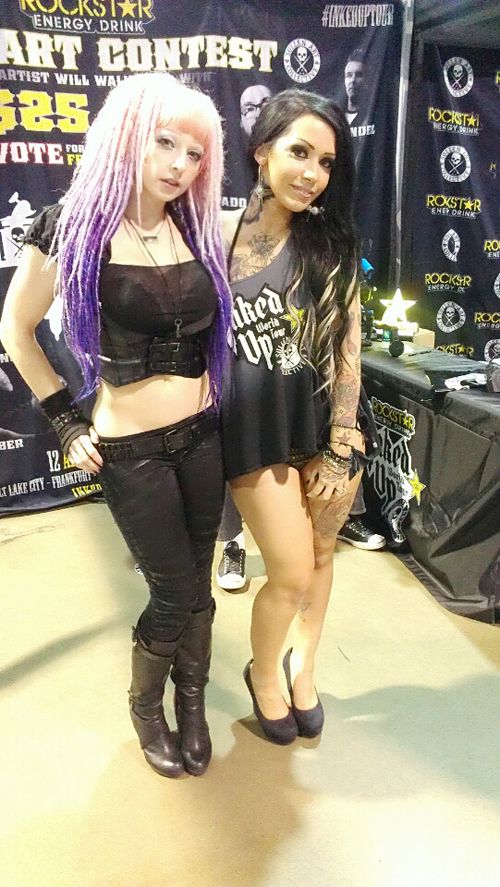 My boyfriend got a new pair of sunglasses...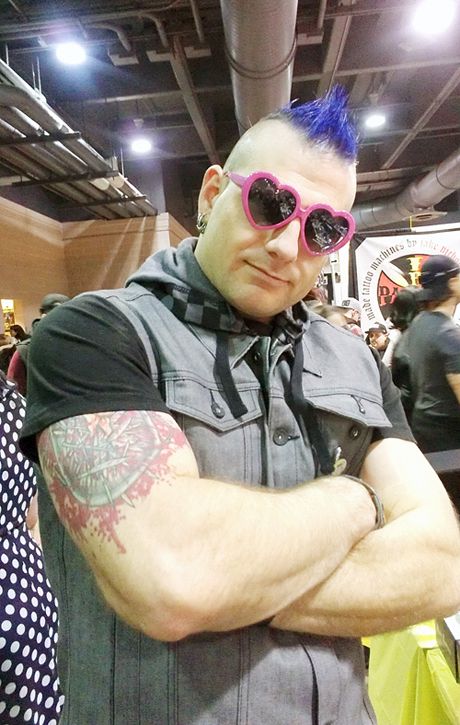 Also saw an old friend...Megan Massacre. I hadn't seen her in years! I have to say, she is just as sweet and laid-back as she ever was. I am hoping that she might have time to do a huge piece on my back in the next few months.
-----------------------------------------------------------------------------------------------------
Also, my boyfriends and I were caring for a pigeon that we found injured outside the mall a few weeks ago. (We named him Henry.) We let him go at Rittenhouse park the other weekend. He seemed to get along well with the flock there. I hope he lives a long, happy pigeon life!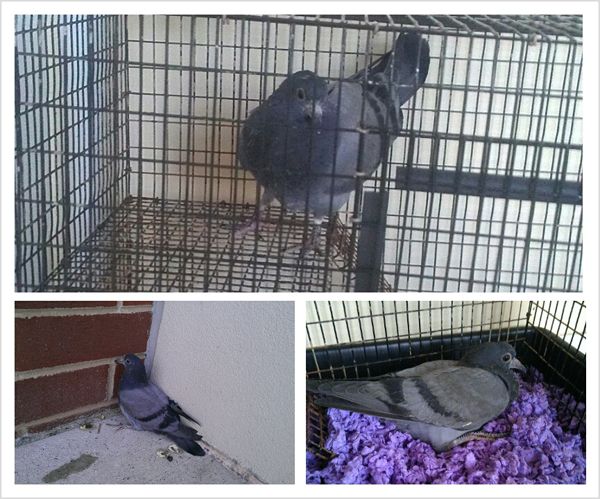 And here is a random picture of my pet rat, Winston. He is perpetually on the lookout for food.
-------------------------------------------------------------------------------------------------------
And lastly, I've been really concentrating on my own personal health and fitness lately (in order to better myself as an instructor.) I posted this on my Instagram and
Facebook
to show that you don't have to weigh 100 pounds to be in shape. I normally range anywhere from 135-145...and I am only 5'4". (Yes, the Wii Fit says I am overweight. Stupid Wii Fit.)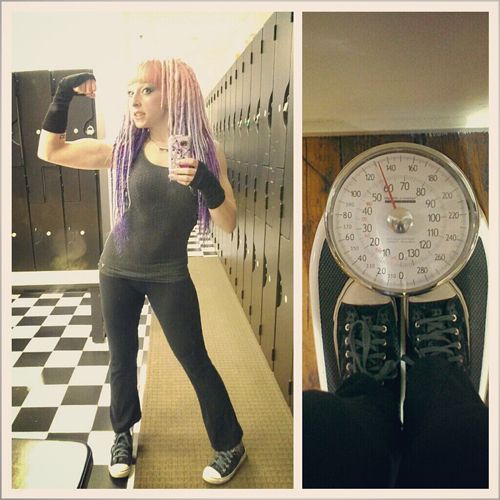 --------------------------------------------------------------------------------------------------------
That is all for now!
I have a new set hitting Member Review in less than 2 weeks!! So check back soon for previews!
xoxoxox
Pics and vids and update time!
First off, I just want to send my love to
lazarus_
and wish her well on her first set that hit Member Review only a little while ago. If you haven't seen it, check it out:
Pastel Punk
This girl is one of the sweetest people I've met in quite awhile. She has the heart and dedication that makes her instantly likable and would be a great boon for SG. We need more girls like her here on the East Coast. Plus, she is absolutely stunning!
----------------------------------------------------------------------------------------------------
Also, I've been busy making vids for YouTube. The newest one I put up is a video about styling dreads/dread extensions....
I have more videos recorded and/or in the works. I'll be putting some pole and aerial stuff up soon, as well as Magic the Gathering vids, comic book vids, poly life, and fitness. Yup, I am sort of all over the place. Haha
What can I say? I have a lot of hobbies!!
----------------------------------------------------------------------------------------------------
Annnnnd....last but not least.
I have a new SG set hitting Member Review on February 26th. It was shot by an SG Photographer "Hopeful"
corwinprescott
. Corwin is already a super experienced photographer and it would be nice to have him on as a Staff Photographer around these parts. The Philly area is full of hot alternative girls...yet we have so few SGs. Check out Corwin's profile for some sneak peeks at the new set. Like this one:
In the meantime, (while we wait in the member review queue) Corwin and I have been having some fun shooting sets for Zivity.
I just had a new set published yesterday...
There are some awesome voting incentives for this set so head over there for a minute of you get the chance.
http://www.zivity.com/users/squeak
-------------------------------------------------------------------------------------
Okay, well that is it for now! (Though it is quite a lot!)
Just got back from visiting
Bob
out in California!
It had just been far too long since I had last seen her and so I braved domestic airline travel and holiday traffic to go visit.
My efforts paid off immediately when I was greeted by this:
We had a grand old time. I must say, it was nice to spend New Year's with someone who celebrates in exactly the same style...in other words...stay in, play some games, and go to bed early.
We did have some adventures though, for example:
I learned how to train my dragon at the live show:
We shopped for new specimens and fossils:
We went the Science Academy:
Shopped for tea:
Found superhero murals:
Enjoyed food and hot beverages:
And partied like the introverts we all are on New Year's:
Random picture of a smart fish....he has the brains but not the brawn to swim.
Oh hey, by the way, while I was visiting,
Bob
had a new set hit Member Review. Go check it out.....
http://suicidegirls.com/members/Bob/albums/site/32048/
Annnnnd....
if you live in the Philly area (or know someone who does) I am teaching a TON of pole classes at
Awakenings Pole Fitness
right now.
All levels....from beginner to advanced.
Random stuff and picture update!!
Here is the first image I got back from my most recent photo shoot:
More to follow soon! I really liked working with this photographer (Reggie from AltSwank) and I'm looking forward to seeing the other pics.
Also, I have returned to Zivity after a year break (and will be submitting a set to SG soon too!). My newest set, shot by Corwin Prescott, is on there now:
http://www.zivity.com/users/squeak
Annnnnnd.....not to be a pest, but if you are in the market for prints, feel free to mosey on over to my shop:
http://squeakmachine.ecrater.com/
I sell for cheap and sign for free.
Okie dokie. That's it for now! I'm sure I'll have lots more to talk about soon. I am visiting the incredibly awesome
Bob
Suicide at the end of the month!! Very much looking forward to that.
Yay!
Heyo kids!
I just started selling prints online.
http://squeakmachine.ecrater.com/
I'm keeping them pretty cheap. The 5" x 7"s are $10 and the 8" x 10"s are $15. I am hoping to get some larger sizes in there soon. I'm going to see how well this first batch does and let that fund the next batch.
Some examples:
8" x 10" - $15
5" x 7" - $10
5" x 7" - $10
8" x 10" - $15
Lots more pics in the shop! Do check it out if you get a chance!!