I'm private
so a brief update on the condition of my head... I definitely gave myself a concussion, and fractured my skull.

I'm going in for a full cat scan next wed. to make sure I didn't cause the kind of damage that'll make my brain randomly decide to kill me.

having a broken head sucks.
i got drunk and fell a short while ago.

I hit my head on a coffee table and there's blood stuck in my hair, but not very much.

I feel a lot better than I probably should after losing a fight with gravity. It's probably got something to do with the bottle of vodka I've been playing with since I got off work.. but really I think hitting my head did me some real good. Sort of like when you hit a machine to make it work better.

That analogy brought Fonzy from Happy Days to mind.

Now I've got an image in my head of henry winkler trying to get me to play a free play of Fats Domino or make me spit out a bottle of coke by smacking me in the back of the head, this is an image that I'm likely to find horrific/amusing tomorrow, but I'm also likely to forget all about it, hence the blogging.

EAAAYYY!!! *SMACK* lol



goodnight internet.
every now and again I have a day like today, a good day to be reminded that the one talent I have in tremendous abundance is the ability to fail, at nearly everything I set my mind to, in the most spectacular ways possible.

I am my own trainwreck.
Oddity of all oddities, I've decided to quit smoking.. reefer too. there's a few reasons.

Firstly I feel like a tool needing something to help me get through my day,

Second, hard as it is to believe, I acknowledge that there are people out there who don't want me to die a slow painful death. I admit to being an insufferable jerk, but I don't think the right way to thank people for caring whether or not I live or die is to reduce myself to human rubble.

Third, is the rather predictable reason most guys change anything about themselves, I met a girl who seems to like me well enough, and vocally dislikes the vices I'm kicking. I like her more than nicotine and THC, call me whatever emasculating thing you like, but I'm rather happy to have the companionship of an attractive young woman I can respect without making any excuses... In fact I'm not sure respect is even the right word, I think so highly of her as a human being I feel inherently reprehensible when I compare our histories. She is too good for me, but I'm going to take full advantage of all this motivation to better myself before she realizes I'm right. Such are the virtues of self loathing that can only come from being raised Catholic.

Last is probably the most considerate reason I've got; my dog. I love him more than any human who's entered my life in the last 2 decades. The last thing my Jackie boy needs is health complications resulting from my bad habits... Enough said on that.


My kooky scientologist friends have taken it on themselves to apply their psychobabble moonspeak to my current situation, and it's the first time any of it's made any sense, they used made up words to express the fact that I'm generally going to be an angrier bastard until I find a healthier way to vent my pent up "charge"
Unfortunately acting as a natural predator of the insipid is still illegal. If I were allowed I could do such a fantastic service to the human gene pool it's not even funny, here in TX there's so much opportunity in that respect, but I have a sneaking suspicion the justice department wouldn't buy it. I still need to figure out how I'm going to make this work without ripping peoples faces off on a regular basis.

So I'm in 3 days without inhaling any burning plant matter, it's nearly 8 AM, I have to go to work a double shift in 3 hours, and I couldn't sleep. I really need to find a way to vent all of my aggression without taking it out on somebody who doesn't deserve it... I'm thinking about joining a gun club... Obliterating stationary objects with machines that involve fire, molten metal, and lots of noise sounds like a lot of fun, only thing that's holding me back is the sorts of people I would expect to be members of a gun club. I don't need to feel like I'm going to a Republican party indoctrination every time I meet the people I'm trying to vent aggression with, that'd just be counterproductive.

I'll figure it out soon...
I've neglected my blog for another month, I'm sort of sad to say that there hasn't really been much worth writing about going on with me. I is teh boring.

I met a new girl, condensed an entire fulfilling relationship into 3 weeks, got her angry last friday night when we had the "are we a couple yet?" talk, and haven't heard from her since. I really need to stop doing that, or just give in and write myself off as someone's possession, it's not like my freedom is that interesting anyway.

I have a cat now, her name is Max. I found her on the stairs in front of my apartment. When I found her she had a really bad case of skin mites, missing lots of her hair, and she looked like she hadn't seen food for a month. But she responded well to medication and a bath, so she looks like a cat again and she'll be back up to 100% once her hair grows back in.. she's got peachfuzz now where she used to have mange scabs.

I've also decided to go back to school, I was thinking about everything I've done since I dropped out of school, and it occured to me that the only thing I've done that I'm really legitimately proud of has been saving my dog, so I figure if in 3 years I've only done one thing I'm proud of, I'd better get to turning it into a career, so I'm starting a BA in biology at UT, then I'll probably head somewhere else for 3 years to get my masters in veterinary medicine... sucks a whole lot that the biggest school in the country doesn't offer a vet med masters program... I'll be finishing my bachelors part time, so it'll take me a few years even though I've already got all my core credits from before I decided I'd rather eat my own face than become a lawyer.... So that's that.

Halloween party tonight, I didn't much want to go, but my friend who's hosting says there's a girl coming who I need to meet... so we'll see how that pans out.

later kids.
I realized something while driving home last night...

I was thinking about something my grandfather used to say when we were fishing, something we often did as he had a house on the long island sound, we'd always catch bluefish, lots of them. When we'd pull one in that was big enough to eat we'd bash it's head in with a stout club he kept for that express purpose, but just after we clubbed each one he'd always say: "No fish would ever be caught if they knew to keep their mouths shut, one fish realized this but he starved to death."

Nothing he ever said only meant one thing, but he never explained anything, spelling out the undertones of his rambling just wasn't something he did. But I got to thinking about what this meant about his opinions on free speech, and risk taking in day to day life, and I have that much more respect for him now that I know he really was trying to get a point across with all of his musings as we clubbed the bluefish we caught on the pier behind his house, but no one else seems to have realized it, or maybe no one else cared to talk about it.. but I suspect the prior. It explains a lot about why he was so disappointed with our family, but I guess it's better that I understood him too late for him to know his ideas were passed on than not at all.

Don't ask why I was thinking about my grandfathers musings on bludgeoning fish to death while I was negotiating with rush hour traffic... I wouldn't be able to tell you.

Don't ask why it's bothering me enough to write about it either, I could tell you even less about that.
ok so the month of august came and went... and I never came back to tell you all why I was feeling better.
the big thing is my dog is back with me, he is my best friend and the months without him sucked immensely. Also my psychotic family situation is starting to settle down, my brother is getting the treatment he needs for the surgical wound his back that still hasn't healed right nearly 8 months post op, and my father is seeing a specialist for his melanoma... and he's got a good chance at coming out of it in one piece if he follows through with his therapy. My mother is still batshit crazy, but that's not going to change.
Had a little bit of drama at work... I admit being at fault, but I refuse to let it get under my skin, I've apologized to the people I pissed off, and time will tell if any grudges are held... I have a feeling there's a lot more bad feelings coming my way since the girls I ticked off got 2/3 of their hours cut and mine tripled.. I understand that they're starting classes again and I'm not, but that's a big cut... I'm not going to complain though, not in the least, I just need to brace for bitchiness.
Speaking of work... I've been learning more about species I was less familiar with, and have really taken a keen interest in the Hippocampus genus, seahorses. I started learning because they're a popular item among a sizable cult of our customers, and I was sick of knowing less than they did, but once I learned more about them, their social behaviors and biology I was hooked. Shortly after I educated myself we got in a shipment of 4" wild caught horses that were supposed to be captive raised... that's a whole other issue I'll get into in a minute, but these horses came in horrible, emaciated, and everyone was pretty sure they were going to die slowly of starvation. I made a personal goal of it to save as many of them as I could and actually managed to get the whole group trained to take frozen mysis... In plain english that's just fucking amazing. Unfortunately in the process of training them I made the same mistake I made when I trained my puffer to hand feed, I got attached, I think that all of my paternal instinct is geared towards animals.
So I took them home... I have a bunch of pictures of them in a new gallery in my pics tab, but I'll put a few on here for you types who need instant gratification.
for those interested, the yellow smoother skinned ones are H. reidi, and the black/grey spiky one is a H. erectus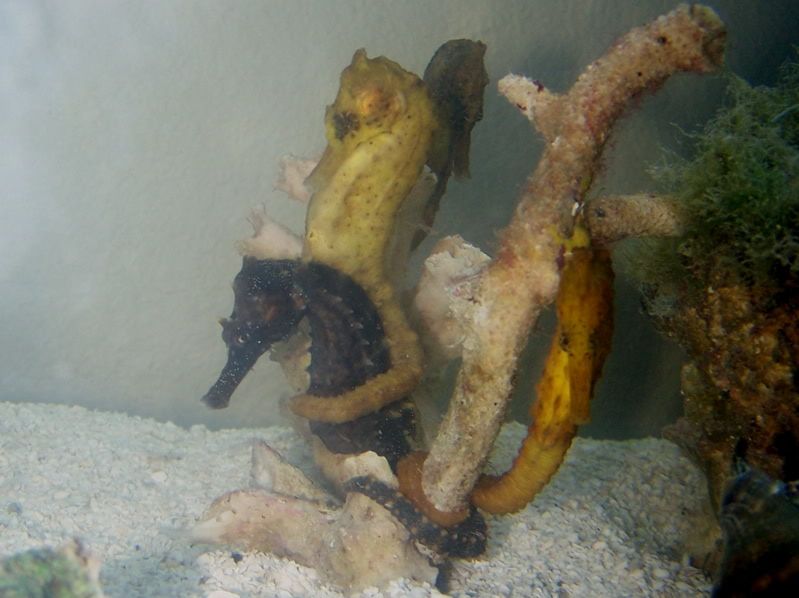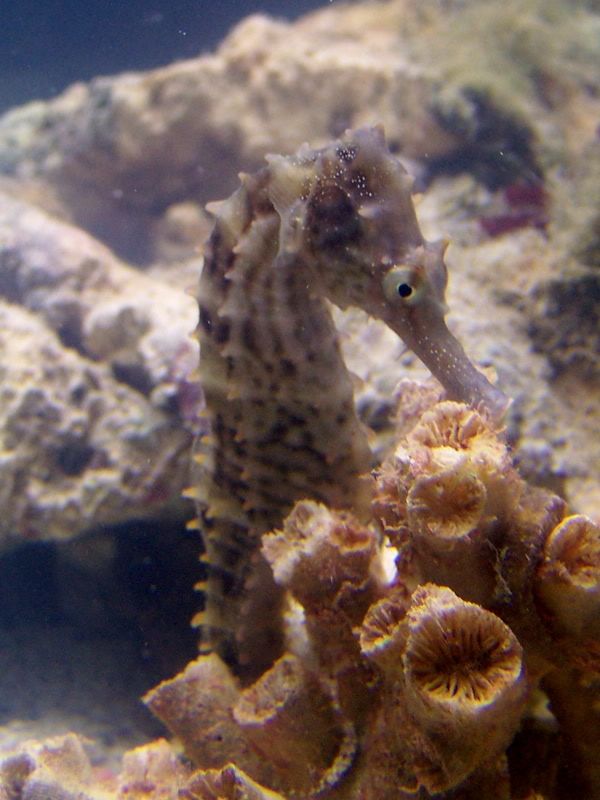 It probably doesn't mean much to people who haven't witnessed how strong the social bonds that develop between these creatures, but both of these species are endangered in the wild, primarily because of traditional Chinese "pharmaceutical" companies harvesting them by the million to be slaughtered, ground into paste, and used as a cure for whatever nonsense their ancestors decided "dragon" parts could be used to invoke. The ecological double standard here really pisses me off, because both of these species are so heavily threatened by illegal harvest for this industry they may be wiped out in the wild, yet they've stopped killing pandas for their gall bladders. The aquarium trade is damaging in and of itself, and I am part of that industry so I'm passing judgment carefully here, but aquarium specimens can be responsibly bred in captivity, but there is simply no way in hell every man in china with a few extra bucks in his pocket can consume a seahorse to fix whatever his medicine man thinks is wrong with his chi every time he feels like it in a sustainable manner... but enough ranting about the chinese eating the wild populations of everything they can catch.. I don't want to get started on their turtle consumption...
so yeah, hell of an update, my dog is back, some things are better, drama at work, and I'm angry about seahorses.
feeling better. details later.
so no dice on resuming therapy, I stopped drinking though, which is probably a good thing, over 48 hours with no liquor and I haven't gone berserk and killed anything, I think that's a pretty good start... granted I'm chainsmoking, but there's worse things I guess... like drowning myself in whiskey.

I realized today that I'd really started living my life to the fullest extent of disassociation and anti-social behavior, but the scary thing is that it bothers me a lot less than it should. What I really need to do is stop needing other people to be happy, I think that's a lot of what my problem is. I don't give my own wants and merits enough attention, few as they may be... I have no idea what the fuck I'm doing wrong, but drinking myself to death isn't going to take me forward here, even though it does sound like a pretty fucking good idea...

I don't know where I'm going with this, I just felt like complaining but don't have anyone who wants to hear it. I'm very thankful for the people who have been supportive of me though this meltdown, but they need a break from my self loathing.

I hate being such a socially incompetent jerk.
A lot of shit has gone wrong in my head since I left for NY, I've honestly been too depressed to blog about it, and too drunk to operate a keyboard for more than a minute or two at a time.. I think I've become an alcoholic.. but that's not what this post is about.

Here's the short version-
While I was in NY my primary goal was to visit my grandfather on his deathbed, because he's dieing, he's going to be gone any day now. While I was there my father dropped the bomb that he's got cancer, and I've been on a warpath toward self destruction for about 10 days... and I really need to get over this shit and start enjoying myself with something, but the whole situation has made me such an insufferable jerk I'm driving people off, so maybe this post is about how I'm becoming an alcoholic, but I'm putting the bottle away tonight, and calling my therapist tomorrow to see if she's got room for me to resume therapy.. I really need to get my head screwed back on straight again.