Hey beauties!
I haven't blogged in AGES, so sorry! I've been crazy busy working and stuff, having a much needed long weekend off! I'm still getting used to the new layout, what does everyone think of it? I found it so confusing at first, but it's really growing on me :)
I had my back piece started a couple of days ago! Here is the stencil (taken from my Instagram). It hurt like a complete bitch, so I had to tap out before the linework was finished (I'm a total pussy, I know!) and there's still a couple of roses and the bird to line. Can't wait to get this thing finished! (Excuse the ass crack!)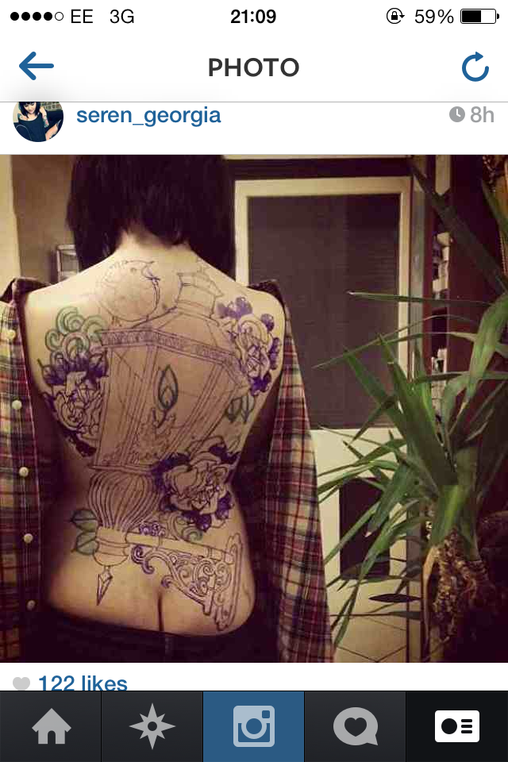 My second set 'Direwolf' will be hitting the queue soon - I'm so excited :) It was shot by @gemmaedwardsuk in an incredible hotel in London! I can't wait for you all to see it :) @keshia came down too and shot with Gemma. This babe needs to be pink soon, give her loads of love :)
I can't wait for Halloween!! It's literally my favourite holiday :) I'm cheating a little bit with my outfit this year though - I'm going as a black cat so I have to make minimal effort. Are you all dressing up? :)
I'm so excited for the new year too - a group of us are booking up to go to Amsterdam at the end of January :D I haven't been out of the UK in like 3 years, so I can't wait! :D
I've been playing around with wearing less eye makeup, what do you think? :)
Take care, babes!
Much love, S xxx