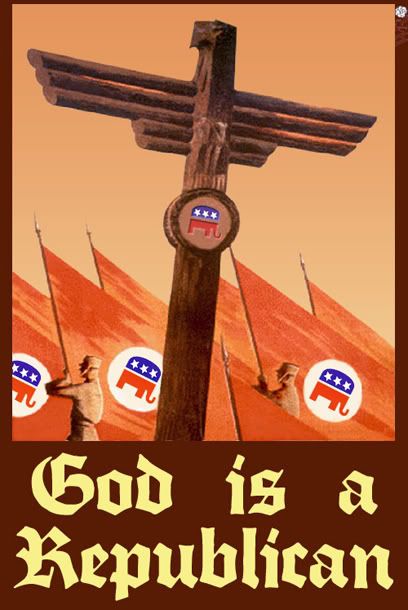 Yesterday the first volleys were fired by the religious Right against the IRS code that prohibits churches from endorsing candidates from pulpit.

Source

In 1954 Congress amended the tax code to prohibit certain non-profit groups from intervening in a political campaign involving candidates. The provision allows the IRS to strip the offending church of their tax-exempt status.

The Associated Press reported that "...33 pastors in 22 states were to make pointed recommendations about political candidates Sunday, an effort orchestrated by the Arizona-based Alliance Defense Fund." This effort was premeditated and well thought out.


The conservative legal group plans to send copies of the pastors' sermons to the IRS with hope of setting off a legal fight and abolishing restrictions on church involvement in politics.

Erik Stanley, senior legal counsel for the Alliance Defense Fund, said hundreds of churches volunteered to take part in "Pulpit Freedom Sunday." Thirty-three were chosen, in part for "strategic criteria related to litigation" Stanley wouldn't discuss.


So what exactly was said from the pulpits on Sunday? Did it really violate federal law? Most definitely.


At the independent Fairview Baptist Church in Edmond, Okla., pastor Paul Blair said he told his congregation, "As a Christian and as an American citizen, I will be voting for John McCain."


It is sad to see that the Republicans have now resorted organized violations of Federal law in order to win this election. Just when you thought the playing field could not get any more dirty the Right pulls this.

So do these pastors have a chance of fulfilling their goals? Not likely with the current lineup of SCOTUS Justices. Robert Tuttle, a professor of law and religion at George Washington University, said there's "virtually no chance" courts will strike down the prohibition. However if McCAin does pull off his perceived Hail Mary play and wins in November the current line-up on the Supreme Court is sure to change.

Not all religious institutions are pleased with the battle lines being drawn. If there is a wholesale revocation of the IRS tax code as it relates to churches many institutions will have to give up programs and services that benefit the community.


Roman Catholic Archbishop John Favalora of Miami wrote that the archdiocese abides by IRS rules in part because "we can do a lot for our communities with the money we save by being tax-exempt."


My only hope is that these churches will not succeed and that the organizers will be brought up on Federal conspiracy charges.

Image © Austin Cline; Original Poster: Nazi Propaganda