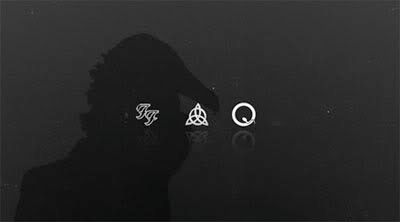 Ever thought about how sweet it would be if members of Led Zeppelin, Foo Fighters and Queens Of The Stones Age would jam together and form a supergroup? Because if the answer is yes, rockers rejoice! That time has finally come and since the word is officially out about John Paul Jones, Dave Grohl and Joshua Homme collaborating, it has been buzzing with rumors and speculations about said mystery project.

As soon as posters announcing METRO 8/9 - MIDNIGHT with images of the three bands' logos started to appear in Chicago earlier this month, reports of a secret show poured in and confirmed what many had already been hoping for. But things started to get really interesting once the trio was named Them Crooked Vultures and released a 14-second video clip ominously called Nobody Loves Me And Neither Do I, featuring imagery of three vulture-headed men in suits (not unlike QOTSA's black, red and white animated video for Go With The Flow).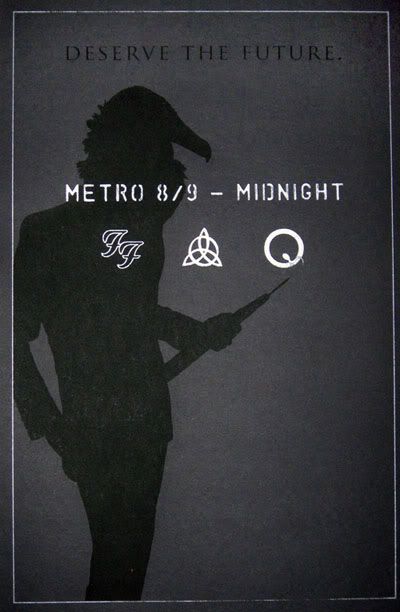 The secret show proved to be a great success and the start of something huge if my sources are not mistaken, and if that wasn't enough to pique my curiosity, another cryptic poster appeared, this time in Amsterdam, only depicting the already iconic man with a vulture's head and the numbers 52.365065, 4.881114. Once the code was cracked and it became clear that these were coordinates of the Melkweg, news of Them Crooked Vultures playing their second show ever there three days later spread like wildfire. Hundreds of people showed up, queued in a line that wrapped around the building as far as the eye could see, in hopes of acquiring a ticket (one per person, non-transferable!) for the next day's spectacle.




On Wednesday night a sold the fuck out Melkweg anxiously waited with high expectations, exploding in a huge ovation when the Vultures appeared on stage. Never had I experienced so much love for a band that a.) no one had ever heard before, and b.) had yet to touch their instruments. With his famous big grin, Dave Grohl took place behind the drum kit (a relatively rare sight since the Foo Fighters frontman usually picks up the guitar) and Josh Homme greeted the audience confidently. Followed by a modest Mr. Jones and long-time QOTSA affiliate (and guitarist for Homme's wife Brody Dalle's band Spinnerette) Alain Johannes, Them Crooked Vultures had officially landed to rock Amsterdam.

Opening an incredible 80-minute set with Elephants, all assumptions that some might have had of TCV being just another incarnation of QOTSA were dismissed within minutes. High-charged guitar riffs and Homme's characteristic voice paired with solid bass lines (and solos!) and Grohl never missing a beat, this deserves much more credit than to be blindly compared to any of the members' previous or current bands. Clearly enjoying themselves, skill and creativity reigned the set (when is the last time you saw and heard a 12-stringed bass, a luminescent sparkling slide-guitar and a keytar all in one night?) and songs like Warsaw, Dead End Friends (my personal favorite), and Daffodils all provided to be excellent material for a truly epic live performance. At one point Homme even put down his guitar to sing for a jazzy intermission. Who said white boys can't dance?

Even if Them Crooked Vultures ends up being a one-off project, I look forward to the full-length album that is supposed to be released later this year(?) and am counting my blessings to Deserve The Future...