HEY KIDS!! OctEgon here. I've been itching for an excuse to work on a monthly column on everybody's favorite alternative softcore art-porn electronet site. It took some thinking. I mean, we've already got the music expert, the film guru, the political nut-job, the Buddhist, the rockstar, the alcoholic Englishman, the time-traveling fashionista and the Starfleet Ensign. (All things I like to pretend that I am from time to time.) So where do I fit in?

Then it dawned on me.

I want to talk to you about the most magical day of the week…

Wednesdays!

Between new episodes of Lost and new comics, it's basically Nerd Sabbath. But now with Lost on break until 2010 and most comic prices going up a dollar in the face of a recession, nerds everywhere are being tested. Nerds like me. I've sharpened my Netflix queue to quench the thirst normally handled by Lost. Soon, I'll be basking in the glow of Deadwood, The Wire and The Shield. As for comics, much like the American workforce, some are unfortunately going to get the axe.

BUT THERE'S JUST TOO MUCH GOOD STUFF OUT THERE RIGHT NOW AND I WANT TO TELL YOU ALL ABOUT THEM!!!

For example, I have to stress -- with retired fanboys -- how much better Marvel is now compared to the 1990s, when EVERYBODY was collecting comics. First, you had kids like me, who were relatively new to the scene. I was 11 or 12 and was sold the second I saw a Mark Bagley cover of The Amazing Spider-Man, where he teamed up with Venom to take down Carnage. I didn't know who those later two were at the time; I just knew I had to own it. Then there were the older fans who were around for Crisis on Infinite Earths, "The Kree/Skrull War" and even Jack Kirby's heyday.

Finally, there were these other guys. Even in my naïve youth, I could tell they didn't really belong there. The collectors who thought they were going to pay for their child's college education with a copy of Spawn #1. Basically, the male equivalent to irrational Beanie Baby enthusiasts. All of this pointless collecting lead to pointless stories and pointless titles, with sometimes up to 5 variant covers for a single issue featuring decadent holographic foil imagery that jacked the sale price up 100%.

Eventually, most people got sick of all this poppycock and opted out. This lead the comics industry from record highs to record lows and there were bankruptcies abound!

Now? Now there's been some kind of writer's renaissance at Marvel over the past decade. They've got Brian Michael Bendis, Ed Brubaker, Matt Fraction, J. Michael Strazynski, Jonathan Hickman, Jason Aaron and Garth fucking Ennis. Don't get me wrong. These guys are all MUCH better at doing their own independent stuff, (Powers, Criminal, Casanova, Babylon 5, The Nightly News, Scalped and Preacher, respectively) but if you're going to have anybody pulling the strings of a cohesive fictional universe, these are the guys you want.

That said, I still have to make cuts in my weekly pull. I've got the digital subscription. The newly digitized issues are about a year or so behind and the browser is a little wonky at times, but I have noticed improvements. It came in handy for catching up on issues I've missed over the years. I was thinking of switching over completely after Secret Invasion's "meh" ending, but this new era of "Dark Reign" that immediately followed has been sooooooo good that I can't stop.

Damn you, Marvel.

I'll have to make the digital jump eventually. But as for indie titles, I almost feel like it's my patriotic duty to buy those. Here are some titles that I like to think are worth your hard earned cash during these hard earned times.

THE SWORD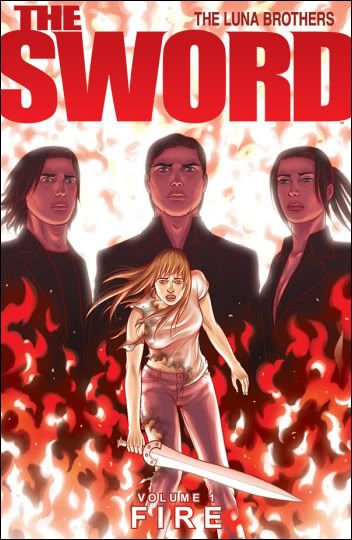 From the Brothers Luna, It's the story of a crippled, whiney little girl who watches in horror as her suburban family is murdered by three elemental gods and left for dead in her burning house, only to discover the magic sword designed to kill them buried under the floor that just gave way. What follows are some of the best choreographed fight scenes in recent comics, paralled by appropriate flashbacks to her time with the family she's sworn to avenge. It's like reading a battle choreographed by Yuen Wo-Ping. Sometimes I wonder if I should be angry when a single issue flies by in a matter of minutes.

Then I read it again, and again, and again.



THE WALKING DEAD




This isn't just a zombie series. This is THE ZOMBIE SERIES. From Robert Kirkman and Charles Adlard, it's stark, black & white style puts you in a completely different world. It's a never-ending zombie movie, where the ever-changing roster of survivors, whom the title is truly referring to, slowly lose their grip issue by issue. And just the way Romero intended with his movie series, the zombie backdrop is of course a twisted carnival mirror put up in front of humanity, highlighting our true flaws and our true fears. Fuck! I wish this was a series on HBO or Showtime or something. Oh, and the 50-issue compendium just recently went on sale. Buy it for the undead lover in your life.



CHEW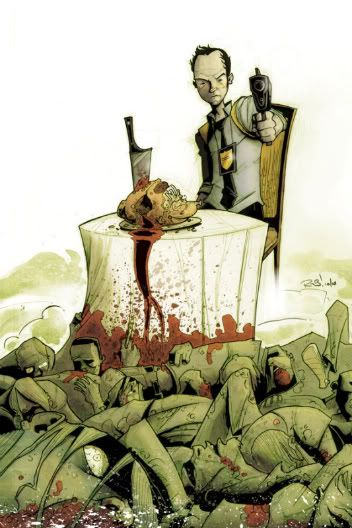 From John Layman and Rob Guillory, this came out of nowhere. Such a great premise with the entire set-up nailed in the first issue. Tony Chu is a "cibopahtic," meaning that he can eat anything and know everything about its "life" up to that point. If it was fruit, he'd know where it was grown. If it's a burger, he feels the suffering of abused cattle. He's also a detective. So you can imagine what might happen if a suspect doesn't feel like talking. I actually recall myself laughing out loud at some points. Especially at the notion of a chicken speakeasy during a bird flu pandemic.



BHELLBOY/B.P.R.D.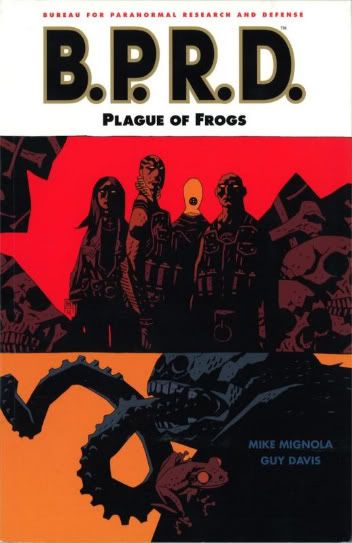 I noticed something the other day while watching Hellboy II: The Golden Army at a friend's house. It sucks. Like, a lot. And I'm a Guillermo del Toro fan, so it hurts me to even say that. I remember thinking it was way too much like the live action Teenage Mutant Ninja Turtles movies when I saw it in the theater, and now every time I'm flipping through my cable channels and it pops up and I instinctively hang around to watch it because I'm stupid, I get angry because I have to compare it with Mike Mignola's grim and seamless tapestry of actual monster folklore. Fuck. Hold on, my nose is bleeding out of sheer frustration.

…

Okay. Back. My recommendation would be to start with the Hellboy trades and then tackle B.P.R.D. trades. This is some seriously great stuff. Especially BPRD 1946 and anything with Lobster Johnson in it.


GRAVEL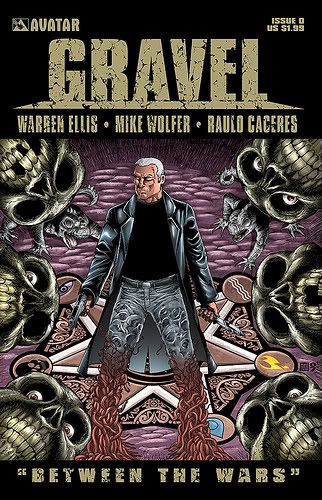 Imagine that Clint Eastwood and Jason Statham had a grizzled love child that went on to learn the mystic arts and used them to fuck you up. Enter Gravel, by Warren Ellis and Mark Wolfer. There are magic bullets, scaly lizard gods, chain smoking, pocket dimensions and a cryptic sigsand that everybody wants but can't quite seem to read. What I like best about this title is that there are no cliffhangers. There's an on-going arc, but for the most part, each issue is a self-contained chapter, bringing our titular character one step closer to his goal, which appears to be killing other magicians. (Side note: Is it just me, or do books published by Avatar, like Gravel, have a funny smell about them? Not bad. Just…funny.)


Anyways, I hope these recommendations helped, especially if you've been thinking about getting back into the comics game, which you should.

I'll be back every month or so with more recommendations and a rant or two.

By the way, what are you reading?


OctEgon is currently working a crap temp job processing home foreclosure documents. If you're hiring for something a little less depressing in the Orange County area, do yourself a solid and hit him up for his resume. He's good people.