I'm private
Heeeeeeyyyy, yeah so I am still in Seattle, and still not dead. That's good news, right?

As I assumed, I very quickly became just as busy and pre-occupied with my new job in a new state as I was in my old job in the old state, but at least now I think I'm generally having a better time and work with more, and more interesting, different people, and I do feel good about being invested in what I'm working on. There are issues and worries, but that's not unexpected (especially knowing my own personality), and overall it seems great. We'll see how things progress.

Meanwhile, in other news, my brother (well, his wife) had a baby girl, and I am now an uncle. My first step towards becoming the creepy uncle I'm destined to be, I'm sure. I haven't yet been able to figure out a good time to get back to NY to see the little bodily fluid-dispenser, but I should hopefully get out there soon. Babies are only babies for the time that they're, like...um, babies, after all.

I have a few thousand unfinished projects that I should be getting to now that I'm generally settled (getting a WA state license was a tremendously horrifyingly difficult maneuver, the car still isn't properly registered, oy), so it's unlikely that this entry won't be up just as long as the last, but for what it's worth I'm making the rounds to respond to some of the painfully overdue comments on that one. (Hey, comment on this entry, and be preserved in the annals of history for a couple months!)

-I miss all you crazy kids down South, I hope I can come visit some time soon.
Dave
Dear Seattle,

Incoming!

-Love,
Dave
I really think I might need to look into medication to stop myself from obsessing and worrying over things sometimes. Granted, the thing I'm freaking about right now is actually tremendously important, but still, others tell me and I can sense myself that I really need to just fucking chill at some point.

Sometimes, I think that like anyone who may have some kind of actual mental tweak, if I found a way to take the edge off I'd suddenly realize that my brain was actually working at a completely fucked up level, and I'd wondrously awake to realize what "normal" people experience, and damn myself for not doing something sooner.

Then I think I'm being crazy, and that I'm clinging dangerously to the prescription-popping solution that seems to be growing larger and larger in our culture, and it turns me off, and I just say fuck it...Circle Jerk of logic, thou hast bested me once again.

-For now, at least there's scotch. That's a pretty good prescription for mind-numbing relaxation right there. If only I could use it at work.

Dave
Bleh. Hello. So, turns out trying to find a new job is so totally a
job
. What a scam.
Anyway, yeah hi. Currently trying to plan a move out of my current employment and into something new, it's a big crazy project that could potentially see me in another city, depending on what lines up. Crazy times.
Meanwhile, besides that whole thing that's occupying my life, I'm still thinking about
this
whole painting series/fundraiser idea, as it would really be nice to get some new work done at the same time as build up a little extra cash, so please do let me know if you're:
a) still into the idea
b) into it now, even if you weren't before
c) would likely be into it if you had some sort of more specific info.
The basic concept, for those not willing to click, would be me announcing the self-descriptive titles of, let's say, 25 paintings, all at the same dimensions and price (probably $125 for a 5"x7"), and people would put dibs and pre-commission them (for themselves or as gifts, whatever) based on the titles, and then I'd make them as they were claimed and track the progress of the sales and final pieces.
It's something I find interesting as a catalyst to getting a whole bunch of work done without having to make a bunch of pieces and then try to convince people to buy them while keeping it sort of fun and interesting for those involved and those following it (and thinking about jumping on any unclaimed pieces).
I'd basically want to know that I had the interest in advance of about 50% of the people who would be claiming pieces before I committed to the whole idea...so let me know if you'd be willing to commit to buying some arty-type stuff in the near future.
For those generally curious, the themes would likely include robots, cowboys, monsters, videogames, superheroes and possibly fuzzy animals (or a potential combination of some of the above). Shocking thematic diversions, I know.
-Soooo, let me know, okthanksbye.
Dave
Suicide-whatnow? My, that sounds absolutely awful, just attrocious! Dear heavens!

Yeah, so anyway, hello.

HEY SO LET ME THROW SOMETHING OUT THERE.

I'm thinking about a way to build up a bunch of funds quickly, as part of an overall scheme to change a whole bunch of things in my life.

If I threw some kind of big batch of paintings out for sale as a fundraiser, say, like:
"hey everyone I'm going to be making 25 paintings with these 25 titles and they will be $125 each, reserve yours today and I will mark it as sold and it will go to you when it is complete and I will track my status towards the goal of all 25 paintings sold, whee!"
...would anyone consider buying one for themselves or as a gift, or inform their friends to get them to reserve one or anything?

I'm thinking of trying to find a structured way to make a set number of pieces with some kind of asurance that I can actually sell them, and make it fun for people who have seen my work and are interested in a bit of a surprise in the finished piece, instead of just trolling for commissions. People love internet fundraisers, right? Do I actually have enough fans/friends with money to pay for something like that? My self-esteem is too broken for me to tell.

-This question is sort of spoiled if no one even remembers that I'm still alive because I semi-intentionally fell of the map, but hey, worth a shot.
Dave
Grrrrrr.
Sometimes I really wonder if I would enjoy going to a gun range. Shooting a gun, there I mean. I sort of think I really would. I sort of think I would like it enough that I'm creeped out by how much I imagine myself potentially sort of really liking it. Pretty powerfully creeped out, really.
It might just solve all my built up tension issues though. Maybe that's why I'm creeped out by it. Maybe it makes me more tense because I'm creeped out by the potential of potentially not being tense anymore. And then I get all tense about why I would think
that
.
I also think maybe I'd be really surprised and alarmed by the incredibly loud noises it would make.
...I'm a crazy person.
-
BANG! BANG!!
Dave
Seattle Friends:
I will be up there this weekend, I get in like 2PMish Saturday, and have an engagement Monday evening, then I leave Tuesday afternoon.
I'll be staying with
Desdenova
Sat and Sun night, but he's working 2-10ish shifts because he is lame, so I may be looking for fun-itude in the afternoon-evening hours. Bring the magic.
-Other friends: Hello.
Dave
Rawr_ima_monster?

Who the fuck is that? Sounds like a big wierdo creepy-creep to me. Yes sir.

-Um, Hi.
Dave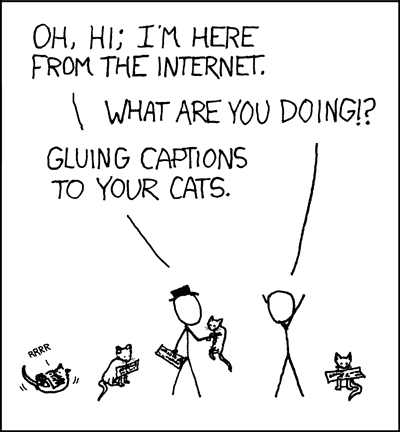 Bl
ah
-Ha-Ha-ha!
-
xkcd
makes me happy. You people and your internet.
Dave
Bah! I say "Bah" to you.
-that's right. I went there.
Dave
SEPTEMBER 2008
1
2
4
5
6
7
8
9
10
11
12
13
14
15
16
17
18
19
20
21
22
23
24
25
26
27
28
29
30
AUGUST 2008
1
2
3
4
5
6
7
8
9
10
11
12
13
14
15
16
17
18
19
20
21
22
23
24
25
26
27
28
29
30
31
JULY 2008
1
2
3
4
5
6
7
8
9
10
11
12
13
14
15
16
17
18
19
20
21
22
23
24
25
26
27
28
29
30
31
JUNE 2008
1
2
3
4
5
6
7
8
9
10
11
12
13
14
15
16
17
18
19
20
21
22
23
24
25
26
27
28
29
30