I'm private
Almost finished with my first 90 days with P90X. 20 more days to go after today! Im proud of my self for sticking it out so far, though I am finding it hard to stay motivated to work out now that im working again. After 8 + hours of construction / manual labor its hard to have the energy or drive to go home and work out for an hour or more. The results are amazing though, i look way better than when I first started! Who knew, eating right and doing an intense workout sheds fat and builds muscle! HA!
Im so lazy today. Need to get motivated to do some house work. Gotta clean the living room and kitchen then try to pack some junk from the back room and get it into storage. After that im gunna try to practice my fading guitar skills and see if after 2 years I can remember how to play anything. Should probably take the dog for a walk too... Crap, I just remembered Ive gotta go to my grand parents to help them out with more yard work too... SHIT!
Forgot about this for some reason... I went to ArnoCorps 10 year anniversary show at slams last weekend. Got a few crappy pics from my phone and some video. It was an awesome show except for a band called Judgement Day, blech. A band of orcs dresses up like orcs and does growling metal songs in the WOW universe, I was told they also do live shows on their game server. ArnoCorps sings songs about austrian mythology such as Preaditor, Last action hero, The Terminator, True Lies, Eraser, ect... Yeah, Arnold Schwarzenegger movies and the lyrics are lines from the movies. Check em out on youtube. I suggest looking for Preaditor from ArnoCorps, its a great song!
A Band Of Orcs
ArnoCorps-the singer has one of the guitarists or one of the bassists on his shoulders...cant remember who it was
I started working on my boat yesterday. Its been out in the weather for far to long and needs some sanding, water sealing and paint. After pulling out the benches and taking them apart I found the water had penetrated deeper than thought. I have to put the sanding on hold untill the boards are dry. In this weather, should be about a week.

For the last week ive been cleaning like crazy. Pulled all of Jennys and my boxes from our storage room at the house and started going through them. I got rid of about 10 boxes or so worth of crap at a gerage sale over the weekend and from tossing out junk. Now its time to get a storage unit to put the rest of the stuff in. Unfortuniately the room that I was storing in is damp and some of my stuff like my $300 paintball gun has started to rust. I need to go paintballin again, its been to long.


So I woke up at 4:45am yesterday and was out the door with a friend by 5:20 to hit Kirkwood and do some snowboarding. I havent gone to the snow in 5+ years. Its a 3 hour drive from my house to the mountain which isnt really that bad at all. The night before id dumped 18+ inches of fresh powder but, im assuming, because it was wednesday there were hardly any people. The first chair my friend and i took was for some black diamond runs. The run starts with a 3 to 4 foot drop into powder. The next thousand yards or so was all fresh powder then the run splits into one of 3 ways. Going to the left was a ditch that was all powder and looked like a half pipe, the middle was to a groomed run with a steep grade and the right was the trick course with a huge ramp and lots of rails to gring. Needless to say I sisnt try the rails or the jumps since its been 5 years or more and I dont have a helmet.
Going down the black diamonds was mostly powder as I said untill you hit the groomed areas. Apparently I forgot how to ride in powder. It ate me alive. I fell at least 6 times on the first run in the powder, but never on the groomed snow. I tried the lack diamonds for the first few hours or so but got so wore out from falling and trying to get back up thatI had to go to the car for a beer break. After that I stayed on the groomed runs for the rest of the day, except for the last run. My friend had taken off after the first run we did and was hittin up The Wall. He called me up on the walkie talkie and told me to meet him at a lift when I was done with the trail I was on. So we met up at chair 11 and hit up some powder that hadent been ridden much. I fell 3 times in the powder that last run and by the time we got to the car i was done.
I had a blast! Hopefully ill be able to go again soon... Unfortuniately I didnt bring my camera and I left my phone in the car so i didnt get any pics while boarding. These are from the car about 20 minutes from the resort.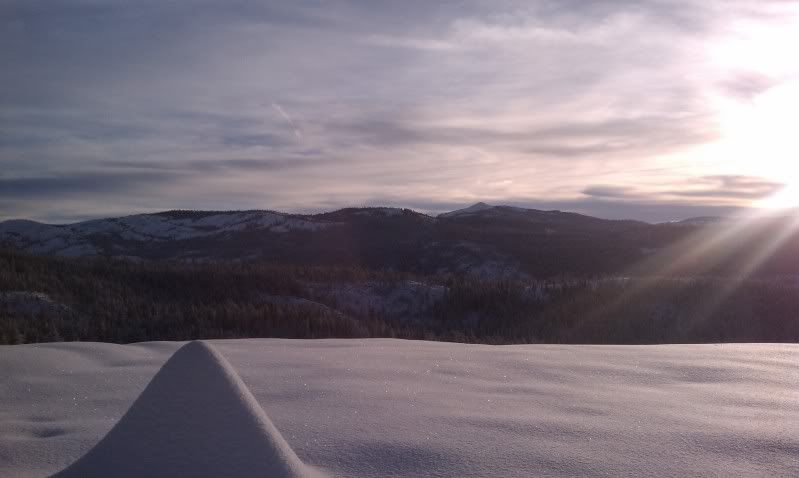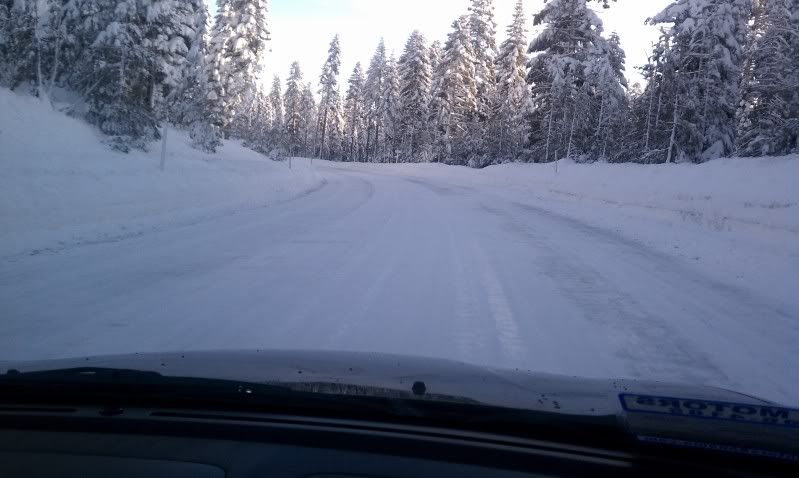 Anyone ever see Repo! The Genetic Opera? A friend let me borrow the dvd and im supposed to watch it tonight with Jenn. It sounds awesome, even though I am not a fan of musicals. Theres just something about a repo man who goes after body parts as opposed to cars and what not. Hope its good.
Fuck. I missed roll call for my unions unemployment list. Im #442 on the list. Gotta remember, Jan 6, be at the union hall between 5 and 9am. I cant believe i missed it, I could kick my self in the ass! For some reason I thought it was tomorrow, but it was last thursday.
I got nothin, nothin at all.
Oh my god...the end of my second week of unemployment is drawing to a close and ive done nothing. Mostly because ive been sick, but im on the tail end of that now. Im starting to go crazy now...ive watched a crap ton of movies, wasted several hours on video games now I want to do something. A friend of mine is going to concord tomorrow to go to the gun range at chabot...maybe ill go with and bring my 30-06 (30 ott 6). Since the livermore range only gors to 100 yards and chabot goes to 200 yards, not to mention that I scoped the gun at 200 yards a few years ago and need to make sure its still there.

Im trying to think if I have anything to do tonight...maybe ill just get drunk and stay that way untill Jenny comes home in 6 hours and have my way with her.

Nice! Just checked the weather, its supposed to rain out here tonight and tomorrow! I love the rain. I just wish it would snow occasionally out here.

Ok well I cant think of shit else to talk about so im gunna go think of something to do...suggestions are welecome.
....yeah This is the first time in YEARS that ive been sick, wtf? This sucks! Although its a great excuse to stay home and watch movies all day. Just finished The Day After Tomorrow, love that movie. Time for Pirates and a beer or a hot buttered rum. Mmmm, rum