monovox sees the light at the end of the tunnel.
I'm private
Fuck, Fuck and Double ass monkey-FUCK!!!!!!!!!
I walk out of the house today to meet up with
elleseven
to go work out and find my truck window busted out. My bag is gone. THE BAG with my journals, sketch pad, books, ipod... you know, the shit that goes with me everywhere. The shit that no one in the world would find worth anything, yet to me is worth more than I can possibly calculate. I am in shock more from the bad fucking karma I seem to be having when it comes to people stealing shit from me; just 2 weeks ago $3500+ worth of camera equipment was ripped off in the Puerto Vallarta airport along with over 400 shots from my mexico trip (most of which I made the trip specially for).
I don't place a huge value on 'stuff'... physical shit can be replaced, but my images... my drawings, my scribblings of the most intimate minutia, raving ramblings that are my breadcrumb trail into the deepest dark places of the forest...
I keep feeling like something in the universe keeps screaming: Tabula Rosa mother fucker!!!!!
I keep searching for what I am not getting that I need to be whacked like this. I am not much of a believer in coincidence... Especially since I have been giving myself the physic high colonic of a lifetime. Punctuated by recently leaving the business I created 12 years ago. perhaps I am making this into something more than it needs to be. perhaps it is just random shit that I seem to be neck deep in right now.
Fuck; 200 bucks to fix the window. just what I needed.
.
.
.
Hope you fucking choke on that crack pipe you fucking thief.
2 weeks ago I left the business that I spent 11 years building.
I guess that it was actually almost 12 years ago that I started an ad agency with a partner and ran it as creative director. We made a good agency that was really different from the usual swimming with the sharks and we did it on our terms, with integrity, ethics and passion. But in the end... It was sucking my soul out through my toes.
Leaving was one of the hardest things I have had to do. Harder than the years of 12-16 hour days, the personal relationships that withered from neglect, the health issues from stress... It took me a very long time just to look in the mirror and say that this thing that I created is killing me and if I don't change something very soon, I will lose the opportunity to do so. leaving my business partner and friend was worse than any divorce, but it is over and here I am looking out into the abyss with fresh anticipation.
I have absolutely no idea what lies ahead other than spending time trying to find that personal creative center that was pushed aside from commercial whoring. Photography is something that is currently giving me a lot of joy. Other than that, I expecting that this numb daze that I am experiencing will continue for a while before before I get footing again. I actually think that I am handling it all pretty well at this point.
Right now I am in the desert of southern utah outside Zion's National Park visiting my dear friend Roslyn who got married the other day. It was a beautiful wedding. A tad bitter-sweet as I am best friends with her ex as well... life moves on though and I am very happy for her.
If you haven't been to southern utah, it is absolutly amazing. A very nice break from the torrents and flooding of portland. Here is a shot of my friends back yard:
My brother lives down here as well and I am getting some overdue time to spend with his family. Children more than anything rub in your face the neglect of time... I absolutly love my niece and was slapped with the fact that she is a over a foot taller and 3 years older than the last time I saw her. It just seems easier to forgive that lapse in time with adults... the changes don't often seem as dramatic i guess.
Well I suppose that I should get dressed. I am supposed to take a motorcycle ride up the canyon to shoot today. It should be a nice day for it.
very sad, tired and befuddled.
the universe likes to pile it on.
so odd... so... ????
you just have to see
Where babys come from (in germany)!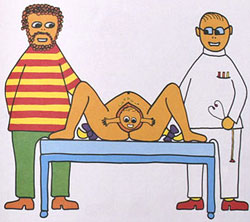 fuck...
i AM a punk ass bitch.
my world has been dumped into a blender and someone hit the frappe button.
this petite morte... this death of a cycle in my life... this one is major. nothing in my world will be unaffected.
the thing about cycles ending though is that in it's place a new one begins... I just have to keep my eye on the new possibilities that will be sure to sprout and try not to run screaming down the street from the end of what I have worked so hard for the last 11 years.
I am doing surprisingly well... (*knocks on wood*)
Had a great day yesterday going out to the U-pick blueberry patches yesterday with the ever lovely
elleseven
. We ended up coming back with fresh corn, blueberries, marionberries, peaches, string beans and mint. We feasted and made ourselves silly on blueberry/marionberry/mint daiquiris! Delicious! It was fantastic.
I was only a wee bit ooogie this morning.
Oi vey! I think that the heat fried my brain... I have so much to do and absolutely no motivation to do any of it. *sigh* I feel like such a slug.

I am so looking forward to my time off next week. I haven't had a break in over a year. I didn't get enough advance warning to really plan anything, but it will be nice to just relax and get some personal stuff done. Hoping for at least one long motorcycle trip as well. It can't come fast enough!


I have been in the strangest head space lately. So very restless...