I'm private
Wow the weather has been so great here! This will be my first winter without snow and I'm not sure how I feel about it. It hasn't really set in just yet. I'm hoping to get out to NY sometime next year before spring to see snow. Not sure how great of an idea that will be, but oh well. Gotta do what you want to do!
did you know they have reese's pieces with nuts in them?!?!?!?!? and they are in the office and now in my mouth and soon to be in my belly. yessss happy halloween!
Heeeyyy everyone. So Halloween Saturday should be busy. Two parties in one day. Hopefully I'll have pictures of the festivites on Monday. What are YOU doing for Halloween?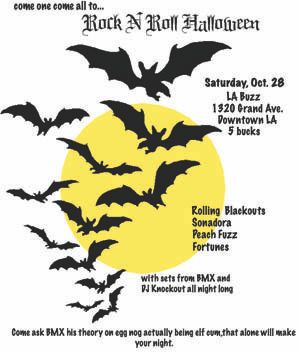 SG on CSI NY TONITE!! I won't be at the viewing party in the office (sad) because it takes too long to take the train home after (2 hours!)

SOOOOO ill be watching tonight from my bed. YESSS
Everything went as planned this weekend! Saturday afternoon was lovely as usual and Saturday night was a whole lot of fun. It was a new crowd, but everyone reacted well to the music. The mixer was broken so all we had to do was make playlists, which I was a little embarassed about (real DJs don't do that), but whatevs. Gotta do whatcha gotta do I suppose.

This weekend I have a lot in store. I woke up late this morning for work so instead of taking the train my boyfriend let me use his nice car (mine is old and runs awful), so to pay him back I'm getting pasta and wine and maybe a desert (any suggestions) for dinner tonight. Yum!

Let's hope it doesn't rain because if it does I know traffic will be awful getting home....
I DJ every single saturday in the LBC at Alex's Bar! And this week we are at the Prospector afterwards to DJ between bands. YESSS!! Come to both and hear your favorite song twice!!

So I help out the SG radio show on Indie 103. I'm not actually on the air, I do the phones. Today someone I know from my radio promo days randomly contacted me asking me if i wanted to interview lady sovereign for SG Radio. OF COURSE!! I'm so excited!! Even though I may not get to be the actual one who interviews, who cares?? she's AWESOME. YAYAYAY. Maybe this means I could get free tix to the show in Nov. That would be SWEET.
Everything went as planned this weekend. I DJ'd both saturday and sunday. Sunday night was super fun and hopefully am getting hooked up with a weekly DJ night at The Mountain Bar every Sunday! It's an all girl night, all girl DJs and we will work on booking a couple bands, hoping at least one girl is in the band. That may prove to be too difficult, but we will see.

Woke up this morning super tired and got all the way to the train station when I realized I had left my computer at home. ARGH! But I was only 15 minutes late to work so all was good, but not a good start of the day. I did get to use my new iPod on my way to work, so that was pretty sweet!

oh yeah, i guess if you're really gonna listen to me I should do a little intro thingy. people seem to like that:

I'm Kelly, one of the model coordinators in the office. I'm a Midwesterner who moved to LA earlier this year, by way of New York City. I love it in LA and I love working at Suicide Girls, especially meeting all the new girls who get added to the site everyday.

A few things you should know about me? Hmm..let's see. I love music and DJing. I have been djing on the radio since high school and have moved on to clubs in the past few years. I play anything that will make you dance. Suicide Girls and that are my life.

I'm also really into current events and history so I like to relax by watching CNN or MSNBC and reading books about things like the Chicago 8 or Vietnam. Yes I know I'm a nerd.

An activist at heart I wish I had more time to dedicate my life to showing the world how ridiculous the Bush Administration is. I really admire the kids of the 60-70s who worked really hard for what they believed in. I find too many people are just willing to sit back and shut up, sometimes myself included. It sucks. Maybe someday...

As for you ladies, I'd like to know everything about you! What you do, what movies you love, what music you like, and just about anything else.

Most importantly I'm here to help you with any and all questions you have related to Suicide Girls. Let me know how I can help you and also let me know if you are loving or hating the site or me or whatever!

I look forward to meeting each and everyone of you!! Glad to be here to help you!
Life is moving way too fast. I seem to come up with a list of things to do every night, but then fall asleep before I finish half of them. Here's how my day goes:

7AM Wake up at 7am to ride the train to work.
9AM-6PM Work work work
6-8PM Ride train home (why can't the train in LA be like the one in NYC?)
8PM Eat
9PM Exercise
10PM Work on flyers, business cards, new music, etc for DJ stuff
11:30PM Fall asleep to my boyfriend making his new album. How lovely.

Oh but something exciting: another DJ night!! This means this weekend I'll be djing Saturday and Sunday! NICE!!!