I'm private
My membership will be expiring this month. I do not plan to renew it anytime soon.
Anyone who really cares can find me on Facebook...just PM me for the info.
Also, anyone who wants to keep up with my exploits can feel free to read about them
here
.
Otherwise,
my one and only
will still be here and available to update you.
I am sure he will not mind if you friend request him.
♥
I hope you all had a wonderful holiday season and are thoroughly enjoying the new year. I want to thank everyone who sent us cards and other assorted goodies. We were very happy to get them.
As far myself, I had a very awesome Christmas. After a morning of shoveling snow from what was apparently the snowstorm of the millenium,
Tiger_Fodder
and I were off to spend the first part of the week in New York City, just hanging out and seeing the snow and holiday bustle. I actually took a couple pictures for a change, so I will share them.
The view from Bryant Park...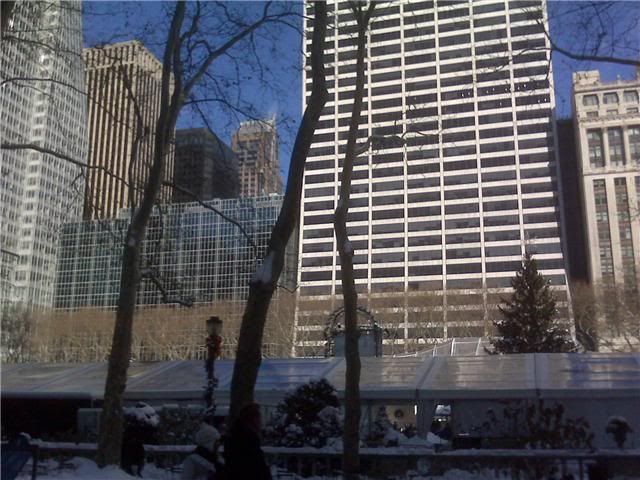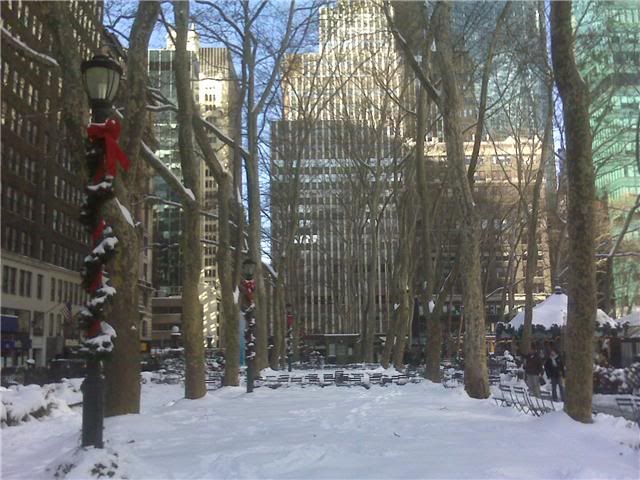 The street in a very slushy Little Italy, where we enjoyed a fabulous lunch and witnessed some very high mafia-esque type drama. If you really want to hear about it, ask
Tiger_Fodder
; he couldn't stop laughing about it for two days.
This was the view from the ground outside our hotel, which by the way had the slowest flushing toilets I have ever seen. When I say slow, I mean that you could push down the handle and then hear it flush up to an hour later, swear to god.
The view in Central Park was pretty spectacular.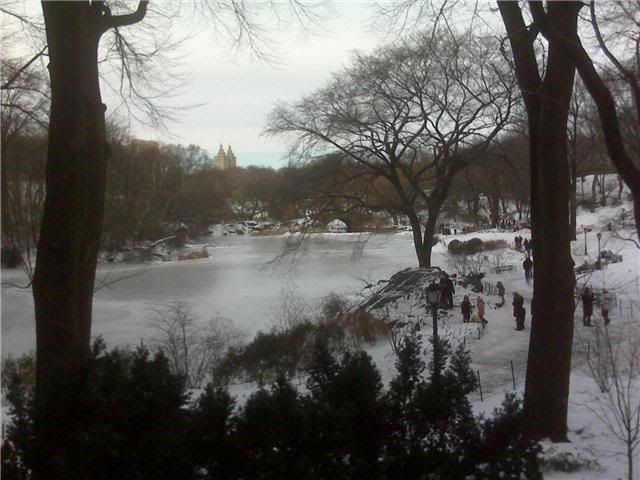 And look at this handsome devil...


After three days of enjoying many of New York's finest Starbucks, we finished our holiday trip by heading to somewhere in New Jersey (I still don't know where) to spend a couple days with Tiger_Fodder's lovely family for some quality time before heading home for a quiet Christmas day together. We opened presents (I am now the proud owner of more scarves than anyone in their right mind would ever need, much to my delight) and feasted on what may very well become a holiday tradition for us: my homemade spinach lasagna.

We spent the early part of New Year's Eve at the Dane Cook show laughing our silly bitch asses off and then went home to watch the countdown festivities on TV in the relative safety of our own home where the only crazy drunk was me. We drank prosecco into the wee hours and played a game of Scrabble that I have no idea how I managed to win in my ridiculous state. Don't feel bad for Tiger_Fodder for losing though; his bruised ego was greatly soothed very soon after.


I am very excited to be starting a new year. While the greater part of last year was wonderful and brought many refreshing changes, the early part was a shambles that I am glad to have that much further behind me. I did manage to learn a couple things, however, for which I am thankful...

1. Staying away from toxic people is one of the greatest things one could ever hope to do for themselves and I urge any of you in nasty situations to find your way out. I have not spent an unhappy day in months and I know that is how my life is going to continue because I have learned this lesson, hopefully for the last time.

2. My home is not a place, but is within a person. I know that wherever I go, I am home as long as he is with me, whether we are walking down the street or in a hotel room somewhere far from where we live, we take our home with us always. This is something that I have learned not only for year, but for a lifetime and I know I will never forget it.

I hope you have also learned something of value that maybe you want to share. It was a big year of change for a lot of us and I hope it continues to be positive for everyone.

♥
I hope everyone had a wonderful Thanksgiving. We had a lovely time at home, just the two of us. I made enough food to last four days, but it was tasty.
Tiger_Fodder
even put football on in keeping with the holiday spirit.
I have nearly all of my shopping done, so after a few more things, I can sit on my ass and watch everyone else scramble. It's my favorite time of year and this will be the first year in many that I will actually be able to enjoy it to the fullest of its potential and I definitely plan to. I regularly inflict my joy of the holiday season on everyone in my life, as
Tiger_Fodder
can attest. I was immensely excited doing my holiday gift buying yesterday, the first truly wintery day of the season here. It seems to be my natural environment. I hope that you are all looking forward to the holidays as well. If you are one of the perpetual "bah-humbug" holiday haters, may the season pass without pissing you off too much. Lol.
Tiger_Fodder
and I will be picking out our holiday cards this week and sending them off, so if you haven't yet, please send me your address so we can get one to you.
♥
So...anyone who would like a Christmas card from the
Tiger_Fodder
/
janegeraldine
household please send me your address even if you have sent it to me before. I seem to have lost my address book in the move and need them all again.
I am getting super excited about the holidays and have a bunch of Christmas shopping done already. It really is my favorite time of year even if it's cliched and corny. Plus it is mine and
Tiger_Fodder
's first Christmas together, so it is extra, extra special.
I hope you all are well and are looking forward to Thanksgiving and have awesome plans to share it with all your loved ones. Anyone care to tell me what they will be up to on Thursday?
♥
Here's to life, to love, and to the wonderful future.
Since the season of thankfulness is upon us, I would really like to hear about all the amazing things in your lives. I think it is beneficial to share what you have that makes you happiest. It makes me feel good to see other people enjoying the good things.
♥
A few weeks ago,
Tiger_Fodder
and I went on our first vacation together. (Yes I am just getting around to blogging about it now. I have gotten lazy.) We chose Washington DC for the distinction of being our first vacation destination. It was my first time in our nation's capitol and was one of the very few remaining areas of the country I had never been to. We had a very nice drive down, though I was feeling a little disappointed at the lack of fall foliage. I guess it was just a bit too early. We have tons of the colorful stuff here at home now, so no big deal. We have a great time together no matter the scenery.
On our first day there we went for a walk and happened upon the Washington Monument.
As
Tiger_Fodder
can attest, I was expecting something much, much smaller than the second largest structure in the world.
I should have known that our fair country would not have just any little, old phallic symbol to represent General Washington's contributions to our greatness. Silly me. My one and only was impressed too, even if he says otherwise.
After that we visited Mr. Lincoln sitting in his stately manner on his throne while the many come to marvel at his feet. This was maybe one of my favorite sites.
Mr. Lincoln does not tolerate noise in his personal space.
The view out was pretty cool as well.
We saw this:
I'm not sure where the NEW post office is, we didn't see that. You can, however, see our good friend Luann in the blue skirt there. She was a little busy conducting traffic up and down the steps to make much time for us though.
Across the street was the FBI Headquarters. I was very disappointed to not be seeing my favorite special agents and assistant director, but I guess that is how it goes. They were probably off investigating the haunting of various New England homes by Phil Spector. At least I hope that is what they were doing.
On our last day, we walked to The Capital Building and hung out with some of our usual people watching. Much to our dismay, there is not a whole lot of great people watching in DC. It seems mostly normal people go there. Who knew?
I discovered later that sometimes that flag in front points the other way. Huh!
Here we are, enjoying the Capitol, although I think we look like we are on a log ride somewhere.
Before we left, I managed to snag a picture of what I assumed to be the ass of the White House. I am told it's actually the front. I still don't believe it.
Sadly, the Pres was not there to see us. He was busy somewhere pulling for Chicago to host the Olympics sometime down the road. I guess I forgive him.
I also got to go to my beloved Caribou Coffee every day we were there and learned precisely how many seconds it takes to cross nearly any length of intersection (a skill I am now employing at home).
We had a lot of fun being our silly selves and I am glad to have experienced all the landmarks of our capitol city. I didn't get to see the Statue of Liberty, but
Tiger_Fodder
says we can see it next time. I can't wait!
♥
Sometimes I feel like I struggle to be reasonable.
It's fall. Fall makes me reflective. At this time last year, I was pretty sure I was going to be spending a great many months, if not years, unhappy. As I had never really experienced anything different, it was not that shocking to me to feel that way, but it was depressing to say the least. I was stuck in a miserable situation that I desperately wanted out of but had no idea how to do it. I felt I was in a prison of my own making and that it was my lot to deal with it. I was in a constant state of wanting to hide from the world, and that is basically what I did, except for a few people I kept in contact with.
Now, I no longer feel like hiding. Things are incredible. I share my life with someone amazing who understands me and thinks I am pretty great too. A year can make an amazing amount of difference. I have been through a lot and I appreciate all of you who have been there with me. This is going to be my first happy fall in a very long time.
I hope you all will be enjoying it as much as I will. Monday we leave on our vacation. We will have an awesome time. I am sure I will not be updating before then so everyone have a great couple weeks.
♥
So, things continue to be wonderful. I am enjoying all aspects of life with
my one and only
. I still don't have a lot to add. Work is good. We are going on vacation the week after next. It will be lovely.
I got my hair did yesterday...
I hope you are all well. Anything new to share?
♥