HyenaHell has had the same profile picture since 2003. No lie. It might be a record.
I'm private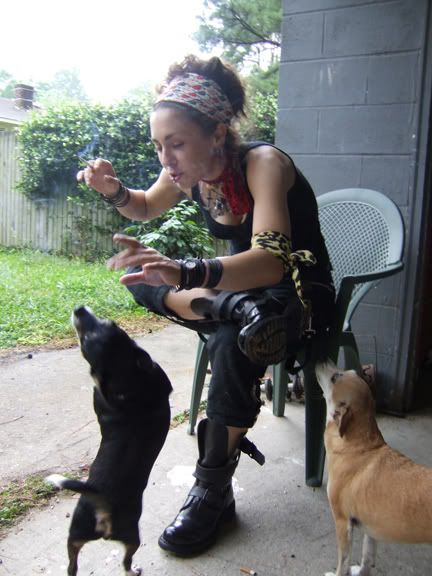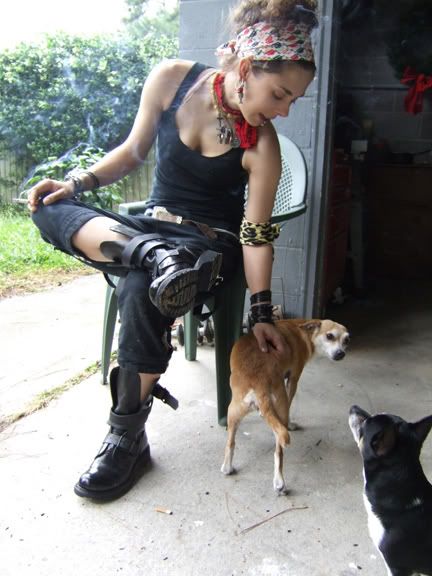 Holy Hell, will you look at that? Here I am, updating twice before a month's run out.
Keeping
two
distinctly different blogs is a bit much for me; as I've said before, I'm writing mostly on the ol' MySpace now. So I don't predict that I'll write here as I used to; the guard's done changed, if you know what I mean. But I figure the least I can do is to update ever so often, remind y'all that I'm alive, and what have you.
I'm currently wrestling with the university- or rather, the administrative tentacles thereof- over my status as a resident for tuition purposes. See, there's a difference of $5000/semester between in-state and out-of-state tuition. Guess whose meager finances and squalid existence can't afford the latter? Plus, I've been living in this here fine fucking state for nigh on two years, now. I got all my documentation, identification, insurance, taxes, and t'who-laid-th'rail in this state. So I
ought
to be a "resident", you'd think. Right? Well. I've been denied residency, and have appealed that decision- I expect to find out today whether or not I'll be able to return to graduate school.
Well, we'll see. When they denied me initially, they'd lost the tax documents that were supposed to supliment my application; they're in there, now, for the appeal. So here's hopin' it makes a difference. Otherwise, things ain't lookin' too bright-like around here, see?
That's it for now.
Love and guts.
-Hyena.
I'm back... from the dead! WoOoOo... spooky.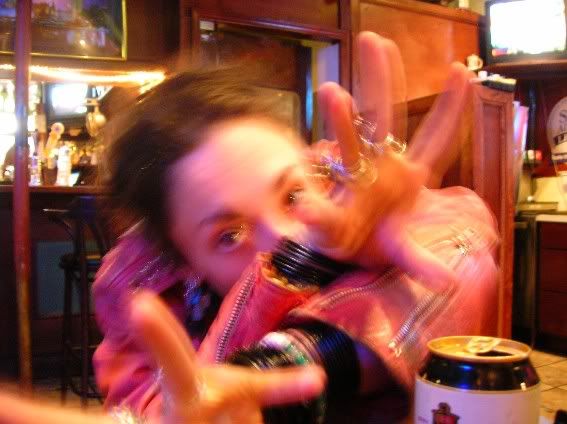 Good day for an update, no? I figure it's only fitting I crawl back up from the bowels of obscurity on such an ominous milestone.
Woke up today at 3pm to the worst hailstorm I've ever seen. We're talkin' golf-ball sized hail, out of the blue, as they say. And when it hits, that shit bounces higher than you'd imagine anything made of water could. It was awesome; that is, in the awe-inspiring sense, not in the "Whoa, dude, it's dollar slice night at the pizza joint! That's awesome!" sense.
Speaking of awe-inspiring, because I'm almost certain I just was...
I just got back from Indianapolis. Rhys and I drove 14 hours for the IWA Kind of the Death Match tournament. For those of you unacquainted with death match wrestling, do a quick search on the internet. I promise it will be unlike anything you've ever seen. And seeing it live was just amazing. I'll brush over all the gory details, because I do have two rolls of film that, once developed, will testify to the carnage much better than I ever could. I promise an update all about that trip, because it deserves an update all of its own.
Rewinding, a bit- heh. I once wrote a song called "the tape deck in my head's stuck on rewind"... it was a country song, undoubtedly. But. Rewind.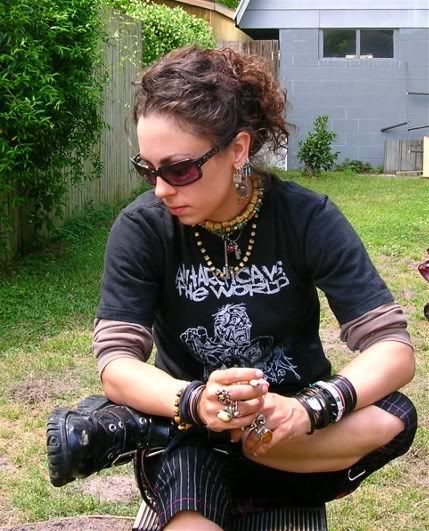 The past few months have been pretty rough for me. I'm sure any of you who know me in the least bit are familiar with my cyclical "black moods". But, after managing to drag myself up out of this most recent trip to hell, I've made a real fucking effort to get my life back on track. Yeah, yeah, and I know you've sure as fuck heard that one before, too. You just hit rock bottom hard enough sometimes that it wakes something up in you. Or it knocks you out.
And I apologise, that imagery conjurged death match memories, of Spider Boudreaux taking the second-to worse bump I've ever seen, a cop killer to the ring post, head-first, and about five feet from yours truly's feet, I might add. But, remarkably, he got up.
I did too. And I intend to stay on my fucking feet this time, thank you very much. This time I'm going to try and scale the walls, climb all the way out of hell and rejoin the land of the living once more, instead of getting half way up and losing my grip, getting knocked down, or just simply giving up.
I'm not saying that I don't still have moments of prolonged fucking bleakness, of utter hopelessness, but they're more like blips on the radar rather than all-encompassing storms of desolation. I ain't right, don't get me wrong. But I'm doing much better than I have been since before the hurricane, honestly. And it might turn out to be as fleeting as all the highs that came before, butI'll be fucking damned if I'm not going to ride it for as long as I can.
So. I'm sorry to everyone that I neglected or ignored or otherwise sold short. I love you guys, really, and miss you. And I'm sure if you've hung on to me for this long, you'll understand that sometimes I just need to disappear. But I'm back, I promise.
Continuing, because it's already apparent that chronology's been blown to hell on this one...
I'm back in Greenville for a couple days, then I'm heading back north to see my parents for a week or so. During that vacation we're taking a little mini-vacation to New Orleans for a couple days. Then back to Kentucky, then I come back to Greenville. So that's a good two weeks or more away from my job. I'm beside myself with joy, really I am.
And I'm thinking seriously that all this time off is going to make me walk back into work, look around, and say, "You know what? Fuck you guys. I'm outta here, suckers." I certainly hope so. It wouldn't be the first time I quit a job without having anything else lined up. of course, I was making much more money back then, and had a little cushion to soften the blow of poverty a bit. Not this time. I have a little under a bill fifty in my account, which has to last until July. Ha. No way. That's not even enough for cigarettes. So I figure if I'm going to be broke, and mooching off other folks, why the hell should I have to work to do it? Fuckin' hell. You know what? I tried life in the straight world. I'd even say I gave it my honest best. And what did I get for it? Fucking misery, in spades.
So fuck the straight world, once and for all. I renounce it, with you as my wittnesses. Time to take a hint from the date and do something for my self, for a change, and damn the consequences. Time to believe for a change that I am better than that. That I deserve better. Time to start living the way I want to live. And really, that does not include a fucking drive-thru Starbucks job, and never did. I issue a resounding, "Fuck that shit". On with my real life, as starting today.
And I cross my fingers and spit, that this time, it's gonna stick.
What else, what else? It's been so long. I feel like I'm missing some crucial bit of news. I'll rack my poor, thick skull for interesting stories and happenings in the world of Hyena Hell, if you promise to give me a paragraph each of shit that I've missed during my stint as a corpse. And it better be good.
Okay, I'm signing off. Love, love, and love, amidst the fog of anger and confusion. Today is a beautiful day, I assure you. Go make the most of it.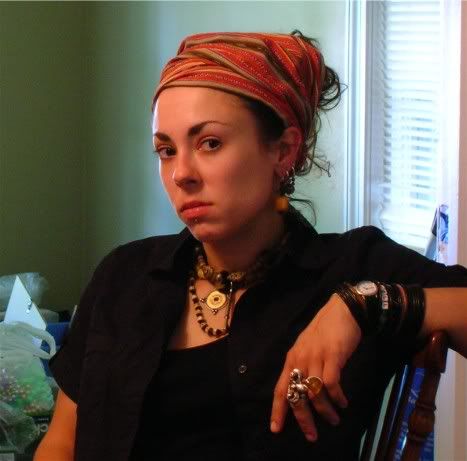 Love to you all,
and onward, always-
Hyena Hell
06.06.06.
Some people will go to exausting lengths to make themselves feel important. But I reckon that when it all comes down to it, everyone's wrapped up in their own self-righteous bullshit to some extent.
I think I'm allergic to life.
:::::
Anyway. Apologies for not updating more frequently, and for not replying in folks' journals lately.
I took this picture last week. Looking pretty rough, if I do say so myself. If one didn't know better, one might venture to guess I'd been crying uncontrolably for hours on end prior to taking this photo; or that I hadn't slept in days; or that I'd been battling the fucking bird flu or some shit. Nah. Not so much. Just general wear and tear, I suppose. But still. Bloody awful, isn't it?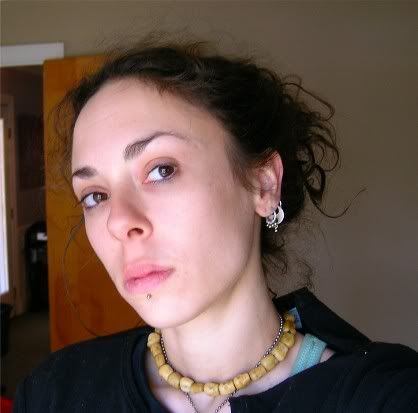 Yeah.
Just so long as the inside matches the outside, I guess.
Later.
-HH.
Yesterday at work I had perhaps one of the most "chew you up and spit you out" days I've experienced since I started. 8 hours of car. after car. after car. with never more than a minute break. I must say that the past few months have instilled in me a new respect for drive-thru workers. Seriously, folks- that job is tough.

It grinds down your brain, and wears you thin.

And you're polite, and you smile, but you're so burnt-out that you can hear that your voice is on the verge of cracking, and something rotten's gonna spill out. But you can't let it break the surface. You can't be mean, or rude, or disrespectful. Even when your customers are seething with resentment and the full fucking force of everything going wrong in their lives- because, essentially, your making them wait, or being a bit slow, or fudging their change is contributing to their sorry fucking condition. And all of this is directed at you, because you're there, and don't matter, and they can't very well tell their boss or husband or teacher or kids that they're worthless pieces of shit that do nothing but suck, suck, suck the soul out, slowly, and day by day. Just like they're sucking your soul.

So honestly, there's no point in getting upset at any one individual. There's no point, and even if there was, you need a fucking paycheck far more then you need to assert your own righteousness, affirm your identity- the fact that you matter, you're worthy, you're just as good as they are. So you smile, you apologize for your very existance, and you try your goddamned hardest to make every one of the hundreds of fucking faces you see each day just a little bit happier than they were before they came.

A lot of people think of my job- you know, the drive-thru window at Starbucks- as degrading. I'll give you that. Sometimes it does feel that way. The same people, I'm sure, generally look down on the fast food industry and those whom it employs. If you work fast food, the assumption seems to be, you must just be a mindless cog in the machine, right? You must be working there because you have not the ambition or the intelligence or the integrity to "better yourself".

Let me call "bull fucking shit" on this one.

Anyway.
-Hyena.
I've been promising a proper update for some time now, and I've finally sat myself down with the intention of writing one. Whether the end result will indeed be a "proper update" is yet to be determined. You know how these things go.
I've been a bit busy lately, and haven't had the time, or more importantly, the will, to spend as much time on SG as I have in the past. And I know "I've been busy" is the number one lame-ass excuse for neglecting friends, family, and social obligations, but sometimes it's just fucking true.
In any case, lame-ass excuses aside, how's everyone been? No, really. If you're on the brink of a schizophrenic episode, a mad binge, or if your life is otherwise in shambles, I'd appreciate the heads up. If you're doing quite well, that's wonderous and beautiful, but I'd rather comiserate than nod and smile and be dreadfully happy for you.
Kidding
, of course. I'm in an odd mood.
It's been so long between my updates here lately, and I've been writing on MySpace more frequently as well, so that I can't remember what I have and haven't told you guys. If I'm repeating myself, bear with me. Likewise, if you've read the following before, just skip on through. There's sure to be something for everyone.
Wherein our heroine, Hyena, receives a startling revelation from a 15 year-old:


Wherein our heroine's father becomes concerned as to her well-being:




Wherein, as promised, the reader might find pictures of our heroine participating in rollerderby activities:




Okay, I believe I've reached my capacity for updating. I'm off to have some cereal, make another pot of coffee, and enjoy the remainder of my day off.

Love.
Madly,
-Hyena.





This is a filler entry. I'd love to write a full-blown one, but right now my face is swollen and my eyes are itchy and my sinus cavity are seeping mucous. It's charming, I assure you.

Love.
Madly,
-Hyena.
I am going to have to start severely limiting the time I spend around people who cannot refrain from using the word "drama" outside of the context of artistic performance.

For example: "Man, I used to like her, but she just brings so much drama..." Okay, stop right there. Here's the only way I want to hear the word drama used: "TNT knows drama!". Yes; yes they do. And, Hyena Hell would like to know a lot less about your "drama" than she does at the present moment, thank you all the same.

So unless we're talking Law and Order, let's see if we can't at least extend our vocabulary, if not just abstain from dragging out your dirty laundry- and the equally filthy garb of nearly everyone you've ever met- all over the fucking place.

This whole "drama" thing is a bit new to me. I suspect that "drama" is to the present as the term "issues" was to the nineties: an overused and utterly obnoxious way of describing someone's personal concerns or grievances, especially when said grievances and/or concerns are not kept to one's self, and begin to negatively affect any and all individuals who come into contact with this person.

Here is what I understand about "drama":

1. "Drama" can begin when an individual exercises poor tact, behaves rudely towards other individuals, or generally neglects the accepted standards of social interaction.

2. "Drama" can occur anywhere- at one's work place, one's school, a social gathering, or on the internet- particularly MySpace or other social networking sites.

3. "Drama" usually circulates in a controlled or limited group of individuals who interact under specific circumstances, or for a specific purpose. Examples of this might that all individuals work together, attend school together or have the same concentration in studies. It might also be that the individuals attend the same social gatherings, including but not limited to musical performances. The key factor to consider, however, is that these individuals are bound loosely together by something outside of themselves or their personal control. While it is likely that some or all of the group might be friends, it is not necessary; it is however necessary for all members of the group infected by said "drama" to be at least acquaintances.

4. The obnoxious and infectious qualities of "drama" may be multiplied by seventy-two million if the binding element of the group can be described as a "scene", and if dressing a certain way is explicitly important in gaining inclusion into the group. For example, "drama" in the punk scene > drama at McDonalds; "drama" in the art scene > drama on the sports team.

5. "Drama" may also include any and all overwrought interactions between two individuals who are romantically involved.

6. One major cause of "drama" stems from a lack of equilibrium in the affection felt or shown by two individuals towards each other. It might be that person x wants to be involved romantically with person y, who is completely disinterested in person x. If person y favors a person z over person x, you best believe "drama" will intensify exponentially. Add sexual relations into the equation and complications- as well as "drama"- intensify.

7. Much related to the above cause of "drama", but notably different, is a case in which two individuals with an established and consummated romantic relationship sever their ties with one another, often times demanding that the other members of the group side with one or the other regarding the issue of who was just and who was unjust in the dissolution of said relationship.

8. Again, a slight variation of the above cause of "drama" is when a third individual causes the dissolution of a romantic relationship, or appears romantically involved with one half of the disunited couple after an awkwardly brief time following the breakup.

There are many other forms, facets, and variations of "drama" that I have yet to encounter or explore. But feel quite confident in drawing the conclusion that the avoidance of "starting drama", and/or the refusal to participate in any existing "drama" contribute almost exclusively to one's status as a mature adult. But perhaps the most important part of maintaining one's "mature adult" status is thus: if one finds one's self in a situation that suspiciously resembles "drama", and it cannot be avoided, stopped, ignored or otherwise properly fucking handled, one will refrain from referring to one's unfortunate situation as "drama".

I swear, if I can't go 24 hours without hearing that fucking word and the sordid crap that accompanies, I am going to absolutely lose my poor, rattled mind.

Old, grumpy, and in the way,
-Hyena.

Disclaimer: I am in no way referring to anyone I interact with on this site in the above entry. This probably goes without saying, but I'd rather play it safe, because, you know, I wouldn't want to start any "drama".




A few more hours and I have to go to work. I absolutely hate closing, and I have to do it three days in a row this week- today, tomorrow, and the dread uber-slow Sunday! Then I've got to come in Moday morning at 8am after closing at 1am. My manager, who is an all-around nice guy and who never purposely schedules someone to come in so early after closing the night before, offered to give me Monday off. But that would mean they'd be short a person for the busiest stretch of the day. Plus, I can't afford to lose the hours. So I'm doing it. It will, however, suck ass. At least I have Tuesday off.

So I mentioned last entry I'd been doing the rollerderby thing. I'll update more extensively on that at a later date. And yes, this will include pictures of me in roller skates. Mind you, until a couple weeks ago, I'd not skated for over ten years. Needless to say, I've fallen down a lot. But it's been fun, despite my lack of skating skill. As I explained to my father, "This combines my love of team sports in which hurting people is the predominant goal of my position with my love of dressing up in ridiculous outfits". My father at once understood, and blessed me with the words, "You know, you're going to break your fucking neck". Now if I could only match my enthusiasm with some grace and finesse, I'd be a fuckin' natural.

Indeed.

Okay. I was planning on a longer update, but an old friend whom I haven't spoken to in a long while called me midway through. We had a lovely conversation, but I'm not really in the updating mood anymore. So. Apologies. I feel like my last few entries have been kind of lame and half-hearted, and I'm sorry for it. I'll get back into the habit eventually.

Much love.
Madly,
-Hyena.
Hmm. Not a real entry, I suppose, but rather a few items:
--Ever wonder what kind of woman spends half her paycheck on underwear?


--N.O.L.A. recap.



--This is my new passtime.



That's it for now.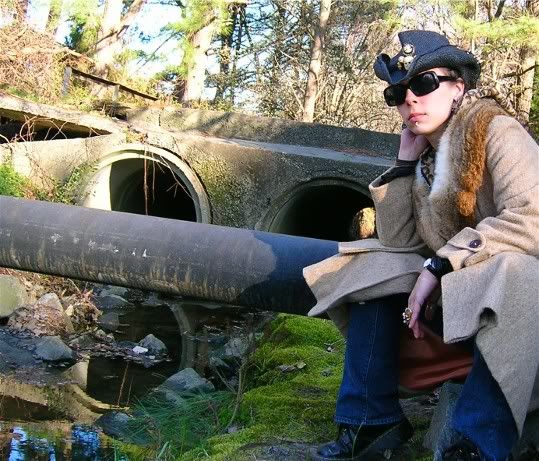 Madly,
-Hyena.