I'm private
I is back! Ooh!
I got an email with a reactivation code saying someone had bought it for me, however I slightly believe that SG simply missed me waaay too much to let me fester in cyber-nowhere and simply decided that in order to save themselves from eternal misery they should simply give me some love.!
Well, much has changed since I was last a member. I have a new house, a new tattoo and new
website
which is ever-so stripey and looks so tasty I could just lick it!
We'll also be having stalls at Liverpool, Derby and Tattoo Jam tattoo conventions this year so come by and say hello, fondle our lovely wares and buy youself a treat or two!
We've started stocking
clothing
now as well which is super exciting!!
The House
However apart from that I have very few changes, I'm a busy lady with the shop and the house, which Rick and I are slowly doing up. Last summer we spent every day doing the garden which has changed from a jungle/meadow into an 'almost there' pretty patch of greenery. There's still work to do but it at least has a garden feel to it now!
The house is coming along, it's over 100 years old and has had pretty much all of it's character ripped out of it, apart from 1 fireplace and 3 sash windows which have been painted shut by the nobbers who lived here before us. We've started a bit of everything that needs doing, new kitchen units & sideboard, with super sparkly granite worktop to come and the living room is in the process of being decorated with the most delicious wallpaper I have ever come across, birdies, butterflies and chrysanthemums!
This house has turned me into a right old lady, I now get excited by Bonsai trees and stripped pine floors instead of Jack Daniels and dancing all night.
Before & During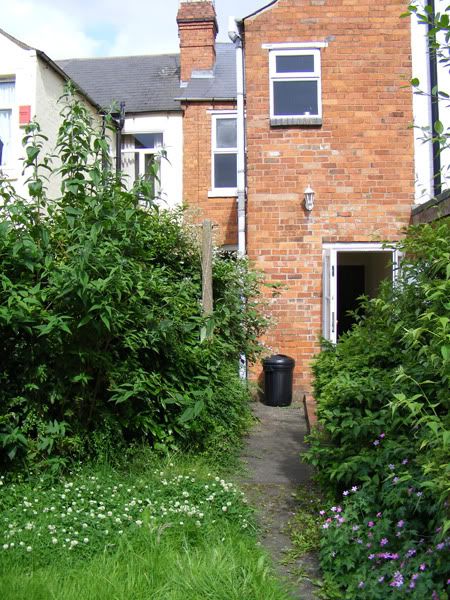 Now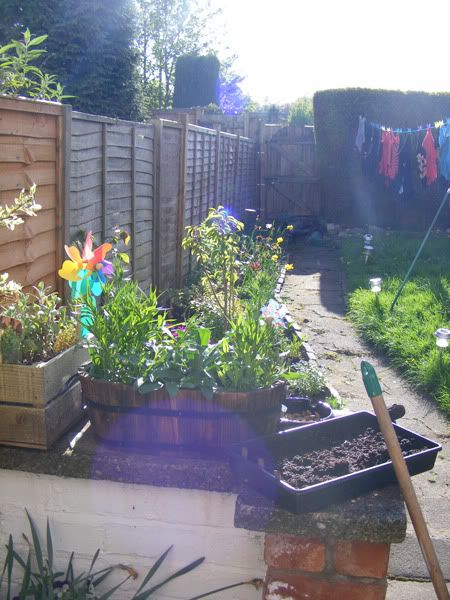 Betty loves her garden
The Tattoo
If you got hold of Total Tattoo this month you'll probably have already seen it, it was used in the article about the super-lovely Leah Moule and it's of Betty seeing as I have such an uber-obsession with my dog and pugs in general. I'm booked in with her again on May 15th for another addition, this time a piece of early 20th century flash that I found in a book of a 1933 academic paper about tattoos and how people who get them are either sexually deviant (female) or sodomisers (men). It's so funny to read.
The New One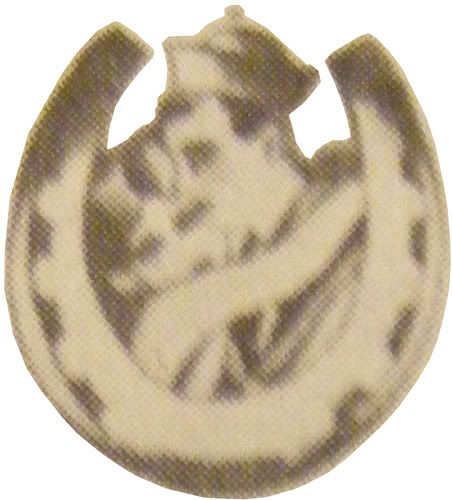 Well, that's about it. I'm going to pay more attention to this now, I'm sure I'm more interesting than I was before. If not better dressed. This is me more recently, about 4 years on from the picture that I'm about to change on my profile. I'm not a regular self picture taker so this is still about 6 months old!
So that's me done. Over and out.
So, yeah, still been neglecting the site, still over worked and under(not) paid, but oh well.

Over the summer, if you can call it that, quite a lot has happened. The flat I'm in at the moment is now up for sale, we've found a lovely little house not far away that is ours as soon as this place is sold and I've decided I want to go to university next year to study Animal Behaviour and Wildlife Conservation, hopefully ending up working rehabilitating primates and conserving their habitats. Seeing as my only true passion in life has been that of animals, it seems to make sense!

The website is doing pretty well, could be better but what couldn't.

Short and sweet update, site's being veeeeeeeeeeeery slow today.
so, i've proper neglected SG lately.
not because i'm bored of looking at the titties. i still love the mammaries.
i've just been up til 4am every night doing this:
www.beadesaurus.co.uk
it launches on the 26th so buy stuff from me and make sure i don't have to get a real job!
i ain't gonna plug it too much but go to myspace and add us to see our pretty pretty things!
(we have lots of lovely tattoo inspired things ooh!)
on another note does anyone wanna dress up as a 6ft dinosaur on july 7th? you'll get free beer and be on radio!
So I watched the Lost finale last night.
Spoliers galore so make sure you don't read if you don't want to kow what happens or my opinions about it. Especially if you're in the UK as you only have to wait til tonight (unless you download!)
Right
I got my calves tattooed today, just the outlines. I could sit there all day and cope with the 'pain' but I can't sit still, at all. It kills me, I've got shitty circulation anyway, my blood simply refuses to enter certain parts of my body sometimes, and I get pins and needles constantly. Shitter.
I could have gone on and had them finished today though as I was lying down and pretty comfortable, although I was beginning to feel 'the fidget'. I hate it, I have so much energy but when it comes to talking to people I now I just can't. I have no idea what's happened. 3 years ago I could chat shit to anyone for hours, now I can't even say hello seeing as I have nothing to follow up with. Bah. I blame Rick, he de-socialised me.
I'll post a picture of my new lovely fish-ladies (mermaids for the educationally challenged) when they're less shiny and swollen and red. I tried taking pictures but I've just oiled them. Also my calves looked like they belonged on a builder call Barry seeing as they're part of only section of my body that knows what muscles are. I swear I could crush fruit!
Oh and my dad was discharged from hospital today after 7 and a half weeks
He's still really ill and has to take 14 pills and a load of weird liquid gel stuff every day and go back for kidney dialysis 3 times a week but at least he's seen as being fit to leave. Although they discharged loads of people today so I think they just want a quiet bank holiday weekend.
We'll see.
I'm in the mood to do some pictures, I haven't done any for ages! Too much trauma.
Good health is mereley the slowest possible way in which to die.
Tired. Spend all day escorting my friend around Birmingham dressed as a dinosaur to promote the shop.

However I did make £127 with my jewellery and hair fun this week.

Yay, I can eat!
I don't know if anyone here is actually in Birmingham but here is a small piece of shameless self promotion.
After several weeks of pottering about next door to Beadesaurus (Birmingham), the time has finally come to open the big leopard print doors and let everyone see what we have been up to.
Come checkout our new shop space opening on Saturday 7th of April. We got loads more jewellery, bags, gifts and accessories and if thats not enough we got some free goodie bags to give away to the first people who venture into our new shop.....
We will be dishing out goodie bags from midday!!
The secret passwords to get free stuff is....I want free stuff now!!!
Be quick though cos we only got a limited amount of goodie bags to give away...
And look at my immense photoshopping skills lol
This one might be a bit big and photoshop is on my other computer so I can't resize it...oops
Why the fuck do you have th be 'vouched' in to SGUK? Is this a popularity contest?
My dad has stabilised but he is nowhere near 'safe'. Last night I was told he had 24 hours left to live but today he has responded to the kidney dialysis and is now semi-conscious and responsive. He's been moved to the specialist liver unit at a different hospital and has some remaining liver and kidney function, however if he pulls through he will no doubt need a transplant.

It's still 50-50, maybe less but at least I have a small glimmer of hope. Although sometimes I wish i didn't as if something happens now I'll be shattered and I honestly don't know how long it will take me to find all the pieces.

Last night I broke. Literally. During the 9 mile journey back from the hospital I couldn't breathe, I couldn't speak and I felt as if I was on drugs, floating semi-conscious from one place to the next with only the pain from the grindling of my jaw as it contorted reminding it was real. I felt my heart repeatedly breaking and cried until I ran out of tears. Then I wailed, a deep, dark and frightening sorrow that I never knew could exist, and pray that I forget it does.

At the risk of sounding like a cheesy romance novel Rick truly is my rock. He knew there was nothing he could say and so he just listened and held me until I didn't have any more strength left in me to cry and fell asleep. If anything positive can possibly come from this experience it's how it's shown me how strong we are together and how much I love him. I've realised that I truly want to spend the rest of my life with him. Someone I never thought I would ever fall in love with has completely changed me from a shallow, self-absorbed moronic clone into the person I wanted to be.

And this is forever.
MAY 2009
1
2
3
4
5
6
7
8
9
10
11
12
13
14
15
16
17
18
19
20
21
22
23
24
25
26
27
28
29
30
31
APRIL 2009
1
2
3
4
5
6
7
8
9
10
11
12
13
14
15
16
17
18
19
20
21
22
23
24
26
27
28
29
30
MARCH 2009
1
2
3
4
5
6
7
8
9
10
11
12
13
14
15
16
17
18
19
20
21
22
23
24
25
26
27
28
29
30
31
FEBRUARY 2009
1
2
3
4
5
6
7
8
9
10
11
12
13
14
15
16
17
18
19
20
21
22
23
24
25
26
27
28