cpkz will bring you the limp and beaten body of Bob Barker!
I'm private
A new blog? So soon. Yeah.
Mostly just me thinking.
Lets start with teh shit: My job.


I went to Bend to do a race with my best friend!



Beyond those two things...not a lot has happened. But the job thing has weighed heavily on my shoulders for awhile. The fact that I am feeling less of it on my shoulders isn't actually a good thing either. Hopefully, with interviews and what not, I can start giving some positive updates.

I had to read over some of my old blogs. Okay, good, I don't actually come off like I'm constantly whining. Good.
Things in today's blog: Aquariums, octopodes, concerts, selling my soul to the devil for a love life.
Aquarium:


Concert



Sold My Soul for a Love-Life + ... my love life.

This part is going to be long because I like telling stories. I could probably sum it all up in a sentence...but no, I refuse.




Other things in my life: I'm now actively seeking a new job, and I've called it quits on one of my shittier friends who is currently on a self-destructive spiral. I've rescued her many times before, but she abandons me when I need her, or hell, not even when I need a friend, but just want to hang out all cool like.
Alright...I guess time for a bigger update. This is actually going to probably be huge... mostly pictures though.
Nola:


Art:



Now for a tiny bit of my life since I've been back:

And I'm working again.

NOLA was absolutely amazing, and totally needed for me. I've been stressed out a lot recently, and I don't really ever have a chance to let loose. NOLA was definitely a time to let loose and be surrounded with amazing people.

I'm also super tired, and haven't had the time to fully process it. So this is going to be short. Thank you everyone who showed up! It was amazing, and I really look forward to the next time.
I was in this dream, and in the middle of it I became lucid. I can't remember what the dream was about, but I do know once I became, I decided to make myself a God. So I started to destroy things and tear apart the reality in my dream. I am now questioning if it was lucid or not. I am also questioning whether or not this is reality.
My insomnia has returned.
Picture time!
Oscar Party! I dressed as a Bond Girl (The female present is one of my friend's girlfriends)
Me,
Mayvis
, and Stan Lee! Apparently the picture is too big for SG, and it cropped out Mayvis.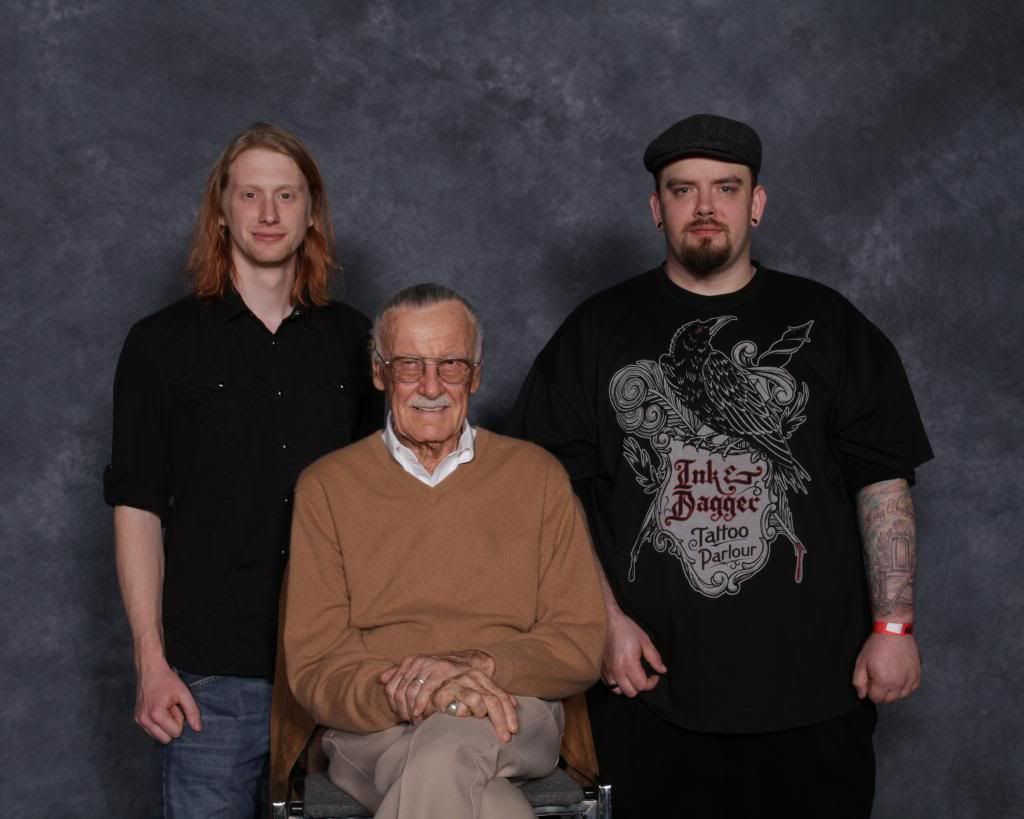 That's it for now.
I have more training for work. About one week of every month for the last few months and the next coming ones I have to learn a new skill, because I am a super supreme agent. Yeah. Or something like that.
So for this week I have to be at work at 7am, which means I'm waking up before 6am. Which means I'll be going to bed early every night this week. I am hanging out with a few people this week, but for the most part I'm disappearing into my bed.
I also might have to take over time hours next week. For me to earn my Bonus, I have to take X amount of calls with Y amount of customers loving me. I have the Y, but due to training, I'm going to be under the number of calls I need. The additional hours that I can sign up for are either work on my weekend (fuck that), or work 2 hours early before through my shift. So I might lose sleep next week, too. Before I sign up and do that though, I will be making sure I will be getting big bucks for it.
Its sad that I used to get paid the same, and never ever had to talk to a single soul. I miss that. These humans, they bore and stress me.
Basically, what I'm saying is, I don't expect this week to be good. I'll survive it, and next week I'll try my best to make my week better. Friends, sleep, maybe finally get that date. Until then, I just survive.
Luckily my random morning music playlist is matching my mood: Soulfly, System of a Down, Korn, Tool, etc.
Obligatory,
READ MY COMIC BOOK!
plug.
I haven't really updated anything serious for awhile. Its not because I don't love you guys, but because just not a lot has been happening. That is neither good nor bad, just steady life. Still, here's whats been going on:
I joined a Bowling League. Its fun. I'm now consistently bowling over 100, and hoping to continue to get consistently better. Before I could have a massive game, followed by a game of under 60. I want to be able to bowl and know I'll break 100 (unless I'm half a bottle of vodka in).
My job has given me some extra benefits which makes it more manageable. If I do well at something I used to train people at, I can make bonus money. I still hate customer service, and I hate the fact that I have this awesome degree and I'm not using it. But, I might start making $50k/year, or just about, and that's one of those life goal kind of things Adults aim for and stuff.
I'm still doing my comic book. I like it. If you are on the facebooks, like the
Facebook
page or follow
@DameonStrykes
on twitter. Or just read my
comic book.
. I just released my
favorite page
so far. Image was too big to link.
For physical health, right now I feel cruddy. The sickness hasn't knocked me out, but its making breathing fun. As an asthmatic, breathing is always fun. But, I have a race tomorrow (12k, or just about 7.5 miles), and I have a race nearly every month this year. YAY racing. Also, I've started the p90x work outs, so I can start kicking my ass doing that.
I finished my tattoo last night. A total of 6-8 hours went into this baby.


My living situation is awesome, but my roommate is planning on potentially making some big life changes. Every other month, I get told "in a few months I might be moving. I'll let you know." The opposite months, "All is well, I'm staying!" Personally, she's the best roommate I've had (that hasn't been a GF), so I'll stay as long as possible. I'd like to try to live somewhere for more than a year. I haven't done that since I was in High School.

I was going on dates with this girl, but that kind of flopped. The first night she was on, flirty, and into me. Since then she's kind of been meh. We've gone on 3 or 4, and I invite her to join me on things I go to, and sometimes she shows, sometimes she doesn't. *shrug*

In more positive news, there's this bartender I've been crushing on for over a year. She's an awesome person, works at my favorite bar, hosts my favorite night, and when the bar is empty we'll just chat it up. While I think dating her would be awesome, just being her friend would be a pleasure. She's the Bees Knees , if you will.

I had asked her out once. We never could get plans together, and after awhile she decided she "shouldn't mix business with pleasure."

Well, I asked her out again recently, and she gave me her phone number. I'm super excited and happy. Its awesome that she trusts me with that. But now... not sure how to proceed. I'm not sure if I did something last time that made her change her mind from "Yes" to "I shouldn't hang out with patrons," or if there were outside factors. I don't want to abuse the power of having a phone number, but neither do I want to give up after a few "Sorry, I'm busy"s. So far all I've done is made sure her number worked, made sure texting was cool, and let her know what my schedule is.

Again, she's a cool person. I've had some good conversations with her, we're into similar things. I'd like to get to hang out with her, see if anything happens, and if not...I'd be happy either way. But I do want a shot, and I want to make sure when I take that shot I don't blow my foot off!

It'd also just be nice to broaden my horizon of friends. All my friends in Portland are of the LGBTQ group. I fucking love them, its great. But, I'm not super into gay dance parties, It'll be really hard for me to meet someone in that crowd*, and some people in the LGBTQ crowd don't like hanging out with guys that are obviously straight. It makes them uncomfortable, and that discomfort makes me uncomfortable as well. I understand why, and most of the time its cool. Still, it'd be nice to get to hang out with people outside of that group, such as have friends who want to go to rock / metal shows with me, or go to bars that play industrial and goth music.

*On a note, I don't go or hang out with those friends with that intention, and when I'm hanging out with them its rarely on my mind. But, it is on my mind when I'm bored.
I have nothing really to update. I don't know if that's a good thing, or a bad thing.
so instead: