bbgirl822 Forbidden in heaven and useless in hell....
I'm private
We had our ultrasound today.... Its a boy!!!!


xxoo
oh damn i feel like ass!!
i have never been so full of gas in my life
Let me tell how much i love being pregnant right now
And the damn dr wont call me back isnt that nice!! im glad its not an emergency..
xxoo
B
ello ello ello.. pregnancy update time.. better do it now whilest im inst da mood!!
Well lets see what is new in my lil world.. Well im in my 2nd trimester now and its been right down shitty.. i have sick more and i have a nasty nasty cold.. there aint nutin like havin a snotty damn nose!!
I still havnt gained much weight but im tryin!! i have been eating 3 times a day and i have been trying to snack in between meals also.. i took apples, strawberries and grapes to work with me today.. and im trying to eat healthy too.. i shock myself sometimes..
Ok so lets do a recap shall we!!
here is the lil peanut at 7 weeks..
and this is me just a week later at 8 weeks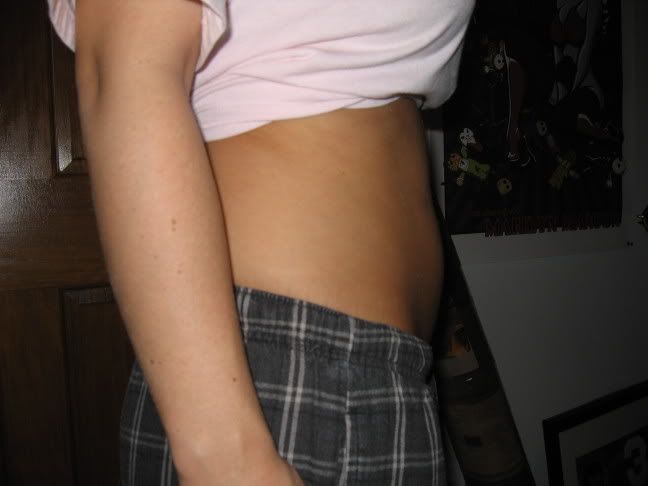 k and this is me now at 16 weeks and 3 days!!!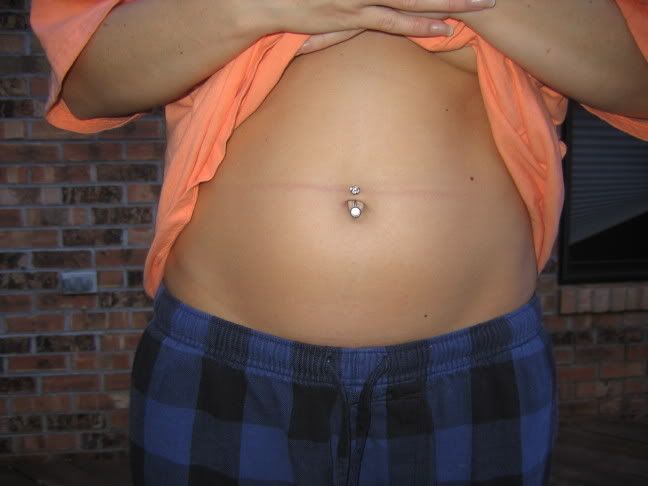 Its funny i look bigger on one side than the other side..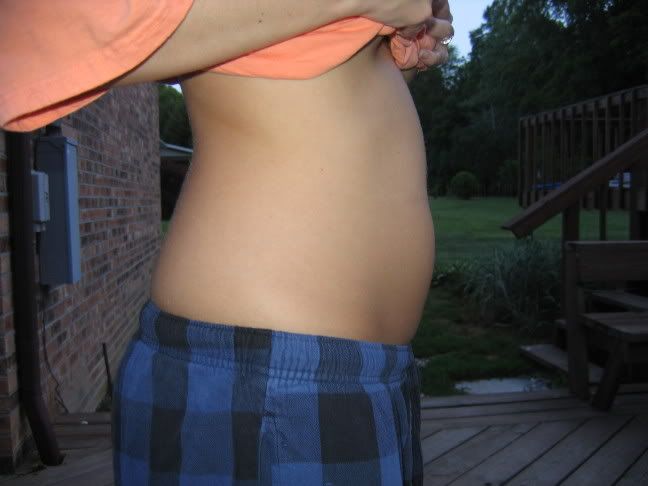 i am gettin a lil bigger.. on June7 we go back to the dr for a check up and to schedule my next ultrasound to see what we are going to be having.. mike and i are soooooo excited..
I have almost cleaned out the babies room.. it was once the junk room.. now we are going to start painting and laying new carpet...
i have decided on a theme for the nursery.. I have always wanted a room where you feel like your under water in the ocean.. so im going to paint the walls blue and then im going to paint fish and coral reefs and all kinds of stuff on the walls.. im hoping all those art classes i took in college will come in handy.. then on the ceiling im going to paint clouds and a sun.. and then when you turn out the lights the moon and stars will come out.. how cool will that be!!!
more pics more pics.. the ones i have been promisin you guys!!
here is our baby (Powder) chewin on a stick in the yard!!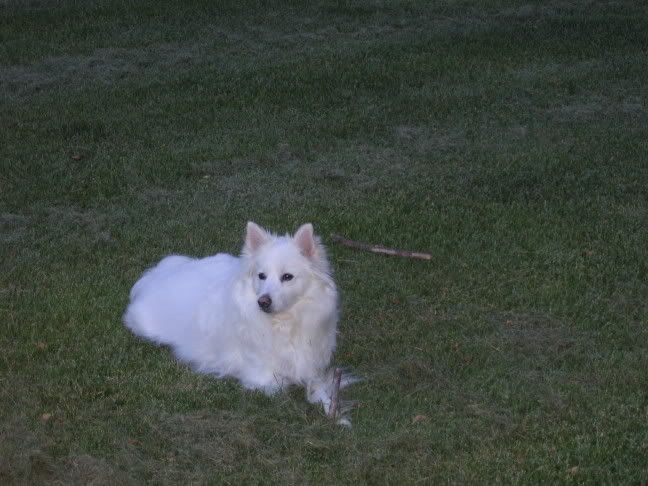 And this is Mike and i at Richmond VA a few weekends ago at the nascar race.. we were just getting off a tour of the pits.. man was it awesome!!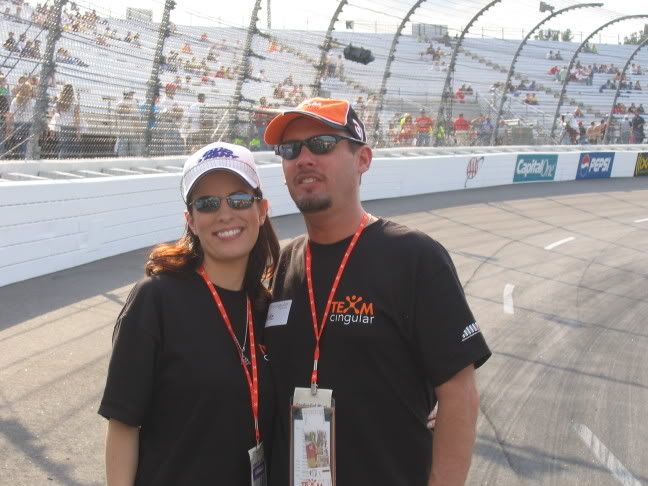 and the man of the hour that night Dale Jr... man was he awesome all night long and we were there to see him win!!!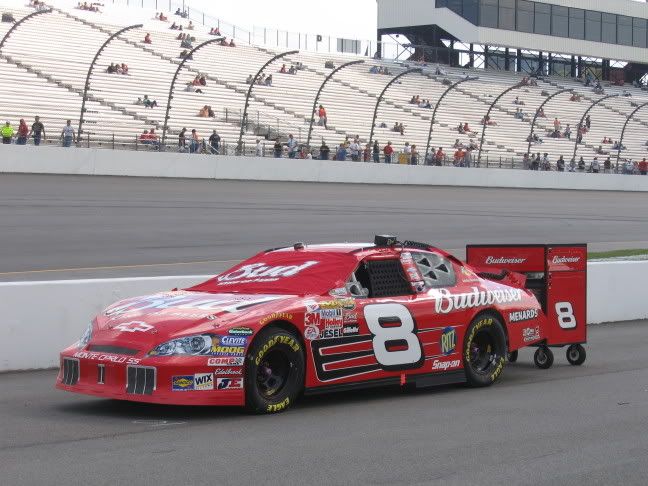 And this is us again in Dale Jr.'s pit stall..
And here is some pics of the new salon im working at.. these were taken on my first day there so the pics of my work station are a lil messy.. gettin upacked.. I love working there and i have made alot of new clients but i sure miss working with everybody i used to work with especially
addickison
This is down one hallway, where the hair dressers are at and my lil room to work..
my station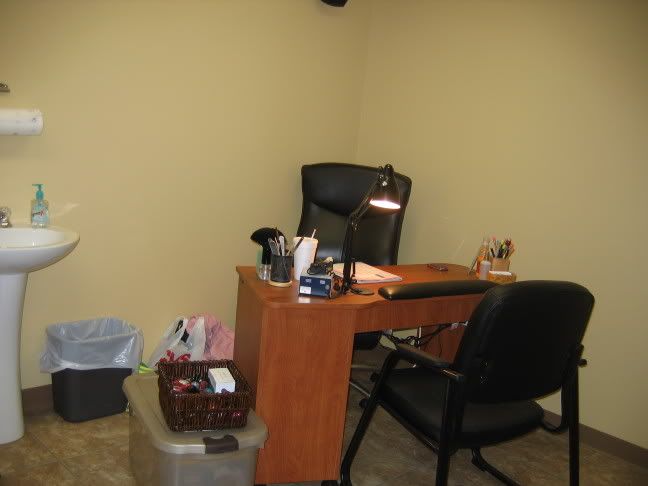 and this is the other hallway, where all the tanning beds are at.. they have like 12..
Ok im sure im boring you about now!!!
well im going to bed i be a sleepy girl..
xxoo
love yas
blessed be
p.s i will leave you guys with a wet pussy
lol poor zoe hates her bath!!
Hey guys, wow what a weekend..it was a blast other than me being sicker than a dog yesterday... Well anyway Mike got his tattoo.. and it is gorgeous!! I got to meet alot of new people.. i met miss
Sunshine
and she is a sweetheart..
i looked like ass here.. i had been running to the bathroom every five minutes to hurl my guts up.. but she is beautiful!!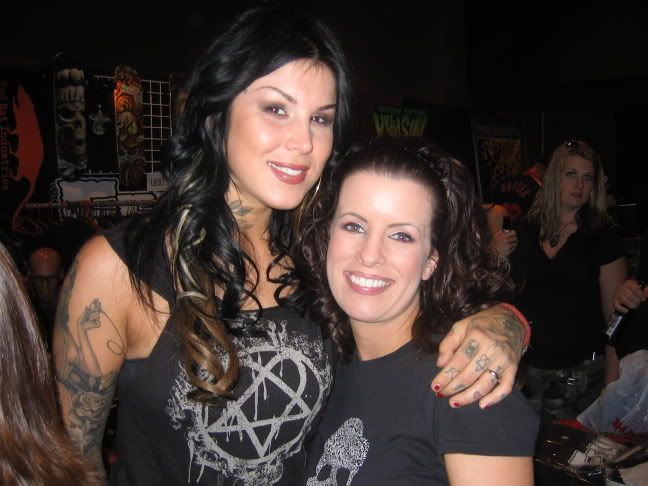 My picture with Kat Von D.. wow is she tall and she is gorgeous.. very sweet lady!!
Here is the first few shots of mike gettin his tat..
this is where the outline was done..
shading in this pic..
And i didnt get a chance to get a pic when it was done.. my camera wasnt working right so im going to get one tonight and post it later.. and speaking of camera flaws.. i got alot of pics of the SGs but they were soo dark.. im trying to fix that so i can post more..
I do have a lot more pics to post not just of the convention but others where Mike and I went to the nascar race in Richmond and the pics of the salon im working at.. but right now im feeling yucky so im gonna go lay down..
xxoo
love yas
p.s i am now 15 weeks preggo.. i will also post belly pics later.. havnt gained much weight im getting a little pooch!! Been feeling great other than yesterday and today.. i think it is mostly the Long John Silvers that i ate at lunch yesterday.. NEVER again will i eat there
here is Mikes finished tattoo.. isn't it awesome.. i love it.. i cant wait to get one myself..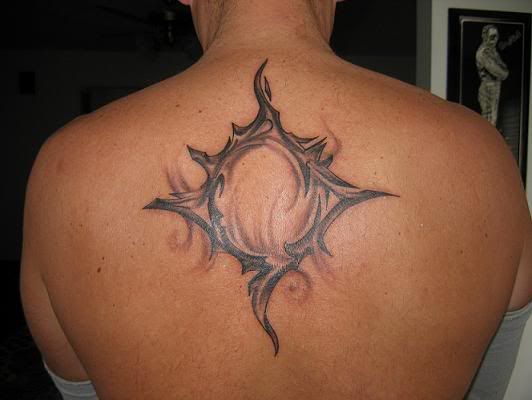 the artist is
Conanlea
OMFG so we graced HELL CITY with are presence yesterday... man was it awesome.. we liked it so much that we be going back again today!! mike has an appt. with an artist today to get his first eva tat.. im like soooooo excited!!!
The artist is Conan Lea and he is amazing!!
And the suicidegirls were sooo cool.. i got to talk to
Twwly
.. she is soooooo nice..
Amina
,
Taye
and some other sgs were there... im anxious to meet more!!
Oh and one of the best highlites was meeting Kat Von D..
i got a pic with her.. will show you guys later... She is gorgeous!!!
well gotta go
xxoo
p.s Mike got me my first mothers day cards they were sooo sweet i cried my eyes out!! He is the best!! oh and he also got me a pink blue tooth earpiece to match my razor phone.. now im really cool!!
OK OK i didn't update
but i will soon i promise just been really busy!! love you guys
muah!!
xxoo
p.s i can NOT believe they voted Chris off of American Idol... im PISSED!!! i am not watching it anymore!!
ooooo hey guys, sorry i havnt updated in a while.. been suuuppperrr busy.. got soo much to tell ya!!.. gonna do a proper update tonight i promise!!!
xxoo
love ya
p.s im super excited about this weekend HELL CITY here i come.. i know i cant get a tat now that im preggo but i cant wait to meet everybody...oh and damnit i still havnt got the stuff in the mail that i ordered
love yas again
Oh am i in a better mood today!!!! i just bought the SG book, cards and a tank top for lil ole me!! Nothing better than shoppin.. anyway gonna take the book with me to the convention and maybe get some autographs..
..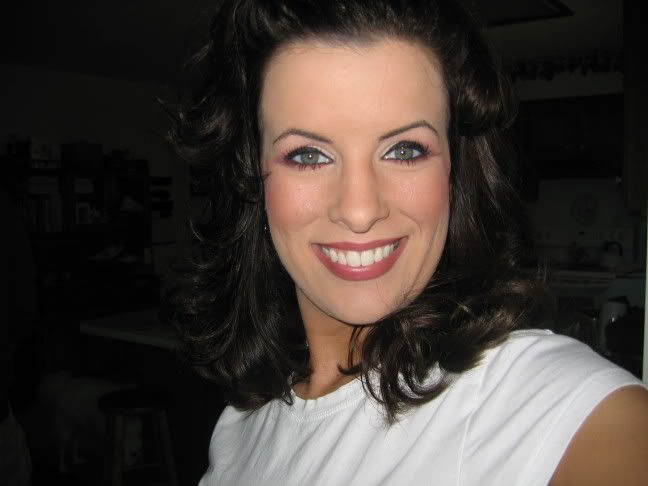 oh and i got rid of the purple hair.. was bored got tired of it fading and gettin ugly...
oh and this is my bestest friend in the whole wide world i miss her soo..
Audreyrose11
well gonna go... love yas will update more later
xxoo
p.s. My baby got neutered last week.. i was sooooo nervous.. but he did soooooo good.. no problems at all.. now he just has blue and black balls.. poor baby... i love him soo.. he gets his stitches out monday...
not in the mood to update.. i will tomorrow..xxoo
Well, i mailed out my taxes today.. nothing like waiting till the last minute... I hope you guys had a great easter... will update proper later.. wow i loved
Vivid
s new set... yummy..
xxoo
Ps.. Hey my hubby and i are going to go to the tattoo convention in may in columbus Ohio.. i hear there are going to be a ton of SGs there does anybody know who all is going?