I'm private
Not sure how much longer I'll be here, so if anyone wants to keep in touch, watch / get involved with upcoming movie projects, or send me penis-enlargement spam (it can never be too big), yell at me on
my film page
, or
Youtube
or Facebook or something.
In the 2 years since I posted anything on here, I have been...
* Still working my strange TV jobs (on-air text moderator), mainly involving exchanging lols and insults with some of the creepiest people in the country. Recent viewer testimonial - "you make me want to hang myself"
* Still editing a puppet-based music vid I shot over a year ago for
Thumpermonkey
, as well as Death Carts - my killer shopping trolley opus, and re-edits of previous unreleased shorts... while simultaneously writing 2 horror features (and a romantic comedy) and replacing my smashed up equipment.
* Finally starting a production company after a decade of doing freebie video crapola. Its high time I stopped wanking for coins.
* Looking after my gf, who was diagnosed with kidney failure in Oct 08, and nearly died several times. She's on 4 times daily dialysis and a million meds, but is still remarkably upbeat and strong. She's a fantastic person who doesn't deserve this... Her dad and myself are in the running for a transplant, so we'll see how that goes.
* Despite the worries, am organizing trips to Edinburgh Festival and Vegas, and also trying to teach my cat to yodel (alas she just sounds like a petulant Yoda). One day...
what?!

WHAT?!

who re-activated my account?

so... this place is still here then.


"There's a spoon in the bathroom but a've nae cause to use it"
Current mood
: Tits
Listening to
: The chirping of baby birds in our kitchen air vent!
According to
Adbusters
, it's TV Turn Off Week.
I have no TV, so therefore nothing to turn off, but I applaud it anyway.
Switch yours off and see how much better you feel.
(Although I'd recommend the new Battlestar Galactica, just because it's excellent and not getting enough viewers. Oh, and last week's Doctor Who, with the Daleks and their Pig-men slaves in the Empire State Building, that was fun. And series 3 of Lost is still entertaining, especially that episode with the dead couple that no-one seems to remember.)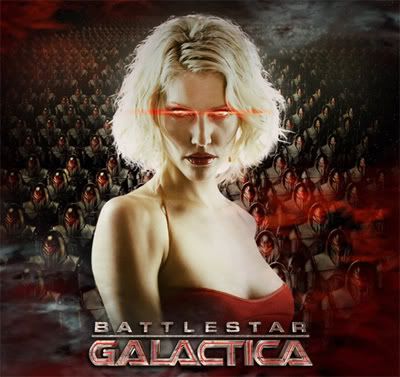 Since my last online mutterings, I've been doing the following:
On a fitness/diet regime to lose 2 stone, which seems to be working; I'm achieving this by:
*replacing pizzas with salads (surprisingly easy, but not that satisfying - if only someone could create a pizza consisting entirely of pizza-flavoured lettuce),
*swimming (re-enacting the death throes of a drowning frog),
*cycling (on a clunky 2nd hand bike which for some reason has a Budweiser logo on it and a chain which falls off every 15 minutes),
*reading about current events (which makes me pace up and down for an hour while clenching fists and gnashing teeth... we really are fucked, aren't we...)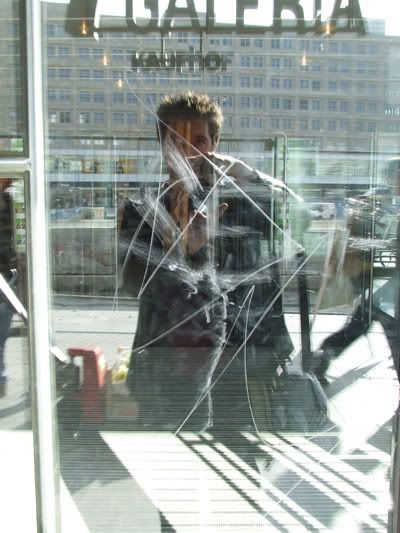 Also been writing 3 horror movie scripts at the same time, which is tricky but necessary, as I haven't made anything substantial in ages. Cider, sunshine, and some brilliant new music by
Dissolved
,
Amon Tobin
,
Cornelius
, and
Panda Bear
has helped. Aiming to make the first of them later this year, and I'll no doubt waffle about it here when things are kicking off...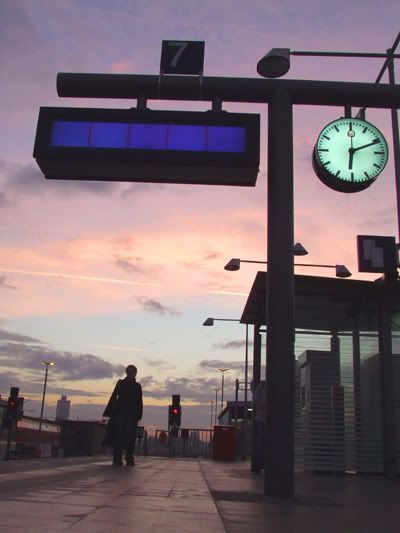 Since my last proper post (September 06?!), I also went to Berlin and Venice with Hels, who's the best travelling companion (despite her borderline murderous hatred for most of the human race).
We were in Berlin for the never-ending laughter-free spunk-fest that was the Berlin Porn Festival. Aside from meeting the
Vivid Alt
people and some interesting French pervs, I couldn't get out of there fast enough. I seem to be in the minority when I say that Berlin is a miserable shit-tip. Maybe we didn't go to the right places, but it's probably my least favourite European location outside of Northampton, Luton and Bognor. At least Bognor has crazy golf.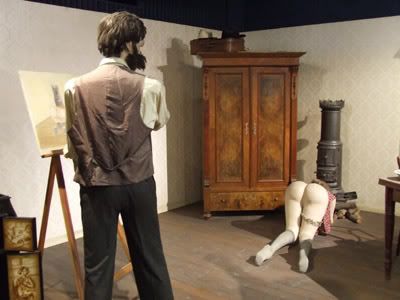 More fun was a visit to Glasgow to hang out with Dissolved, have altercations with geese, and break into an abandoned hospital. Very nearly got caught this time and we had to run like escaped convicts and hide in thorny bushes. Fun!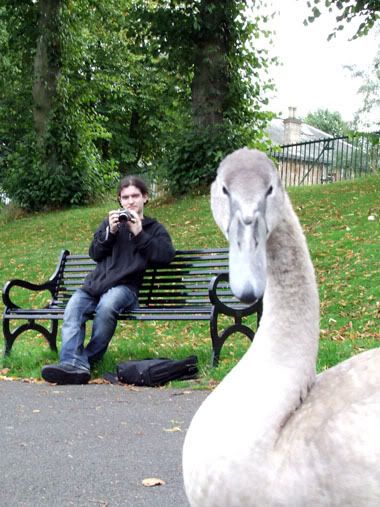 Also had my second visit to Venice, which is beautiful, relaxing, and eerie when it's raining. Found a nice hotel for 10 quid a night (due to a typo on the website I booked it from), went to the Modern Art museum (Damien Hirst's idiotic efforts were there, alongside more satisfying body-horror stuff by the Chapman Brothers), spent hours island-hopping on waterbuses, and stumbled across an ace cocktail bar we hadn't seen before.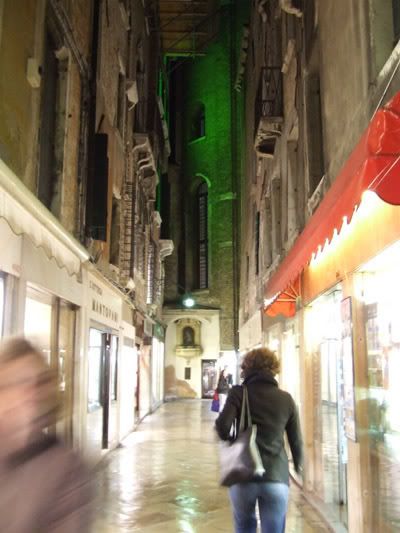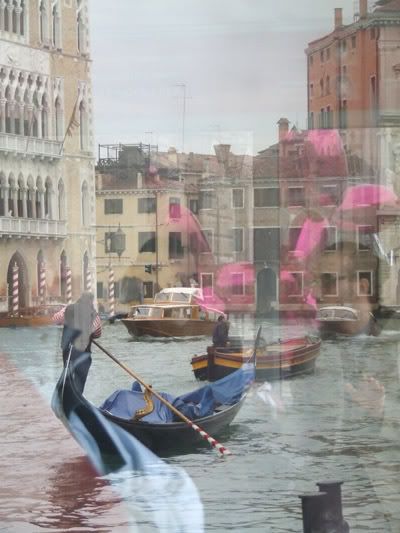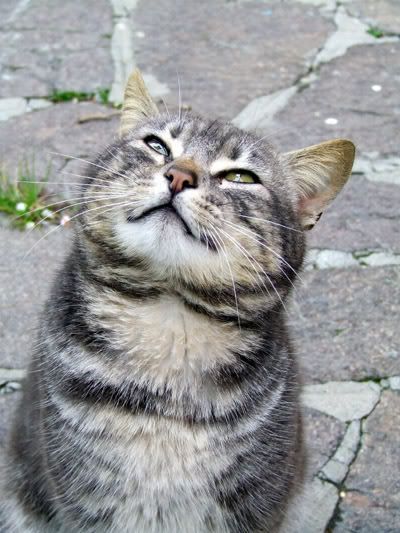 Sad to see that Venice's
Erotic Art Museum
has closed down though. Best museum ever, but apparently idiot tourists weren't interested in checking it out, and the government decided the place wasn't worthy enough of financial assistance.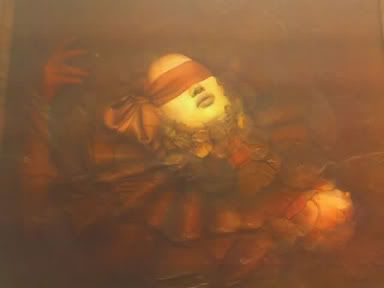 Film-wise, I just finished an hour-long gig film for
Telford Mining Disaster
, and uploaded a video documenting my trip to Japan in '04, condensed into 90 seconds (beware, there's a smidgeon of porn in it) - right-click on one of these gifs to download...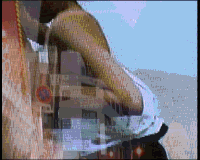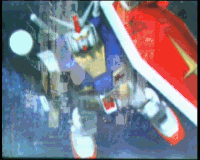 Oh, and someone's uploaded this, one of my first efforts...
I also entered my 3-min horror flick 'Things Best Left' into the Myspace Movie Mashup competition, whereby the winner will receive a 1 million quid budget to make a feature. If you haven't seen my entry already, please take a look
*here*
.
A recent
review
- "3 minutes and 20 seconds is not a long time, not a long time at all. It is insanely difficult to tell a story in this amount of time that will pack any emotional resonance. It is rare to find a short film that even attempts this via a traditional narrative, it is rarer still to find one which pulls it off as effectively as Things Best Left...."
While I'm here, I'll plug a mate's superb comic -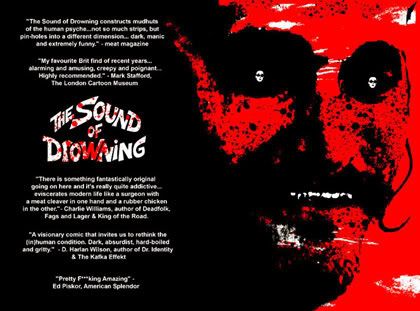 The Sound Of Drowning, by Paul O'Connell -
Issue # 9 - £3.50 - on sale here!
"A devastatingly funny, misanthropic and strangely beautiful carnival of delights! It's the rousing sight of a trail being blazed before your eyes; subversive, daring, poignant and infused with comedy that's as black as pitch." - 3 a.m Magazine
Right, I'll shut up now.
Byeee,
Ant
"Go to London! I guarantee you'll either be mugged or not appreciated. Catch the train to London, stopping at Rejection, Disappointment, Backstabbing Central and Shattered Dreams Parkway." - Alan Partridge
update: I managed to tear myself away from God Of War to make this...
updated update: Vote for Gallo (and Paul O'Connell) in the
Eagle Comic Awards
! He's listed as
Best Villain
, and the comic he's in -
The Sound Of Drowning
- is up for best b&w UK comic.
More next week.
I'll update this soon, with a whole load of blah & stuff, but in the meantime...
I wish I'd made this -
fuck, i]m drunk., howe did this happen??> weeeeeeeeeeeeee
SEPTEMBER 2009
1
2
3
4
5
6
7
8
9
10
11
12
13
14
15
16
17
18
19
20
21
22
23
24
25
26
27
28
29
30
AUGUST 2009
1
2
3
4
5
6
7
8
9
10
11
12
13
14
15
16
17
18
19
20
21
22
23
24
25
26
27
28
29
30
31
JULY 2009
1
2
3
4
5
6
7
8
9
10
11
12
13
14
15
16
17
18
19
20
21
22
23
24
25
26
27
28
29
30
31
JUNE 2009
1
2
3
4
5
6
7
8
9
10
11
12
13
14
15
16
17
18
19
20
21
22
23
24
25
26
27
28
30