I'm private
Getting started on a bunch of new projects, of which none pay right now. Here's the "censored" version of one of em:
(and since I still can't format shit right here's the link to my FB Portfolio
WOOKiE's Portfolio
)
Now I have the uncensored version to work on as well as a game, a comic, a novel, and tat designs. Oh and I want to get my second set of SG Pin-Ups done soon, so we'll see how it goes.
Living in isolation again makes my brain run wrong. But I'm still trying to work on art, hopefully things'll turn around soon.
So I am coming up with what I hope is an amazing new idea for the weapons industry. If I pull it off I'm hoping this might actually make me some money. Plus it'll let me fuck around with guns as part of my job.
I would go into more detail, but I'm still working out the kinks and whatnot, and I still need to meet up with a real gunsmith to try out the practical application aspect. Keepin the fingers crossed though, I seem to know weapons so this should be right up my alley.
It's been a while since I really felt a need for a blog. The art I've been doing isn't really worth writing about or posting, and unfortunately no daytime job opportunities have become available either. Just trying to get by at this point. I'll post something soonish once I can get things more on the straight and narrow.
So I think I may have figured something out, but before I say anything more. This would best be considered a rant and yes it will probably anger some people, but I'm okay with that. You have your opinions and I have mine, it's the way of the world. And on that note, on to my world view as it were. I'm still job searching and one of my interviewers asked me why I would be a good hire. For a part time job at Books-A-Million I just bullshitted my way through it as we all do. But it got me wondering, why should anyone(meaning the comic/movie industry) hire me? Why should they care about any of my ideas? Everyone has the NEXT big thing, and they are gonna blow every other idea away. So I'm sure companies are tired of hearing the same fucking pitch/application over and over again. I thought hard on this and finally came up with an answer. I should be hired because I understand the psychology of the majority of the population nowadays. We are a pissed off culture and are constantly looking for an escape. Whether it be love, drugs, adrenalin, or simply a relaxing-esqe story that might remind them of a vacation they once took. It's very similar to me and aggressive breed dogs. I understand what they want and they know it, so they bond to me more quickly. Applying that same logic would mean, IF I were hired and given a chance, I can next to instantly grab my audience's attention and keep it(the more important part) until the story is done. For once I feel like I'm not a moron who doesn't understand how people work. I still may suck at picking up romantic signals from women, but just this once I think I've found the signals that society is putting off.
Okay I just had the best weekend ever! So I met this girl on Xbox, for our purposes we'll use her gamertag Sugar Tush, and it turns out we've got a ton in common. So we decide it's time for a little adventure. I drove up to Maryland and got a hotel room for a weekend of movies, video games, and debauchery. Needless to say the movies and video games kinda didn't happen as much as we were thinking, but the debauchery completely took the reigns. I was actually given permission to brag about this. Apparently it's possible to give a woman an orgasm through her ear, an eargasm if you will. Totally didn't know about this, but dammit I sure as hell accomplished it!
Maybe watching porn can help guys last longer but you need to experiment if you want to keep a lady happy.
Ok anyone with an Xbox who likes first-person shooters should go and download Blacklight: Tango Down. It's as if Halo and Call of Duty had a futuristic fucked up baby. Best part, aside from the $15 price, everything is upgradable guns, armor, and even special trinkets that decorate your gun and give you a little boost. I'm just WOOKiEKiLL on there, send me a request and we'll get some headshots together.
She was the last planet I kissed, the only one I will miss. The love fading like mist, only a memory of the first and last kiss.
So I've at least been using my insomnia to my advantage and getting as much work done as I can. In about a month I'm gonna have a huge load of art to post. But until then, this is the line art I'm using for the cover to my portfolio. Enjoy!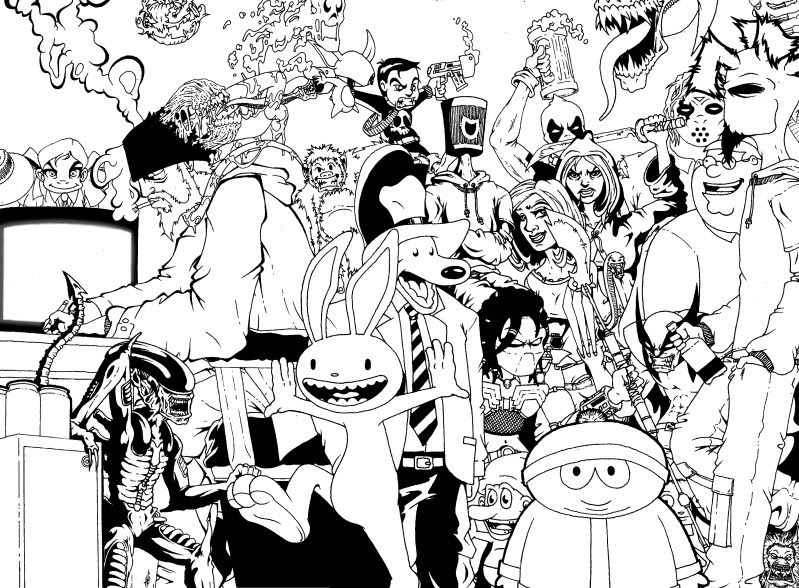 -Your friendly neighborhood WOOKiE
(I never seem to get the bounding boxes down, so if it gets cut off you can just open it in a new tab/window)
Sick and sleepy. Still trying to work.