TigerSi Eat thunder, Shit Lightning
I'm private
Hoping to be back on the. Road again with the band. We have just finished recording the second album, quite excited.
I've been spending most of my time training & studying (all things healt, fitness, powerlifting, crossfit etc)
Inspirational video, perfect form great song to go with it. (I can't stop listening to this tune)
That's all for now
This week I will be mostly Drumming & getting in as many gym sessions as possible.
We go into the studio to record some tracks for our next album and a track for Kerrang!
Followed by shows with Thin Lizzy
THIS IS GOING TO BE A FUCKING GOOD WEEK
I really am shit at blogging. I'm on tour in Scandinavia & Europe with Monster Magnet. It is amazing, Scandinavian women generally are fucking beautiful there is definitely something in the water over here. I dont have any photos to put up yet (so i'm shit at that too)

I am far to excited on a daily basis.
I've decided to say Yes to a lot more things so yesterday i ended up in Manchester watching Death From Above 1979. they were really good I was very fucking drunk
I filmed a bit of the show (see below). I had 2 hrs sleep then got up and went into town and the sky looked lovely.
I'm going to see 1349 in Manchester next week then down to London for the weekend, alone! Lets see what happens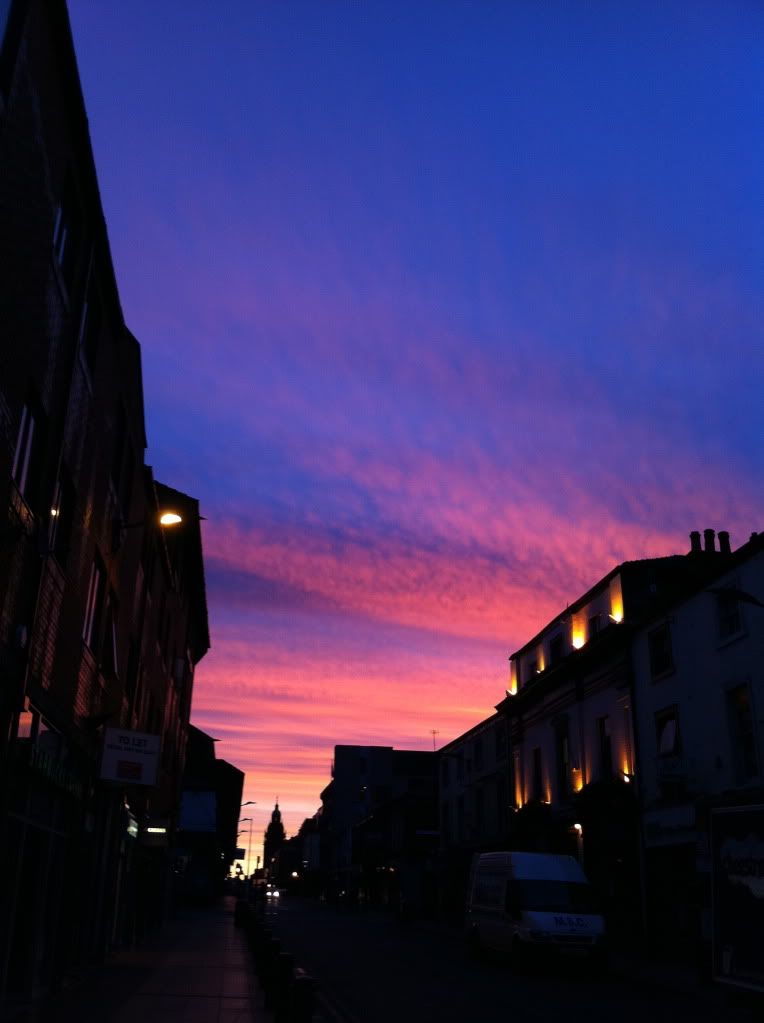 So i got the Tama Endorsement, I passed my Fitness instructor qualifications, it's all good. I am going to manchester to see a couple of bands on different nights then down to London for the London Drum Show (Tama Stand of course) the off on tour for the rest of the year. Belief is the key, I belief! ;D

So I found somewhere to live and Tama went and did this
Tama TIger Si
Come the fuck on!
I am now trying to find somewhere to live as I have split up with, well, now my ex! So thinking if all else fails, go and sleep in our rehearsal room.
Passed my exams so am qualified to be gym Instructor. Got Rope
I did the great north run (Half Marahon) hungover. I went to see a good friend in Newcastle and Drank a couple of bottles of Red Wine
Got up the next morning feeling delicate, however the run was fine. Really good atmosphere.
Dont know if i've already posted these but good memories good times.
Long time since I last posted. I've been really busy with the band & things are picking up really well.
heres a crowd shot from our set and a couple of snaps (if i can get it to work that is haha)
Weight down to 142bs feeling great, off to Beijing next week for 6 shows then back to the UK for a 3 week tour. The sun is out it's all good. Futher more this site is amazing.

I really need to post some more blogs rather than one every 2 months haha.
MAY 2013
1
2
3
4
5
6
7
8
9
10
11
12
13
14
15
16
17
18
19
20
21
22
23
24
25
26
27
28
29
30
31
APRIL 2013
1
2
3
4
5
6
7
8
9
10
11
12
13
14
15
16
17
18
19
20
21
22
23
24
25
26
27
28
29
30
MARCH 2013
1
2
3
4
5
6
7
8
9
10
11
12
13
14
15
16
17
18
19
20
21
22
23
24
25
26
28
29
30
31
FEBRUARY 2013
1
2
3
4
5
6
7
8
9
10
11
12
13
14
15
16
17
18
19
20
21
22
23
24
25
26
27
28