TheFuckOffKid is a street walkin' cheetah with a heart full of napalm.
I'm private
Mmmmmhmmmm.
I've recovered from the weekend's shenanigans,
and
I'm more or less over my cold. Hooray.
I really don't think I want to take on the responsibility that I'm likely to have to take on at work. Really.
Oh well.
How not to demonstrate gun safety.
Holding a Glock .40 pistol in the air, he told the children: "I am the only one here professional enough to handle this weapon."

Then there was a bang and he shot himself in the thigh. Only another round in his pocket stopped the bullet doing lethal damage. With admirable stoicism, Mr Paige continued his talk, although his previous confident swagger was replaced by a limp.


Video viewable here.

Ouch.

EDIT:

Three updates in less than a week.
You'd almost think I had things to say. But I don't really.
Except to say my work is likely to turn the heat up several notches over the next several months...
TheFuckOffGirl is sheepish.
Which is unusual, but very cute.
The other evening ... me on the fit-ball trying to count sit-ups. The girlfriend preparing dinner. We're "open plan", so we're in full view of each other.

The news (SBS, for those who know/care) is on TV as I huff and puff my way somewhere in the 50s. The news announcer talks about an uprising in Belarus and the voiceover says something about "Undeterred, the opposition leader..."

A shriek of disbelieving laughter from the kitchen.

Having misheard, she thought the Belarus opposition leader's name was "Undie Turd".

I lost count of my sit-ups.
Why I love my girlfriend - a continuing series.
Part XiV: High Quality Heckling.
Me singing to her: "And I will aaaalllwaaaaays love yeeeewwwww..."
Her: "Are you Whitney Houston or Dolly Parton?"
Me: "Dolly."
Her: "You've got the tits for it."
In other news, I'm just watching a show on the south island of New Zealand, looking at places like Kaikora and Akaroa where we visited in February. Amazing, amazing place.
Off in a little while to the Townie in Newtown to catch up with
morgannaah
,
Blacklamb
,
Linz
and whoever else might be there.
If I haven't replied to a comment from my previous update, I'm going to try and make sure I'm all caught up really soon. Of course, I always say that.
I can't forget to say -- I was very appreciative of all the supportive comments I received after the great Feminist Group cleanout of 2006. Thanks to you all, not least
Morgan
who was in a difficult position.
I also appreciate the urging I had from various SGAU folks to take over the group, and I'm sorry I declined, but I pretty much had to. Congrats to
Steven
, who I'm confident will steer the SGAU ship properly and fairly. And kudos to outgoing El Presidente
Jibaili
, who has done a sterling job over the last few years, sometimes without getting the appreciation he deserved.
Enough for now. Got to eat something then head out for the evening.
This is A Public Service Announcement ... With Guitar!
I have just been kicked out of the Feminist Group.
Please understand that
Morgan
, the group leader, has been put in a very difficult position. She is trying to keep a fractious group "nice", and she inevitably gets caught between people who are inclined to get their feathers ruffled, and people like me who are inclined to ruffle them.
I do not envy her job, but she is doing it as best she can in difficult circumstances. Please, cut her some slack and be informed, wherever you stand on this, that there are no hard feelings between her and me.
No. #25 in a series of lame updates without much to say.
I'm back from New Zealand -- have been since Monday. It was unspeakably gorgeous there, it's an amazingly beautiful country.
DISCLAIMER: Pictures stolen from the web. Mine will be uploaded later. Hopefully you can click on them for the full versions if they don't fit into the journal space properly.
Wellington first: (Capital of NZ, bottom of the north island.)
Then a ferry to the top of the south island, to Picton, nestled in the Queen Charlotte sound.
While in a Picton motel we watched an ad for the upcoming Fifty Cent tour, and an ad for The Sixth Sense on the movie channel, and TheFuckOffGirl did her best New Zealand accent as follows:
"Futty Cint has the Suxth Sinse un Pucton."
Try keeping your front teeth (upper and lower) together when you speak.
From there, a food and wine festival in Blenheim, then drive down the east coast of the south island past Kiakoura.
Then to the beautiful town of Akaroa, on the Banks Peninsula.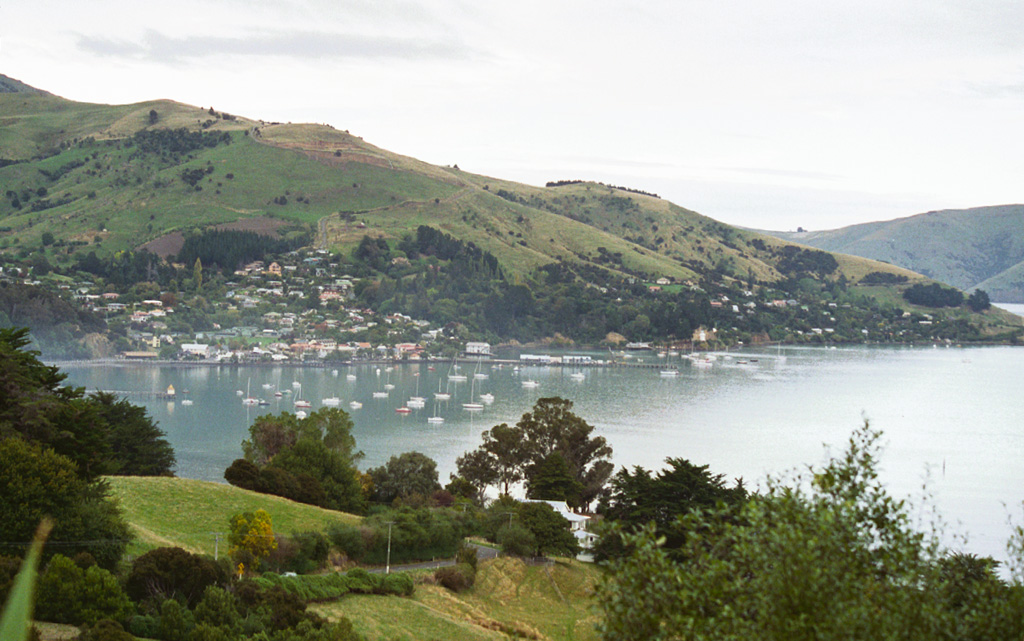 Then Christchurch and Dunedin. Close encounters with seals and penguins and sealions and ... can you tell I had a great time? (
We
had a great time.)
Now, to close:
In honour of the Futty Cint movie, try adding "or die trying" to the end of statements.
Example: "I'm going to take a shower ... or die trying."
"Let's go to the movies ... or die trying."
Have fun with it.
Oh. And I hit 20000 comments today.
Gone drinkin'.
In New Zealand for a week. Back on the
14th
19th.
Love ya, kids.
UPDATE 18th Feb (Saturday):
Stay here has been extended until tomorrow (Sunday). New Zealand is ridiculously beautiful. Back in the evening. Hope you've had fun without me.