I'm private
Hello friends!
BAND STUFF. We got a sweet write up in
Exotic Magazine
thanks to John Voge. We are super happy with how it came out, so that was great.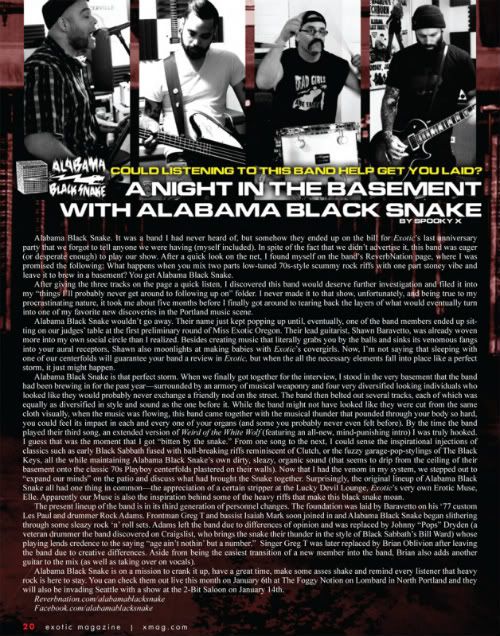 In a stroke of awesome karma, Brian and I both got our guitars back! That never happens. I had called the boys at Trade Up Music here and gave them the heads up and sure as shit some doucher tried to sell them my our guitars, so they kept them and called the cops. That little extravaganza also led me to a "new" '81 E2 Explorer that is pretty much the raddest guitar ever. I just played it out live for the first time at the 2 Bit Saloon in Seattle...here's some proof.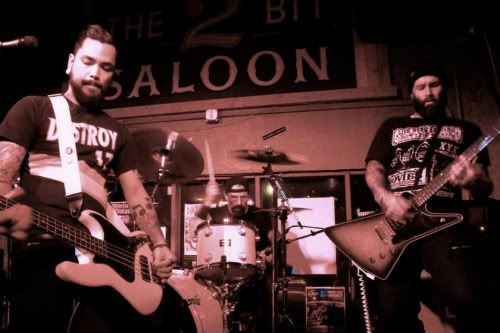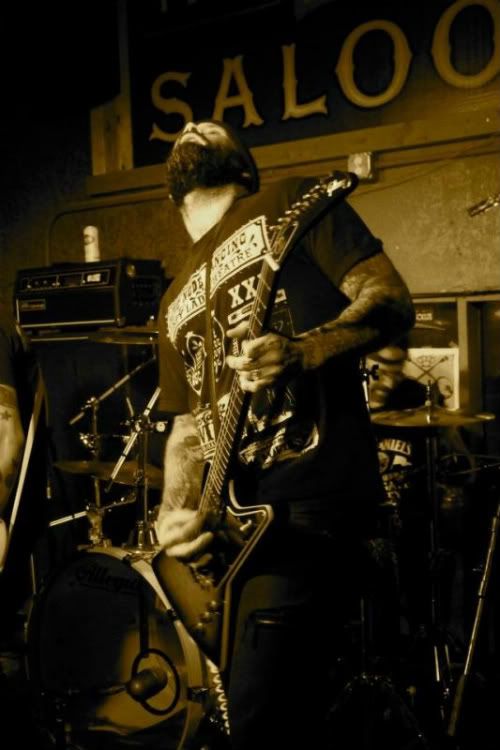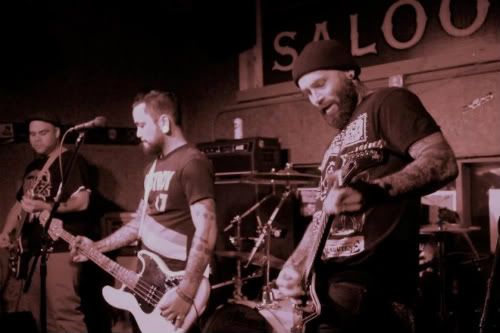 Here's a quick clip of us playing "Lucky Devil", a song inspired by a certain
Casper
.
Everyone's welcome to check out our
Facespacester
and
Reverb Nation
pages.
Thanks!
New Year's Resolution - update this more!
Anyway, it's been a hell of a year. Where to start? I guess after the last time, this happened:
Knocked up my lady.
Dude Ride 2011.
Rode to Born Free.
Saw Sleep in LA.
Opened up for the Supersuckers.
Went to Europe.
Lost a singer.
Got a new singer who also plays guitar.
Hung out with Matt Pike.
Judged the Miss Exotic Oregon contest.
Lost my childhood guitar.
Married the most wonderful woman in the world!
Man, looking at it like that is crazy. That's all in six months...life is great.
I'm going to let images do most of the work on this one, so here goes...
Dude Ride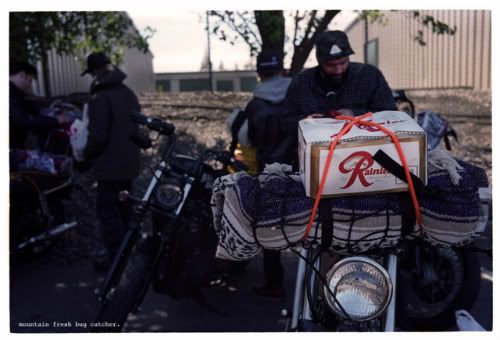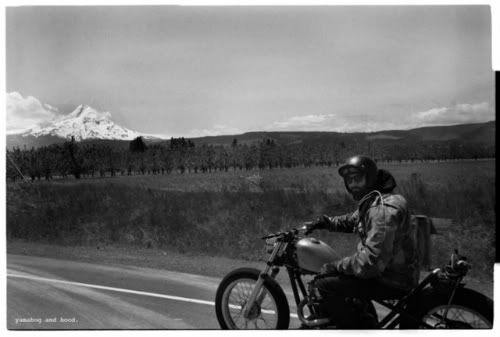 Born Free
Stayed with
internerd
in SF on the way down.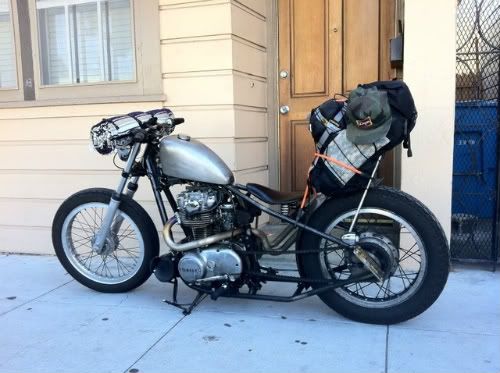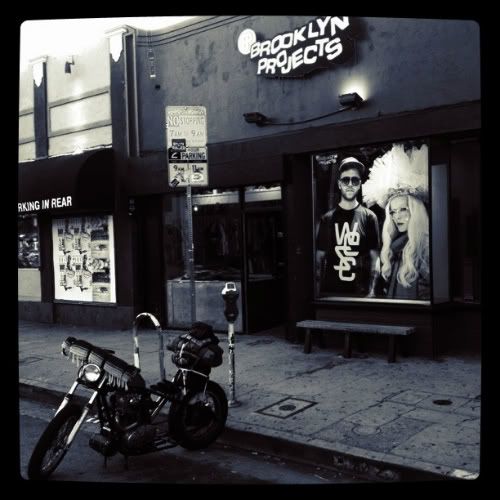 SLEEP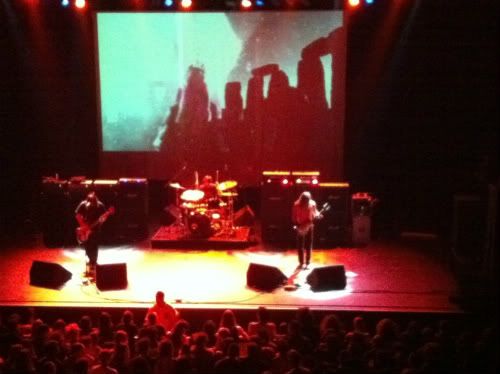 Alabama Black Snake
Explorer - Not giving up on finding it.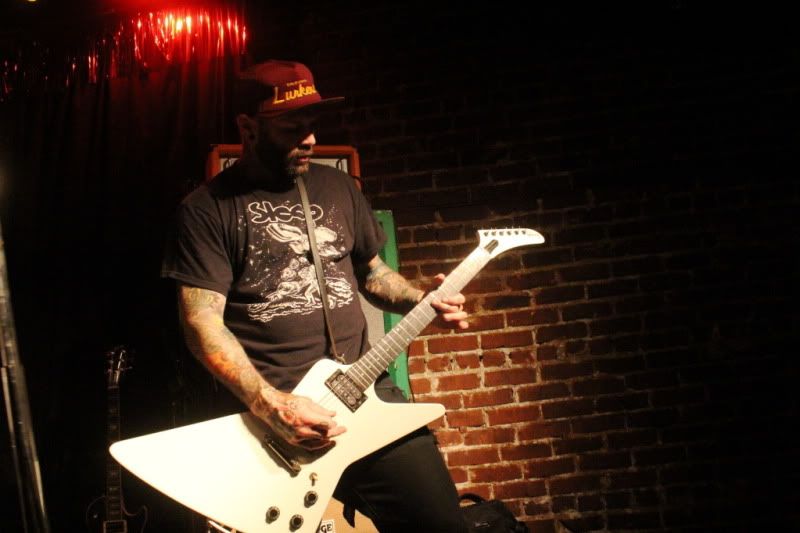 WEDDING!!!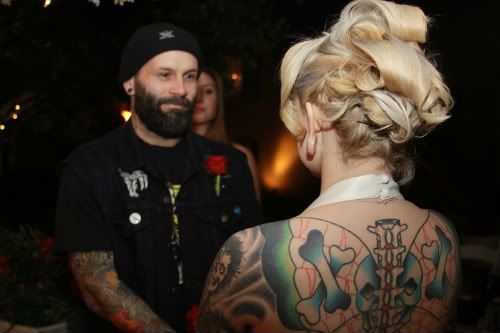 Best tattoo ever?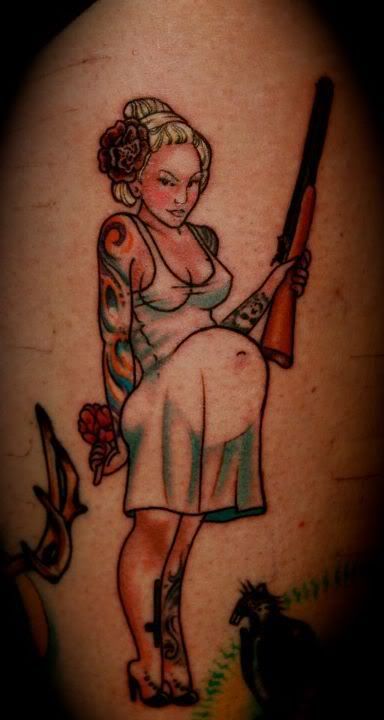 I'll be back atcha sooner than later!
We have our second show coming up in a couple weeks.
Pretty damn excited about this one, as it's a lead in to a GIANT one (for us, anyway) at Dante's in April opening for Hell's Belles. Fine tune the set and all the bitchin' stage moves, you know, that kind of thing.
In other music news, I decided to put one of my main guitars up for sale...
I guess I'm just feeling like some kind of change, but doing so without just buying something new. I won't be too bummed if it doesn't go, but maybe it will bring something cool along.
That's all I got for now, I'm watching my girlfriend be all cute with a white V-neck and baggy pants on. She's still a little sick, and doesn't always realize that she still looks FUCKING AMAZING to me all the time. That's kind of nice I suppose...
Man, it's been a while.
I got hit up recently by the guys at
No Heroes
to do a 'Tumblrs Who Ride' interview and while I was typing it out I figured I'd share it. Here goes...
Well let's see here. Shit about me? I've been skateboarding for 25 years now...that sounds fucking crazy to say. Anyway, that's been the main thing in my life forever, I've always loved it, it moved me around the country and it's still my career. And now it seems like my generation of skateboarders is definitely picking up on the bike thing.
I was on bikes with my dad all the time when I was little. I remember riding up front on the tank of his '77 Yamaha 500 Enduro through the woods to go fishing and what not, and he was always talking about bikes he had when he was a kid and getting a Harley. He finally did after I moved out. Jon Humphries is a good friend of mine and a coworker, and he had been telling me over and over that I needed to get a bike. He had a Nighttrain at the time, but had just started working on his Panhead with Max. Part of me definitely wanted to have something that I knew would start when I wanted it to, as much as an old bike sounded good. I went back and forth on it, but then I just dropped in on the Nightster in March of '09. I did all the work on it, basic is it might have been, but it made me happy and I was proud of doing it myself. I put the forwards on it, switched the pipes out, lost some nuts, stripped some bolts, fucked up some new parts and learned some things. It felt good. I got a little more inspired and started trying to do mods on my own for as cheap as possible. That ended up working out pretty well.
For the winter that year I decided to buy something old and chop it up. I talked to Jon and my friend Kim Boyle who runs BCM and ended up finding a running Yamaha XS 650. I drove it home, put it in the garage and started taking shit off of a perfectly good bike. I originally had everything labeled, and that deteriorated into throwing everything into a pile in the corner. I somehow got the motor out without any help, and then chopped the frame down and started grinding it down. I got about as far as I could without knowing what the hell I was doing and then linked up with James Crowe through Jon. He came over, checked out where I was and after we rapped out for a bit I decided to have him build it from there. That guy is the raddest. Super nice dude, incredibly talented and just an all around great guy. We worked together on the whole process, he did all the welding and metal work, and walked me through the parts I could do. After some carb issues with the existing motor, we got it up and running in time for Memorial Day '10 and it's been rolling strong ever since. There are still a couple things I'd like to do, have James make some bars and possibly find a 21" front wheel to fit that thing, but I'm super happy with it as it is.
Riding is the closest thing I've done to capturing that feeling of skateboarding, and that's why I think it's so appealing to my generation (damn I sound like an old fuck.) But regardless, it harkens back to being a young buck, putting boards together and just hanging out with friends. I hope to be doing it for a long, long time, and we're working on getting the
little lady
a little something to rip around on too. Should be a fun summer.
Here's the Harley.
Here's the Yamaha before...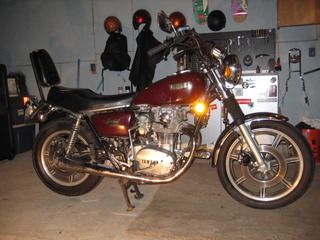 ...and after...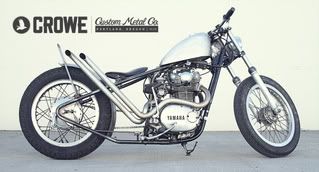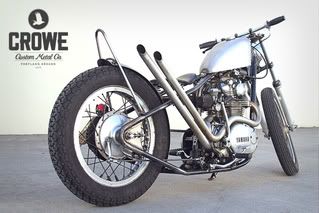 ...and me enjoying the shit out of it.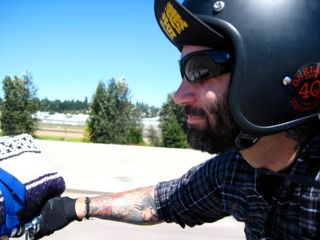 Cheers!
Man, shit is good right now. Got a new band going with some great people and it's coming together quick and awesome like. 70's rock and roll with a little stoner vibe in there...it's bitchin'...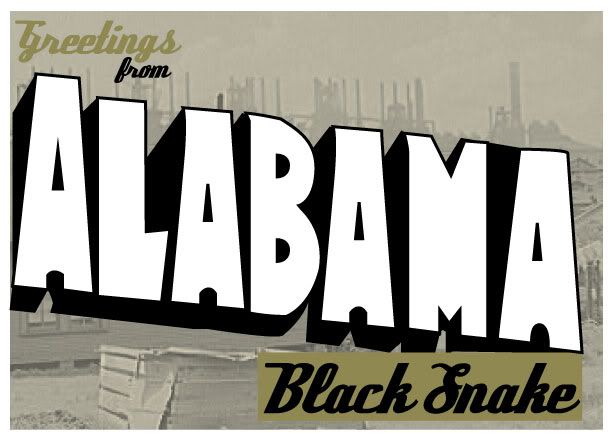 Soon enough we'll be playing some shows and perhaps the lovely
Silencia
can shoot some more sweet photos like this one.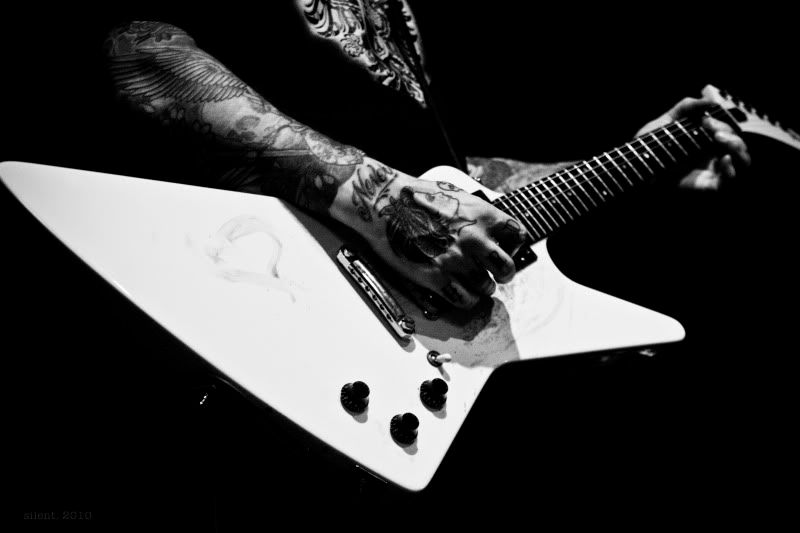 Work has been solid as well, busy but the good kind of busy, so that's nice. I try to stay thankful for the job I have even when it gets hectic. I worked my ass off over the years to get where I am so I like to make sure I appreciate it. My parents taught me the value of hard work and living happy, and that's what I strive for now.
Luckily enough, the hard working
little lady
that I love so much moved in with me. We're making our home and it's fucking fantastic. Rooms are coming together, the maniac puppins are all over the place, some stuff is half finished and it doesn't even matter... She even hung out during a skate session down in S.D. and got some pics of me sweatin' it out...must be love.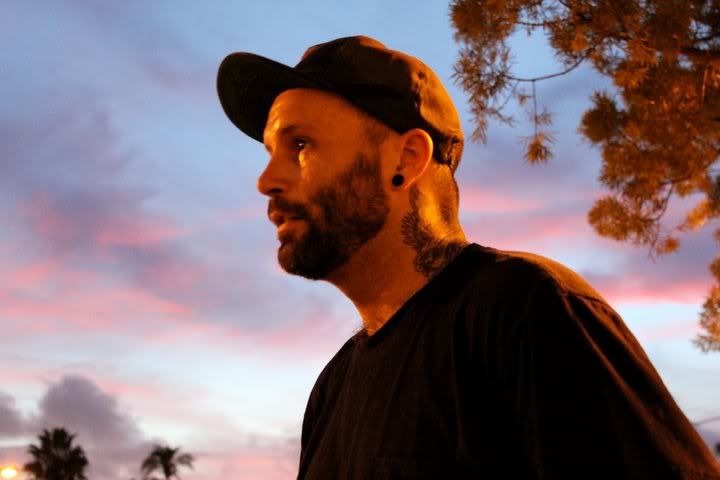 I don't want to jump the gun here, but it's definitely feeling like the transition from Fall to Summer is upon us. Summer was really fun, although it seems like the nicest part of it happened during August, and I was gone for most of that month on work trips. As busy as the summer was, I got some good fun in. Moto trip up to Lost Lake with a couple of the homies. We didn't have a huge crew like last year, but still had a good time. Turns out you can fit a lot of shit on a little chopper with some bungees and shoelaces...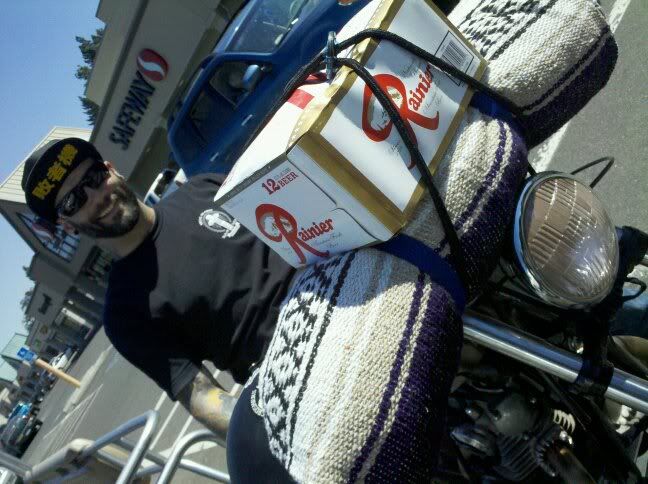 ...and the ride back in the morning is always a sweet one when the weather is this nice.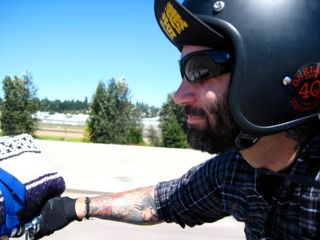 Even though Summer is going away, Fall brings in the birthday of a certain l
ittle lady
I happen to be in love with. I had been thinking about getting her a fancy present for a while, so I finally decided to drop in and go for it. After consulting with the lovely
Silencia
I went for the new Canon Rebel T2i and gave it to her a couple weeks early. I have never had someone react to a present the way she did, and could not have been any happier. I know she's going to do some amazing things with that camera, and I'm also already very used to this view...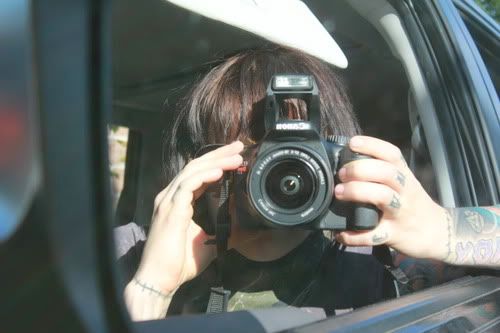 ...which I am quite okay with. We took a trip up Lost Lake as well, brought the puppins, drank some beers and had a nice drive. Here's a couple photos from the new cammy that I like: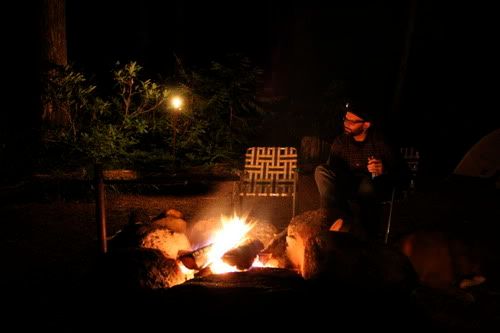 Fall also means playing out more, my band
Gunshot Whiske
y has a show coming up in a few weeks, and I know she'll be snapping photos...can't wait to see what she comes up with. It's been a good while since I've played a show and I'm definitely ready to rock it the fuck out...stay tuned.
Strip Club Regulation.
So on a Friday night before Elle's shift there was a giant pole dancing studio 'recital' I guess. It was super packed, the girls keep their clothes on and there was a lot of screaming. The 'real' strippers get kind of pissed because once they start the crowd clears out and those who stay usually don't tip. This is a no-no.
ANYWAY, it was Elle's first set and there was some jerkoff and his stupid wife/gf/whatever the fuck next to him sitting on the couch away from the rack and staring. She did her little 'come sit down' move which is very cute and usually works. THIS fucking guy just put his hand up like he was all good. Her reply was 'I'm a real stripper, if you aren't going to pay then don't watch.' The guy tried to be too cool and kick it, so I walked over, tipped her a few bucks and stood directly in front of him. I saw him move to the side in the mirror behind me so I moved over again to block his vision. Then we had a little conversation, it went like this:
Shitbag - "Come on man, this is a strip club."
Me - "I know. You pay to watch."
Shitbag - "It's a strip club."
Me - "I know. You pay to watch."
Shitbag - *sigh "Fuck you man."
Me - smiles
Then he rounded up his gross friend and tried to leave, but went past the door to the exit back towards the kitchen. I watched all this so when he turned around and realized he was wrong I directed him to the exit with a smile. I got the old 'hand under the chin flick' move, because apparently we were in 1950's Italy? Who the fuck knows.
She was super psyched, so were the other girls working so I felt good about it, plus I never get to do shit like that so it was fun.
Stupid people. Gotta look out for this sweet little Pengy, ya know?