I'm private
Man, it's been a while.
I got hit up recently by the guys at
No Heroes
to do a 'Tumblrs Who Ride' interview and while I was typing it out I figured I'd share it. Here goes...
Well let's see here. Shit about me? I've been skateboarding for 25 years now...that sounds fucking crazy to say. Anyway, that's been the main thing in my life forever, I've always loved it, it moved me around the country and it's still my career. And now it seems like my generation of skateboarders is definitely picking up on the bike thing.
I was on bikes with my dad all the time when I was little. I remember riding up front on the tank of his '77 Yamaha 500 Enduro through the woods to go fishing and what not, and he was always talking about bikes he had when he was a kid and getting a Harley. He finally did after I moved out. Jon Humphries is a good friend of mine and a coworker, and he had been telling me over and over that I needed to get a bike. He had a Nighttrain at the time, but had just started working on his Panhead with Max. Part of me definitely wanted to have something that I knew would start when I wanted it to, as much as an old bike sounded good. I went back and forth on it, but then I just dropped in on the Nightster in March of '09. I did all the work on it, basic is it might have been, but it made me happy and I was proud of doing it myself. I put the forwards on it, switched the pipes out, lost some nuts, stripped some bolts, fucked up some new parts and learned some things. It felt good. I got a little more inspired and started trying to do mods on my own for as cheap as possible. That ended up working out pretty well.
For the winter that year I decided to buy something old and chop it up. I talked to Jon and my friend Kim Boyle who runs BCM and ended up finding a running Yamaha XS 650. I drove it home, put it in the garage and started taking shit off of a perfectly good bike. I originally had everything labeled, and that deteriorated into throwing everything into a pile in the corner. I somehow got the motor out without any help, and then chopped the frame down and started grinding it down. I got about as far as I could without knowing what the hell I was doing and then linked up with James Crowe through Jon. He came over, checked out where I was and after we rapped out for a bit I decided to have him build it from there. That guy is the raddest. Super nice dude, incredibly talented and just an all around great guy. We worked together on the whole process, he did all the welding and metal work, and walked me through the parts I could do. After some carb issues with the existing motor, we got it up and running in time for Memorial Day '10 and it's been rolling strong ever since. There are still a couple things I'd like to do, have James make some bars and possibly find a 21" front wheel to fit that thing, but I'm super happy with it as it is.
Riding is the closest thing I've done to capturing that feeling of skateboarding, and that's why I think it's so appealing to my generation (damn I sound like an old fuck.) But regardless, it harkens back to being a young buck, putting boards together and just hanging out with friends. I hope to be doing it for a long, long time, and we're working on getting the
little lady
a little something to rip around on too. Should be a fun summer.
Here's the Harley.
Here's the Yamaha before...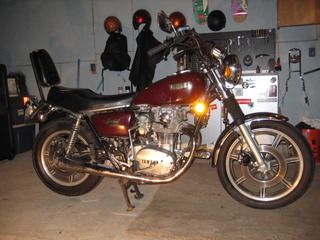 ...and after...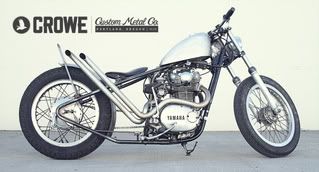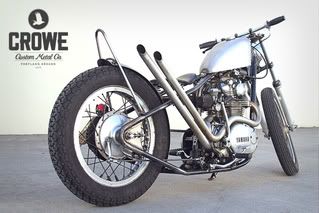 ...and me enjoying the shit out of it.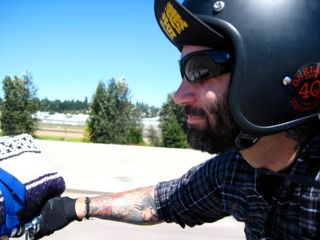 Cheers!