Tease If I am lost it's only for a little while...
I'm private
Going to Red River
Ate Oreos for breakfast
Got sunburnt on my ass
I'm naked.
Thats all
HAVE A GOOD WEEKEND EVERYONE!!!
I need to vent...so here it is:

I always knew in the back of my mind that my ex had fucked me up big time. I guess it doesn't really hit home until little things happen and I flip out and forget that Nate is not my ex and he is actually somebody I can trust. My ex made me feel lower that shit below lava in the earth covered in fossilized shit. I was the girlfriend who went to bed and her boyfriend stayed up and watched porn, wacked it and came to bed when he was finished and had no use for me. Does wonders for a girls self esteem let me tell you. On top of all this there was the verbal backhands letting me know when I got too self confident that I still was nothing but a worthless piece of junk. Amoung many volumes of other things that I could write a sad emo book about blah blah blah.

Cut to now, me with an amazing man that I still have no idea how I got so lucky and I have flashbacks (for lack of a better word). Nate comes home late last night from the football game and I get up (3:00am) to say hi, and chit chat a little and finally say goodnight after about 10 minutes. I get in bed, doze off for about an hour and I wake with a horrible headache. I get up and open the door to see my boyfriend watching some big boobied minimally dressed girls. He jumps, looks guilty, so I freak. I turn around and go back to bed trying to rationalize every detail that just happen. I cry because I couldn't do anything else. Nate comes in to ask me whats wrong, I confront him, he tells me it was just UFC ring girl stuff and it was nothing like what i was thinking. I piece it together in my head, clinging to anything I can believe and I start to realize.....I can believe him. There is absolutely no reason I shouldn't. He tells me to come out and look because he has nothing to hide and I feel like the biggest bitch/idiot ever. Then I start worrying that he can't deal with my "flashbacks" and he's going to tell me he can't handle it which throws me into a bigger sob-fest. It was so strange to have a man talk calmly to me. To say, "If you don't tell me whats wrong I can't fix it". At that moment I pictured my ex, yelling and using the most hurtful words and using anything he could grab in his verbal arsenal, my Dad who never used rational thought just mean hurtful words and every other man in my life who figured if you beat the woman down enough you become a bigger man.

Nate is my heart. He is my rock and the reason I breathe. To put that much faith in someone is beyond scary for me but I realized last night that he loves me unconditionally and he understands me. I've never been able to say that about anyone. He really is my Superman.
Michigan lost....again. My fantasy football isn't going to well either. I think I'm bad luck this year. *pout*
I don't like being lied to.
I've been feeling particularly cynical lately. I'm not sure as to why but I feel like almost anything, no matter how petty, annoys me. The list goes as follows:

1. Work (many items)
-Being talked to like an idiot. Please don't insult my intelligence because you need to feel more powerful.
-A particular co-worker who calls in sick (unneedly) at least twice a month, who wears noise cancellation earphones to "concentrate" and then throws a temper tantrum when his boss gives him directions (which he did not hear) and he didn't complete the task, then gets even more whiney and 3 year old like when his boss tells him that the earphones need to go if they are interfering with normal work functions.
-New employee who basically gives me the creeps.

2. I can't seem to sit still lately. Weekends are bittersweet to me because I'm glad I'm not at work but I absolutely hate sitting around. Sometimes I just wish my boyfriend was as active as I am. I can't be a couch potato, it just makes my skin crawl.

3. New Mexico drivers. No offense to those from New Mexico but Ive driven across the country and never in my life have I ever seen people have ZERO regard for highway ettiquette (however you spell that). I swear some days I feel like I have signs on my car that say "cut me off" or "please speed up and don't let me merge". I was almost rear-ended (again) on Friday by a women in an Element (i drive a Neon) who was putting on her make-up. I couldn't merge because a Mack truck with 2 monster trailers just happen to be blocking my way, I had to slow down because cars in front of me couldn't merge either and the cuntface behind me wasn't paying attention and almost plowed into me. Joy...

4. I have taken to cleaning a lot lately. The boyfriend hasn't helped in a long time. I don't really know how to ask for help without feeling guilty. Even though I'm the predominant cleaner, if he cleans I feel guilty. I don't know why, maybe thats just how I was brought up. My dad never helped clean the house or anything like that. I always was made to feel guilty if my mom was cleaning and I wasn't. So maybe thats what my deal is. Maybe I'm crazy. haha

5. I feel like my creative outlets have diminished. I used to sing, play bass, saxophone, and write. Lately I feel like I have a pulsing ball of creative energy sitting in my chest that I have no means of releasing. "Just sing" or "Just write" you may say....fair enough, but I feel like there is nothing able to hold all this energy. I've thought of writing a book but thats so clichee and of course it would be about my parents by way of mom's cancer, dad's disloyalty, my realizing that men don't know how to committ thus spinning me into years of untrusting anyone I knew. Bleh, its been done. Its tired and uninspirational. Double bleh.
you're obsessed with finding a new brain
but what you need is a new body
it feels your brain has lived a thousand lives before
and the skin you call your home
holds a heart that quits and knees that buckle in
and lungs that can't breathe when they're alone
and the days come to you like sailors
you watch them as they drift away
they meet the sunrise out at the horizon
and it's neither sink nor swim
at least the water's beneath your chin

there's blood spilled on the floor
everyone's staring at you, what for
till you realize the blood is probably yours
you feel you've lost something you want it back
you're lying motionless on your back
and your legs aren't taking any more requests
those disobedient wrecks
how you cared for them as they carried you
from class to class and coast to coast
when you owned land and when you were broke
through recessions and addictions

it's just your accidental death
your accidental death
it's just your accidental death
you're the indian in the cougar's nest

your fright gives way to memory
having coffee with your love
or the story your father told you long ago
he was hunting with his own father for deer
he pointed and spotted her and tripped over
some roots or some dead trees
the gun went off it was a mistake and
my father was only eight
and as he watched the dying deer
he was changed cause
cos he felt sorry for what he'd done
and he put down his gun
will you feel sorry for what you've done?
will you put down your gun?

it's just your accidental death
your accidental death
cause there's no accidental death
when you're the indian in the cougar's nest

(i love Rilo Kiley)
I'm going to get this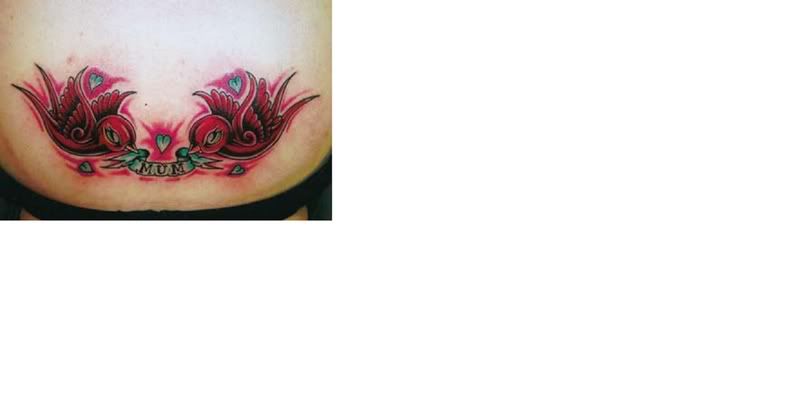 hopefully it shows up. that would rock. I will probably do them in black and grey with blue shading on one and pink shading on the other, the ribbon in the middle will say LOVE the hearts on the outside will disappear except the middle one and i like the shading with that.
If anyone in Albuquerque knows where I can go where they won't fuck me up and charge me up the ass I'd greatly appreciate it!
Thanks!
Teeeease
You dream of a bizarre reality.
So real and so severe.
Others can not, will not indulge.
You find a calm understanding in this.
Realization is bittersweet.
Physicalilty is unnecessary, unworthy.
Emotion and untouchable sense solely.
Amazed and afraid.
Allow yourself to fall.
Anyone can say love.
"OHMIGOD! I looooooove this band!"
"He is sooooo hot i love him!!!"
"I love Starbucks!"
Even though I've been known to say the last quote quite a bit, I've become to realize that until I was 21 years old I never understood what love actually was. Love is that unconditional devotion, that indescribable inflatation, fluttering, tumbling and beating of your heart and that smile that you can't seem to wipe off your face. Love is trusting, honoring, cherishing and selfless. Love is disliking something about someone and loving them because of it.
Up until very recently I've felt some sort of love. Love for my family and friends, dogs, purses, Starbucks
But a year ago, I found a different sort of love.
I fell in love with a wonderful man. So in love its almost scary to try to grasp. You almost become numb to it. You feel like you could explode if you didn't control it. Its a bizarre world where someone you never knew your whole life, becomes the reason you breathe and function. The reason you smile out of the blue and the love songs you hear on the radio. They become every underlying thought. This love that feels as if a part of your soul sprang from you and found life in another person. The person that you feel like you're 4 years old with. The person you can see holding hands with crossing the parking lot when you're 80. Looking for the car when you can't remember where you parked.
I've found that love. I've found that man who laughs and makes my day. I'm honestly the luckiest woman alive. Without him, I wouldn't know what the world was really about. I wouldn't know real love.
I love you Superman.
I'm exhausted.
I feel useless.
I feel vulnerable.

....and most of all I feel sad. I hate sad.