I'm private
Off to NY for two days filming in "Coopers Twon". Ironic seeing that I'm such a baseball fan(taste the sarcasm). Pretty eventful weekend though...Aaron, Pro, and I broke out the "Mexican Holy Water" last night though. Gave the wicked eye to some skinny broads at the model..then used my drunk wisper while ordering a Sausage Egg and Cheese at 1am. My apologies the the old blacl lady for catching the wrath. So Aaron and I journey tomorrow with the oddest musical pair. Lets just say this..If the Weasel Goes Pop i'm sure it will be trading Blood for Blood. My ;ife continues to get stranger.
So finally I have time to update. Whew..alot goin on...alot. Been hanging out with lots of folks lately. "Palo" and I just did an amazing set that I hope you all will get to see soon. She is such a stunning person! I hung out with "Hella" she kicked my ass in domino's and has the cutest ass I've ever seen on a girl. Editing away on the new episode of starvin with louis. It's gonna be a good one folks. Our last music video for the "Uneseen" is premiring on Fuse this coming Monday. Just started pre-production on a new film shooting in a few weeks..movies are fun. "gasp, Gasp" And lot, lots lots more. I can't wait to work with some people coming up ...I have a feeling I'll be doing my best shit soon.
So here are the final selections from my last photo project "Disheartened". I'm really happy with how it turned out.
"I watch in shock as the last of the warmth flows from my body. For some reason I do not die. I going on existing without my heart."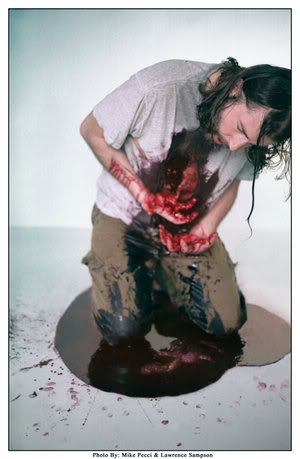 After the shock the pain hits. Stinging a hole deep enough to climb into. The cold settles in.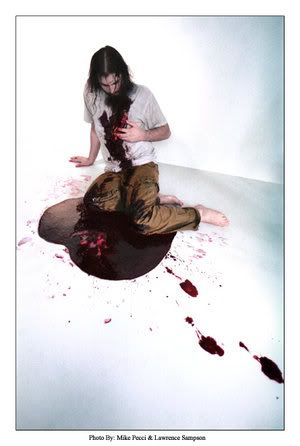 Exhaustion sets in as I come to the realization that it's gone. Exhaustion sets in as I come to the realization that it's gone. When I realize the she is gone.
So Last night was our Annual Halloween Bash. This was the first year we opened it to SG Boston people. What a friggin crazy night! We had a ton of SG people including SID, HELLA, PALO, ZAHRA, RAEDYN, AEGISWINGS, and many more! I finally got to meet PALO, shes a great gal but a bit shy..haha. Sid was cute as ever and continued to fuel my crush. Hella definately wore the most eye-catching out fit of the night and ZAHRA got a change to practice her gymnastic skills (Read about it more with pictures in her journal). Oh and RAEDYN, for a married chick you still wanted to grab alot of ass! Next time its up to you to get everyone naked! Other than some "ass blood" and a solo night in the sack...the party was one to remeber.
Here is a shot of me in my costume: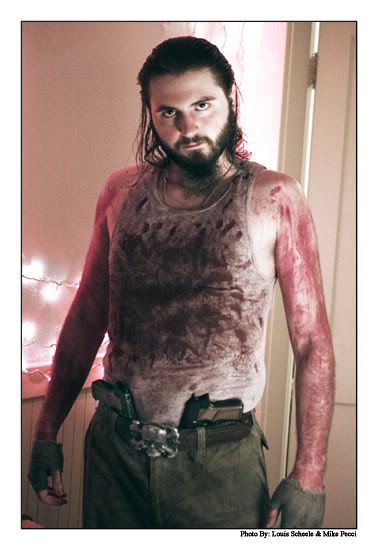 Here is a shot of Louis: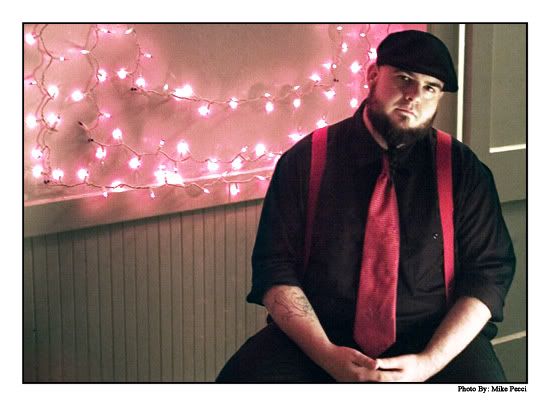 Sid and I hanging(she is way to cute):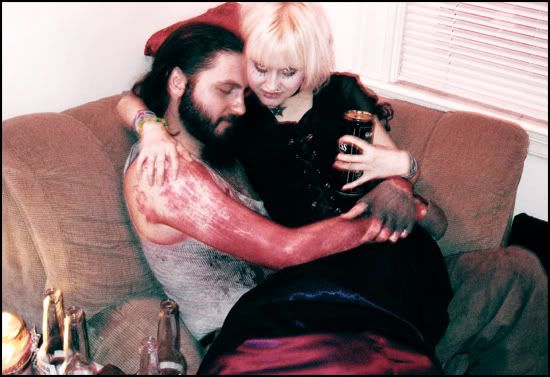 SID, SID,SID SUICIDE!!!
She is the coolest and you can see her guest star on the new starving with louis! It was just released this afternoon!
SID on STARVIN WITH LOUIS
So who wants to come to a Halloween Party? We are through our fourth event this year! Beer, food, and naked people! Yehaw!
I'm currently working on a new photoshoot. Scanning and cleaning up takes time but heres a quick peek. Let me know what you think.
So it looks like after 5 long months of hell I'm back on the market, weather I like it or not.

Does this mean I'm bitter now? No. I see this as a great chance to meet new and interesting people and to have a lot of fun.

Any of you Boston peeps wanna hook up for beers, photos, or to just pass the time, drop me a line.

Lets see some good news for a change:

- Our last video for the band "Ramallah" is being broadcast on MTV's "Headbanger's Ball" and Fuse TV's "Metal Asylum". That's pretty cool being that its my first work ever broadcast worldwide.
- I might finally get a chance to do an official SG shoot!
- We shoot Starvin Episode 3.5 next week with hopefully a crazy guest!
- I'm not dead.
- Ummmm……beer still tastes good.
- Oh and I still can sleep...wait I said good news.

Anyway thanks for listening those of you who do.