I'm private
So the weekend is apon us again.. and im still kinda sick... sick as in medically sick.. not fed up sick..
ive still got a fucking horrible cough... im driving all my workmates insain with the constant *cough**cough* Fuck!!!! *cough*
quick recap of the week before we move on:
Monday: worked my ass off
Tuesday: worked; had dinner with the folks & met up with an old friend (ash); ash and i went to the valley to meet up with
glennchop
, dom & matt; went to junglettes @ the rev and got really fucking waisted!;
(see below)
picture taken by the beautiful tez
wednesday: had plans to goto the beach with another mate... but couldnt seem to get my ass off the couch.. didnt sleep all tuesday.. so i slept on the couch from 1 in the arvo until 7am the next morning
thursday: worked my ass off; went shopping with steve for lisa's going away prezzie... got her the most beautiful ring.. hope she likes it
friday: here i am!! working again.. well.. trying to anyways.. so hard to get motivated.
now.. onto tonight.. i have no idea what the plans are yet.. it will either be drinks @ mine with the boys (then the alex) or the valley... im hoping for a cheap one.. so ive got dibs on the alex.
saturday: ive got hilltop hoods at the ent. center. going with steve (we had a ticketek voucher we had to use before it expired.. that was the only think we really wanted to see...) we got mosh tickets.. cos seating had sold out but hopefully we'll swap with someone.. i cant see me in a mosh full of "homie-g's"
haha
Edited to add:
Hot photo of me and my friends on friday night...
I havent added a comment to any sg sets for the past month.. i am sooo slack.
i'll do a catch up day... when i have time... this could be quite a while down the track.
Q: How was everyones weekend?
Mine was tops.. didnt sleep all friday night... very very MESSY.. i love that word
on the poppy side (i know im gonna get bagged out for this) Yay! for christina aguilera bringing out a new album! hahaha (be gentle)
I got promoted... i am now an Executive Assistant... im not sure whether this is a good thing.. like its ok i guess... another thing to put on my resume.. more money.. but a fuckload of stress comes with this... with stress comes cranky mercuris.. and with that comes loss of friends. but we'll see how i go. (as i said... be gentle)
went to the beautiful cleverthings b'day par'te on saturday... i couldnt stay for too long due to lack of sleep and loss of my voice from the night before.. i got sleep from about 2 in the arvo till about 6... once i got up... i just cried for about and hour straight...
moody mercuris. i saw the look on blackcollars face when he came to pick me and steve up.. haha.. i looked like death.. and he looked like... umm... hard to explain... it was a look that said "chill the fuck out.. and get over it... ahhh... messy gagga!"
anyways... shitloads of work to do.. i'll probably be back late tonight.
until next time...
I have my car.. i'll have pictures soon..
im so fucking slack... im actually rather sick at the moment.
poor steve was up most the night with me in pain... i had a massive ear pop (ive got a head cold by the way) and this emmence pain hit my ear.. it wouldnt go away for ages... i evenually passed out after gulping down 6 pain killer tabs, and a few cold & flu night time caps. ahhh.. sleep is bliss.
so i got up this morning after my allarm screamed at me for an hour... got to work.. and my fucking ear poped again... pain pain pain!!!! so i raced home and i am now waiting for 11:15 to come so i can see the doctor.. i hate the doctor... im fine going with someone.. steve usually comes in with me.. but i just dont like the fact that im in a tiny little room with a stranger touching me and asking me personal questions.. i dunno.. its just something i'll have to learn to get over.
i went to the dentist last night... i think i hate them more then doctors.. i was so anxious when i walked in... nearly fainted.. it was just a checkup and clean.. i have 4 cavities.. yay.. more fucking pain!
the boys have another gig tonight at the basement.. hopefully the doc will give me something to make me more comfortable to attend the basement tonight.
*pop*pop*pop*
*sigh*
Ive got lisa's going away sindig down the coast this friday... so if any of you goldcoast people wanna come to the party for a bit... it would be awsome to see you.
thats all for now..
peace-out!
i get my new car tomorrow!!!!! oh i cant wait!!! it willlll be sooooo fucking hot.. yay for my suzuki!! pictures asap i promise.
i know i said i'd show you big brother pictures.. but they're all shit and im sure you dont really care anyways right?
on to the freakshow...
was a brillient night... thanks to all for coming... we couldnt have done it without everyones support.. we're deffinatley thinking about doing a welcome to the freakshow 2... but not at the alley bar... fuck that security and manager sucked ass!!! meh... we made more money then he did.. so hahahahahaha.
theres some awsome pictures taken by speedway im sure you've seen in the SGAU forums.. but im gonna post the one of me and jesse... (its sooooo beautiful) haha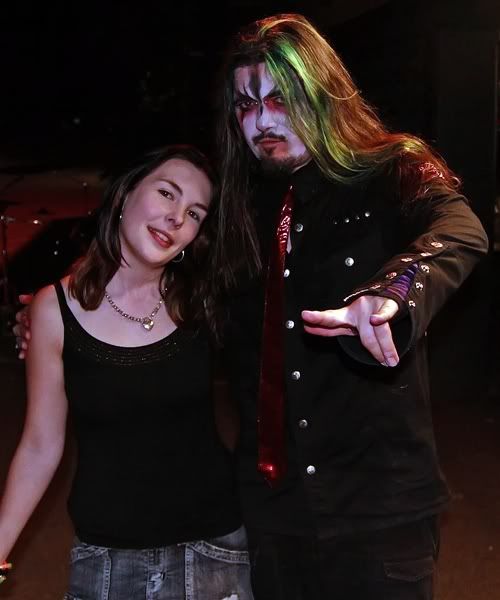 miss mini skirt mercuris... love it love it.
i'd like to excuse myself for my drunkeness... next time i'll be more sober!!!
i was there from 2pm.. ok? so give me a break... im happy to hear that i still was as cute and goodlooking drunk as a motherfucker.. haha
Hey guys,
guess what? Ive quit smoking!! yay for me being strong and stuff.. haha
by quitting i mean... i quit last thursday, went 2 days without a smoke.. then saturday night came (camping with the boys) and i had a few while i was trashed.. (so that doesnt count ok?) didnt have any on sunday, or monday... it is now tuesday and the smell of smoke makes me feel sick... so im well on my way to living in the world of fresh air!
its just such a fucking pain to be a smoker now... its such a mission to find somewhere to some these days.. such an inconvenience.
anyways... camping was heeps of fun... got very very very very very (have i said very enough?) trashed.. it was freezing cold thou.. that god we got that fire going... SG members who attended were:
blackcollar
&
glennchop
. Non SG members who attended were: Steve (obviously cos it was to celebrate his birthday), Brett, Jess, Solway & Simo (Fuck i hate that guy!
) He just wouldnt stop fucking causing fights!!!!
Once the sun came up on sunday we were all feeling pretty shit.. well i was anyways..
there was a bunch of kangaroo's hopping around the campsite so we went in to take a closer look.. we were so tired we ended up laying down for a quick snooze on the grass.. the kangaroo's must have liked us cos they came and layed not even a meter away from us.. it was pretty cool.
(i'll have pictures once brett uploads them)
Monday i took my mum to the big brother finale.. she's been bugging me to take her for years.. and it was looking like this was going to be the last one. it was the biggest load of crap ever. (i'll have some really dodgy photos to show you when i could be fucked taking them off my phone)
other then that.. lifes crusing along as usual.
oh... and me and
blackcollar
(and possibly some other mates of ours) are going to head down to sydney for homebake... so if we have time we'll catch up with some of you sydney people!
Peace Out!
Well my head still hurts..
shortly after my last post i went to see the boys, we road pocket bikes... as we so often do on a sunday...
but wait.. theres more..
the cow decided since he haddent had a beer all weekend that we should cruise down to the coast (fisho's being the place) so me, steve,
allure
,
blackcollar
, and keith stumbled around fisho's for a bit, decided it was shit and headed for the main street. stayed at the beer garden for a bit.. thought we'd see if "the party" was open... being a sunday this wasnt the case.. so $3 drinks @ cocktais and dreams was the next plan of attack.
$3 drinks on a sunday night... not a good mix for me since i planned on going to work the next day.
me and keith danced like uhh... like... umm... ahh.. we just danced like fools. manager was handing out drinks..
Equasion: Me + $3 + Free Cocktails = Very Very Messy!!!
I dont remember falling over so many times (later reported by the gang) i cant remember getting back up and walking to the car, i cant remember driving home (i didnt drive.. that just would have been stupid)..
then came the morning... there was noooooo fucking way i was going to work.. i was still drunk.
so i bummed at the hill for a bit.. and sobered up over the day..
ahhhhhhh gaggaaa!!!
so things are getting easier. im getting used to waking up on my own now... being drunk and taking care of myself... staying at home because he's out with his friends.
of corse i still get upset occasionally, but im not getting angry anymore.. so thats always a plus.
i said i wanna gonna take a step back this weekend and have a quiet one... that didnt happen. usually when i say things like that i stick to them, but i havent been able to stick to anything lately. infact ive been doing the very opposite to everything i say im going to do.
i ended up going out and getting absolutely rotten drunk on thursday, went and saw a workmates band play... well.. ahh.. i caught the last song. they started earlier then expected. it wasnt really my kind of music.. kinda like the crap they play on the OC.
friday pretty much did the same thing, saw a workmates band play... then ventured into the valley to see another gig... 6 ft. hick...they were fucking awsome.. best band.
last night i went to the alex with a mate who's going over the uk soon. i was drunk before i even left home... so by the time i had a few drinks there.... just messy.
ahh... anyways... my head hurts.. update later.
"Just Fuck'um!"
i think that pretty much describes the way im feeling at the moment.. got a few major things happening at the moment... all in all though im just trying to figure out where i fit in this world again... i thought i knew, i thought i had a piece of ground with my name on it.. but i lost it along the way. somewhere between hanging out with work mates, the boys, the girls, the SG's and other randoms. Im sure to find it again... but until i do.. just bare with me.
Im going to the freakshow on august 5th. I put quite a bit of effort into helping out with that.. i'll be drunk, i'll be looking like a jester.. and i'll have quite a few friends there. so shall be good.
.. ive decided im staying at home this weekend, just having a quiet one.. get some R&R.. havent done that in a while.
steady as she goes... i think that statement pretty much sums up things going on at the moment..
shall i explain?
"for YES press 1 (one) now!"
"for NO take a run around the block screaming in a burning ball of fire..
"
i'll do this in point form i think.
-last week was pretty fucking boring with work.. im very quickly running out of things to do.. i hate asking people for stuff to do incase its a fucking shitty job, but i hate not working while im at work (isnt that the whole point of it anyway?) and at the end of my week i feel a sence of accomplishment.
-theres this guy at work... we were really good mates.. and i guess we still kinda are.. but things have gotten wierd. him and his girlfriend (or ex girlfriend now) were going through a bit of a rough patch, and me and a few other people have been helping him thought it, words of support and shit. and somewhere along the way he's gotten the wrong impression of me i think.. he's taken my acts of kindness, and acts of friendship and something more. when we had our work thing on friday night everyone was fucking plastered... i was having a brillient night, everyone i wanted to be there was there! FUCKING FUCKING GREAT.. i cant stress what a brillient night it was. but as the night came to a close and i wanted to pass out.. (i was planning on staying @ this guys house, just for convience) and once we got home he tried to fucking jump me!! totally unexceptable!!! freaked me out!! so i pretty much jumped up, and got another mate to come and get me. and passed out in my own bed.
this happens all to often.. not the catching the cab part.. but guys mistaking my friendship for me wanting to fuck them.. its just really upsetting me at the moment.
-me and this other guy im kinda seeing and going though other drama's... but we'll leave that for another day...
im just really sick of everything... *pouts*
hey guys!
just a quick update... did i say that in my last update? damn im good @ repeating myself... anyways...
the weeks been kinda crap... alot of issues over the past week. not really in the mood to discuss them right now.. (i just couldnt be bothered.. haha)
one of my co-workers is leaving us to expend the business over in the UK..
so we got a frame and took a picture of all us Mercurians in the green room against the perspeck's screen. thought you might like to see... i think its an awsome photo.
also.. if you look right down the bottum on the picture... our data analyst lawrie did quite a model pose.. the guys thought it was fucking funny.. so they made this...
we're all going out for drinks @ brekky creek tonight.. so their should be a few funny photos to show next week also.
take care all and have a great weekend!