SoldierD84 Finally home from Afghanistan... Still working on profile slowy but surely
I'm private
Just woke up, tired as hell, long list of things to do today... Today is the day I start packing everything to get ready for that long trip home... Seems as it comes closer to me coming home, that the longer the days get. Why does everything have to just keep dragging on, I'm over Afghanistan it should be over us as well... Biggest things is packing to mail things home... I just hope that we are at a base with a post office long enough to be able to mail stuff home. This whole year we have relied on helicopters to bring us mail, and would go months without a single package, it's a horrible feeling but when we got something it was a great day no matter what had happened since the last time we got mail, or even anything that had happened on that day itself.

Well I guess I will stop wasting your time with you reading this, most of you it's night time, so have a great nights sleep.
It figures... When I am getting ready to go home and leave Afghanistan my internet starts to actually work! Why do I always seem to have the best luck... With EVERY THING it seems I can't get anything going for myself
Woke up today, found out some pretty disheartening things... Just hoping that today get much better, 1020 am here in Afghani-Land... Only the rest of the day to go... Now to wait and see if something makes my day a lot better than it has started off.
So even though the days have dragged on and on, managed to have a bit of fun... Went out looking for things to do and found some random things... A couple of us made a pool but it turned out to look more like a hot tub... Still had a blast... Some random stuff you do to keep yourself occupied...
Here are some pictures...
Me in there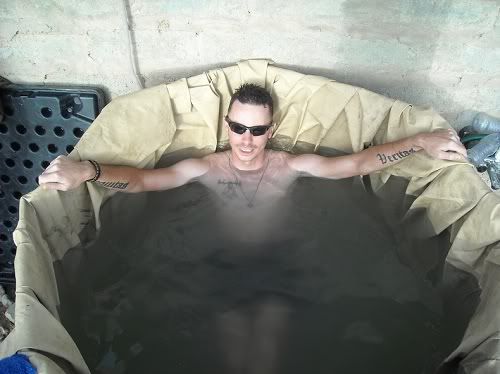 And then the "pool" began to fill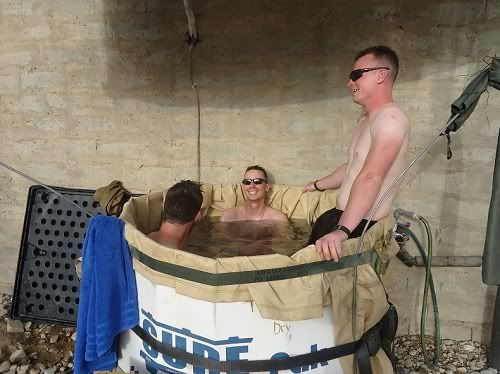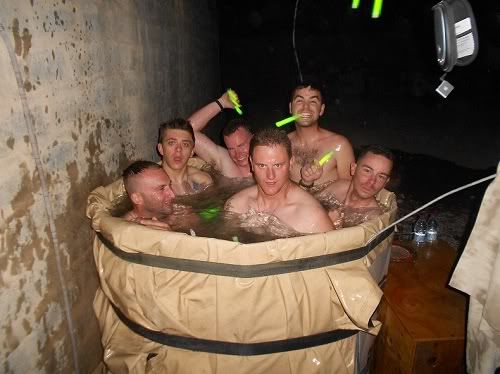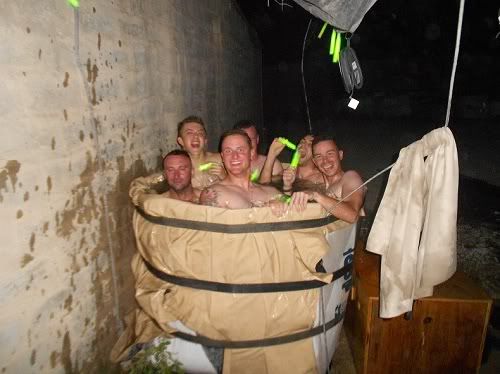 And then the sun went down and the rave began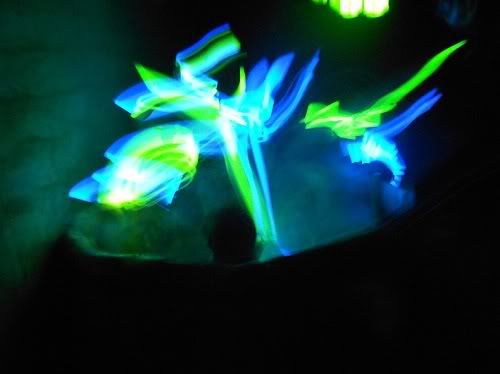 Seems like I can hardly get on to do anything due to this deployment, but still here in Afghanistan.... What I do know is that SOON I should be on my way back home, to go out and enjoy myself have a cruise to the Caribbean set up in January... Then staying in Florida for a bit afterwards... The only thing that I am missing throughout any of this is the fact that I would love to have a great woman by my side for any and all of the things I am planning to do after this deployment is over.
Been here in Afghanistan for 6 months now and I'll tell you that it just seems to drag like my last one... I wish I could know exactly what I was thinking when I volunteered for another deployment when I just got back from my last one...