Short likes some old movies, snow crash, and jonny cash.
I'm private
ugh. retartedly long plane ride eta: tomorrow at 11am.

i hate planes. they scare the bejeezus out of me. i really don't belong on a plane for like 12 hours or however long it takes, i hope this vallium works otherwise i'm gonna be screwed.

more fun-ly, at the end of said ordeal i'll be in germany, with my sister, hangin out. i'm pretty excited. i've never been to europe before, so here's hoping this goes well.

wish me luck!
wow it's taken me a retartedly long time to post anything. here's what happened:

i did school. alot.

all my friends graduated.

my laptop got stolen.

i got it back.

on a more exciting note, i leave for germany next week. my sister lives there and i'm going to spend the summer with her, try to get a job and hang out. AND try to post on here a lil more often.
Ahh, its almost valentine's day and I have no date... So as a consolation prize, i bought myself a new dual core processor and some other nerdy shit to keep me company
This weekend, a bunch of my friends came to visit and I got drunk enough to make fun poses like this one:
right, so i finally got my financial aid, so i got some more work done on my back/arm piece. thanks, government!
that's the outside of my left arm
the inside, just the top part
here's the rest
got another appointment on tuesday!
gueeesssss what@

the firstest week of schola is over and now i'm drunk and its like 2:30 am and ok.

so , chemestry class isn very difficult and it's probalby because i'm not so good at math. but i'ma get a tutor and they will help me learn it. ok it thihk it's bed time...

hope ya'lls are doing well!
wish me luck!

school starts this monday, and i've got 14 units of fun to get done this semester! i think it won't be too bad, but hey, who knows.

anyway, i gotta go pick up my books, so catch ya'll later!
christmas was the shit! i love being able to drive home for just like a day or two, then haul my happy ass back up to nor cal in just a few hours.

my folks got me a tons of books, which i am totally stoked for, cuz now i can stop re-reading the same crap i have around here.

hope it went well for all'a ya'll!
WOOOO HOOOOO, finals are over!

First semister back in college after three years, and I think I'm finally ready to take school seriously. Now I get like a whole month to do nothing until school starts up again.

I should get a job =/
When I sit down at a computer, or a typewriter, I instantly recognize the pattern of characters laid out in front of me. I see what everybody sees, a keyboard. My PC keyboard is slightly different than my mac keyboard, different than my Underwood no. 5, but this piece of equipment is reasonably standard.

I can utilize this piece of equipment more effectively than anybody I know. I type with speed and accuracy. My fingers know exactly when to go where, what situations require combinations of certain keys. I can even hit the numbers along the top without looking, and the <shift> symbols that go along with them (number 2 is also @, for example.)

That being said (and without further examination), it stands to reason that I should have no trouble learning similar tasks.

This is my frustration when it comes to musical instruments. I have tried, albeit unsuccessfully, to learn piano and guitar several times throughout my live. To me, the comparison is pretty straight foreword: a bunch of keys or frets, which correspond to sound (letters), which often require more than one to be pressed (played, picked) at the same time. Granted, music is indefinitely more complex than typing out, say, this random thought - I'd hope that I'd be able to preform, (at least a little!) the task of a simple tune.

I'd wager there's probably some scientists somewhere who've thought of this as well, and figured out all the particulars as to my line of reasoning and why its flawed. But it still irks me.

disc.: this has been an experiment in midnight blogging - i've been up way too long, thinking about way too many random things to be thinking coherently. i hope somebody finds my ramblings at least a partially interesting.

Also: I haven't seen my parents in eight or nine months now, long enough for me to have gotten my lip pierced and the beginnings of a sleeve's worth of tattoos. I also didn't bother to tell my parents about it, and I've got to say I'm really proud of they way they handled it when I walked thought the door today.
woohoo, new tattoo work done on me arm!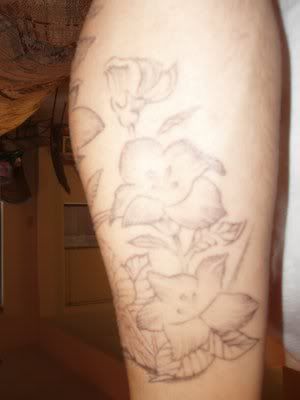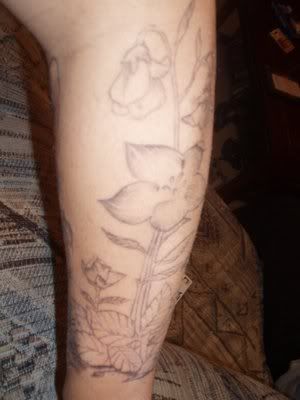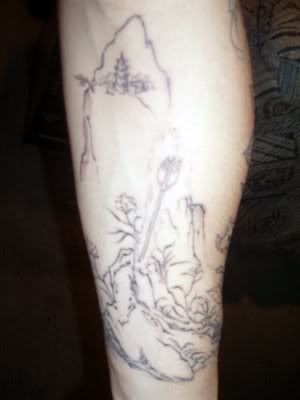 sorry for the less-than-steller pics... i guess i'm not so good with ze camera. anyways, more up when the color is done!