I'm private
Quick new blog...
For the last few months, nearly a year, I've had no computer so I've been posting on my work cel or my work laptop...thus I keeps it short. They don't pay me to browse pr0n so I gotta sneak it in!
But now I have a new monster of a computer.
And I've been on it heavily now playing Diablo 3...I've owned it for a year but couldn't play because my last comp couldn't run it. And while I'm doing that, I've stopped buying and playing Magic. But that's ok because my good cards will still be good later and I have a ton of great stuff hoarded...and I'm not spending money. I'll be back to MTG later.
That's the good news.
The bad news is that a lot of the photog pics I took are on that dead hard drive of the old comp. That drive is sitting in my freezer now, double-bagged, waiting for the day I buy a SATA USB hard drive caddy to plug it in...hopefully the freezing will get the HD to work for a few minutes so I can copy off my good stuffs!
But now I'm back.
The last few months coincidentally, I've been in a permanent funk. Like really bad. Just couldn't see the point of ANYTHING and I felt like I totally spent myself for very little...like I had tried so hard to be good to so many people in my life and yet when I needed someone, I feel I have no one.
Rather than stay this way though, I've decided to make a change. And we do it in STYLE. First thing's first, rather than dwell on old, faded or broken relationships, it's time to make new friends. On SG. And I've already made a couple and I'm hoping to meet one of them soon, visiting from Mexico.
And hopefully I can start replying to more journals. I read journals but I didn't post. That should change with the new comp...at least it should happen monthly.
- R
.><.
Update time...finally.
For most people, it's Christmas. For me, a non-religious person, it's a day off alone to get things done. The imagery of this seasonal holiday also reminds me of sad things that have happened. But being alone also let me get quite a few things done.
On the other hand, it's a fine excuse to post one of my most favorite 80s music videos of all time.
This is one of those songs that is not only special for being great and iconic music but also because the lyrics say something very personal.
(Ironically I had a big "holiday lunch" by my lonesome at a Thai restaurant. A remake of this song came on and after it finished, a little Chinese kid started singing the song out loud for like 5 minutes. Yup, the tune is that good on an intuitive level.
So, I spent this weekend to clean up the place. Recently I had a visitor and I didn't feel comfortable taking that person back to my place (or any other local friend) because...well, the place is a mess! As a collector of so many things living in a small house, I have way too much stuff crammed in here...
But it's almost organized.
And then, wrapping up some boxes/presents...some late b-day gifts and just some items I picked up for people on my travels.
On 12/12/12, I had a special visitor from Pennsylvania!
Pesky
and I decided to meet up and, because I wanted to be hospitable from the bottom of my heart, I took her my most favorite place in LA...The Huntington Library.
She did not live up to her namesake...she was neither annoying nor did she get in the way. The girl was actually quite sweet and, to my great delight, was someone who can be called an intellectual. I just wish the weather gods in LA were a bit kinder as I think she got a bit carsick as I fought traffic between destinations. After the Huntington, we went to Amoeba Music to shop!
I got a few pics there and I edited them (and re-edited them again for SG) for your viewing pleasure!
(CONGRATS GIRL ON GOING PINK!!!!!!!!!!!!!)
FYI, as I mentioned before, it was raining and a rather gloomy day outside so I had to use the ole PS on these shots.
The girl is rather photogenic, don't you think? Those tight black stretchy pants just killed me...
I was trying to take a shot here and here she comes prancing in...I really like this shot a lot even though she's blurry...you can really see the emotion in her body language as she encounters the beauty of this area...the same beauty I was trying to take a pic of...
It turned from a nice shot into a favorite shot.
And then she posed...yup, genuine joy.
This is the Liu-themed tea house and eatery inside the Chinese Garden in the Huntington.
On our way out, we stopped by this leaning sculpture of columns and a pair of statues.
Pesky capturing and sending a pic to
Chaotique
.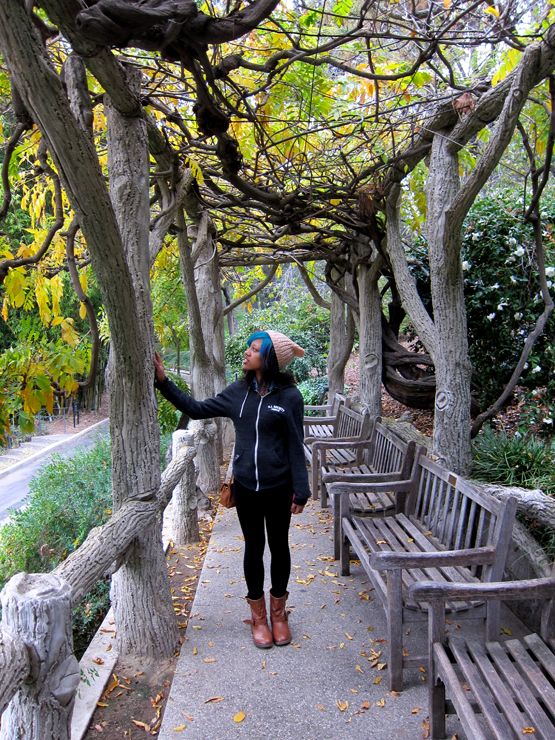 The girl's a natural.
Picture yourself with a minotaur head...
(Yo dawg, we heard you like to take pictures...so I took a picture of you taking a picture so you can see yourself being photographed while you're being photographed! - X)
Some more of Peskypie



And here are some shots I got this time that I feel turned out well, despite the gloomy day.

Chinese Garden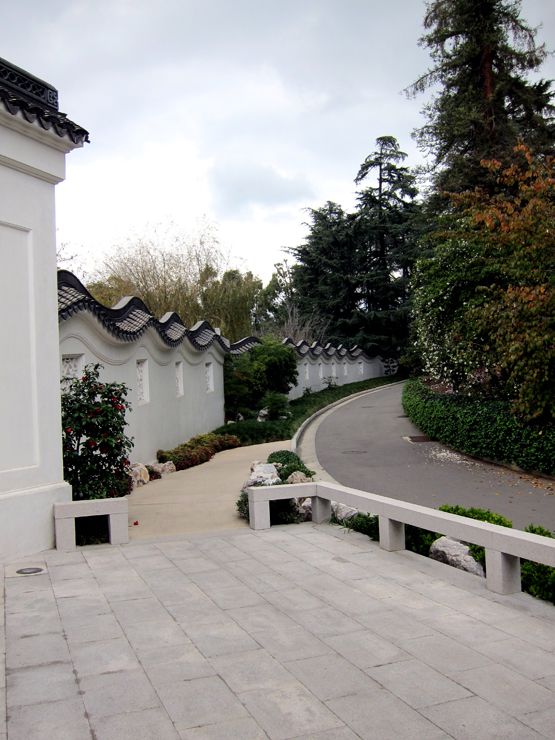 Love this angle...I always wind up taking this shot...as you can see it's rather overcast.



Civil War temporary exhibit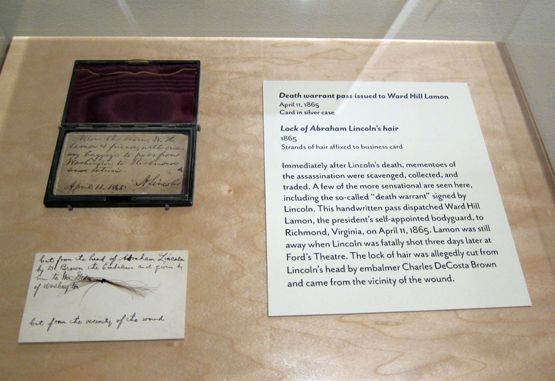 A lock of Lincoln's hair.



A real picture of Lincoln. Or a real picture of a facscimile of a real picture of Lincoln. C'est Ce n'est pas une pipe!



This was in a glass case, greeting you as you walked in.





Euro Art exhibit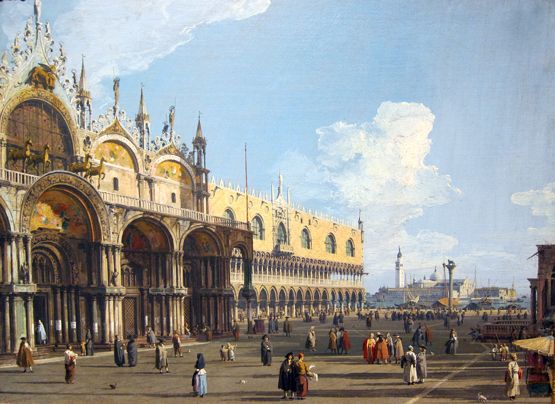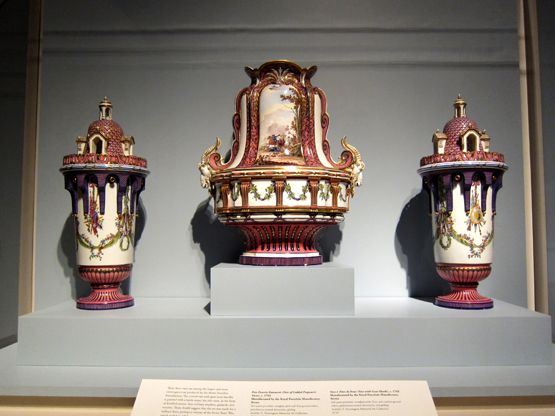 Another tough shot...the subject is jet black but glossy with a bright white light shining on it. Tough to shoot without losing detail...this is exactly the sort of subject that makes you want to shoot in P programmable mode rather than Auto. Turned out well I think...check out the color on the vessel, the golds and bronzes...the purples.



A functional lamp of delicately blown glass...a few hundred years old. The glass is lit up by an external spotlight.



Sculptures are rather tough to shoot...not only are they three dimensional so there may be multiple angles, but pictures of them always seem to turn yellow like the bottom one even in person they look white like the top one.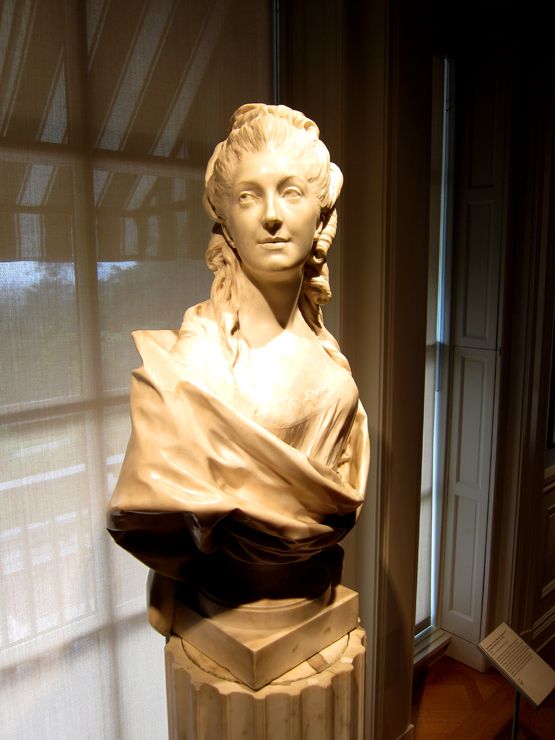 Random Art stuff
I don't remember where this was but I do remember it was another tough shot as things are tilted at different angles and are reflective...you can see that tripartate tray in front so bright. But all of the colors came through so mission accomplished.


They had a cardboard art exhibit and this was a rather cool looking lamp.



Japanese Garden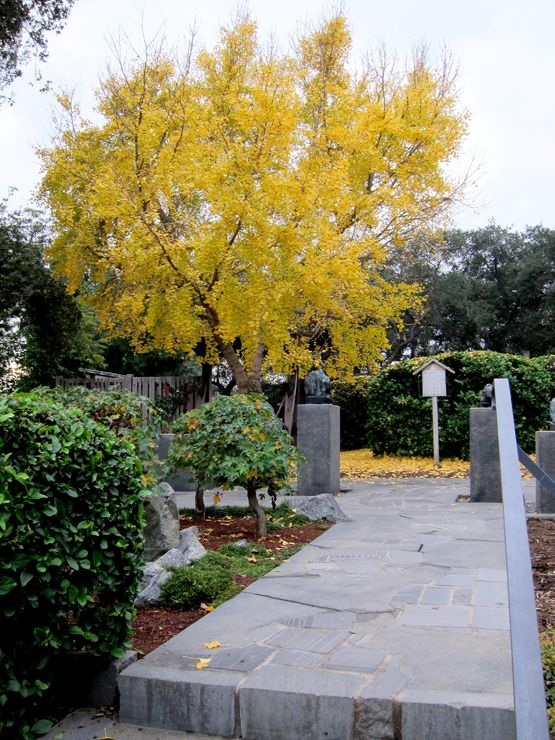 Autumn in "Japan."



The garden gate.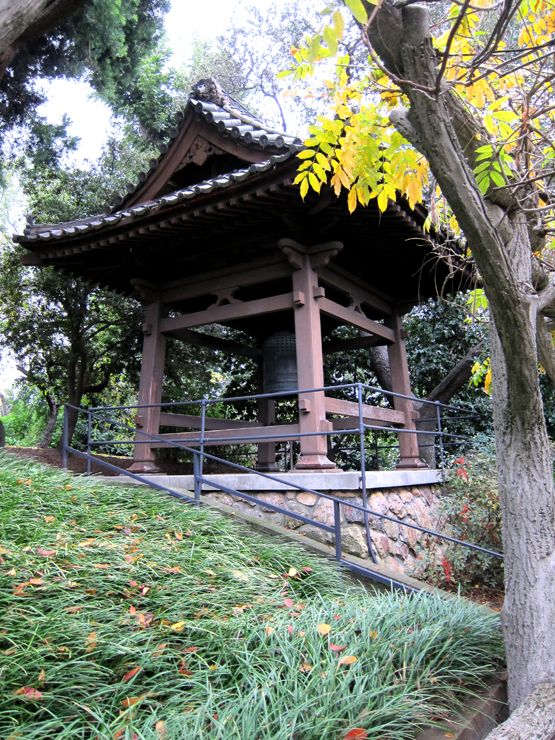 Bell house...I love taking pics in this area.



The lower garden and pool.



American and British portraits


Strange that I don't recall seeing this striking painting before.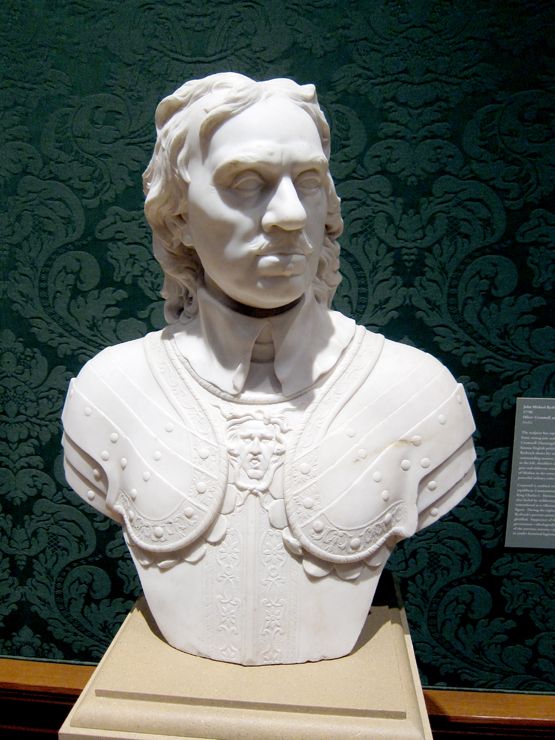 I need a suit of armor like this.



Love this table.



American Literature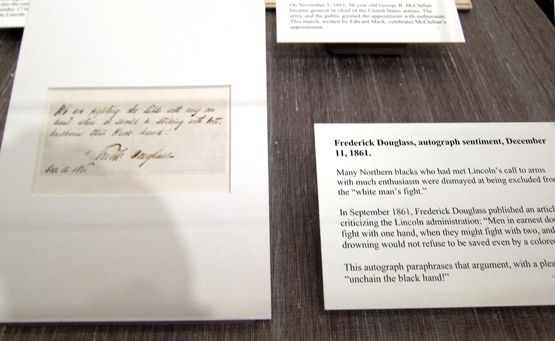 Letters from Frederick Douglass and Abraham Lincoln.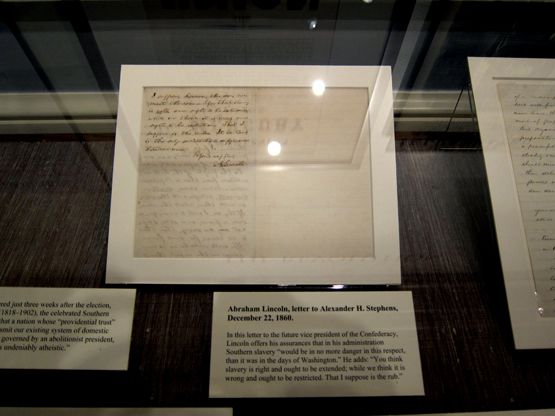 Outdoors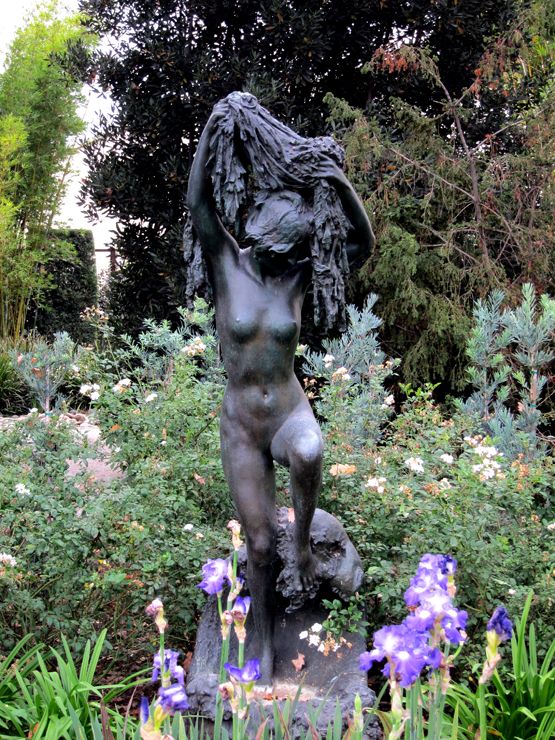 Same statue yet the color is so different depending on the angle you take it at. I loved the color in the lower shot but it has that ugly yellow wall. On the above shot, the overall composition was just much more appealing.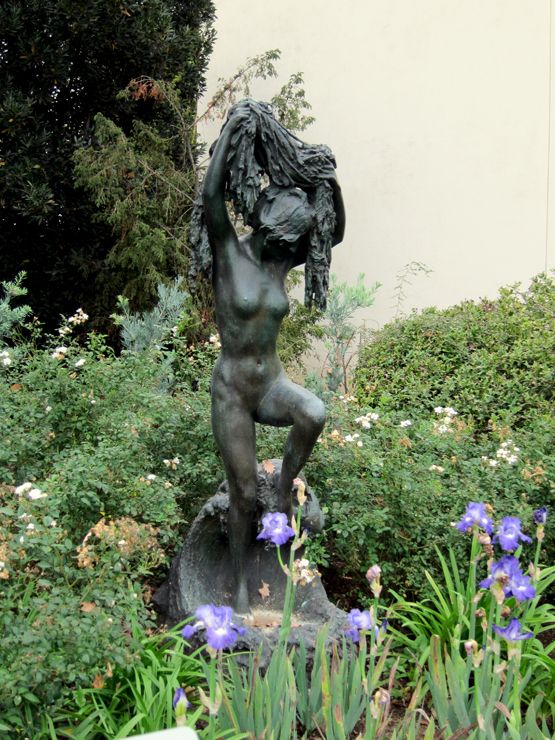 I've taken pics of this area every time I'm there but this is the only one that has ever turned out.



On the way out.



Rose garden. I keep expecting a satyr or faun to jump out but...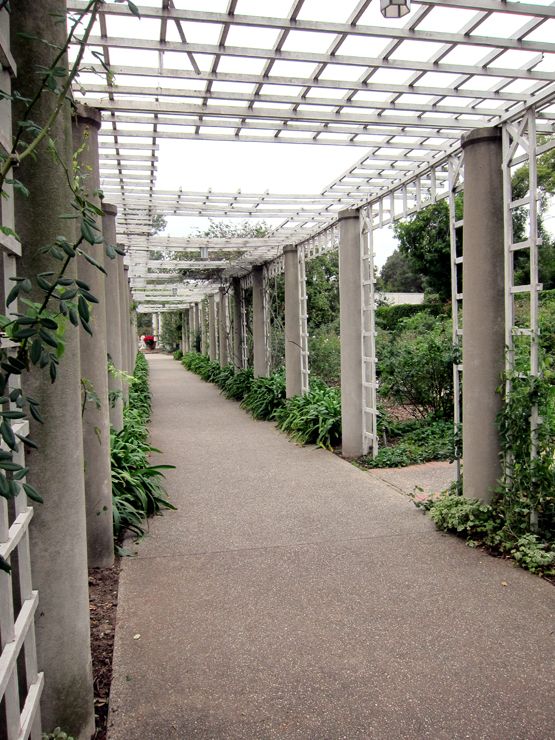 They have several of these outdoor hallway passages and they are all cool as hell (like the one of Pesky earlier with the vines).



History of Science and Exploration Exhibit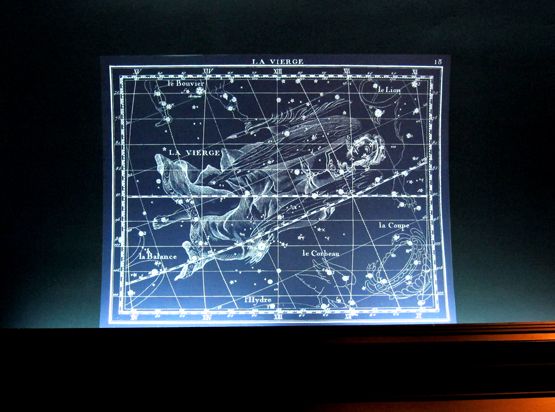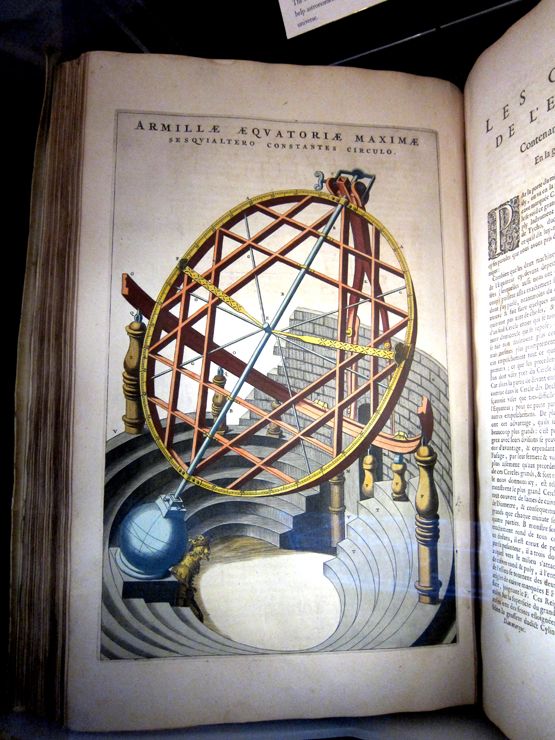 Nikola Tesla handwritten document.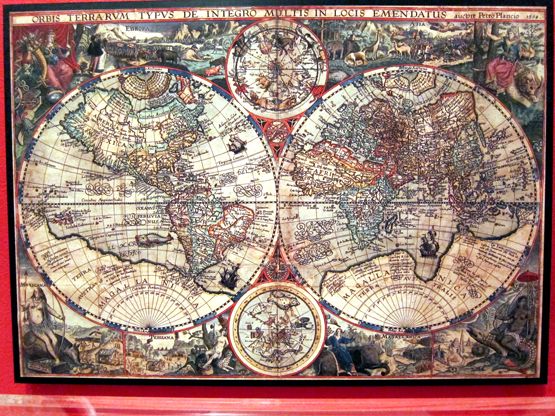 Random flower shots: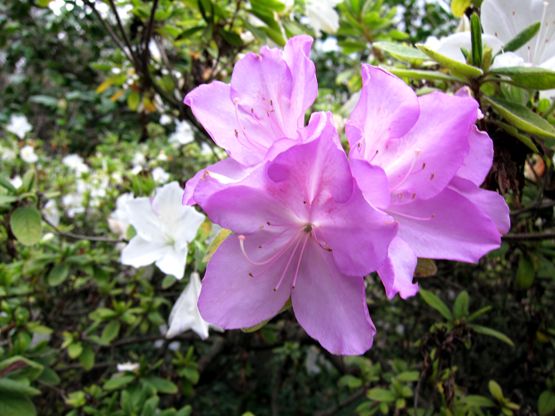 Some other decent shots...










It's been a long time since I've had something really fun and joyeous to blog about; thank you Pesky! Let's do it again sometime.


- R

.>|<.

Anyways, my comp is still down but I've been using my new-er iPhone and my work laptop. Thus I haven't been as active in writing but I'm even more active in reading here on SG.
Hopefully you're all doing well.
I've been noticing lately that I've been uber-stressed and that's made me physically ill a lot. I need to relax more.
Coming up will be some pics I took at the LA Zoo and the Huntington Library, and the Arboretum again...back in August before my trip to the SD Wild Animal Park.
Preview...unedited.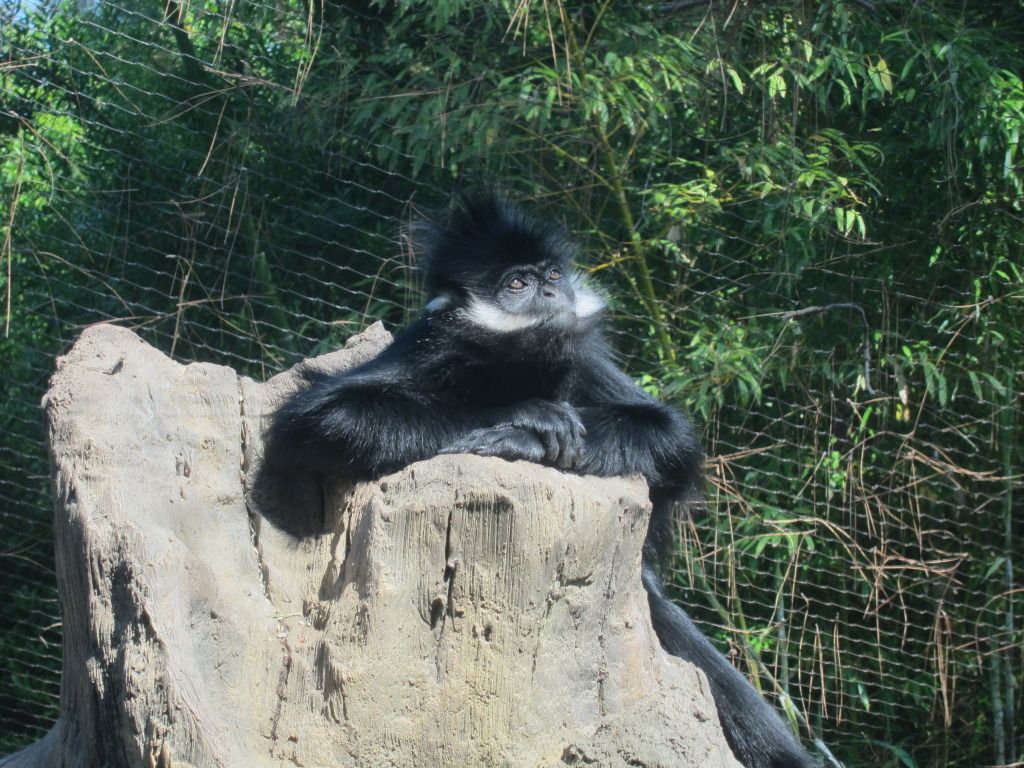 So thank you everyone for the birthday wishes, both here and on IM. It was really nice to know people care.
And I had a lot of fun on my BDay, it was a near perfect day. And I was almost able to forget the heartbreak...
...speaking of which, I know a lot of people say or cry out about how their heart is broken. Sometimes some people (sometimes me) will say that because they're hurting so much inside that they will say something like that in hopes they have friends who will comfort them and be able to move on. Me and this time, it's less of a cry out and more of an observation. I simply don't feel anything from the area below my neck...that hollow space that usually holds the face of the one I'm crushing on or in love with if it's really serious. I can feel nothing there now.
In a way it's good as it's been hurting for the last few years.
So...on to the pics!
San Diego Safari Park Zoo!
You can see them all
here:
Keep in mind the pics are in reverse order...go to the end and go right to left, down to up.
All of the pics have been edited but no Photoshop. I'm going to try my best from now on to pretend PS doesn't exist and use my eye, skill and hardware to get the best pic possible. My comp is still down and I'm on my work laptop so no PS to use anyway.
Look at the lil tusks! I have a feeling that if you met this lil guy on the savannah, he wouldn't mind playing.
One day old baby elephant...plus the giant alpha male. Look UNDER him.
I loved this simple lion exhibit. In order to get the male to raise his head, the group of random people trying to take pictures or look at the exhibit made a loud noise. He looked, then put his head back down.
I took a lot of flower pics...in a park like this it's so easy to just walk past some amazing beauty because it's small or you've seen it before...this was the most common flower in the park but yet...
More flowers...LOOK!

Any time a dragonfly or butterfly comes near, I'll try to take a picture. You've been warned.
So many of these pictures turned out so well, even if I used the Auto Levels feature in PhotoShop, there was virtually no noticeable difference because I chose such good lighting. I'm always hoping my shots are like that, especially when they are close-ups.



I love prairie dog/meerkat-types of animals. Wish I could raise 'em.



I told my pal this pic reminds me of GoodFellas. Anyone know why?


So the morning was spent walking around, getting some lunch and basically trekking as much as I could. I took a lot of pictures but many of the animals were shy or just not in position. But now, my tour started...it was the Caravan Deluxe tour where we sit in an open truck with benches, and with a shaded canopy. We get a driver and a tour guide who sits in back with us (these pairs often switch duties, that way they both understand each other's roles on the tour so the passengers get the most enjoyment...many times the animals do what they do as we're visiting them, and the truck driver gets us as close as possible while the tour guide acts as the lookout).

During my tour time, there was a regular Caravan Safari leaving and our Caravan Deluxe group. Theirs had like 20 people. Ours had only 5. Thus it was almost like a private tour...we had the truck to ourselves and I had every angle I wanted to take pics.





In the first enclosure at the very entrance was this one rhino, a huge and old alpha, who just relaxed and greeted us. We were able to get very close and I got a few pics. Both our tour guides seemed to have a crush on him because he was so big and magnificent yet at the same time very calm. Personally I wanted to hop out and ride on his back.





Tour started, first giraffe encounter...she was so friendly.

More...


Second giraffe encounter...this one was very shy and had a dark face. She came over, grabbed one leaf and split. According to our guide, that was the first time they ever had that girl come over and eat ever. Some of the giraffes, they come from other zoos and will never play. Others who are maybe born there or are just outgoing, they come over almost every time. So we got a rare encounter.


This pic turned out really cool.





Poor, crazy ostrich...we had a lot of encounters with these guys as they kept blocking our truck and eventually we had to chase them off. This one kept following us. Check out the link to see a LOT more.




We ran into this rhino...from far away it was scratching itself against a tree...but as soon as we got close, she just sat down and zonked out...she wouldn't play with us. At this time we've passed like four rhinos in three enclosures and none of them would come up to us.
Still I got a close pic of this one snoozin.




Third giraffe...this one was an old lady. She was extremely friendly right away and came out and stuck her tongue out at us. I got that tongue wrapped around my left hand more than once so I could only take pics with my right. Sticky business, that.
More...


The rest of the herd. The first five giraffes lived in one enclosure...these thirteen or so lived together in another. They like to keep newcomers separate so they don't get ganged up on, and maybe only pair them with one single familiar but friendly giraffe. But this is the group...they were aloof when the old lady visited.



Ok so at this point we ran out of giraffe food (leaves) but we had full buckets of rhino food. Every rhino had snubbed us so everyone in the group felt like we were going to miss out.


We spotted this mom with her days-old child. We followed the mom because the mom was a known friendly animal. But everytime we got close, the baby would run off and the mom would follow.

New strategy...lure the child. AKA the McDonalds technique.

And he came right over...almost.


Our clever tour guides threw apples on the ground to lure him in and he came close.



Closer...lookit his lil horn-bump!
Mom still wouldn't come over. Instead she went about 20ft away and stood with her back facing us. Once the kid was done, she ran over. We didn't get to feed 'em but it was still adorable.



So now we drive around another 35 minutes or so and every single rhino is too busy shitting, or sitting in a pool of mud or just sleeping under the shade. (The life of a rhino is hard, I know.) By now everyone thinks we're getting shut out. But during the last half hour of our tour (3.5 hour-long tour) we get a call that the previous pair of rhinos (and there are over a dozen of them all over the various enclosures...it's cool because the animals all live together in a big enclosure, except predators of course, and herd together...it's really a park rather than a depressing zoo) were now in a feeding area where they look for food.

This pair previously ran away from us.


They're sisters. One has a small horn, the other has a medium horn with a divet in the front of that horn.

And they were hungry! (To feed them the apples, you literally have to stick your hand into the rhino's mouth and let it close gently on your hand as you roll the apple slice (and cores) into their snouts. Again, sticky business.

Small horn girl:


Feeding...



Me petting...

Medium horn with hole girl:


Me feeding...



Me petting...


EHRMERGERD IT WAS A LOVELY DAY.


This pic was taken by me by putting the camera at waist high, between two wooden planks where there was a hole, and just inches away from the rhino snout. Thus it is almost rhino-level...which made for a killer shot.


Having had our fulfilling rhino encounter and almost out of time, we now drove back to home...we had to pass by the giraffe herd again. This time all of the giraffes got friendly so our tour guides stopped repeatedly. It was funny because we were totally out of food.



Giraffe close encounter #2.



Two young brothers sharing some affection.

Close encounter #3...third different giraffe...male...





Another young male...this guy has an itchy face. Everytime a caravan comes through, he likes to come up scratch himself on it. Quite amusing.


One more looking for food...this poor female recently gave birth and the grown male giraffes kept following it around...to suck on her for milk.




And as we left, yet another giraffe started following us for food. It was fun to be so wanted! Should've come earlier!




Baby giraffe!


Ok so tour now over. It was awesome as you can see. I washed up and spent the last hour buying gifts for people (you'll be getting them sorta soon!) and looking at some exhibits. Near the front, they have this part where they keep bringing out animals by hand, from snakes to armadillos.



Here we have an adorable wallabee.



Last pic...I love birds with S-shaped necks...this is where the pelicans were along with a ton of different ducks and geese. You can hand-feed the water fowl there as they have vending machines with pellets. It's fun as the birds eat right from your hand.

After that, I drove back to downtown San Diego, washed up, took a nice nap and then ate at my fave place in SD...Hunter's Steakhouse. It's actually a chain but I like this one location, which is right at the hotel circle. Then some more relaxing at the hotel and then I drove home.

That's all...a great day for my b-day.

- R
.>|<.


PS - thanks to Kat, who was the inspiration for this trip. <3
My heart is completely broken now.

So today I decided to go do something completely non-adult...something that I've been wanting to do when/since I was a child.

I'm going to go pet some giraffes.

Pictures coming soon...of that and of adventures of the last six months.
Computer's broken. Now I have a pile of parts and a HD that needs recovery.

Luckily I gots dis phone so I can at least text or type a little.
I'm going to the Stanley Cup Final tomorrow in what may be/should be the clinching game...is this really happening? This one event, silly as it may sound to non-sport fans, may help reverse every shitty thing that's happened the last twelve months for me. Yes, it is that huge. I only wish I had someone to take but I'm happy nonetheless.
Over the course of these playoffs, I've made many, many bold predictions before games, before series, and this team each time has achieved them. It's unspeakable how wonderful it is to have something you've always wanted to trust and repays that trust. If we can win this tonight, there will be some serious mayhem!
- R
.>|<.
So...I got a new phone and now I can receive texts. Before I had a very old BB, which basically did nothing but emails and calls. If any of you would like to chat, let me know and I'll send you my number via SG PM.
Also, the Kings...my Kings...they have been playing so great that I've been on a total high. Everything else seems to be turned down low including SG.
I've been having fun chatting with a couple of my special SG girls on my phone so that rocks. So I apologize for not getting to anyone's journals at all...I've been really bad. But it's nice to know who reads my stuff for real and is not just a journal replier although I consider journal repliers as actual friends on SG. Anyone who writes me anytime, whether journal or PM is a friend.
Speaking of which, I just got rid of a bunch of "friends" off my friends list who never write me, read my journals or even reply...and even turned down a FR because I'm tired of Hopefuls who just randomly friend me, trying to get me to vote for their set. I get depressed looking at most of the sets here to be honest. Everyone compliments but few tell the truth...and the lighting for most sets... *sigh* What can I say? It hasn't been easy for me to find girls who would model with the exception of the last two years as I've had a burst of female friends here (love you ALL <3) and even a few said "yes" to modeling for their pal Ror "once he gets his shit together." The quoted part is me talking about me.
Also, I love taking pictures and sharing with you guys but it seems my account is in such a way that when I post a photo, not only do I have to do an edit, I also have to do a second edit to reduce the image to 550 pixels wide or my blog text box cuts off the rest...sux. So I haven't been motivated to edit my Chile pics, nor my Kings pics. I went to game 4 of the SWEEP. It was EPIC and I sat right against the glass behind the Kings bench!
- R
.><.
My DSL modem fried and so I haven't really been on.
But, since the fuckers at the phone company won't replace my modem, I got high speed cable instead. I also have an IPhone now so anyone wants to text me, I now can get them unlike my old BB.
So...I'm back.
- R
.><.
PS - You know what sucks about not having a connection the most? None of my Steam games worked, including Civ5 and Skyrim! I could do a lil bit of online stuff on the IPhone but not play my games.
PPS - GO KINGS GO!
So today I was going to write up a new blog for you all about my recent trip out of the country, do a bunch of life maintenance (like laundry) and edit a bunch of photos.
Instead, it's been raining for 20+ hours and my camera's in the car...that thing's become one of my main hobbies and I loathe the idea of getting it wet. It would be like taking my Les Paul out there in the rain...even with a blanket, I still wouldn't risk it!
Also for some reason, in the last year, I've become really sensitive to the cold where as before I'd be the guy in shorts and t-shirt in a blizzard. If it got cold, I'd just throw on another t-shirt, lol.
Anyways, so instead, here's a science-y blog...first time in a long time. Hopefully some of my friends here who liked my previous ones will catch this one...
Julian Barbour
If you've never heard that name before, then remember it.
Before I get into explaining the man above, I need to explain his predecessor first...
When Einstein and friends provided proof for his theory of relativity, they were able to show that light can bend in space when "influenced" by gravity when an object of sufficient mass exists. (As Newton and all scientists up to Einstein already believed, there is such a force in nature as gravity and that gravitational force is exerted by/from large objects in space...like the size of moons and up. ) So they did their famous experiments observing solar eclipses (where the moon gets in between the Earth and the Sun, blocking solar light from reaching our planet) and saw that even though the moon was blocking the sun, somehow light still appeared from behind and then around the moon instead of just being blocked completely. The gravity of the moon bent the light pointing to the back of the moon and warped some of it around itself and then the light continued on to the Earth where the observers could see and photograph it.
Thus, in a nutshell, Einstein proved that space is malleable by forces like gravity and even things that are supposed to travel in straight lines in space will curve around the "dent" in space. It's like putting a bowling ball on to your bed. Your blankets are the space, the ball is a star/object of large mass, and the dent in the blankets will cause any other smaller objects to roll toward the much heavier bowling ball, thus acting a lot like gravity.
So every serious scientist the last forty years, especially those in the physical sciences, knows this stuff already like how every reverend in Christianity knows Genesis.
The idea at the time was and still is so revolutionary, so...mind-altering, that scientists eventually just took it on like cannon. Considering how scientific theory is to first hypothesize and then attempt to disprove it every way possible. If you can't disprove despite many valid tests it, that theory must be true...for the moment, until we have something better. For scientists to believe some theory, even Einstein, to be scientific fact is the epitome of being unscientific. Scientists have been prone to this weakness since the beginning of published science. At best, they've ridiculed those who have posed radical new hypotheses; at worst they've even had their fellow scientists killed as "heretics." From people who believed the universe rotated around the Earth, to flat-Earthers, to people who ridiculed the idea of germs (microscopic organisms) that cause illness...the story, the history repeats itself over and over.
Dark Energy and Dark Matter
So everyone became a believe of Einstein. But all Einstein did was reveal the beginnings of humanity's new perception of the universe. He lifted the cover off the rabbit hole and told us that it goes down. But by no means did his "down here" directions explain everything "down there. " Einstein kept it as simple as possible, explaining along with our three dimensional world, there was also time as a fourth dimension...basically he explained it in the limited terms to the limited minds he introduced his theories to. But Einstein's theories were unfinished and he basically quit trying to fix/improve/finish them as he was already famous and in his own words "it was too hard. "
So scientists up to the present have problems using his system of fixed coordinates (three dimensions, the X, Y and Z axises) and then measuring them over time (the fourth dimension). In small systems like our solar system, it's no problem because we have one huge mass from the one star in the system and a bunch of significantly smaller masses in planets (not counting plutoids, the smaller, not quite big enough to be planets that Pluto got downgraded to, or asteroids, which aren't big enough to exert significant gravity of their own). There's one big guy and a bunch of little ones. Then each planet is it's own little system with a stable orbit and potentially having their own objects orbiting in moons. Earth has one moon, some other planets have multiple. And each of these systems are simple and easy as well. No problem, Einstein's theory and simple rules work in these simple systems.
Where things begin to break down is when you get multiple stars and on a much huger scale, entire galaxies moving. These objects with many massive objects, maybe even multiple hugely massive objects like black holes, well...these objects aren't measurable using the normal four dimensions because as one object affects the other, the other also affects the one. Imagine trying to drop a thousand super balls (the little rubber balls that bounce like 5 feet high when just dropped, made of high-impact rubber) in a room. Except due to gravity, they're also magnetic. And as they bounce and run into each other, they may give off energy (heat) and thus altering physics even more. The effect the objects have on each other makes things really complicated to track even one ball's trajectories. It may get too close to another ball and stick...it may bounce higher than normal because the area it's in is warmer...it may run into two balls stuck together...who knows. There are too many variables that influence each other... Basically we're talking about quantum mechanics.
So in the movement of huge masses, the measurements don't come out right using Einstein's methods. The theory of relativity is still true, it's just using his methods, they don't measure huge and complex systems, the predicted measurements are always off compared to the actual measurements. And thus modern day scientists have "made up" a couple of phony things to explain away the shortcomings...dark matter and dark energy. Roughly, dark matter is matter in space that exerts extra gravity force enough to make up for difference between Einstein measurements and actual measurements. That extra force is the dark energy. Why is it "dark?" Because you can't see it...and after Julian Barbour's theories, he explains that you can't see it because it doesn't actually exist!
Simply put. Einstein says, in the universe A+B=X, and if A and B are 1, then X=2...1+1=2. And in simple systems, we always get 2 or damn close. But in complex systems like measuring the movement of galaxies, we get all sorts of different numbers greater than 2. Modern scientists say that dark matter and dark energy are an unseen "C" so that A+B+C=X. Except no one has ever observed this "C." Barbour says the C is not there and the actual equation is something more like n(A+B)=C. In simple systems, n is 1, thus not affecting the equation's answer in any visible way. But in complex equations, n can be anything. So we also have to account for n, the variables introduced by other significantly massive objects.
(Now these equations I just put up there are total BS...quantum mechanics is much more complex by several orders of magnitude...but the idea of other variables affecting the equation in complex systems that aren't present in simple systems is the point. )
The New Universe
And now, Barbour has theorized that we always need to account for these variables and we can also measure objects not against a fixed four dimensional plane (3D plus time) but we can also measure the objects against each other instead. Incredibly simple. And thus we can get rid of the phony dark energy and dark matter that never existed in the first place and just measure the objects using the new philosophy.
Why this is so important is manifold...first, it's impossible to scientifically measure small, atomic systems as any measuring instrument introduced to the system will alter the system and thus render any measurement as scientifically moot. So we can't just look and fix our theories that way. Thus having the correct theory/method for measurement in the first place is all we have to rely on. And, scientists have recently "proven" that two sub-atomic particles that are together, even if they are split up across miles, if you do something to affect one particle's behavior, the other particle's behavior also changes like-wise. In other words, it's possible to manipulate something from far away by manipulating the "partner." We really need to have a correct theory and measurement method to tackle this sort of thing. Plus bottom line, dark matter and energy aren't real, the less human resources we waste on those phony things, the better. (All of these things have already been worked on by other scientists before Barbour, FYI. )
On a separate note, some say that the particle behaviors that mimic each other across any seeming distance opens the doorway fully to a possible theory of intelligent design...creationism if you will.
Here's a pic of the man.
Basically the point of this whole essay is this. Barbour will become the next man that future generations will
look at as the epitome of science...the name who will take over from Newton, from Einstein.
************************************************************************************************************************
So on another note, the only thing I'm looking forward to right now is American Reunion, the movie. Those of you reading my blog over the years, you guys know that I'm sort of a movie connoisseur, I'm in to the indie and foreign type of films. If the movie is highly rated but has almost no money behind it from a large studio, I just assume it must be a great movie. However, I have my guilty pleasures too. Two, in fact.
Any time a Fast and Furious movie comes out, especially if the "bromance" guys Vin Diesel and Paul Walker are in it, I automatically go see it in the theater. Twice at least! Well, the American Pie franchise is the other...but there hasn't been a new movie in a long time...just those awful spinoffs. Well this month, the fourth one is finally coming out. Can't wait. Actually I'll have to wait. I couldn't go this weekend and next weekend I'm on call. So, it'll be next month. Can't wait.
There have been so many times in the 90s and early 00's when I was down and depressed but then an American Pie movie came out and cheered me up bigtime.
- R
.><.
MAY 2013
1
2
3
4
5
6
7
8
9
10
11
12
13
14
15
16
17
18
19
20
21
22
23
24
25
26
27
28
29
30
31
APRIL 2013
1
2
3
4
5
6
7
8
9
10
11
12
13
14
15
16
17
18
19
20
21
22
23
24
25
26
27
28
29
30
MARCH 2013
1
2
3
4
5
6
7
8
9
10
11
12
13
14
15
16
17
18
19
20
21
22
23
24
25
27
28
29
30
31
FEBRUARY 2013
1
2
3
4
5
6
7
8
9
10
11
12
13
14
15
16
17
18
19
20
21
22
23
24
25
26
27
28