I'm private
Here are some misc. pics from the last week or so! Enjoy!!!
Cheesesteaks and cheesefries for our Irish and Canadian friends
BirdieBird
and
Peeeach
!
The unbelievably adorable
Sillyk
being unbelievably adorable!
...and her man,
Elr0d
, chilling in a pink blanket surrounded by fuck dolls!
Waiting in line when you're hungry is LAME!
Peeeach
's bedroom eyes:
One of these things is not like the other...
Stuntc0ck
and
BirdieBird
's deck rules:
Peeeach
and
SillyK
compare bras:
SillyK
thinks blueberry donuts resemble gaping assholes:
Peeeach
likes peach.
Sassie
and my kittty Sami, passed the fuck out in hilarious positions!
I interviewed for an epic new job at Etsy.com in Brooklyn yesterday! Check out the craft room where I had most of my meetings:
Bye!
DIRTY WASTED THURSDAY.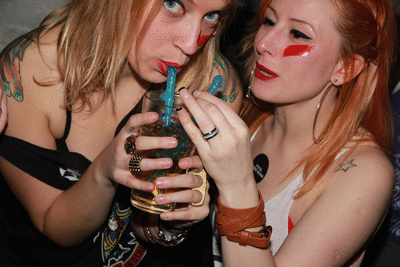 See the epic pics
HERE
.
Had an EXCELLENT Christmas with
Stunc0ck
and
BirdieBird
!!!
I watched them play Kinect Adventures for the first time, we opened presents, the cats had tons to do.. an excellent Christmas, for sure!
Opening presents:
Cat Presents:
Cat Presents w/ Catnip:
Birdie plays Kinect Adventures:
Merry Christmas!!
crop images
Happy Holidays!
High and trying to remember...
Oh yeah!
Last weekend was the SGPhilly Absinthe Night!

It wasn't nearly as formal as the last Absinthe party, just a date and place to hang out with friends. I got to hang out with Minimalism, Fatality and her +1, Sassie, Birdiebird, Stuntc0ck and a few of other people I know from the area. We had excellent burgers, drank really nice absinthe and had some decent conversation before the club filled up. The place has become one of the hotter nightspots in the midtown area... I had no idea. When I used to play the club with my reggae/blues band it was always a decent amount of people but jesus... PACKED!

Here are a few dark, shitty pics I was able to take:




Unfortunately Sassie wasn't feeling well and had to go back to the hotel. After finding out what had happened to her I went back there to take care of her. We ended up getting late night delivery and chilling out for the rest of the evening while the SGPhilly crew finished out the night at Tatted-Up Mom's. In the morning we shot a bullshit fun practice set of Sassie to cheer her up. It was just the T2i's kit lens and we didn't plan or prepare at all but there are a few fun shots. We steamed up the room a bit and then used the big foggy window facing the city skyline for fun. That damn kit lens wasn't a fan of pulling focus in a steamy room, let me tell you... Sassie wants to submit it for the fuck of it so I'm sure you'll see it at some point in some capacity. Here are a few quick outtakes from the shoot:




After that we rocked some Mad Mex and passed out watching Bill & Ted movies. A good weekend for sure, although I must admit I expected to be absolutely DESTROYED all weekend and I was my drunkest at 10pm on saturday! By 2am I was all but sober! I must do that differently this coming week... I'm trying to get my party on before 2011 is done!

That's it for now. I'll post pics from some of the shows I've been working soon! ROCK ON!!

I've got an exciting phone interview with www.Etsy.com today about a new management gig in their Brooklyn, NY headquarters. I'm not sure if I can leave live music just yet but hey, they called me. One of my old college friends is a software engineer at Etsy and recommended me for the gig. I was touched!

No, not like that. He didn't Sandusky me.

I'm really fucking conflicted about it. If I get this gig I can potentially make a LOT more money and get to live in NYC. Unfortunately I'd have to leave live music and work a normal 9-5 schedule. That's not fun for me. I'm only really considering it because last year there were times where I wasn't making nearly enough money. Even now, my January is looking pretty lean. We'll see how this call goes...

Stay tuned, more updates to come soon!
Hey everyone!
Life has been chugging along lately. I've got more work than I can handle in all of my fields. The shows I've been working have been AMAZING but my attitude has been kinda blah... I think I'm finally realizing that casual sex simply can't give me enough. I don't really have any family and my friendships are limited to backstage or SG peeps thanks to my crazy schedule. I've been casual sexin' my ASS off and I still feel kinda lonely pretty regularly.
Don't worry, I'm working on it. I'm certainly not going to rush off and get some girlfriend I don't really care about just to fill a role. I always think it's sad when people do that. I'm just going to continue to plan and attend epic events and continue to create music, films, scripts and artwork.
Contribute good things to the world and you will be rewarded with the same.
Stuntcock and BirdieBird have become AWESOME new friends of mine.... Love them both to pieces!!
On that note, here's some of the fun I've been having:
Stuntcock's GoGo Rock event was a fucking blast. Come out to the next one!
Click here for the pics!
...told her 'no thanks, don't come over' and haven't responded since.

I don't feel great, but I suspect I will tomorrow.