PuddinTain Haven't even finished my sleeve and i want more tattoo's
I'm private
Exhausted from the weekend. Haven't uploaded pictures from the wedding yet but i will soon. On a side note, Silk Boxers are absolutely fantastic.

Enjoy!


Getting off work two hours early is a damn good way to start my weekend! Today at work was awesome. passed my final. So i have a busy as hell weekend and i can't wait to start. Tonight i'm going to the farewell away tour of A Plea for Purging. Tomorrow afternoon i'm going to a wedding and tomorrow evening i'm meeting some friends for a drink that i haven't seen in a very long time. It should make for a good time. I'll post some pictures tomorrow of me in my new suit.

So here's two of the bands playing tonight. The Video for A Plea for Purging was actually shot at The Attic, where i will be seeing them tonight. I know they aren't the greatest in the world, But i like them. I hope you do as well! Enjoy!



So I don't have much time today, i'm freaking out a bit. I have my First final tomorrow over cardiology. It goes over everything from EKG's, to Stress test and even Echos. Talk about wanting to pull my hair out. I have no doubts i'm going to pass, I just like to do well. It's going to be a night of studying and maybe a coffee run or two. I've also come to the conclusion that i need to find a bar, or coffee shop to frequent. I feel I don't get out enough so imma change that. On a side note, I bought a new book today. It's called Triptych by Karin Slaughter. A friend of mine told me Karin was Fantastic and that i should start with her first book. So i figured why not?

Anywho, Here's two more songs to throw at you, Enjoy!


Holy Shit it's been a while since i've been on here. The Air Force has kept be extremely busy and i haven't had internet since i moved back to Ohio. First off, Aleon is absolutely gorgeous in her new set, Good god! Second off, I didn't realize how much i missed Ohio!! Crazy I know, but it's the truth. It's just good to be close to home. I've finally started my sleeve. In a nutshell, It's a WWII fighter crashed into the bottom of the ocean. The symbolism behind it is that my grandfather was killed in a plane crash into water before i was born. My father was in the plane and barely survived. I made the Plane my Favorite WWII fighter plane to signify that i'm in the Air Force. and the tail number is personal, just don't laugh at the meaning. When i was around 7-8 years old I was always "too cool" to tell my mother i loved her in front of my friends. So we had this little code word. She would say Peanut Butter, and i would Say Jelly. So that's how it started. It also turned into our code word if anything serious would happen to my parents, i would know that the person telling me was legit. Oh my god son, Peanut Butter and Jelly, Come with me!!!!!. And 57 was the year my mother was born. So the tail number turned out to be PBJ57. To make up for not telling my mother I loved her enough as a kid. Anywho here's some pics. im only about 6 hours into it so i still have a long way to go. Hope you enjoy.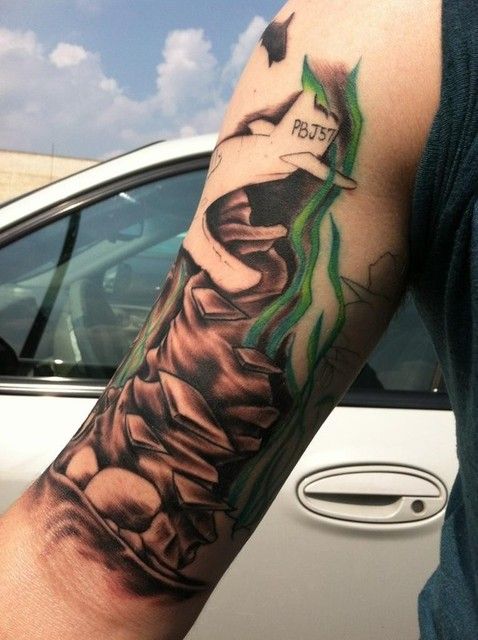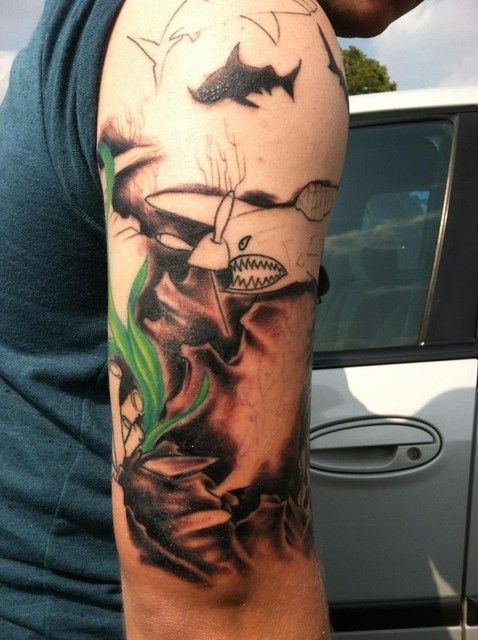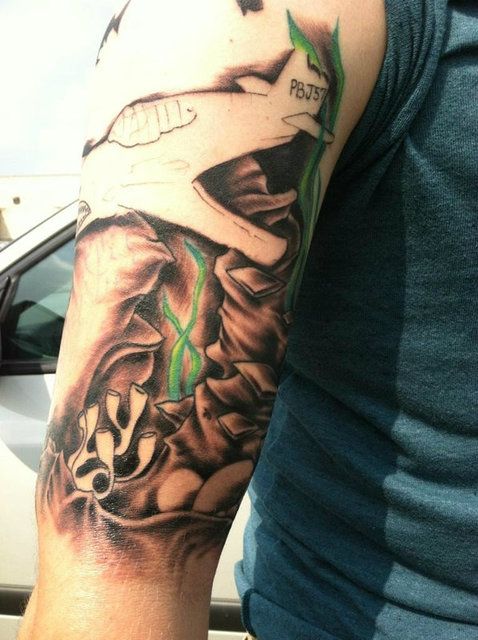 So now that the touchy feely part is over, Life is damn good. I'm starting vocal lessons again. It's been four years since I've sand chorally and I desperately miss it. Im not the greatest singer in the world, but it's something that clears my mind of all the shit in my life. I'm working on building myself up to starting an acoustic project. But still I have a long way to go.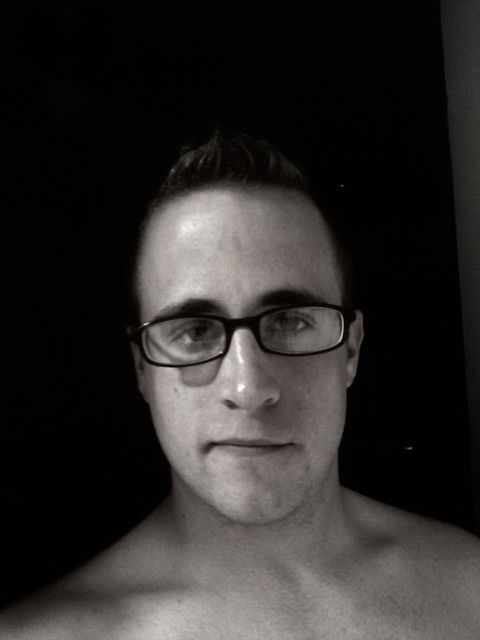 So i'm still single, still searching. you know how that goes. It's extremely hard to find someone who will support me in my military life and outside of the military, and someone who is into the same things as I am. Yes Intelligent conversation and tattoo's are sexy. Is it too much to ask for that I don't want to date some dumb ass bimbo?! But i'm not going to fret, shit happens in time. Oh and i'm thinking about getting contacts, any suggestions?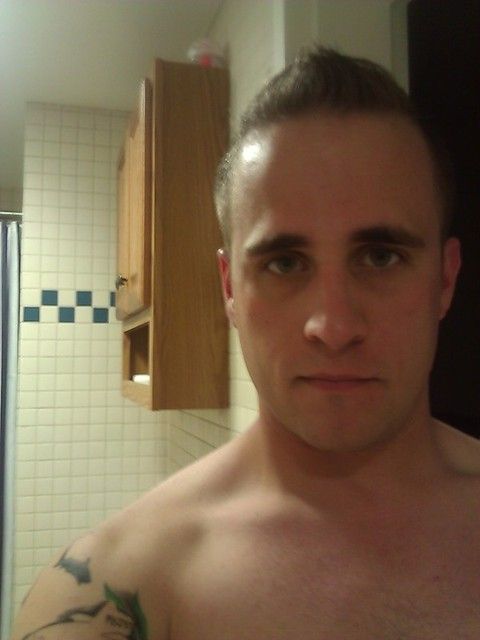 and like always, here's two songs i'm really into right now. Enjoy!
Well just been really busy enjoying home and packing to move to my next base. I have so much stuff!! It's really good to see my family though. On a very serious side note, I NEED SOME FRIENDS ON HERE!!! i need some cool people to talk to on here. So get on that everyone! Being on leave is fantastic though. I don't have to shave. and i get to sleep in. Couldn't ask for more! And having my car, oh god grief i love having my car it's absolutely fantastic. I don't really have much to say tonight. Imma enjoy my night by watching some Dragonball Z and cruising the web. That's it for now. Enjoy!



Well this is a long overdue post, i've been so busy the last week getting things situated so i can move bases i haven't had time to get on here. Well guess what, I"M IN OHIO. There i said it. It feels so great to be home, I'm glad to be done at my last base. I finished up all the book work for my career and i finished the class with a 94% which was good enough to be on Dean's List. Go me! Well now that i'm in Dayton I need to find a good tattoo parlor so i can get my sleeve and I need to find some people to chill with! anyone on here who knows whats up send me a message. well imma enjoy some time with my family today so thats all i have for now. Enjoy!



Not a good day today. Didn't pass one of my practice test. This is the first test i haven't passed and i feel like shit about it. I'm off to go study. Hopefully i'll be happier tomorrow. Enjoy.




So today I just spent 135 dollars to mail all my shit from my dorm room to home. i'm damn near poor now! So now all I have in my room is my bed, my Ipod and my laptop. words can not describe how much i want to be home right now. it's been 161 days i've been home. and in that time frame i got to see my parents for 3 days after my basic training graduation. I have to study for my final Respiratory Therapy test while im here. then off to 9 months of clinicals in Ohio. 2 things i want to get back to more than anything are my Car and my cat Kittie. Well off to study. Enjoy!






Had a Fucking fantastic night last night for my birthday. Make my last weekend in San Antonio count. Went to a Bad Ass Steak House
Went to a decent Strip club. There were some absolutely beautiful women there, but they didn't run any specials and the girls weren't working the crowd well at all. I was there for probably 3 hours and only 1 girl sat down to talk to me and my friends. but we made the night fun with some good conversations and some drinks. After that we went to a dance club that i was very much to white for. me there is my plaid shirt, vans and VW seat-belt belt I did not fit in, but i didn't give a shit. i was out there tearin the dance floor up.
Plans for the rest of the day are laundry, finish my final project so i can leave this place friday, and relax and play some Diablo 3.
Well if you've been reading my whole 3 post, my thing is I post 2 songs at the end of each one. The first is from the movie Drive, which if you haven't seen it it's a damn good movie. And the second is from Miss May I on their upcoming c.d. Enjoy!
So today is my birthday!! damn. 23 years old. Going out with some of my buddies as this will be my last weekend in Texas. I'm lookin back on the last few years of my life and I realize how much things have changed. Most of it's changes in the right direction. Only bad thing is i'm not in a band anymore and single. But those are things are fixable. Anywho, here's some good music and everyone drink one for me tonight!!
Here's a song from my old band actually. Towards the end of the song that's me singing the clean vocals. Enjoy
Romero's Plague - Note to Self
and the song im currently listening to