I'm private
Disney Planning.
Gettin' stoned.
IHOP.
Nature trails at Lynn Canyon.


Nothing wrong with today!!!

These past couple days, Vancouver has been so beautiful. Summer is finally happening!



Who's starting True Blood this week????
Uh oh you guys, i found the coolest shit today.



Today was actually really good. Me and dad went and took my car to get some body work done to it!!!!! The side bumper on my car got ripped off last summer, so i tied some rope to it to get it to not drag around. And it wasn't even that BAD looking!! But for some reason, i'd get the most awful looks from people as if i don 't belong on the road! Even when i'm on the road driving, i've had OTHER drivers go out of their way to try and let me know the side is fucked up. I'm like really??? OBVIOUSLY i didn't already know that, since i've got it strapped and duct taped all to hell. I guess my car draws attention already, so either way, i'm gonna get looks. haha. ANYWAY, since it's an american car, the only way i could get it looked at to replace a part was to cross the border, so my dad took it and they wanted like $600 at the dealership!!!!! Just for the part! So today we found some crazy chinese guy to bolt the shit out of it. It's not going anywhere now. Only cost 75dollah!

We needed to kill a couple hours so we walked around a bit and i found this shirt for $5!!!!
YEAH i'm jumping on THAT bandwagon! I don't care!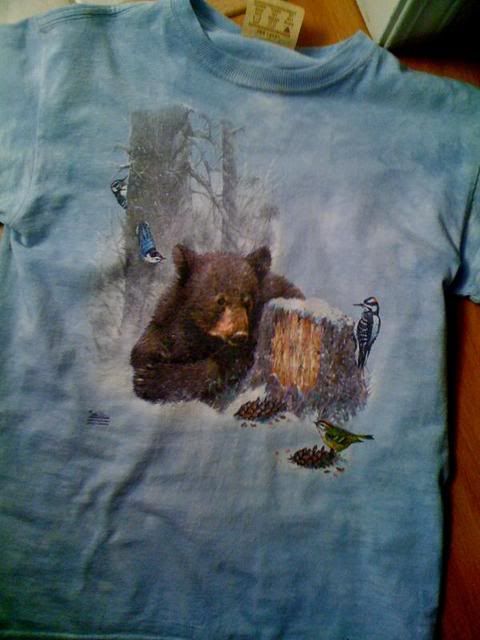 I walked around kits for a bit afterwards. I was looking for a specific nailpolish that i ended up having to buy online(which tends to always be the case....i hate shipping!) It's so pretty in kits. I love living here...people are crazy with their gardens sometimes! I thought this was a pretty cool idea....




The end.
I just got back from hot yoga and I'm soooooooo gross right now! I'd get in the shower, but i'm in blog mode. So if i don't take advantage, it'll never happen!
I'm really trying to get into shape. I hadn't done the yoga in a long while, because of my trip....so it kicked my ass today! But it really helped my leg muscles feel better after the run i had with dad yesterday. I never thought in my whole life I'd go running! I guess as long as I have yoga to stretch out my (lack of) muscles, i can keep up with it.
I've had the past couple days with my
Alkaline
!!!! The weather sucked, so we couldn't do anything outside. We went to some sort of japanese mall and bought green tea candy, slumber party pants (!!!), and keychains!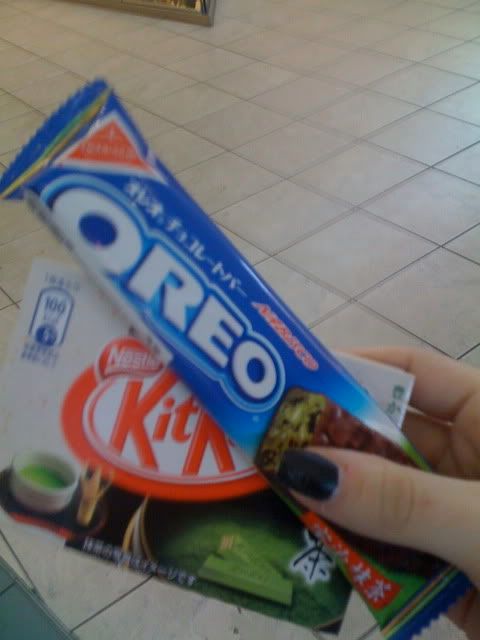 Some cool things we found at Andria's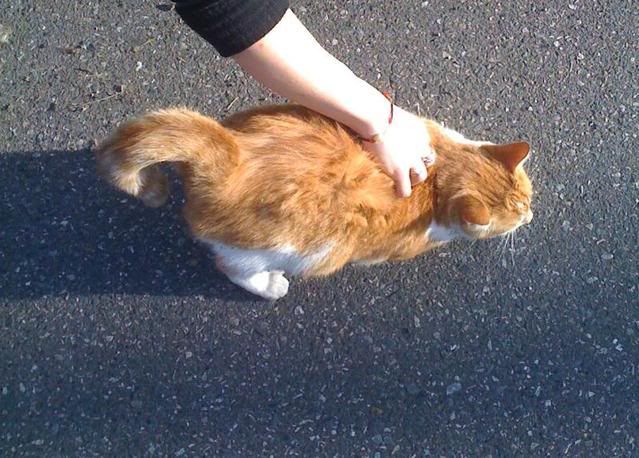 POODLESAURUS REX!!!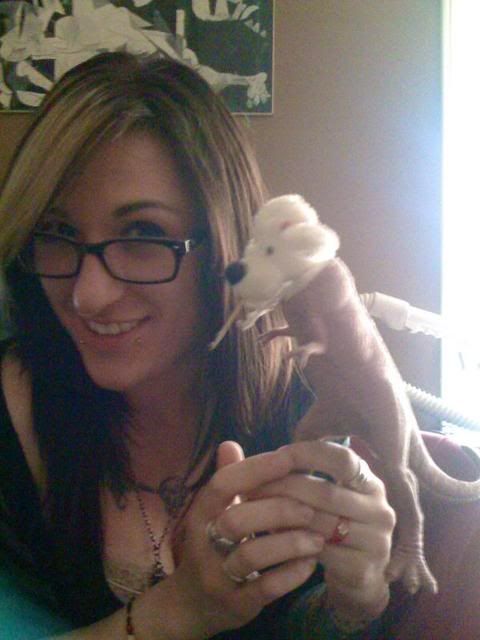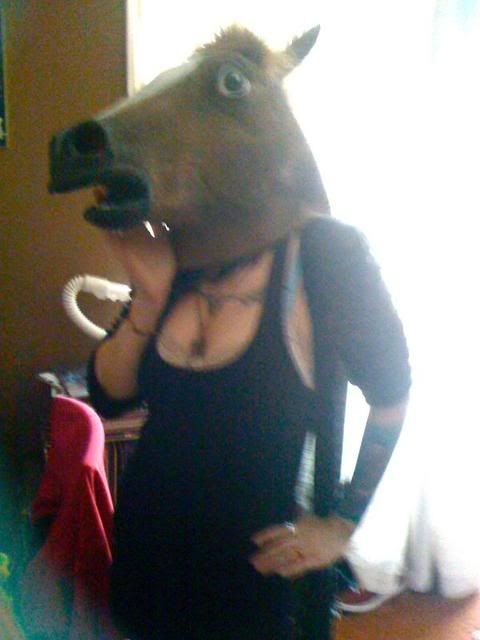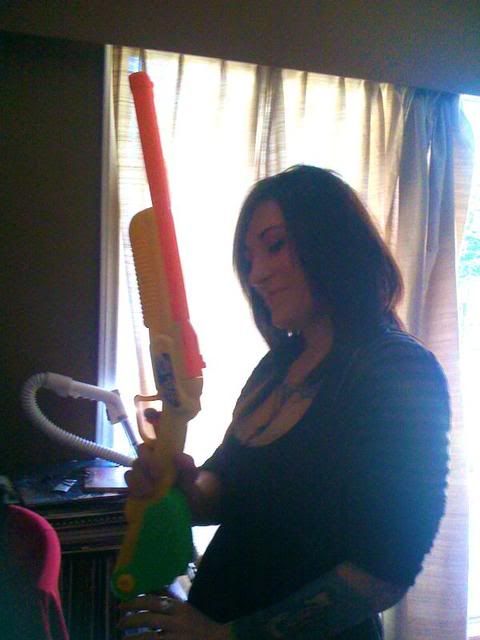 Oh and here are some photos of
Alkaline
getting poked at the hospital.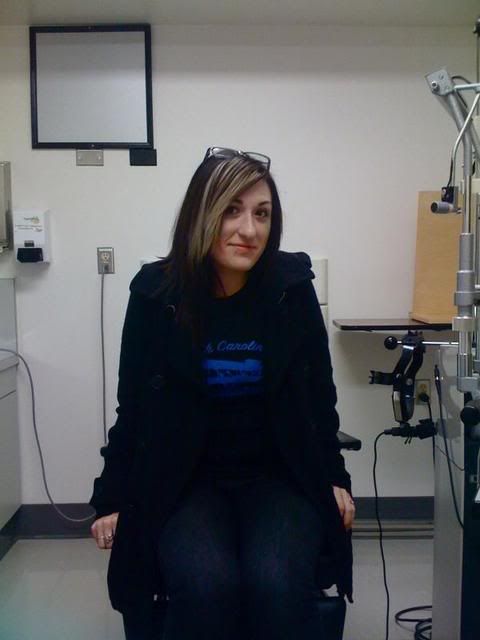 She's okay! No holes in her retina, like they had thought.
Last night i spent hours watching cartoons on youtube. Mostly angry beavers. And then when i turned on the TV later that night, i was disappointed in what i saw. Whatever happened to good quality tv???
**EDIT** (i added another video at the end)
okay, so i almost ditched out on writing this blog again tonight....but i'm really overdue for a good update, so here goes! i've mostly been lazy about it because i haven't been feeling well. i'm just now getting over a cold...so now my body is like "must sleep all da time!"
so i was in the USA for 3 weeks....and i didn't take as many photos as i should have! i didn't take ANY when i went to el paso and colorado springs. i really regret that, but i didn't have much time in those places, so i focused more on having fun!
oklahoma was ALRIGHT. it's not as good as i remembered. i forgot how slow it was there. i have lots of really cool friends there that i LOVE, but nothing to do with them except drink and smoke pot! even one day, my friend daniel and i were determined to find some sort of hiking trail or ANYTHING to do outside. so we went to almost every lake and a couple of national parks in eastern oklahoma.....NOTHING. nothing!!!!!! all we could find were park benches and places for people to sit on their asses and eat food. TRULY oklahoman right there. we ended up wandering the forest...got lost a couple times,but i didn't mind because i was stoned. we ran into lots of deer! they were so cute, but i've heard they can be one of the most dangerous animals to encounter. i don't really believe that...but i kept a mental note to keep my distance.
my mom has this wonderful boyfriend who lives off the grid out in the middle of nowhere...so we stayed a couple days with him. it was really fun! he's a total legit nature hippie, just like my mom. he's built this fantastic straw bale home and he raises wolves and shit! also, he has these crazy cats that led/followed us through our 3 hour hike. their names are "number one" and "the other one". so here's some photos of us walking the only trail in oklahoma and us hangin' with "sister", his youngest wolf. (by the way, for those of you who have me on facebook, this is going to be boring.)


So, the highlight of my oklahoma trip was definitely our party night in chickasha. i used to go to a fabulous school down there. and i reunited with my really good friends zulu and bridgette. bridgette just moved into a new house so we figured it was time to celebrate! we did lots of drunken things outside....bike riding and walking around and frog catching etc etc etc etc. we got stopped by the cops on our walk to the cemetery, but my smart friend used his sweet talking skills and told them "it's okay. she's from out of town" so here are some photos of that night!






El paso was great...it was an interesting city, with lots of culture. I got to see some old good friends of mine, eat lots of really great food, drink. you know.

Colorado springs was EVEN BETTER! If i don't live in vancouver for the rest of my life, i'll live there. i lived there for 2 years and i really cant get enough...the people, the scenery, so many things to do. i just love it! people there are a perfect mix of southern and northern. i always feel like i belong. i had a serious blast. i stayed with one of my besties, brion, and his family. pretty much did the same thing....eat, drink, smoked lots of weed...but we did more things outside! we gathered all our old friends from middle school and did some serious stoned rock climbing during the day, and the last night i was there, we went on a midnight hike up a mountain. i was trippin, but it's the most fun i've had in a really long time. and that's saying alot, because i'm always having a good time! i got to meet lots of new cool people wile i was there as well.

my mom came back up with me to see my little bro graduate!

here are photos of wes's grad...i'm actually very jealous of his grad, because they did it up really nice! my grad was in the school gym and waws soooo casual. =/






and here are photos of the things we did while mom was here! (richmond night market, lynn canyon, dress shopping, east is east amazingness)






soooo i think that;s about it for my trip.
a few things going on right now;
1) went vegetarian again
2) gonna start running again with dad, starting tomorrow
3) i cancelled my mexico trip
4) i'm learning to cook all summer! (i learned thai curry today)
5) i'm addicted to these songs right now. especially the 2nd. describing how i feel right now.



PS.....had good relaxation time with Alkaline tonight! i brought her ice cream from my brother's new ice cream maker, we compared boob sizes, bought things online, and i choked and almost died from inhaling some of zombie cat's hair.




sorry if that was too long and if i bored you! so so so much more has been going on, but the main points should do.

does anyone have a funny joke to tell me?


i'm sick.
hitting the sack early.

blog. tomorrow. be there, or be square!
i'm gonna be home tomorrow!!!!!!!!!!!!!!!!

the trip has been great, but i'm ready to get back into routine.
i'll blog about it when i have the energy!
i am just beyond peeved.
when i got to my mom's place, i went to check my email, and i saw that a bunch of messages in my inbox were read....that i did not read because i was on the airplane. and then i posted a status on FB saying i was upset about my emails being read...and then i find out that a friend of mine tried to send me an email and she was wondering why i didn't reply. sooooo a bunch of my email got deleted too apparently! i'm sad. i know exactly who did this too. this is why it's hard to be friends with girls sometimes...(besides
Alkaline
, she's different) it's not fair to have your personal life invaded just because some crazy girl got mad at you. i'm just really upset. idk why...
so much for not blogging while on my trip! haha. i just had to get it out, i suppose.
mom and i did alot of shoping yesterday. we are like, bargain hunting queens. we took her BF along, and he was suffering pretty badly! hahaaaaa
what's errrryone doing?
So this should be my last blog for the month of May. I'll be going on my trip to Oklahoma/Texas/Colorado early friday morning! I'm not even near ready to go. I haven't even thought about packing...and I've got lots of cleaning to do before I leave!! Lots of plans have already been put in place. I'm mostly excited for my friend Eric to take me on a Mexican food date. I haven't had any good mexican food since I've moved to Vancouver, so I'm pretty overdue for the good stuff! I can't wait to bust out my canoe, stoned rock climbing at Robber's Cave with D.P. and Jedd, shopping with momma, etc etc. I really miss all my old friends. Oklahoma is REALLY home, and I think it's going to be quite hard to leave it this time.
I can't really think of anything to blog about right now. I'm just eager/sad to go on my trip! I'm really gonna miss my dad, wes, and my buddies up here....especially my
Alkaline
! I hung out at the store today and I'll pay another visit tomorrow before I leave!
Oh oh! I forgot to mention that
Alkaline
and I had a nice skype date with our beloved
Frankus
. It was a good visit! We were a little loopy from the beers we had beforehand, but it was fun!
Just some random thoughts:
-Been listening to Tegan and Sara alot lately, and I think it's safe to say they definitely deliver.
-Alk and I discovered a new salad that they sell at Jugo Juice, it includes: Edamame, sesame seeds, wild rice, green/red/yellow peppers, and some sort of vinaigrette. I'm going to start making them on my own so I don't have to spend 5 bucks on one!
-Brazilian Wax=never again! haha jk. It was worth it.....but it felt like the devil had paid me an undeserving visit for 20 minutes.
-Happy Cinco de Mayo!
Soooo sorry for the lame/boring blog.
To make up for it, here's a photo!
Showing off my new favourite necklace that I bought today.
Currently listening to "ghosts 'n' stuff" by Deadmau5. So catchy! Just wanna dace
Anyone wanna share that special song that just gets you going and makes you wanna bust a move???
So I'm finally back home!
Got in at 2am this morning. The taxi driver weirded me out coming home. The whole drive over he was like "You must be rich girl, ah? I'm getting good tip tonight!" ....I was like, really buddy?
This newfoundland trip was primarily about food and beautiful scenery. My newfie family base their whole lives on turkey dinner and force feeding anyone that walks through the door. I swear, I REALLY did gain 7 lbs! It was well worth it though. Gah, they even sent me home with a big box of Lobster, Moose meat, beets, and raspberry jam!
There was so so much to see. Too much to write about, so I'll explain in pictures! Beware, there's lots.
Regular photos



Lomography photos







*phew* that was a ton of photos! And that's not even all of them. It was too hard to pick which ones to post. They all turned out awesome!

I had a blast.
I love the country thang.
Me n' Alkaline decided to move there.

I missed you guys!! What's new?