ODV - half a goon and half a god.
I'm private
My deltoids are sore. I finally got vaccinated for both seasonal and swine flu. I'm not sure what good it will do since we had an outbreak of swine flu at work a few months ago and I suspect I already had it then. Better late than never?
I feel pretty good though. No reactions to it and I got snacks at the end!
Please look at two new sets.
Lumo's
new set in member review is inspired by the Alien movies so it got my geek senses tingling (among other things
). And let's show some love for
MASHETI
too.
Last night I had a pretty strange experience. I was getting gas and some crazy dude sees the giant dent in the side of my car and says he can fix it. Actually he just started fixing it. It was like some extreme version of the bum that makes you pay him for cleaning your windshield without asking him to.
He started poking holes into the side of my door and popping the dent out right in the parking lot of gas station. After he popped out the dents he filled in the holes with bondo or something. Then he made me pay him $280! That's probably less than what it would have cost me at an autobody shop but the whole thing left a bad taste in my mouth. Now I have to sand it and paint it.
The guy was really jittery too and kept repeating himself. At one point he asked me the exact same question three times in a row. He was on something and I think he does on the spot body repair to get money for his drug of choice. I'm just glad he didn't fucking rob me or anything... well, maybe he did.
Star Wars Burlesque set to Adam and the Ants


I wish I can cryogenically freeze myself like this frog, especially since I would apparently wake up to vigorous mating (I hope not to frogs).



It's been pretty damn cold by South Florida standards. This morning it's a windy 36 degrees. Being from Chicago it has been a bit of a welcome change from the almost perfect weather we usually experience. Seeing co-workers having to relearn how to walk has been my secret pleasure over the last week. I haven't seen anyone fall on their ass as they try not to slip on the boardwalk's morning frost (which they call ice). Oh well, maybe next week.

Happy New Year.

I hope 2010 is better than 2009.
Cages, anime, and glowing skull art!
Ok I am finished feeling sorry for myself and my fallen comrades. Let's talk about some good things that have been going on. I have a new python/boa rack for my snake room. It's an ARS rack with 12 tubs. It has belly heat throughout and controlled by a thermostat that even includes a night drop in temperature. This rack is exactly what I needed to conserve space and to stimulate seasonal changes in my collection's breeding cycles. After I have stuffed'm with fuzzy creatures I'll try breeding the woma pythons again.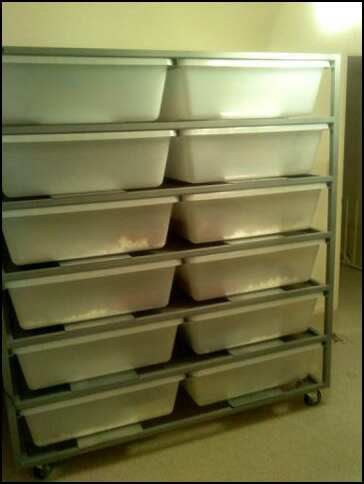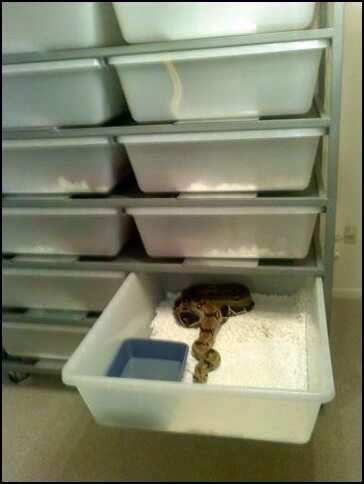 In geek related news I finally found my favorite childhood anime
The Mysterious Cities of Gold
on DVD. Few people I know remember this show at all. It was a Japanese anime that was later adapted by the French and subsequently redubbed and distributed throughout the world. In the States it played on Nickelodeon and apparently has never been available for sale over here until April of this year. Best of all, they are bringing the show back in 2011!
I also got a nifty new piece of art the other day. It's spray paint on wood. The skull glows in the dark. I thought this was so good I have decided to buy the other suits when the artist, N! Satterfield, has finished them.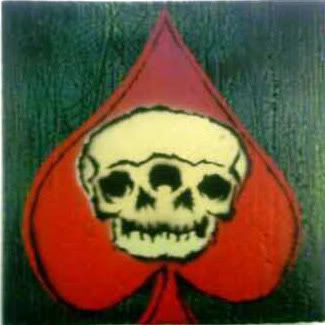 Ok so it hasn't been a good few weeks. My move has been kinda shitty. Someone or something at my new place has either let loose, stolen, or killed all my animals living outside. I found one of the turtles with it's legs chewed off but I doubt a predatory animal could have taken the largest most dangerous critters in my yard or got them past the large privacy fence surrounding my yard. These were all animals that have been with me for the better part of 10 years and moved cross country with me twice. I will miss each one.