Lyrae is so sweet, she bleeds cookie dough!
I'm private
Met Mary Ann Scherr today at the weekend etching workshop I'm taking at school. It's put on by the Pennsylvania Society of Goldsmiths... Everyone has been really nice.
I found out that one of my pieces in the student show at school sold... Turns out a teacher bought a sterling silver necklace which was a mixture of casting and fabrication along with a bit of experimental silkscreen work. Pretty fucking awesome since it was one of the pieces in the show that cost a bit...
Selling that piece along with the president of the PSG telling me how I'm very talented really made my day. Everyone has been saying "No, you can't!".... but more important people are saying "Yes, you can." It's pretty fucking awesome.
On another note... I'm extremely upset with someone who is probably completely fucking with my head. I so LOVE my love life
In a few hours I turn 23. I was born a little after 7am... Only minutes after my mom and dad got to the hospital... I know it for a fact because of the parking stub. I was full term, but under 5lbs and I was brought home in cabbage patch doll clothes because I was too tiny for baby clothes. Nice, eh?

Later today I get to cut mats for some artwork, get to school to pick up some paintings and pieces on illustration board... I'm also going to drop off some mat board for a friend of mine in the printmaking room (yup, I'm nice). I have no idea if I'm going to be doing anything after that... I know I'm going to dinner with my dad and his girlfriend and possibly my sister on Saturday night... Not sure if my mom had a chance to plan anything and if so, when that would occur.

I need to write 3 fucking papers... Awesome, right?

Besides that... I'm working with someone who requested a custom piece of jewelry... It should be pretty fun to make.

Oh, and on May 10th and 11th I'm going to be taking a class with a master jewelry... Mary Ann Scherr... She's a pretty awesome woman via her biography.
Wow have I been busy... I should probably find some time this week to actually write about what I've been up to!
A. Thanks to
ZenElevation
, I'm back.
B. Spring classes start tomorrow... I'll be taking a writing class where you spend nearly the whole class writing some sort of research paper about some sort of book. I was told you can pick whatever book you want, but the required text lists Rome and Juliet as a required book... If I have to write a research paper on that for a few months, I'm not going to be a happy camper. I will also be taking History of Modern art with the Digital Photography teacher. Hopefully that will go okay since I'm pretty terrible with memorizing names and dates. Besides those classes I'll be taking Printmaking and Casting (again).
C. In the fall I took an Astronomy class to fulfill my science requirement... I liked it way too much. I'm always running outside when it gets dark to check out star / constellation positions and moon phases. I'm always looking up.
D. I'm still not a huge fan of men seeing as they all treat me like shit.
E. I somehow made a pretty great friend named Patty. She lives in CT though, so I'm going to have to find time to get up there to visit.
wow, its been forever... i've been super busy with my studio classes which have all gone very well and are nearly done with for the moment. my last class is tuesday night and i've got a whole bunch of prints to finish for it. after that's over i'll be working on some small portfolio type books with a bunch of my different artwork in them. it should be fun since i love making books... over the winter break i'll be working on several jewelry collections which have me pretty excited. i'll also be working on a bunch of hardground etchings for my spring printmaking class... if i get them all etched over the break, i can just go into the studio and print a bunch of the editions.... which should be fun. oh, there was a student art sale at my school a few weeks ago. there wasn't much traffic because the sale was put into this horrid room that no one goes to... but with the four sales i had, i made a pretty penny. it was pretty fun... i sat there drinking coffee and talking to this lady dawn for a few hours and walked away with over $100 in my pocket. oh, and apparently my artwork would be well suited for childrens books and my printmaking teacher wants me to look into doing that. depending on the book, it could be fun... so we'll see. other than that.... not too much is going on.
yay, nervous breakdowns are fun....
they cause you to panic as soon as you wake up
and then call people...
after talking to my friend williams mom... and a therapist from about 5 years ago...
i called michaels and quit.
they both said that at this point in time school should be number one since the actual degree will stick around much longer than whatever job i have at the moment.
they also said if i need some cash for things like gas... i should try babysitting, pet sitting, dog walking, and plant caring.... my old therapist sandra mentioned charging about $10 a walk for the dogs... i could make more money in a few hours than i do working the few days i can (kind of) work at a store....
not to mention the fact that.... the only day i have no open labs to use... is friday.... so i can really only be working one day a week if i want to be taking advantage of the lab time to get homework and other projects finished.
at least i feel a bit better now that the quitting has been done... and tomorrow i can make jewelry and print prints...
yup, it's been awhile...
i started going to school again... that's going well i guess.
i'm taking printmaking, digital photography (because apparently i'm required to take a digital class), and jewelry II (i forget how many times i took that class.... but its been a few!).
i've had some printmaking classes with this teacher before... shes super nice and apparently loves my work.
as far as digital photography goes, i'm a color correting mastermind. too bad my photographs don't refect my views on anything or they way i feel... and have nothing to do with my personality. hmmm...
to be perfectly honest, none of my art does. weird, right?

that's it for now.


a. guys still suck...

b. i've been drinking since 11am. (well, 11:15 ish)...

c. at the funeral home this morning.. my cousin's friend kept trying to set me up with the fucking funeral director. and........ he was actually really hot. tall, adorable messy haircut, and fucking hot hot hot in a suit. but it was kinda sick..... he lives upstairs in the funeral home... which is an amazingly beautiful old building... too bad there are dead people in the basement.

d. that brings me to the basement... the same friend tried to convince me to go downstairs with her.... and try to talk the sexy funeral director, andrew, to give us a TOUR.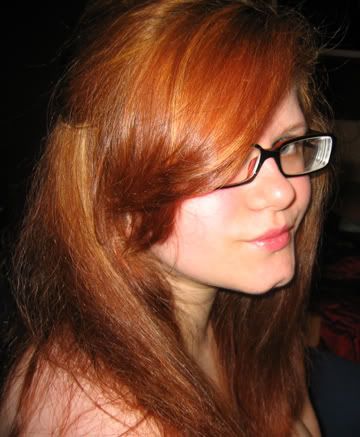 a. my hair is super long now... and it needs to be colored.
b. why is it... that when one shitty thing happens to me... it's not enough?
c. being happy one minute and really upset 20 minutes later... DOESN'T make you bi polar or anything else... if there is a reason for the change. this guy i went on a date with, who i didn't think was still interested in me, but apparently is... wow... is a doctor, and kinda thinks he knows... well, everything. he wants me to talk to one of his friends that is some kind of head doctor because he thinks i'm bi polar... well, here's an example of my mood swings... <br>


1. i woke up excited to start my day. i was planning on re photographing all of my jewelry and working on getting things up on etsy.com... (happy)


2. before starting with the photographs, i checked my email... and found out that my friend erin had died. (sad, angry, etc)


3. i went to see dead man's chest at 11:59 with my sister... she said she wanted to go to get my mind off things. (not exactly happy, but not crying)


4. five or so minutes before the movie was over... the screen went black and someone came in saying to go home because the film was all over the floor. (at 2:30am you would have been grumpy too)




yeah, there is always a reason for my change in mood... and its never something... little.

SEPTEMBER 2008
1
2
3
4
5
6
7
8
9
10
11
12
13
14
15
16
17
18
19
20
21
22
23
24
25
26
27
28
29
30
AUGUST 2008
1
2
3
4
5
6
7
8
9
10
11
12
13
14
15
16
17
18
19
20
21
22
23
24
25
26
27
28
29
30
31
JULY 2008
1
2
3
4
5
6
7
8
9
10
11
12
13
14
15
16
17
18
19
20
21
22
23
24
25
26
27
28
29
30
31
JUNE 2008
1
2
3
4
5
6
7
8
9
10
11
12
13
14
15
16
17
18
20
21
22
23
24
25
26
27
28
29
30