Lockeblade Your hair looks like a sunset after a bomb went off.
I'm private
Seems the photo experiment worked. Next question; who gives a shit enough for me to do a massive life update in photo form? Please tick yes or no.
This is a test. Let me know if you can see the image below. I'm trying to link directly from FB but my albums are set to friends of friends or friends only so I'm not sure if it'll work.
I just woke up 2 hours earlier than my alarm. I had a dream that I arrived back in Australia to find that my mum had gotten rid of/sold all of my stuff and none of my friends gave a shit I was back. In the dream I raged out and destroyed my mum's house and hurt people. I've never been that furious in real life or dream. It scared me. I woke up in a cold sweat, my heart racing like I'd just sprinted a mile.

Of course, none of that would ever happen, but it's a pretty clear sign from my subconscious. Lately I've had an ever increasing dread about going home. Aside from my family and friends, I have nothing to go back to. Don't get me wrong, I can't wait to see my family and friends, but I'm going back to no job, no real possessions, no money and a place I don't want to live any more. I want to stay here. I want to keep travelling. I truly feel more at home in Scotland, living this lifestyle, than I ever really have anywhere else. I don't want to go back to the horrible rut that was my life prior to this.

I feel like I've waisted so many prime years of my life achieving goals that I never really cared about. Teaching? I could care less. I'm far happier working behind a bar in a small town in Scotland than I ever was/ever will be teaching. All I have to show for that is $19,000+ of debt.

There's still so much to see and do in Europe. I don't want to go "home".
A snapshot of the funny, drunken shit I've been getting up to.
Last December, some good friends and I decided, in the midst of a 3 day bender, that we'd buy an inflatable pool and ride it down Arthur's Seat - Edinburgh's highest peak.
This is the spot we chose.
This is us posing before the run (note beers in hand).
To give you some idea of how high we were.
And this is what happened...
A freezeframe of the moment before impact.
I smashed my head and was knocked out. My friend kindly took a picture.
The only visible injury to me was a bit of a black eye, likely from someone else's limb smashing into me, but fuck me my neck was sore. One of my friends broke his collar bone and the rest had varying degrees of bumps and bruises. One of the funniest, painful moments of my Eurotrip so far.
Well I suppose it's time of year again huh? I'm currently in Ireland staying with friends and will be for Christmas,.. and possibly New Year with the way the weather's been!
For those living under a rock or on the other side of the world, the UK and Europe in general is having one of the worst winters in decades. Lots of people are stuck for Christmas but I could care less, I'm with good friends in an amazing place. Ireland is covered in fog and frost. It's a winter wonderland! I wish I had a camera to take pictures *sigh*
The plan is to be back in Edinburgh for Hogmanay. Finger's crossed!
For my friends back home, I love you guys and miss you. Can you believe it'll be a year on the 27th? To everyone, have a safe, brilliant and merry Christmas and enjoy your New Years kids, whatever you might be doing for it.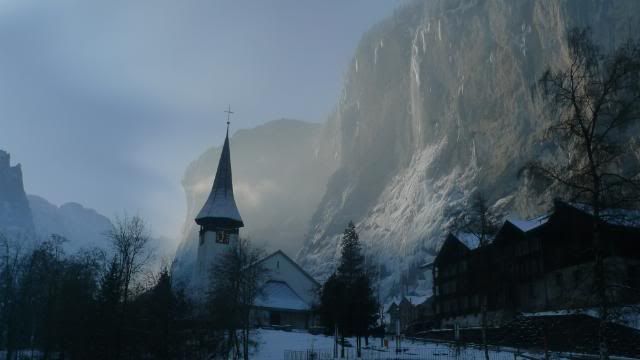 (completely unrelated photo I took in Switzerland in January)
March 21st huh... time flies. Figured it was time for an update.
Yet another bitter-sweet goodbye. Leaving Edinburgh wasn't easy. It was comfortable, it was simple, it was fun, it felt like home. I met and made friends with some amazing people, many of whom I will catch up with again in and around Europe, but many that I'll probably never see again.
I'll miss the chill-out room, random dress up parties, pool and pints at the Oz Bar, walking out my front door and being able to see a castle, £1.50 bacon and egg rolls, £1 drinks at Opium, 'Colin Days' (as the two days I had off a week became known), the laughs, the harmless gossip, the '£1.52' (a theory on the poop cycle that involved getting paid to poo at work which paid for bacon and egg rolls), getting paid to facebook, the pub hostel crawls, the lazy days in the meadows, smoking shisha, my single room, and the people.
A summer of travel ahead. New people, new memories, new good times... but Edinburgh, you were good to me and I won't forget that.
Euro Summer 2010
June 8 - The Hague, Netherlands.
June 9 - Rage Against The Machine in Arnhem with
TeeMan
and
ginger_eve
.
June 11-15 - Bruges and Brussels, Belgium, for my birthday with
TeeMan
June 17-20 -
HellFest
to see KISS, Sepultura, Nile, Saxon, Slayer, Exodus and a bunch of other amazing bands in Clisson, France, with
TeeMan
June 21-25 - Copenhagen, Denmark to meet up with friends for...
June 26-July 4 -
Roskilde
festival to see Jack Johnson, Prince, Them Crooked Vultures, Alice in Chains, Killswitch Engage, and many more in Roskilde, Denmark.
July 5 - 13 Possibly Sweden to stay with a friend in Gothenburg.
July 14 - Amsterdam
July 15-19 -
FIB festival
to see Kasabian, Gorillaz, The Prodigy, Vampire Weekend and more in Benicassim, Spain, with
ginger_eve
.
July 20-30 - Possibly the Baltics then back to Amsterdam, hopefully to finally meet
Lavender_
and meet back up with
TeeMan
for...
July 31 -
Stonehenge Festival
to see a bunch of obscure death metal bands in Steenwijk, Netherlands.
August 1-10 - Germany road trip with
TeeMan
starting in Hamburg, through Nurburg so Tee can drive a Porsche 911 into a wall with me in the passenger seat at the Nurburgring, Trier and onwards.
August 11-Sept ? - Eastern Europe and/or North Africa
Sept ?-? Oktoberfest in Munich, Germany will and my summer.
I'm both fucking excited and exhausted just looking at that haha. Best year of my life so far? I think so.
My SG account expires June 21... I don't know if I'll renew or not. Most of you are on my facebook but if you aren't, send me a message and I'll give you details.
Anything exciting happening for anyone?
No joke.
MOST POPULAR STORIES
From Scotland in the past week
SATURDAY : Man assaulted officer with penis
FRIDAY : Radio show halted by drink claims
THURSDAY : Man assaulted officer with penis
WEDNESDAY : Man assaulted officer with penis
TUESDAY : Man assaulted officer with penis
Go
here
if you don't believe me.
This is what awaits me in the coming months:
- End of April I'm going to the Netherlands for
Queen's Day
with
ginger_eve
and hopefully
Lavender_
.
- Going to the Netherlands to see Rage Against The Machine with
ginger_eve
for my birthday in June
- Going to
Roskilde Festival
with a couple of friends from Aussie in July
- Going to
Benicassim Festival
with
ginger_eve
in July
Yes... this will be an epic few months. I can't fucking wait!
I'll stop being lazy and post some more of my travel blog soon... *whistle*