I'm private
Oooh guys!
(and pretty Ladies)
My first entry!
Thank you sooo much for the lovely comments on my set: Spider on Pink!
I hope it get a second chance, I did it all for you amusement!
And of course...
Wanna see my Spider?
Vote on my Set!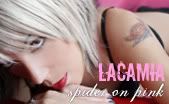 Spider on Pink - Lacamia
My beloved photographer was:
Morgana D'Almeida
Morgana's DeviantART
email:
morganadalmeida@hotmail.com
Much Love!
Lacamia
xoxoxo
MAY 2008
1
2
3
4
5
6
7
8
9
10
11
12
13
14
15
16
17
18
19
20
21
22
23
24
25
26
27
28
29
30
31
APRIL 2008
1
2
3
4
5
6
7
8
9
10
11
12
13
14
15
16
17
18
19
20
21
22
23
24
25
26
27
28
29
30
MARCH 2008
1
2
3
4
5
6
7
8
9
10
11
12
13
14
15
16
17
18
19
20
21
22
23
24
25
26
27
28
29
30
31
FEBRUARY 2008
1
2
3
4
5
6
7
8
9
10
11
12
13
14
15
16
17
18
19
20
21
23
24
25
26
27
28
29