I'm private
Squirters. Yay or Nay? One of the girls I'm sleeping with is one of them.

Finding a squirter almost feels like finding a unicorn because I've never come across one until now. I mean, you hear about them, but they almost seem like mythical creatures that frolic around everywhere but my bed. And this case doesn't seem to be just a normal squirter. She just straight up must have a super soaker up her hoo-ha, and not one of those weak 90's versions; I'm talking the latest and greatest, with a stream that could cut through steel and put out a raging house fire, with extra reservoirs that hold enough water to actually be able to combat rising sea levels..

We had to sleep on the couch last night (and probably for the next week until that bed dries... Now I know to plan ahead for next time). I also don't think I can take all the credit because she seems to cum insanely easily. In about the last 15-20 mins, I lost count at 22. It was almost a challenge to see how many times I could make her cum before I needed a breather.

Now... I'm on the fence as for whether it's something I'm into. It definitely causes a slight ego boost and a sense of self satisfaction that I'm making that happen, but at the same time, it's frigging messy. Every time she cums, I just feel this gush of warmth shoot right up into my crotch and down my thigh, and is probably a lot like the sensation of pissing yourself, which really isn't my thing. One of the best things about it though, is that you really can't fuck her till she's raw, because it's always lubed up down there, which is great news for both of us. So I don't know.

What do you guys think about squirters?

Either way, I'm feeling a little feisty today, so here's my song for the moment.

... and why the fuck not, here's the music festival version, since the crowd and stage performance was so good.


Squirt on.

Happy FRIDAYYYYY!
This one is special, because it's post Valentine's Day or Singles Awareness Day, or the day where reality sets in and you realized you maxed out your credit card... on flowers. (That shit's expensive, yo. Even if you put that shit in water, let's face it, they're gonna die within the week.)
I ended up not doing anything. Had a long day at work and got home kinda late. Instead of finding someone to hook up with, I ended up crashing hard and woke up this morning. On the bright side, I'm up nice and early so I can actually get some chores and errands done. You have no idea how rare this is unless you work my schedule (or lack of, really). I'm on call 24/7. I'll randomly get a call saying I have to be at work in two hours, which usually involves being at work for 24 hours on average. I can never plan anything, not even the day before. It's the shittiest, and I really can't see myself doing this much longer.
I ordered some more swag today, this time from
The Dudesons
. If you don't know
The Dudesons
, you need to
check them out
. They are the original Jackass, and from Finland (sidenote, I really want to visit Finland), I also ordered a supplement stack online so I can keep working out. I've never tried this N.O. Exlod thing, but apparently it gives you 'not-quite-a-heart-attack-but-as-close-as-you-get-without-actually-having-one' amount of energy. I should write out a will... for... y'know.... my shitty car, I guess. And my PS3. And I guess I have a neat little mini fridge. Yeah.
Alright, song of the day. I always have a hard time picking because there are so many I want to share. If no-one loved you yesterday, this one's for you.
Rock on.
Correction, this is my song of the day, and I think the majority of these views might be mine. It's really hard not to rock out (with or without your cock out) to this song. I never realised what an amazingly talented band The Heavy is.

If anyone has any songs they're heard 100+ times on loop today, feel free to share.

Anyway, How Do You Like This Song Now?!


Rock on.
Happy Hump Day!
The girls on this site are absolutely stunning. Thanks for doing what you do. You're awesome.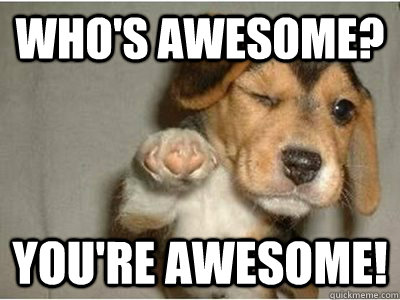 So, it's Wednesday. There's nothing particularly special about today. The weather is pretty meh outside. Though, we never had a dump of snow like they had out east, so all in all, it's pretty nice outside. Summer can not come fast enough. I need to move somewhere warmer though. California is looking pretty good right about now. California knows how to party.
So how do you deal with stress? I've had a bunch of little things adding up that are starting to bug me. Do you just get naked and watch TV, covered in Cheetos? Do you punch holes in walls and/or people? Work out? I need some ideas. Usually, I, like most people I'm sure, just bury it deep down inside and repress it. Sometimes to get it all in there, you need to wash it down with a lot of booze. I'm thinking that's not very healthy though.
I'm thinking I just need to get a new car, and surround myself with people that suck less. Seems to be the root of the problem. Most likely a new band as well, since apparently we're going on hiatus.
Also, due to some of the people that I seem to run into all the time, I ordered this shirt the other day:
Can't come soon enough.
Anyway, here's my song of the day.
Rock on.
Tonight, I'll just leave you with this little nugget while I go fill my late night McNugget craving.



Rock on.
Well, it's been said that one of the better ways to interact on this site is to write a journal.

A journal. Writing.

Those are two concepts that are foreign to me. I don't even know if I still know how to compose my thoughts into a literary form. It's has to be one of those things that fall under the 'riding a bike' category. Creative writing, I'd like to think, used to be one of my strong points.

I know what you're thinking (even if you weren't, you are now): "Your name is Krys, which doesn't even sound English... English can't possibly be one of your strengths." You're right, but it used to be, back before pot smoking. I was actually born in Poland and moved to Canada when I was 3 1/2 years old. I obviously did all my schooling here, and I don't feel there is very much of the homeland left in me. But I digress...

So, pot smoking. Hippies. It's at this point, I'm going to tell you to smoke 'em if you got 'em.

I haven't smoked weed in years. Many, many years. But I'm all for burning one if that is your prerogative.

I forget what the whole point of this post was going to be.... I guess I'll have to figure that out and save it for another post, another day. Damn weed.

Rock on.