Kaos is a walking disaster
I'm private
Guess whos alive and has the internet again.... me!
What a day...

So, I wanted an easy job for a while (some of you may have remembered from before) so I'm an assistant manager at a place called Old Towne Pizza... My friend needed a job a few months ago, so I recomended him to the owner and told him if he screws up that I'd kick his ass. Well, my friend only works weekends (a whopping 2 days a week) there and comes in late every damn shift (I get the joy of having him work mornings with me). Most of the time I just end up sending him home a couple hours after he get's there because I'm sick of his whining. So, today the shit head comes in 2 HOURS LATE... and then asks me why I'm being such a bitch to him. I was tempted to punch him in the face but did not. Oh the joy of having such good friends to walk all over you, eh? The owner of the restaraunt is too nice/too much of a pushover to fire him or anything. Oh well, I told her not to schedule him on my shift any more so now he doesn't come in until 5... if he fucks that up, I'll kill him.

On a brighter note... we have a Que Pasa in this town now and they have some awesome drinks... a few of their bartenders are a little slow but the mexican flag margaritas make it worth it (coming from a jack and coke girl haha)

xoxox
New post real quick...

A friend of mine is getting divorced and some how out of the deal has come up on 2 over priced (Louis Vuitton) purses... I ended up with one because it was too bizarre to pass up (I HATE big over priced purses but this one is covered in cherries... positively ridiculous... plus it's free so who am I to pass it up haha). The other one retails for six hundred something, but he's willing to sell it for $450. I'm too lazy to hunt up a pic of it right now buuuuuuuuuuuuuuuuuut... if anyones interested, I'll find one.

xoxox
Alright, as usual, I've been slacking! I'm sorry! I'm no longer a limbo girl, which is a bummer BUT everyone should go vote for my set in the hopefuls group or however that works... aparently if it gets enough attention, they'll actually use it. Something to that effect.


I can't believe the Colts won the superbowl... Ugh... haha. Oh well, we got wasted during it... my friends did beer bongs at the pizza place with one of my bosses. Good times.

Furthermore, I was running and completely face planted... now I have road rash on my hands, shoulder, hip and knee... oh the joys of being so damn graceful.
Quick post because I have to jet to work buuuuuuuuuuut... my dog came back! Yaaaaaaaay! I got him a tag today and am getting him microchipped next week. Thanks for the kind words.
Today was my friends funeral... it was sad, of course, but at the same time I know that he wouldn't want everyone to mourn too much so we're throwing a party in his honor tonight.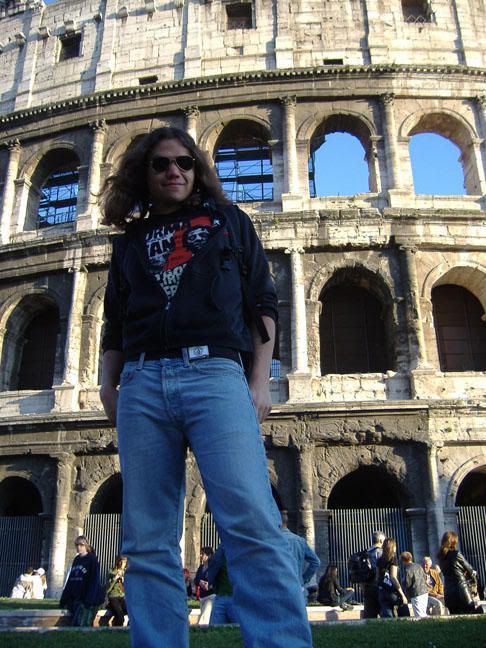 Daniel "Bean" Hernandez 8/3/1985-12/28/2006
Jeez, I am such an asshole. I keep saying I'm going to update more and still don't haha. But I still havent gotten the net at home so, again, bear with me.

This has been a shitty new year so far... I don't like to bitch BUT... I need to vent. New Years Eve, I go home to get some stuff and our room mate that hasn't paid rent/utilities in a while who conviently disappears at rent time, is there. I told him that Jason doesn't want him there until he pays up and talks to Jason so he needs to leave. Well, the next day Jason goes to court for a DUI he got a few weeks ago, and it turns up he has a bench warrant so he gets taken to jail. Well, that day Twinkie (deadbeat room mate) comes home (doesn't have key) and beats on the door/rings doorbell for a good half hour. You'd think he'd get the fuckin idea but no. He kicks the door open. It was deadbolted so now the whole door frame is split. Luckily my friend offered to fix it for me. Ugh. And to top it off, I get on myspace today hoping for a cheering up, only to find that one of my best friends from high school died. Super. So, since I've been in Cali this will be 2 funerals I've been to. That beats out the ammount for my whole life.

I really need to do a set soon... I promised I'd do one but wasn't able to get to LA. Lame. My friend Tryg, from Seattle, was in LA a few weeks ago and informed me that On the Last Day (friends that used to play with my Fall From Grace, and Aiden brats all the time) was playing in Bakersfield (half hour away from me) one night and LA the next. So, I got ahold of Frank from OTLD and he told me that if I could get to Bakes for the show, I could just go with them to LA the next day. Well, my car is still in Kentucky, so that didn't happen... so no Trygger or OTLD.

On a happy note, I think I'm going to visit one of my bestest friends, Timmy, in Wisconsin in a week and a half. I'm going with another good friend so it should be fun...

Sorry for all my bitching... I need a hug, any offers? Hahaha...

xoxox

*hour later*

I had to make an addition to this blog... to top off my day, I go outside to get my puppy and he's gone. I've walked around the block and driven around and can't find him :-( Forget the hug, somone find Sancho
Ok ok, bear with me for not responding to everyones comments just yet but still limitied time... BUT soon to have the internet I promise.

News of the week... I'm going to go down to LA in the near future and shoot with an SG photographer... finally!

10 days until my birthday, woot.

Aaaaaaaaaaaaand thats all for now, I'll comment everyone back soon.

xoxox
HOLY CRAP! I'm ALIVE! Yes yes, t'is true! Thank you to everyone who has shown concern about my absence! I've been slacking hardcore because I don't have the internet at home yet. But soon I shall. I just got a job so internet is up quite high on my to do list!
As far as my photoset, I still havent shot a replacement (*gasp*) BUT they're gonna hook me up with an SG photographer so everyone can see my naked ass on here.
California is fun. I decided I wanted a job that wasn't very stressful for now so I work at a pizza place. It's so fun, I love it... plus I get free pizza! Score!
Okie dokie, sorry for such a short update buuuuuuuuut I must go... I'll check this more often and try to keep in touch better... forgive me, hang in there!
Off like a prom dress!!!
xoxox
Hello to everyone. On friends computer so I can't respond to everyones comments at the moment BUT... getting on to let everyone that I am alive and having a blast in Cali. Came out here to visit for a bit... til I decide to go back haha.
Hope everyone is doing awesome, thanks for the love.
xoxox