I'm private
EDIT: This is how far ive got with painting Zoli (see intial sketch below from photo), it still needs work but im pretty chuffed as its the first real digital painting ive really done, and first time using Painter - advice welcome: (ive shrinked it down for blogviewness)
Oh and by the way ignore the right eye and the fact that there is NO hair yet lol
Hi All,
February is fast dissapearing. The sooner is May/June the better, I need to work out when my final VIVA presentation is, and Exhbition - there should be two, one in Swansea Waterfront Museum and possibly one at the new designers in london. And also working out when graduation would be - so i can book a fricking holiday!! I need one!!!
Ive tried to do some design work now that the pressure is off a little, and so im doing some digital art of Zoli, here is the inital sketch (Graphics tablet and painter):
On the Band side of things, we've decided to take on a new singer - its a she. Which im okay with - besides its my/giles' band
mwahaha.. She seems okay, she needs more practice - but we are a bit pushed for time. Shes more into her prog (so its nice to find another girl that like DT and stuff like that). Next thursday we are recording at Glamorgan uni for free - not sure how thats gonna work out.
And Saturday is GIG TIME!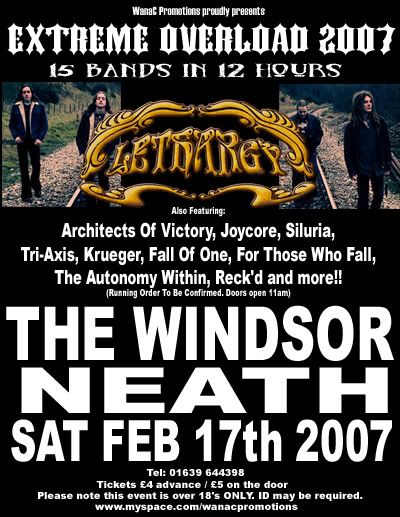 First gig since end of September, i may die in the process. I dont know how this is gonna work out - 15 bands in one day on a small stage in Neath?!?! *SIGH*, its a half hour set, seeing as we've only really had 1 rehearsal with the girl, i hope it works out. Gonna have some different songs in like Skidrow, Dokken and one of our own.
Triaxis are on at 4pm - if you can, Come On Down!!
Anyways, i better practice a bit. Its also Giles' birthday on saturday (gig day). I need to get baking
I may add to this when ive woken up a bit lol!
CJ.xxxx