I'm private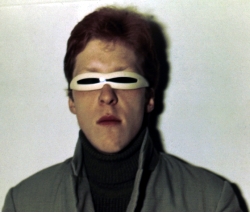 Okay, a few things. This blog isn't dead, I've just been very busy both with the day job and the project. I've been writing and making a lot of revisions to the novel with one hand, taking care of admin and packaging solutions and graphics design ideas and all sorts of stuff with the other. This has left me little time to blog in my evenings, and as a consequence I've let myself drop off.
Now, I didn't want this blog to become a set of links, but in the mean time, before I start video blogging regularly about the project, I will be doing just that, and hopefully some other stuff in between. Basically, I'm going to be doing these 'Starred Inspiration,' posts whenever I get the chance and in which, I will post a selection of links to things I like and have made me think during the previous week or two weeks or few days or whatever. As the theme of this blog is now the very board, 'Creativity' hopefully some of what I'll be spurging here will be of some use to the readers I get and anyone else who comes along.
Fortunately I have a most excellent job that allows me to be online all day, during the course of which I peek at my RSS feed and 'star' certain items in my Google reader to look over whenever I need inspiration. These are some of the things that inspire me and make me think and may give you ideas an inspiration as well.
*
HW Gould, Wanduta (Red Arrow), a Dakota (Sioux)
*
Just Another Day Here In The Future
*
Soviet Punks
*
The New Yorker: Creative Writing Programs
*
Dhear One Illustrations
*
Whoever Rules the Sewers Rules the City
*
This just kicked the ass of my eyeballs.
*
2009 Media Kit in Progress: Why Make One?
*
The Siren Song of eBooks
*
Japan Completes Life-Sized Gundam Statue
*
Rosson Crow oil paintings
*
Paul Strand, 'Wall Street' 1915
*
Wieslaw Walkuski, Danton movie poster, 1993
*
Idea: The Outlet Wall
*
Dushi
*
Another Cosmonaut Painting
Originally posted at
Cementum
Finding answers with my writing

On an instinctual level I like to believe books are there to raise questions, to grip you by the throat and make you challenge everything you every thought was right. They can make you surf an emotional tidal wave of epic proportions, bringing forward all the greatest horrors you had never even thought imaginable, and taking you to ecstatic levels of fiery passion. They do this by raising issues, the author finds something, analysis it and takes his own turn at vilifying it, justifying it, building on it, tearing it apart or simply shooting around it in an effort to keep you on the edge of a very annoying seat.

Of course not all books do this, but some of the best take issues of the day, or equally of the past or potential ones of the future and cause flickers of electricity between those clouded synapse'. Admittedly I've always been most interested in those of the future, the questions and issues that a lot of people discard as fiction, science fiction, but that's what I've always loved about them. The sheer scale of impossibility that they are belittled by, and some how imagining that man, in his eternal struggle against himself and nature, with his relentless spirit and fervours nature, will someday find the answers and create a happier place for everyone, for everything that exists.

Of course there's always a twist, but that's what makes the whole thing so much fun. I've taken a few things that have been both important to me, but also issues of the day, with my current writing. Discecting them as best I could, adding my own two cents and seeing what the grisly outcome has been.

On the whole I've enjoyed the experience, taking something that creates a fire inside me, twisting it, creating a future around it that I hate, more than anything, and then destroying it, bit by bit. Finding answers and reasons inside myself why I can't stand it and feel the incessant need to change it. And I hope, following on from my previous post, that combined with my want to get the thing published, if and when I do, I might even be able to change a few opinions along the way. You know, show others a vision, twist the life of a character around it, create an objective and get others to also believe in it. Now there's power. Is this what this thing is all about, a quest for power? The less said on that subject the better.
The Novel is the Monster
Self exploration is never easy. If you're open to the idea in the first place, willing to take on and tackle head-first what you believe in, what you think of to be true, your own beliefs and ideals, thoughts and concepts, then I believe you're a step ahead of a lot of people already. If then you take all of those ideas and belief systems and put them on paper, in an effort to really discover what you are, and potentially further down the line, have some sort of impact, then that's another step ahead, of a lot of people. A push to better yourself, to self-actualize and commit to something through a process of deep thought, exploration, analysis and discovery. It's all good stuff, and it brings out sides of your personality you thought you never had.
I know, it's a situation I'm currently in the middle of, it's a voyage I am currently undertaking and it's a twisted beast that's unrelenting and fascinating at the same time.
Some would say I am on a technologically fueled hedonistic quest of the highest order. Using my ability to add to, to research, to share and discover new parts of my being through a social media, my EEEp and a WIFI or 3G connection. A quest of self discovery, literary desire and technological competence to incite change in myself and with hope of possessing hearts and minds of others down the line.
I realise this blog has been updated sporadically at best and that probably no one reads it, but in case anyone does check it at all: From here on in this blog is on permanent hiatus whilst I concentrate on my first novel and attempt to discover more about myself than I ever have.
You can read about the progress of this novel if you are interested at (http://www.cementum.co.uk)
The Cementum
The spotlight on Jack
HA, Jack Rawstone is reborn. A man of might and panache; he turns heads, strides with a purpose and is never undone, not by any fucker. I've got a blog over at
http://thecoldgintimes.blogspot.com
these days, but I'll be posting whatever I put up there, here as well. So enjoy, looking forward to getting back into the community.
I've been looking over the old blog posts, a couple are tragically funny, case in point below:
"Whenever I go down to London there are bad crazies on the streets. We found a club where it was 70p a drink, I went in with £35 which would have given me the opportunity to buy 50 drinks. This was a mammoth task as I'd already hit the Wild Turkey hard, having 6 doubles in a pub around the corner from the club before hand. But I persevered and almost made it, I only drink doubles so about 20 drinks later, on the most foul of whiskey, I got kicked out of the club. I lost my t-shirt, split my head open on a wall and continued to stomp around in my Punisher vest like a wild animal pissing off the most of London."
- Jack Rawstone MARCH 11, 2005 @ 06:49 AM
And some are fairly serious:
"For the first time I became an actuated self facilitating media node. This bascially meant my laptop came in time for the trip and I wrote up the Hatebreed article on the train down, which I thoroughly enjoyed."
- Jack Rawstone MARCH 2, 2005 @ 04:05 PM
I make the point in the above statement that I'm 'a self-facilitating media node' which comes straight out of the Nathan Barely book of quotes for cunts. At the time I had a vague idea of what it meant I guess, but today, I'm more and more that person, but in the least possible cuntish sort of way, and I'm fairly proud, in fact I fucking love it.
Whilst I rock along between countries or just home and the office, business or pleasure, I stay constantly connected, constantly in the loop, uploading, writing, never miss a thing.
It's brilliant, my Nseries N95, almost everything I need, the only thing holding it back is the physical screen size, and that's because it's a mobile device anyway, it's meant to be fucking small. But it's ace, it's my connection, it's my GPS, digital camera, podcast recorder and downloader, MP3 player, and a whole host of other things that keep me in the loop. Combined with my N800 for travel, it's even more awesome as the screen on the N800 is big enough and with a decent enough resolution to do pretty much whatever I need on and offline.
The point I'm trying to make ladies and gentlemen, is that as the likes of <a href=http://gizmodo.com/gadgets/notebook-supermodel/intel-unveils-worlds-thinnest-laptop-almost-skinny-as-a-razr-263359.php>Intel introduce the thinnest laptop in the history of the world</a>, those of us in the loop, rushing forward with the devices and technology to back us up, can do whatever we want whenever we want. Geotagged content, a 3G net connection tethered via Bluetooth to your UMPC, and you're rocking for whatever you want, and it's consumer based, not yellow pages, not some bullshit advert or a list read out by some fucking tool at the other end of a 118118 call.
It's from someone who has been there, done it, taken the picture, geotagged it, written the review, put the address in and recommended it to the social web, to us, well to me at least anyway.
Hedonism is deriving pleasure from the things around you, and if you are a 'self facilitating media node' you can do that, I know I do, instantly, without bother, and in perfect style.
<a href=http://www.wired.com/techbiz/people/magazine/15-06/ps_transparency>The visible man</a> is also a big story today, he's put his entire life online because he thinks the FBI are following him, it just goes back to what I was saying about being open, and the social media, let everyone see, and the government is double fucked because not only have they got no excuse to fuck you over, but everyone else can see that's the case. BINGO.
More tomorrow.
I'm a strong believer in the creed of, 'if you've got nothing good to say, don't stay anything'. In that light it's been a while since I've posted on here, but now I've got something to say so…
It's been an outstanding eight or nine months, a cannon fired sledge ride though walls of dark whiskey, indecent prose and in places, twitching passion. Now
Bread on Toast
is back, my own shining corner of the internet to help me carry on this fateful adventure. Alongside this
Under Magazine
has had it's first online release, you can download the PDF from the link.
I'm talking dramatically of course, alongside the excellent experiences I've had there has been the boring times too. Whilst the retail industry proves to be much more a pleasant experience than the catering one, it can be a little placid at times. Better that than burnt hands, late nights, cuts and crawling under hot cookers though.
Anyway, enough of this, I'm in no mood to give anyone an any more detailed account of my life over recent times than that it's been fucking excellent, I had a down spell that lasted approximately 72 hours, things are moving ahead with speed and accuracy as always and a dramatic change will be happening soon.
Leave a message if you're so kind or add me on myspace, www.myspace.com/fervour
Adieu maestro, until next time.
Jack
www.BreadonToast.com
Thanks for the interest Siara, I thought I'd do a quick update as I've got a spare 30 minutes now.
Everything is progressing at an extreme rate of knots, it's been about 6 months since I left uni and in that time I've become a regular and praised contributor on a national music magazine,
Zero Magazine
and a regular with another fashionista (yuk) type mag
Disorder Magazine
as well as setting up my own local fanzine
Under Magazine
to the love and admiration of our local scene.
Journalism seriously fucking rocks I can't tell you, and this is good writing, as much as Epstine gets the big names on the SG front page it's not exactly cutting edge journalism you know? My writing is starting to take on a real form, a feverous take on new music, absolute dedication, driven with passion. There's no fucking around here, no time for it, no time at all, it's filled with grit and spice and will hopefully give you an insight to the band I'm covering.
It also seems today SG has decided to put up my Funeral for a friend interview, it's only Q&A though, the real one I wrote is much better.
I've attached a recent article I'm particularly proud of, perhaps if you like it you can tell the SG people that they should include a few articles rather than saying 'all of our interviews are Q&A format only".
Anyway, a quick pic of the mag and I will say adieu maestro, until next time.
If you want a copy of the mag request on the website, i do send abroad.
Innocence Dies -
As the 21st century squeezes the last drops of innocence out of the body of youth it seems fitting that youth itself should be playing the backing track. Meet Kill The Young.
Tom, Olly and Dylan Gorman, three brothers in their early twenties who kick out a music that corresponds exactly with the disorientation and panic felt by so many young people in today's stylised, fast paced, ultra exclusive and class divided as ever British culture. Not strictly a concept band, their thoughts on the loss of innocence and the corruption of youth comes from, as guitarist and lyricist Tom says, "The ability to take a step back."
"It is more of having a strong point to put across rather than a political agenda" he continues. "It's not as if we have had or, do have a specific idea saying, 'this is what we stand for and this is what we are going to do', because you can get stuck in a rut doing that sort of thing and we've always wanted to explore different avenues of music. The name was and still is to catch peoples' attention, we do believe in it and what it stands for".
That stance, portrayed by their name and their first single, The Origin of Illness, is full of the passion and gusto that the 21st century is kicking out of the young. Bassist Dylan elaborates on their perceptions, "It's something we do feel strongly about but, it's never something we've had to deal with personally because we've had such cool parents. We've looked at how all these kids are growing up so fast, so young. You see these people that are forced by way of financial situations or pressure off their parents, or whatever, into doing something they don't want to do whether it is university or jobs. Kill The Young is that essence of youth being lost, because people aren't able to do the things they want to do or enjoying youth".
Let us not forget about the music, it's rampant and eager, with twinges of everything from Echo and the Bunny Men to Smashing Pumpkins and Sonic Youth. Any band that has played together for over seven years and performed in excess of 300 gigs will have a bond, but add to that mix the fact these guys are brothers and there's the definite possibility of something special being produced. "Dylan and Olly come up with more actual tunes and riffs than I do" starts Tom when explaining the writing process of this literal band of brothers.
"Once those are sorted though I'll sit down and think and think. I'll take a long time to write down what will articulate perfectly the idea I'm wanting to say. No one track is half hearted or rushed and they're usually quite personal to me. We're not specifically a concept band with a theme that we write the music around, I mean we have a point behind the name and such but I don't think we set out to change minds. If someone takes something from the music then great, I think different people will put different interpretations on what we play."
Dylan continues "None of the songs on the album are about love or anything like that, it's all about Tom and how he feel's, it is some very personal stuff which is often quite dark. The music isn't so overly personal that people will be like 'what the hell is he singing about though.'"
As we sit around a cold table in Manchester train station on a dark and typically wet night it might be easy to see why they're perhaps the polar opposite to a band like the Beach Boys. There's no sparkling 1960's America here, just, as Dylan says, "People rushing to get pissed, who can drink the fastest and how much, you know, we do a bit of that ourselves, but that's just the way life is in these small towns like the one we grew up in". A bleak backdrop that has provided them with the fodder to create their raw and emotive music.
Finding this sound was not an easy feat, seven years of gigging and constant development though has landed them with a package they have the uppermost of confidence in. "Other people being in the band helped us grow as musicians and become stronger in the end, because we realised that it's either going to be us three or it was not going to happen. We couldn't have it any other way, it's the key really, it's probably why we've written so many songs" explains drummer Olly.
It has been more than just a brotherly connection and ability to pick up on each other's smallest peculiarities that has brought them to this ignition ready point, their path brought them to legendary producer Dimitri Tikovoi. After being signed to Discograph records the company decided to bring in the producer, famous for his works with everyone from Placebo to Goldfrapp, to have a listen. "They flew him over from France to our tiny little practice room" begins Olly. "We played a few songs for him, chatted a bit and started on about the album, our ideas and how to bring them to reality. See, something that always evaded us with studio recordings was this great live sound we have, Dimitiri was really able to bring this out by getting us to play live but, in the studio so to speak. We had people brought in to play in front of, he got us playing all together to really bring out that energy and passion rather than us playing separately and then layering it. We loved it and really think it worked." Dylan continues the description seamlessly, "…And although it maintains this raw edge and special feel about it, after we had done all the over dubs and polished up the guitars and things like that it does sound totally professional, it's not too raw that it just sounds amateur".
Now it seems they're set, they have the money and people behind them to bring their impressive sound and keen attitude to an ever hungry public. Not a band to gorge on, no doubt they will be drip fed, whatever it takes just as long as they don't fall off into nothingness, that would be a travesty.
---
Kill The Young
MY MAGAZINES READY!
well almost, the pilot is and i'm posting it out across the borough of Vale Royal from tomorrow morning, start getting some money in to raise funds for the first issue due out september. Very exciting times!
i also interviewed funeral for a friend in manchester the other night so i'll beable to freelance that hopefully,
realyl starting to feel like a cool as fuck music journo no, I AM ROCK
ARHHHH
An intense few months it has been, I've had my first national publication, my Cradle of Filth article of all things
, I graduated from uni with a 2.1 in journalism and I'm currently in the process of setting up my own magazine.
It has been truly fantastic, advancing, taking ground and dominating…I wouldn't have it any other way…
I also met a few of the suicide girls at Download festival where I had full press credentials and had a very cool weekend. Disco is hotter in real life than in her amazing set
CHECK OUT
Under Magazine
if you yourself fancy writing national interviews and reviews for the mag or know someone who would get them in touch.
As always, DON'T TASTE IT EAT IT
my fucking hatebreed interview finally got on!! excellent!
SEPTEMBER 2009
1
2
3
4
5
6
7
8
9
10
11
12
13
14
15
16
17
18
19
20
21
22
23
24
25
26
27
28
29
30
AUGUST 2009
1
2
3
4
5
6
7
8
9
10
11
12
13
14
15
16
17
18
19
20
21
22
23
24
26
27
28
29
30
31
JULY 2009
1
2
3
4
5
6
7
8
9
10
11
12
13
14
15
16
17
18
19
20
21
22
23
24
25
26
27
28
29
30
31
JUNE 2009
1
2
3
4
5
6
7
8
9
10
11
12
13
14
15
16
17
18
19
20
21
22
23
24
25
26
27
28
29
30