Ithras Fear me not, but fear my hand.
I'm private
Had a great time with the girlfriend and family tonight just hanging out. Not quite the way I had hoped/planned it to turn out, but meh, it happens.
Gotta start getting back to the gym, Think once I can break this 250 barrier, it'll do a LOT for me mentally in getting back into shape. Probably do wonders for the schoolgirlish body image problems too
Anyways, it's late, I'm tired and not all there. Time for sleep so I can work tomorrow and hopefully put together some older Magic decks before I gotta go. /nerd
Wow, so much going on that this is the first chance I've had lately to just sit down and breathe. Between moving, work, family and friends, I've yet to have time just to myself in about two months now. Haven't even played a video game aside from crappy android games very occasionally.

Only real downside to this is I feel like I'm actually having withdrawals from gaming. I do think I'm about to start back to playing Magic after a 7 year hiatus from it. Recently found my old cards and have a couple of people interested in playing now. Really wish I had the space to set up where I could plaint my Warhammer 40,000 stuff again, but unfortunately don't see that as a reality in the near future. This (along with the lack of money) also hampers my desire to get into playing Warmachines/Hordes. I guess I could try to focus those artistic desires back into re-learning to play my bass that I've gotten out of storage, or channel it into writing, but it takes about 30 seconds of great ideas for the writer's block to come back.

Another downside to moving is that we don't have the television or my desk here yet so I can't set up my consoles or my PC. Which really sucks cause I need to get to playing through the first two Mass Effects before the third comes around. Also psyched as hell for LA Noire.

In other news, waiting for the new baby to pop out. Kind of hoping for a boy this time, but have now swung the opposite way of before in that I don't think I'd know what to do with a boy now lol. Crazy how the mind develops and whatnot.

Ok, running out of stuff in head that isn't just random ramblings of borderline insanity...
Damn near two years. Amazing how much things can change in such a short time.

Baby girl is growing like a weed, wouldn't surprise me if she ends up taller than even me at this rate. Now have another child on the way. And time to start working on crap for the day.
So a little late in the update, but as of 4/29/09 I've officially become the father of a beautiful baby girl. Born at 1205 noon on 4/29/09.
I'm gonna go get some shaving cream then put an actual blog up.
Had a wonderful night last night. Was going out with a new girl I'd met and done a couple of things with over the past month and a half or two. Apparently it turns out that both of us had been wondering and pondering and bugging other people with asking if this was supposed to be a date or not (it was the first time that it was just the two of us going out).

A little ways into it though, we got closer and closer and despite the fact that we both have the sense of a sack of hammers in dating, we spent about two hours just sitting on a bench on River St. cuddling and watching the river, talking about nothing in particular. Then we ended the night with a nice kiss. So we both got our answer and all is well within the universe once more.

Also, I need to go to a Gnats game and just drink my ass off sometime.
Been quite some time since I updated. Not too much new going on, cept I did survive the St. Patty's Blackout on the busiest street in town.

Now just waiting on Age of Conan, fucking with Warcraft out of utter and total boredom lately. Think I'm about to work on painting up some more Warhammer 40K stuff. Also I bought an ooooooooooollllllllllllddddddd Mossburg .22 rifle, bolt action, single shot from a co-worker. Me loves it lots.
Gearing up for St. Patty's Day now. If the schedule stays like it is and works out, me and a few of the guys are gonna be hitting River St. hard. It'll be the first time since living here for 4-5 years that I'll actually be downtown on St. Patty's (and not working). Here's to hoping I don't get too stupid...hah!

In other news, apparently we have a new puppy that was originally supposed to go to the rescue...but the damn thing has got a name already. I guess it'll be ok though. The puppy is cute as hell and sweet, I'd just rather have gotten a big dog (Rottweiler, Doberman, Husky) for our next dog rather than something we can't judge the size of yet.

Also I picked up Smash Brothers and spent the entire 5-6 hours of consciousness for the day (outside of work) playing through the story mode, I'm fucking hooked. And work is so quiet tonight (yeah...I said it, waiting for the alert tones now), I've been trying to stir up shit all night, checking vacant houses, all the normal spots people sleep, nothing.

...I'm still fucking crazy though....
Been quite some time since I even remembered that I have the actual profile here. Odd that. But aaaaaaaaaaanyways, I'm quickly losing the drive for my career that I had. Part-time Supervisors that change once they become full fledged piss me off to no end. Motherfucker acted like he was my friend since I had been working on my watch. Now all of a sudden I'm apparently pathetic and get in trouble for "not doing" exactly what I am doing. Guess it didn't help the situation that I've been burning out professionally for about 2 months now. I think it's mostly our department that doesn't give us a chance to "serve and protect" as they're too busy worrying about our "customer service skills"...which pisses me off because that's a direct quote.

So that doesn't help the restlessness I feel on a daily basis. I love my beautiful wife with all I am, but our setup leads itself to having lots and lots of time by myself (when she's with her boyfriend/our roommate). I have no problem with them being together, but video games can only do so much for me. I'd love to have, if nothing else, a platonic female friend just to talk to once in a while. With my work setup I don't have too much time to be with friends that I work with, or the one friend I have in the area outside of work. Though I think what would help me out some is just a girlfriend.

Been listening lately to Blue October's album Foiled. Amazing album without a single bad song. Course right now it fits my mood exactly to a goddamn T.
And the beginnings of my full back tattoo have been initiated.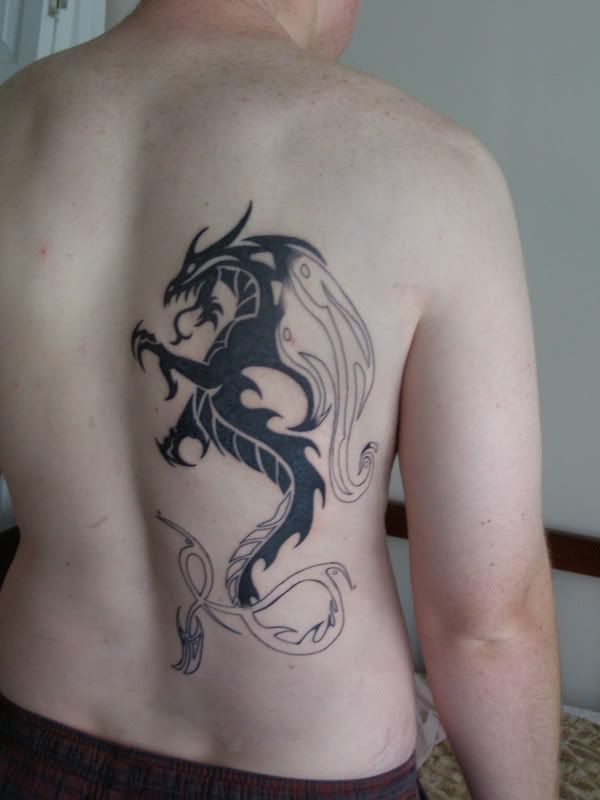 And two weeks for next session to finish filling it in, then will begin work on the dragon to match opposite on my back. After that, then I can get started on my next dozen or so ideas.