Hotaru is too orangey for crows
I'm private
Heeey, back again!
Am curious as to who gave me 3 months...unless it was just a way of SG getting me back . Anyhow, I promise to make more of an effort, going to give my profile a spring clean
xx
Omg...I'm back...again!
Will update everything sooon xxx
DON'T ALL JUMP AT ONCE!!
I'm back
I left for a bit...as you may have noticed lol
How are you all??
Will update properly soon
xxxxxx
Well, Happy New Year all
did you have a good night? Mine was good, relaxed and kind of quiet. Had a good few drinks though, teehee!
Well today has been pretty boring indeed. But hey, I'm not at work so i don't mind at all. I have tomorrow off then I'm back on Wednesday...forever...well until my next holiday which should be in Feb.
*sigh*
I'm not sure about resolutions. They only thing that is a definate resolution- I need to loose weight. About 5-6 stone! Gah! I have worked hard at eating to put all that weight on, so it's going to be even harder to shift it. Bloody hell. I want to be able to be in AT LEAST a size 14 wedding dress next year. If I reach my goal of size 14 (I'm size 18 at the moment), hell, why not aim for 10-12!? Maybe I'm getting a little excited now?
Also big goals for the year:-
***Get rid of the majority of me debts and SAVE!
*** Buy a house/flat of our own! We (James and I) are hoping to be out by around Easter time. I can't wait to move out! I'm sick of living at each others' parents' houses!
***Save more money!
***Start planning our WEDDING!!!!!!!!!!
Oh and buy Final Fantasy 12. Oh yes.
So it's not text-only -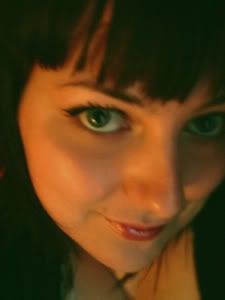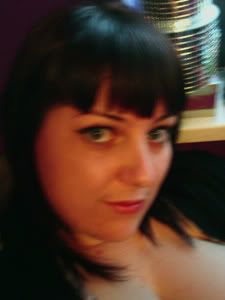 Don't forget, I'm on MSN if anyone wants to add me
leah_kressinger@hotmail.co.uk
Merry Christmas to all!!!!
Hope you all got what you wanted!! Have a great day boys and girls
I can't really apply to be an SG now
Because of my job (I'm working within a Government post), I'd probably get fired straight away. It's not appropriate as I'm a Civil Servant, I could get into a lot of trouble! It's sad
I have reapplied though (I know!! silly), as they have changed the applicant area and anybody who applied over 6 months ago have to reapply (gay!). So just incase, I reapplied
Still have some Chrimbo shopping to do, which will have to wait til Thursday. I get paid again on Tuesday...which has to take me through until the end of January. Argh how am i going to manage!!
I really want this phone...
NEC 804N
Don't seem to be able to get it here?? It IS an asian phone but I'm looking for an English version....can't find one
Mainly listening to Metallica lately and playing too much WoW!!
Not much else.
'Til next time xx
Hello, hello
Got my dreads in, from the lovely Ceri of
Snarl Hair
! They are wonderful and I love them! I insatlled them myself as was too excited to hang around to have them installed for me! I probably could have done a better job, but i'm pleased with the result. Took my 4-5 hours (with breaks) and my fingers are a little sore from all the tiny elastic bands!!
Anyway...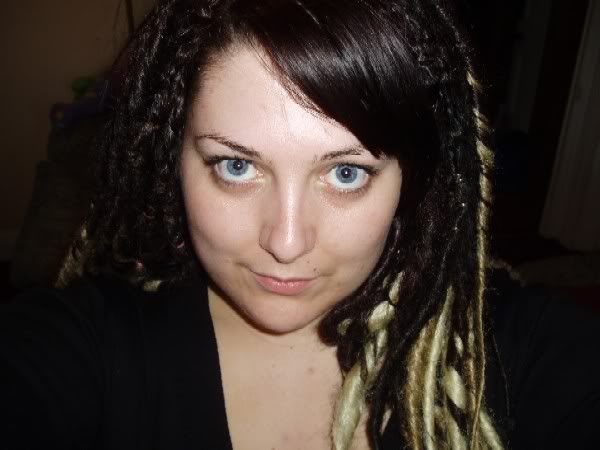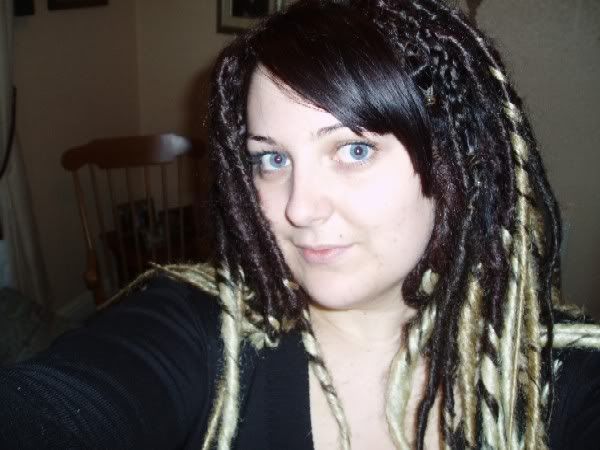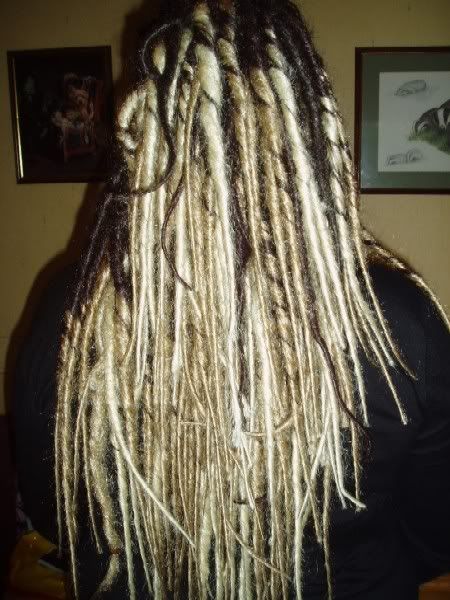 Well hello
I'm back
I have been away for a while, simply because I had forgotten to update my card payment details, haha. Bet you missed me, didn't you? Yes of course.
Well. Same old same old. nothing huge to report on! Can't believe it's like 2 and a bit weeks 'til Christmas!!! Hurrah!
I'm such a big baby, I love it!
Getting dread extensions soon! Just waiting for
Ceri
to finish them off, then I need a friend to install them. Gilly!!!
Hmm, they have changed the layout again slightly haven't they? I don't like they way the profile details are....can't fit my interests in the 'into' box anymore
Well....
Elf
..is just stunning, I'm so pleased she has another set :-D
....and speaking of dreads...I have just receievd an email from Ceri! she will be posting them tomorrow HURRAAHHH!!!! I'M SO EXCITED!!!!!!!!!
Oh yeh...going to see NIN next year YES!!!!!
Hello
Thanks to those who commented
I'm so excited
Not much to update on.
A few pics from last night. Got pretty drunk, threw up in the toilets, drank a teeny bit more and we went home. Feeling ill right now
Aw thank you for the couple of birthday comments! I wasn't even around to remind you!
Got some great news.
James proposed to me on the 14th! We are engaged to be married heheheheeeeeeeeeeeee!!!!!!
I am so excited and happy!!! He took me out to the moors by a lovely secluded spot by the river and got down on one knee too! God I couldn't stop crying
Our main priority at the moment is to get a mortgage but we are looking at 2008 for our Wedding. It'll be Jan or if that's not possible it will be Nov/Dec.
OH!! Also just want to say a big hello to all the beautiful new limbo girls! I know I have been on an adding spree again but you are all so beautiful!!
xxx
JANUARY 2010
1
2
3
4
5
6
8
9
10
11
12
13
14
15
16
17
18
19
20
21
22
23
24
25
26
27
28
29
30
31
DECEMBER 2009
1
2
3
4
5
6
7
8
9
10
11
12
13
14
15
16
17
18
19
20
21
22
23
24
25
26
27
28
29
30
31
NOVEMBER 2009
1
2
3
4
5
6
7
8
9
10
11
12
13
14
15
16
17
18
19
20
21
22
23
24
25
26
27
28
29
30
OCTOBER 2009
1
2
3
4
5
6
7
8
9
10
11
12
13
14
15
16
17
18
19
20
21
22
23
24
25
26
27
28
29
30
31