Femke hates country music.... yuck
I'm private
Finally back home!
After over a month of visiting, drinking, traveling.. im exhausted.
It's great to see mark and my cats again!! I missed them all so much.
Now I cant keep any of the 3 of them off of me.. haha.
Not that I'm complaining. I managed to escape to write on here quickly and check my e-mail because he's sleeping.
Now all I have to do is unpack.. I went to Winnipeg with one medium sized suitcase of stuff, and came back with 2 really large overfllowing suitcases of stuff. Bought tons of clothes and shoes and.. restocked my Victoria's Secret Love Spell products
Anyways, time to go wake up the bf
I love stirfry.
Went to where my friend is working and had THE BEST stir fry ever.
Noodles, broccoli, cauliflower, tofu, water chestnuts, green beans, mushrooms, snap peas, carrots, pineapple, soya sauce, teriyaki sauce, olive oil
YUMMY
I leave for MIchigan on Sunday. I have a list of errands to run before hand.. I gotta get a box liner thing for the truck this week. Hopefully it wont take long for them to install.. unless we get the kind that sprays on.
No idea yet. But waiting around at dealerships is BORING.
I get new glasses tomorrow.. AND.. sunglasses.
I wish those thick framed colorful glasses looked good on me.. they ALL look horrible
Like.. really really bad
sucks
but whatever
I made a facebook the other day.. i have a myspace.. and myspace is so sketchy
Every day i get some kind of error. It never works properly.
They need to hire people who know what the hell they're doing
Facebook is 1000x better anyways
Now its sleepy time.. Getting up early tomorrow
Much love.
xoxo
I splurged today.
Went shopping for a straightener.. and bought a CHI. Expensive.. but quite awesome. AND.. i got it in PINK
That makes me love it x2
I wish it was hot pink.
But.. baby pink is OK too.. still different from the basic black ones.
]
Oh yeah, and I LOVE vodka.
I've decided that the worst thing in the world is....
EX BOYFRIENDS
To be specific... ex boyfriends who don't know when to give up. I've been in 4 major relationships.. including the one I am in now. All 3 of them have been fucked up.. and I have one ex who is still wanting me.. after TWO years. WTF DUDE.
Seriously.
It kind of creeps me out.
I told him I 'm a lesbian now.
Turns out he knows about my BF.. haha.
Anyways
I've never really had a crush on anyone before. I don't know why.. but even back in school I never "liked" anyone.. when all my friends would go off about how they like this guy or that guy... I would just of just smile and nod.
And now, I think I have my first crush.. haha. Though I've never talked to her on here before, theres just something that strongly draws me to her. Weird feeling. I don't like it. Especially since I cant have her... haha.
Yes its a girl on here. And.. its Zoli.
God that woman is hot. The things I would do to her... lol.
I find women more attractive than men, but I've never had a.. lust.. for someone I've never met before.
At least it's given me some masturbation material since I'm alone for the next month.. haha.
Best fantasy in the world to me right now: her tying me up.. and I'm sure you can imagine what happens after that
Yep. Hottest thing ever.
I feel like such a dork now
I got my nose pierced.. my left nostril to be exact
Now.. I've had quite a few piercings. Most of them have been removed (took them out in grade 12 in highschool) and I'm slowly getting them back.
I've never had my nose pierced before.
Out of all my piercings i think it hurt the worst. It was SO surprising, I didn't expect it at all, especially since I also have a really high pain tolerance.
I was sitting there and he was like, "ready?" and I'm like.. of course. Then he did it and i was like.. MOTHERFUCKER
Not only did it hurt, but my eyes watered so bad. I know they would, but I felt like such a douche sitting there with water pouring from my eyes.
I don't know if it hurt worse because I got it pierced with a 16gauge and not a 20g or what.
But.. fuck. I don't wanna do that ever again.
I'm pretty sure he got the sweet spot too, because he made sure that's the part he would be going through.. he didn't wanna go through the cartilage. I got it pierced and put in a ring instead of a stud. I love it, but it's weird getting used to. I keep thinking my nose is all runny or bleeding from the coldness of the hoop thingie.
Next piercing: VCH
Anyways
I'm STILL sick.. have had this cold since I got to Winnipeg. So far, I've accidentally given my cold to about 4
people.
But on a lighter note, Grey's Anatomy is on tonight
AND.. its finally nice outside (24 degrees)
Another downside though... is I need a straightener. Mine is broken. And my hair looks like ass when I don't straighten it. I cant even blow it straight because I forgot to pack my hair dryer when I came here.
Lame.
I've been putting my hair back with a headband since I got my hair done the other day. I'm a rough sleeper so when I straighten my hair, theres NO way it will last me more than one day. I wake up, and my beautiful straight hair is all wavy and messy.
Lame x2
I need a good ending to this entry.. hmm.. how about some...
SEXUAL HARASSMENT PANDA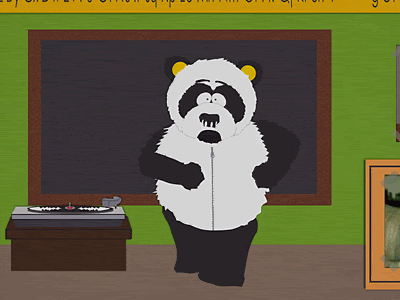 Finally got a haircut I like. I snapped a few pictures with my Dad's super shitty webcam.. but at least you get an idea.
Oh and I bought the BEST popcicles today!!! They are sooo yummie. Raspberry is my favorite
I put a picture of one just to rub it in more
I just discovered the armory on wow.. so to kill some boredom I'm finding all my toons and gonna put them on here.. mainly so I can easily come on here and get the links to them
Seline
Azara
Althena
Nephilem
Seriphin
I haven't been on much... i rarely touch my alliance toons... usually only if my horde realm is down. My 2 alliance characters were my first ones when I started, then I learned that horde pwns all.
I thought I was tired of wow.. but after seeing them all in the armory thingie... i wanna play!!! Cant until i go back to alberta though
ps: has anyone seen stuffonmycat.com ? its so cute and funny
So I just got to Winnipeg after a LONG 12 hour drive.. and it feels so good to be home again. I'm sooo excited to see my friends!!! Person I probably miss the most while I'm gone is my dad though. So, my original plan was to stay a week here, and drive back with my boyfriend.
I think that's changing. Dad just told me him and his parents are driving to michigan on the 6th to go to the Holland Tulip festival! My family is dutch, and it's something my Opa has always wanted to go to. He has 2 types of cancer right now (bone and colon) and he's been picking up a bit lately so Dad decided that they would drive to MI together for a week.
I think I'm going to go too. I barely ever get to see my Nana and Opa anymore ( maybe once every few months ) and I'm scared he's gonna die from his cancer one day before I can get back to see him.. so I think this is something I really have to ( and want to!! ) do.
Plus.. millions of tulips sound nice
I didn't realize it was such a huge festival here as it is back in Holland. Even though this is being held in the US, (crap i have to get my passport from alberta!!
just realized that as i typed that) it looks huge. It sais that something like 2.5 million people go to see this here.
it'll be nice to see some dutch heritage, and I'm sure it will remind my Dad and Opa of home
Ooohh and yummy dutch food!
So....
I'm addicted to amazon.com
I had never been on it before until a few days ago..
That is a dangerous place for people who love to shop online... like me
It's so fun to make a wishlist though.. I've been doing it for the past 2 days.. i can't stop
So my hair is no longer black. I lightened it and now its blonde..ish. My roots went light blonde, and the black went a reddish blonde.
I snapped a messy camera phone pic (i dont know about everywhere else but its SO windy here lately)
i just learned how to use my bluetooth on my macbook and phone
I think I might just put a darker blonde dye on it now, since thats my natural color.. then I can stop messing with my hair.
lol... now that i look at it.. the pic is horrible.
hm.. meh
whatever