Fauxy likes a little bit of everything as long as it's fantastic!
I'm private
Another month gone and no blog!?!?! Yikes! I've been slacking, lol. It's just been such an epically busy time, but in a completely good way. My job is wonderful, for years I never thought that I'd be able to say that. But ever since graduating and getting a job at the museum I have been extremely, happily busy and wonderful.
This weekend was a bit bitter sweet as the Andy Magee exhibition finally ended.
I have absolutely loved being a part of this exhibition. It was the very first one that I had a rather big part in promoting and presenting (your first one is always memorable, right?). lol But on top of that, I have really come to enjoy the artist's works and developed a friendship with the artist. Andy came into town last night and we had a big cookout/drinkout to commemorate the exhibition and it was so great spending a bit of time relaying how the exhibition went and talking about what was next for him and his current art projects. It was a fantastic end to a really enjoyable 8 months.
We also had Larry Nowlan in town yesterday to present a lecture about his sculpture of Coach Bill Bergan.
Larry was an absolute blast to hang out with too. He brought his good friend Henry Duffy to town and I've never heard so many great stories. I think people from Philadelphia just have some sort of innate ability as storytellers. Larry was able to make the announcement that he was just commissioned by the city of Philadelphia to sculpt a statue of Joe Frazier and his trip to Ames was quite a wonderful celebration of his works for us and announcement for his newest work. I was surrounded all weekend by incredibly talented, wonderful people and I could not be happier.
There are few things on the horizon that I am a little bit anxious about, but I'm not going to rain on my own parade. For now I am going to bask in the memory of this incredible weekend. I'll try not to wait another month to update my status. I hope that everyone in SG land is doing fantastic and I wish you all the very best.
Laterz,
Fauxy
I am extremely drunk and extremely happy right now!! Happy St. Patrick's Day!! I love you all and promise a new blog soon. Cheers!!!
Hello Sweeties!!
I am doing absolutely wonderful right now. The new job is out of this world. Working in a museum is exhilarating work and the people that I am working with are second to none. I took a long, long, LONG time to get through school, but it all seems like a well played plan as I am working exactly where I want to be and doing exactly what I want to be doing. The job is nearly as cool as a fez.
Well, maybe even cooler than a fez. If that is even possible. lol
So it seems as if this blog is going to be heavily influenced by my all-time favorite time traveler. Time lord extraordinaire Dr. Who. I didn't start out with that in mind, but with the Hello Sweetie to start things off my mind can't seem to switch gears.
On the note of Dr. Who. I am really excited for the next half of series seven to come out in March. As much as I loved Karen Gillan.
I think that I am going to love Jenna-Louise Coleman even more.
We'll have to wait and see, but she is absolutely adorable and her character is just so spunky. She reminds me a little bit of Tegan from the earlier series and I hope that she does a fantastic job as companion. I'm also really excited for Neil Gaiman's second episode for the series to be released. "The Doctor's Wife" was an amazing episode and I am eager to see what he does with the new companion and storyline.
Dr. Who confidential
Well I hope that this Friday evening finds you all doing extremely well. I am and I will send out as many happy vibes as I can to all of you. Toodles and Allons-y
Greetings all!!
I am slowly, but surely, recovering from that nasty fall that I had. It's been over two weeks and I still can't sleep laying down, but I am getting closer I think. I was certain that at some point I would have a super nasty bruise to take a picture of and show off, but the injury must have been too deep or not broken any blood vessels.
I finally beat Borderlands 2 the other day. I really enjoyed it and have started another play-through. I may pause on the game for a while though so that I can play something else for a while. I have Shadows of the Damned to finish and Lollipop Chainsaw to start, so I might take a break to enjoy those a bit.
I still have several other games to try and finish, but my gaming time has been curbed a bit by my Museum work. The job has been a bit overwhelming, but absolutely wonderful so far. I keep pinching myself wondering if it is all real, lol. It is.
We have artist Andy Magee coming to town in February to talk to some classes and to attend a reception for him. It is kind of unusual for us to have an artist installed for more than a semester, but since his artwork has been such a hit with the students it is a pleasure to have it around for another semester. His use of 'found materials' to make works of art is really cool to me.
Andy Magees' 'Change'
When I was younger I fell in love with Anne Rice's Vampire Chronicles and Mayfair Witches novels. Since then, I haven't really found many vampire or witch books that I really liked (although I really did like Harry Potter which I could place in that 'witch' category). That being said I just finished Deborah Harkness'
A Discovery of Witches
and really enjoyed it. My biggest thing with vampire books especially is the use and focus on history. You have these immortal creatures that have lived through all of the incredible moments of history and many of the vampire authors completely disregard that. Anne Rice spent a lot of time exploring that element and Deborah Harkness does the same thing. If you enjoy witches and vampires and enjoy a bit of easy to follow (in my opinion) historic background I highly recommend her books.
Well that's it for now. I'm enjoying a day off, filled with reading, napping, and gaming so I best get back to it.
Fauxy
So, I probably shouldn't have gone back out after my last blog. My inebriated self ended slipping on the ice and I think I might bruised a few ribs.
I was sooooo drunk. I was celebrating the museum job and kind of celebrating my final days at the restaurant and ended up with way too much to drink and paid the price for it. Besides the ribs I broke my glasses and lost my phone, so an all-around bit of self-produced bad luck. Seven days later and I am still really sore and can't quite breath properly. Yes, I am an idiot sometimes. lol But I am feeling a ton better and hope that noting got jostled to severely. No more Johnny Jump-Ups for me (well at least for a while anyway)
http://youtu.be/2tt2xaxcErc
Despite my semi-convalescence I am extremely positive about the year ahead. The new job is getting better and better every day. There is a lot to learn and quite a few new skill sets that I will need to develop and foster, but I have had a lot of great feedback from my bosses on my job so far. Yay!!
Another exciting event coming up really quickly is MARDI GRAS!!
There are few events that I enjoy more than Mardi Gras and I just got word that the friends that I go down and stay with for it are expecting a baby in July. That means that this may very well be the final Mardi Gras that they will want a crazy Iowa boy visiting for the event. I am super duper excited for them though as I know that they will be fantastic parents and they have wanted to start a family for a while now.
Well that's about it from me for now. I'll leave you with just a few of my favorite sets right now.
Phecda
is one of my absolute favorite SG's and she has two sets that I just can't get enough of.
Her solo set
Poison Ivy
is fantastic. I love Cosplay and seeing her as one of my favorite comic villains is awesome.
Her multi-set with
Pthalo
is absolutely scorching. Their chemistry together in
Figure Study
is pretty darn steamy and absolutely wonderful.
I'd love to see them both FP someday soon. I think that both sets are fantastic.
The third and last shout-out for this blog is for
Saiylor
Her set
What She Said
is amazing. It's sad to see that she hasn't gotten as many peeps to see this set as it is amazing and possibly being deleted for lack of support soon. It's always a shame to see that.
Well, I've yammered on long enough. I'm still trying to figure out the best way to link and post certain things so forgive me if this blog looks a bit odd.
Cheers to you all and I hope that your New Year has started out wonderfully,
Fauxy
Soooo time for another fairly inebriated blog post.
I am still having an absolute blast working at the museum. We are currently changing the shows in two of our museums. It is hard, back breaking work, but I am loving it. Our main exhibit space has changed extensively over the past two weeks and our historic house has also gotten a huge facelift. If you are interested in checking out some of the highlights I am going to link the eNewsletter. Subscribe if you want to see the exciting things that we have in store for the new year.
http://www.museums.iastate.edu/NovDec2012eNewsletter.pdf
The UK show
Misfits
has added about 10 bands to my heavy music rotation over the past two years. The most recent season has introduced me to a new favorite: Lana del Rey. She is sooooo incredible and her music is ABSOLUTELY FABULOUS!!! Here is a bit of a taste:
youtube
I have a full list of favorite SGs and SG hopefuls, but I am quite excited to see the site try and pimp out Olivia Black's return. It is an awful shame that Pawn Stars felt the need to fire her, seemingly only because of her past relationship to SG. Our society is so hypocritical about sexuality and nudity. There is such a huge pressure for women to exude sexuality, but not so much as to be perceived as whoreish. Although there are A LOT of my favorite SG's waiting and deserving for FP honors it was nice to see SG honor Olivia with a fantastic FP spread in response to her firing and out-casting.
http://suicidegirls.com/girls/OliviaBlack/photos/+The++Hunt/
Send her all the love you can to show your solidarity for her cause and as a way to fight this double standard that we seem to cherish in this society.
Video game-wise I am still going through Borderlands 2. I actually recently came back to it after finishing Assassin's Creed III. I am playing through the two current expansions with my first Zero character, which I haven't officially finished the game with yet. That fact has made the expansions a bit too easy for me, but I have liked the new content. Moxxi is such a pimp.
Well, my fairly inebriated self is thinking about heading out to the cinema tonight, so I am going to call it a blog.
I have to admit that I am really starting to enjoy being a part of this community. I admit that the reason that I first came to the site was my desire to see beautiful women with tattoos and piercings bare it all, but along the way I have found a community of people that I really enjoy being a part of. I just got my 'tagging' privileges, so I think that my first year is almost up, but I am pretty sure that I will continue on because of all of you.
Cheers and all the best and may the New Year find you all in just the very place you hope to be,
Fauxy
Sooooo, another drunken blog. I hope that it isn't too incoherent. Right now I am listening to the XX and loving it!!
I can't express how much I am loving these guys right now. I have to admit that I do get a bit fixated with a band when I first get into them, but I have been loving on them for a month or two now, so I think that it must be pretty legit. lol.
I have recently been hired temporarily but full time with University Museums at Iowa State University.
ISU Museums
This is my DREAM job and I hesitate to get too excited about it right now. I have the job for the next four months, but as is standard procedure for government jobs it must be open to everyone eventually. So, I have four months to WOW my bosses and make myself indispensable and irreplaceable.
Last time I sent a shout out to my favorite hopeful, Fische. This week I am going to send a shout out to my favorite sets in MR.
First is my favorite multi right now:
http://suicidegirls.com/members/Phecda/albums/site/31739/
Next are a few of my favorites in MR:
http://suicidegirls.com/members/Kemper/albums/site/31943/
http://suicidegirls.com/members/Tangerine/albums/site/31897/
http://suicidegirls.com/members/Satelina/albums/site/31900/
http://suicidegirls.com/members/Dimples/albums/site/32608/
I may have to edit this if they don't show up properly, but what a lovely group of beautiful women, right?
The weather service just issued a Winter Weather Advisory for the next couple of days. That means that we are supposed to have some wicked winter storms brewing. We'll see if they actually materialize, but it could mean a very white Christmas for this part of the world.
Well, enough of my drunk rambling. I hope that the images manage. Peace my friends and Cheers to you all!!
OK!! So, I am now able to tag!! LOL!! I am a very positive person, so all of my tagging will be positive, but I am super happy that I can actually add to the lovely messages that my favorite models have attached to their sets. It was a bit of a shock to see that I could do that and I hope that my favorites don't mind, but I love to add my own little comments to the sets that I enjoy.
I am not going to spend a ton of time talking about me on this blog. I will take a moment to talk about the crazy, wonderful, beautiful things that are going on soon. This blog I am going to spend talking about one of my FAVORITE SG hopefuls on the site right now. The one that I want to talk about is an SG hopeful that should be a full-fledged SG already. Her name is Fische.
She has had several sets up over time, but her only set up right now is....
http://suicidegirls.com/members/Fische/albums/site/30355/
Fische is such a lovely young woman with a heart of gold and I wish her the very best. Over the holidays she suggested that her fans and friends send her a holiday card and that she would send one out too. I received mine in the mail just last week and it was one of the sweetest cards that I have ever received. She is a wonderful young woman, and I wish her all the very best!!!!
I do have a bit of a problem right now, that I have all of my top 20 SG model spaces filled, but I sure hope that Fische makes it to SG status soon so that I have a horrible decision to make on who to drop to add her.
Happy Holiday to all of my SG friends and I'll send another message to you all soon.
Fauxy
It's been far too long since my last blog and today's blog will not be long at all. I hope to blog this weekend about all the wonderful things going on in Fauxy-land. Until then though I wanted to squeee a bit about this teaser clip that I got in my email inbox a couple of weeks ago.




I soooooooooo love POE!! I sure hope that this teaser means that she is coming out with some new material.

Talk to you all soon!!

-Fauxy
Sooooo, it's been a while since my last blog and I thought since I have an extra hour today I would try to catch up.
I've been super busy working both my museum job and my restaurant job. This last week, I worked the museum while it hosted our weekly yoga class.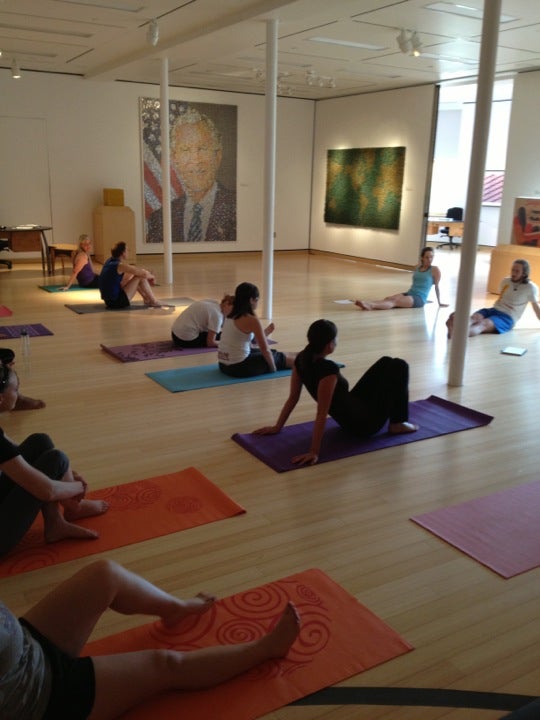 I'm not a yoga guy myself, but it was really cool to see one of our Art Galleries utilized for something so cool. It is a real treat seeing people engage with our incredible art collection in a variety of ways. Iowa State University has the larges public art collection in the country and it is a real honor and pleasure to be working with them this semester.
My other job is at a local Irish eatery called Dublin Bay. The biggest day of the year for that job is on March 17th as we celebrate St. Patrick's Day with true vigor. It's a non-stop day of eating, drinking and being merry.
I'm actually kind of curious if I will be working there for the annual event this year as I finally got word that my graduation from ISU is finally progressing. I walked in graduation last December, but I had an incomplete to satisfy and finally got that all sorted out. The next chapter of my life may actually be starting soon as now that the grade is sorted I can start planning for the future. It will be extremely weird when I finally quit Dublin Bay as it has been a huge part of my life since we opened it in 2001.
In my limited free time I have been playing a few games on my XBOX.
I haven't finished it yet, but have really enjoyed playing through as Zero and hope to continue soon.
I've also been playing a lot of
I played the original game back when I was a high schooler and I really love how they did the reboot. Such a great game and I am glad that they did the original justice.
I'm a bit of an Anglophile and have really gotten into this:
I watched the first episode of the new season yesterday and although I miss the old cast I am really excited to see what they do with the new season and new cast. One of my favorite parts of the show is the music and since getting into the show I have added two bands into a heavy rotation on my Zune.
Lykki Li
The XX
I sure hope that my images and videos embed properly, but if they don't I'll have to adjust it later. Or perhaps re-post. I'm still getting the hang of some of the technical stuff.
I hope that all of you are doing quite lovely!! Cheers!!