DanWickline wrote a book called Lucius Fogg: Deadly Creatures.
I'm private
Soapbox Tuesday

Tuesdays are fun because I get to look for the absurd news story of the day and then talk about it. The sad thing is I usually don't have to look too far for a absurd story. Today it took all of five minutes.

This story starts in the little town of Northport New York where two senior students choose the following quotes for their yearbook. Christopher Koulermos picked: "Strength lies no in defense, but in attack." Philip Compton's choice was: "The great masses of people … will more easily fall victims to a big lie than to a small one." Now these quotes aren't exactly friendly but not really Earth shattering. That is until you find out the book these two quotes come from; Mein Kampf by Adolph Hitler.

The fact that students picked two quotes from Hitler isn't really that surprising. In my high school senior group shot there are three guys with their arms straight up either hailing Caesar or Hitler… one of them being an African-American. So seniors doing 'shocking things' just isn't that shocking anymore. But some of the things in the story that really go my attention are the responses to the act.

The Principal and Superintendent both are apologizing for the publication of these quotes. The yearbook's student staff and advisor saw the quotes but either didn't think they should be edited or just didn't realize where the quotes came from. But then again I wonder how many people off the street would recognize the quotes without the credit included. But that means if they staff didn't see it, then someone got the quote and recognized it immediately… or, the two kids were dumb enough to brag to the wrong person that they got the quotes in. My guess… it's the bragging thing.

Two of the things they are considering to rectify this grievous offense… either reprinting that section of the yearbook or… and I LOVE this one… offering special tape to people who want to cover the quote. So a piece of duct tape or a black marker isn't good enough? Special tape has to be made and offered to all the people who bought the book? What makes the tape special? Does it have the words: "I'm sorry I was a dick." On the tape to put in the original quote's place? And what if you don't request the tape, does suddenly everyone in the town think you're a Nazi?

But the best part of the whole thing is the reaction of Steven Compton, the father of 18-year-old Phillip… I quote this from the CNN story: "I guess he seriously didn't consider the source; he was more interested in the quote. He's a child" Now there are a LOT of things wrong with Mr. Compton's response. First… if his son didn't seriously consider the source then someone didn't teach him a damn bit about history. And for him to have picked the quote, it means that either he's read the book or he specifically decided he wanted a Hitler quote and went and found one… I don't think people accidentally come across quotes by Hitler. Second, the says his son was more interested in the quote… about fooling everyone with the big lie… this is something you want to admit? Your son's favorite quote is about bullshitting the most amount of people possible? And third… he's 18… he may be immature and stupid… but he's no longer a child.

These two guys most likely said to each other… "Lets put in quotes from Hitler, it will be funny". It's not funny to a lot of people, but this is the stupid kind of things 18-year-olds do… have the kids write letters of apology to the people who bought the book and then suggest to anyone who is offended to just mark the quotes out. The last thing I think this story needed was nationwide attention. Then again, maybe I just made it worse by covering it here… oh wait, no one reads this anyway.

Slapshot Monday

I had to drive out to Burbank today and I turned on the NFL channel on my radio. The topic today was Ben Roethlisberger. For those of you not familiar with Ben (I'm going to call him Ben or Big Ben because I don't want to re-write his last name any more…) he was a rookie quaterback for the Pittsburgh Steelers the year before last who went 15-1, the 1 being in the playoffs. An amazing feat for any QB, but for a rookie it's unheard of. To follow up his amazing first season, he took his team to the Super Bowl and won. Big Ben has been what every team owner hopes for, a draft pick that comes in, takes the team on his shoulders and just wins.

There is another player, Kellen Winslow JR. who was a first round draft pick of the Cleveland Browns. Winslow got into a motorcycle accident in the off-season and missed the entire 2005 season and its still not certain whether he'll be back for 2006. When this happened, reporters went to every player in the NFL that was known to ride a motorcycle and asked their opinion. Ben was one of those people and his attitude was that riders had to be extremely careful when they ride. Ben also rides without a helmet since there is no law in Pennsylvania making it mandatory. When asked if he would go on the football field without a helmet he replied: "There's a law in football saying you have to wear a helmet".

Now according to reports, the Steelers had a team meeting where they told their players to NOT ride motorcycles. There is also rumors that in Ben's contract he is forbiddened from riding.

If you've gotten this far into the piece then you probably already know something bad has happened. Ben was riding his bike this morning when a woman pulled out in front of him. Ben went threw the woman's window. The report is he broke his jaw, his nose, collapsed a sinus cavity, has a nine-inch gash on the back of his head and minor damage to his knees. He was taken into surgery. The doctor reports that all his facial fratures were repaired and his brain, spine, chest and abdomen are without serious injury. The family requested no other information be released.

It's been years since I rode a bike… and the majority of my riding was done on the dirt. The concept of riding a motorcycle on the streets and highways just isn't in my future. I have friends who ride… one of them a mother of three… but none of them would ride without a helmet. Ben has a contract worth millions based on his physical abilities… that fact that he would risk that by not only riding but riding without a helmet just doesn't make sense to me. What if he lost an eye in the accident? He would never be able to play football again… he wouldn't get the rest of his contract money… everything would be over because he wanted to ride.

The big topic of the day had to do with taking the responsibilty for your team and your contract you signed. Too many people in this world do what they want to do without the thought of the consequences. On the field Ben seems wise beyond his years… but not today. I wish him a speedy recovery and hope that riders out there everywhere keep that in mind when they decide whether to wear a helmet.

Rapid Fire Friday

I made a purchase in January and now the website keeps sending me emails with other things I might want to buy like barbecues, lawn furniture, wind chimes, hammocks and garden hoses. The thing that bugs me is not the emails… but the name of the site I made the purchase from: JustAirHockeyTables.com

DC has put out this new "Who's Who Mystery Box" where you get a randomly inserted figure in each box. You could get Batman, Superman, Captain Marvel, Flash, Green Lantern or Joker. The problem is that in each box they have also inserted a piece of a classic Batmobile. I know find myself trying to assemble this freaking toy car by buying $6 boxes of a figure that I either already have or probably don't want. Incredible marketing. (Any one with the Superman and Green Lantern please contact me, I need those pieces of the Batmobile still).

Yesterday in Football Steve McNair was traded from the Titans to the Ravens. This breaks so many football rules it's not even funny. It's bad enough to trade away a pro-bowl level quarterback… but to do so to a team in your own division is suicide. I think McNair is going to like facing his old team twice a year until he retires.

Here's an idea for someone with money. Instead of these chain hair cut places like Magic Cuts and Super Cuts… you go out and find the hottest looking women who cut hair, you put them into a single location, allow them to wear revealing clothing and call the place Great Trim… guys will be going to their stylist more than women.

It's my understanding that George Bush is an advocate for the "power of prayer"… yet he's also the poster boy against it since he's still in office.

I finally wandered over and saw X-Men 3 today and they were right on one thing, that was the last X-men movie I could stand. What they did to Cyclops was the biggest waste of a good character I have ever seen.

I read a story today about a man who leapt off a pool table on to a pool cue and impaled his groin on the tip… you have to wonder if he called his shot.

My obsession with old time radio shows lead me to a thought… if a private detective is called a 'Private Dick"… does that make a police detective a "Public Dick"?

Before the X-Men movie I saw three trailers involved super-powered individuals. Superman and Ghost Rider are both based on real comics and looked as good as you would expect. My Super Ex-Girlfriend just looked horribly painful to me and its something I have no intention of seeing.

I listened to the new 2-disc set of Lewis Black at Carnegie Hall this morning and my only thought was… I don't think this is what Carnegie had in mind. (But I was laughing like crazy)

There are some things in life that are the ultimate trump cards in a conversation. Last night I found out that my sister went joy riding in a dump truck and rolled it. I'm not sure when I'll be able to use this nugget… but at some point I know I will be in a 'my sister is so stupid' contest and I have the hands down winner ready to go.

Yesterday I got a bill in the mail from a credit card company saying they owed ME thirty-five cents. I'll let you figure that one out for yourself.

On my shelf I have 5 books full of the writing of Robert E Howard; Conan, Solomon Kane and Bran Mak Morn. Besides that he wrote a bunch of short stories for HP Lovecraft and probably more work that I'm unaware of… he did all this by the age of thirty when he killed himself.

I've decided that the next time I have a bad day… like I did today… I'm going to go to a store and find a coloring book and a box of crayons and just color for hours. I think it's probably better than any therapy session you could attend.

I wonder why there are no adult coloring books… maybe its because you'd only end up using the peach crayon most of the time?

The Book of Tone Part 2

Some more Tone Fun Facts:

If you call Tone's cell phone and get the voice mail… it has a woman's voice that says "Wait for the TONE"… and you start wondering if you're supposed to leave a message or wait for him to pick up.

There is one rule that cannot be broken around Tone… you never, EVER turn off a KISS song.

Tone owns a copy of the Vampirella movie. He says it's really bad… but he still owns it.

A quote from Tone about living in Los Angeles: "It's really great because there is a gay bar right on the corner and with the bar closing at 2:00, you always catch these guys in the street making out and doing all sorts of crazy shit in the alley as you drive down the street to get home."

Tone once had a meeting in Hollywood with Warrick Davis.

By his own admission, Tone is the oldest artist to ever be nominated for the Russ Manning award (for most promising newcomer).

Tone was once jabbed in the arm with a pencil by Red Star artist/creator Christian Gossett.

Tone once considered naming his penis 'Mr. Giggles'. (I have the interview tape to prove it)

At least once in every conversation I have had with him, Tone has said: "cool cool".

Tone stood in line the other day to get the autograph of Wrestling's Roddy Piper.

Tone has the ability to know exactly when he has embarrassed someone, and then moves in for the kill. He does this to my wife constantly.

And an excerpt from last year Road to Dallas write up:
The rest of the evening went by uneventfully as we cranked Hair Nation on the satellite. Nothing like Poison, Kiss and Warrant to get you through the night. We were well into Texas when the sun began to rise. Tone was behind the wheel and moving the Behemoth at a quick pace. I could see the sun rising through my passenger side window, streaks of yellow and orange burning off the morning haze. As the road dipped down it made a hard right and then shot back up. A semi in front of us hit the top of the hill and locked up his brakes, the trailer dragging side to side as the driver struggled to get control. Tone looked at me and said, "This isn't good." I grabbed the 'oh-shit' bar just as we reached the top of the hill… what I saw was like nothing else I had every seen. The sun appeared before us as if it sat on the highway just a few miles ahead. It seemed large enough to swallow the Behemoth whole and gave off a level of brightness that no man was ever meant to gaze upon. I could smell my retinas beginning to burn as Tone hit his brakes to slow down. The visors were useless and I scrambled for my Ray-bans but they must have fallen between the seats. Tone used the ridges on the far side of the road to guide him, the rumbling sound being our only salvation. We could hear a series of screeches behind us as other drivers reached the top of the hill. A moment or two passed and our eyes adjusted… but they will never be the same again.

The Book of Tone
If any of you check the Rapid Fire Friday for last week, you will notice a comment from my buddy Tone Rodriguez complaining that he wasn't mentioned in the post. Now Tone is correct, he was at the Fangoria show with me last weekend and he did try to take the picture of Richard Moll and I…
For those of you who don't know the name, Tone was the artist on Violent Messiahs and Snake Plissken and he's doing the art for the new book UTF that comes out from APE tomorrow. Now I've known Tone for about six or seven years and have traveled from L.A. to Dallas with him in my truck… twice! So I figured Tone's cry for attention needs to be heard and today I present to you: The Book of Tone. Some fun facts about the very talented artist that you may not know.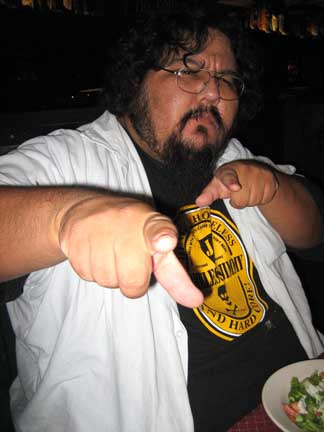 Tone once worked on the Power Rangers as a concept artist and created the villain for one of the seasons.
Tone loves Batman and has just about every figure of Batman created… some of which were sent to him by adoring fans.
While traveling, Tone is very free about discussing his bowel movement habits.
Tone's favorite restaurant is the Waffle House where he likes it smothered and covered… not sure how he likes his hash browns though.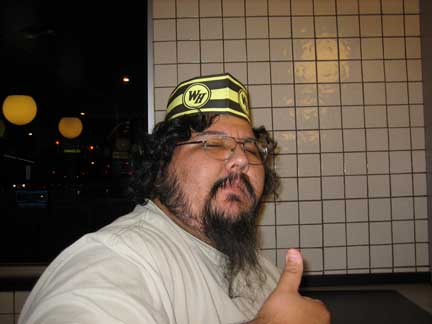 While his turn to drive on the road to Dallas, Tone turned to me and said: "have you ever had it where the cars in front of you just suddenly get bigger?"
When making a purchase at McDonalds, the total came to $6.66 and Tone immediately purchased another cheeseburger so the total would change.
For his birthday dinner, a group went with Tone to a Brazilian BBQ place in Burbank where Tone was recognized by the belly dancer who remembered him from a different BBQ place.
Tone does the most amazing imitation of the Coach from Major League. Everyone who sees him should ask him to do it. Go ahead… he loves it.
While doing the sketch card inserts for the Family Guy cards, Tone did nine of them with Eduardo the broken off penis from the Statue of David.
Tone will sing along with just about any song on the radio… a particular favorite is "True" by Spandau Ballet.
Tone used to work for a replica company making lightsabers and other movie props. You walk into his studio and it looks like an arsenal at Skywalker Ranch.
Tone's favorite dessert appears to be Key Lime Pie… or at least he couldn't stop signing about it this last weekend.
I think that's enough Tone fun facts for today. But please check out UTF in stores tomorrow and it will make Tone very happy.
Slapshot Monday

Do you know what I truly love about sports? It's not the athleticism or the competition. It's the spin that the announcers can put on a game. Have you ever seen the videos produced at the end of each Football season? Every team gets a video made that shows the highlights of the season. They get the deep toned voice over guy that makes every movie trailer seem amazing and have him talk about the determination and grit that the team showed. Then the play a music track with a thumping beat and a brass section… a march if you will… and you sit there watching your team and swell with pride as you see how these amazing talented individuals, coached by the wisdom of Solomon itself, battled and fought for their 1-15 record. You turn the tape/DVD off thinking "How the hell did we lose a game?"

The best example of announcer/media spin has to come from the movie Major League. When 'Wild Thing' is on the mound early in the movie and throws the ball behind the batter… we hear the announcer, skillfully played by Bob Uker, announce 'Just a bit outside'. That's a man working it for his team.

The most fun you can have is talking to a Raiders fan. The Raider Nation is amazingly faithful to the point of delusion. This season the let go a Quarterback with Superbowl experience and replaced him with a guy who was benched last year for giving up. Find yourself a Raiders fan and ask them what they think of the move… you'll get. "Collins was a the cause of all the problems. Brooks is going to throw the ball deep to Moss. It will be Raider Football again." The Raiders have a slogan 'Commitment to Excellence', but over the last few years it's been 'Commitment to Excuses' and this year is going to be no different. But don't say that to the Raider Nation.

The funny thing is, sometimes the fan of a specific team knows more than you think and their delusions-of-grandeur is really just knowledge. I remember two years ago, after the Panthers started 1-7, I looked at the next 8 games and calculated out how the Panthers could not only turn their season around but make the playoffs. I knew which games they would lose and which they would win and I wrote it all out. I showed a couple of friends and all of them called me a 'homer'. Going into the final game of the season, all seven of the games after I made my predictions went exactly how I had said. The only part that failed was the Panthers couldn't beat the Saints on the very last game of the season and that kept them out of the playoffs. Had they won, my prediction would have come true… but my friends would still call me a 'homer'.

When the new football season rolls around, take a moment to watch the NFL network… one of the things they do is play the radio calls for the teams local stations. There is nothing like hearing a hometown broadcaster calls the hometown teams touchdown. You'd be amazed at how many syllables are in a cities name. Just once you should hear: 'Touch-down Kan-sas-cit-y' done with excitement of someone who actually cares.

Rapid Fire Friday
My friend and publisher Jade Dodge asked why women still change their names when they get married. No longer are the men subservient to the women so it shouldn't matter. My thought… women take the married name, can do all kinds of weird shit… then get divorced and claim it wasn't them.
I had a chicken pot pie tonight for dinner… it always amazes me that from the first bite to the last, a chicken pot pie is EXTREMELY HOT! Unless you make it yourself at home, then the center is always still ice cold.
I noticed that in both Bloodrayne and Resident Evil there are nude scenes. I guess they really DO know what their audience wants to see.
Have you ever had to take your car in to a mechanic, then get the call from them telling you that X, Y and Z needs fixing… and you tell them "no"? I usually just nod my head while on the phone and then say "go ahead"… I guess the call is merely the foreplay before the official screwing.
Why do women like horror movies so much? I walked around the con today and it was all guys with tattoos and women in tight tops showing off their breasts… this isn't a complaint mind you… just an observation.
In the seventies DC comics put out a book called the Haunted Tank… now I know the concept is a little more involved than a Haunted House… but it just seems like you can't run from many ghosts INSIDE of a tank.
Anyone who is an old fan of the Green Hornet will be interested to know that the hornet buzzing you here in the credits on both the radio program and television show was made with a Theramin… for those who don't care… never mind.
The trivia moment at dinner tonight that stumped all of us… the name of the dog in Smokey and the Bandit. Now that I'm home and can google, I know the name is 'FRED'.
All over the country, including on CNN.com, there are stories about the new LESBIAN Batwoman. Now I'm all for comics getting mainstream press. I'm also all for diversity in comics and DC is making a big push… but you don't see much about the new Asian Atom or Hispanic Blue Beetle… but you make a hot chick that likes hot chicks and it's news worthy? A shame that anyone who actually WANTS to read the comic will have to wait 2 months to get it and remember that it's in 52 #11.
A couple in Florida (59 and 60) tried to hire a hit man to kill their daughter-in-law and three grandkids to keep them from testifying against their son in his rape trial. He's accused of trying to rape his daughter and stepdaughter… you can't make shit like this up. This would get rejected on Law & Order as 'too unbelievable'.
The music industry is upset with a Russian website that is allowing music fans to download entire albums for less than a $1.00 each. Maybe that whole 'teaching them democracy' and 'free trade' wasn't such a good idea… (snicker)
Real CNN headline… "Wal-Mart rethinks 'self-cannibalization'." I don't care who you are; you're going to click that link.
Anyone familiar with the band She Wants Revenge should think about this… I love their music but it seriously sounds like Peter Murphy is signing with the B-52s.
Every trend in the entertainment industry seems to have a successor but one… where is the new Russ Meyers?
Could you imagine a germaphobe trying to play Texas Hold'em?
Every watch I have bought over the last twenty years has had a stopwatch function. I honestly can remember a time where I used the function… I just can't think of anything that knowing how fast it takes for me to do it will be helpful. But I can think of things that if I know how fast I can do them… it could be depressing.
On that note… a slightly shorter Rapid Fire Friday, but I'm exhausted from the convention today so I'll end this one with a photo from this afternoon. Regular blogging resumes on Monday. Have a good weekend.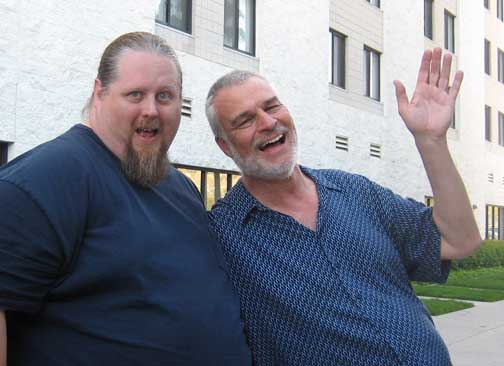 Rapid Fire Fridays

I ignored the critics and saw The Da Vinci Code this afternoon; and unlike those critics I enjoyed the movie. I had read the book before and still enjoyed the movie.

As a writer you learn so many odd things; in one afternoon this week I was researching grasshoppers, the southern states and passages from the bible. The next day it was microchips and President Eisenhower.

A mudslide is just an adult milkshake… a damn tasty one too.

The California Department of Motor Vehicles has put together the most helpful website in existence. Anything that keeps me from having to spend time at the DMV is a miracle in my book, and this allows me to renew tags, order personalized plates, etc.

I wonder if the creator of Hellblazer (Alan Moore I think) chose the name Constantine because of its ties to the origins of Christian religion or was it just a happy coincidence.

Another Da Vinci Code/Geek moment… Magneto double-crossed Doc Ock!

A question to those who are current on the Harry Potter books… is it just me or has he become a whiney little git?

What exactly makes a critic… of any type… qualified to do the job? And why does anyone take them seriously?

Wasn't Mary Shelly's Frankenstein really just a zombie story?

Do you find business cards on your desk for people you never remember meeting? I've got hundreds of those.

If you're internet was out, would you go to your parents house to use there computer to keep up on your porn viewing? I saw someone yesterday who did just that.

Do the people who send out SPAM really think I'm going to reply? Ever?

Is anyone else out there still collecting the state quarters or has that fad ended?

There's a movie on right now about a zebra in a horse race and talking flies… what the hell is Hollywood thinking?

I wrote something earlier this week and actually grossed myself out… my mom would be so proud.

A member of the British Parliament said that it would be morally justified if an assassin targeted Prime Minister Tony Blair… and they call us savages.

The surprising part of the story out of Milwaukee, Wisconsin about a wealthy couple enslaving and illegal immigrant as a maid for 19 years was the fact that there was a wealthy couple in Milwaukee, Wisconsin.

American Idol is over… and soon will be the winner's 15 minutes of fame.

Paul McCartney is going to get divorced from Heather Mills… he signed no pre-nuptial agreement… it's a good thing Michael Jackson already owns all the Beatle's songs.

It rained here Monday, was hot as hell Wednesday and their calling for rain tonight… I think this is just a test of the new sinus medications on the market… all of which are CRAP! Give me the old stuff… I don't want to make meth, I just want to stop sniffling.

Four Color Thursday

I'm going to start with my own project that I'm working on. I can't say too much about it, but since Niles has already said part of it… then you probably know I'm doing the next 30 Days of Night mini-series… but I'm writing it solo this time. Well, there is an added pressure of playing in someone else's universe and still giving the fans of the series what they want. The first script is in and the artist is working away on it… can't say who yet but I'm sure an official announcement is forth coming. I started working on the second script today and I'm taking an odd approach… I'm writing it backwards. I wrote the last scene first and the scene prior to it second. So I have the last third of the book already written. I think the last scene of this book is going to make or break this series… people will either say "wow" or "when is Steve coming back". So I tackled that first so it could end up being however many pages it needed to be. I let the scene flow to its own pace and conclusion. I even cut it a little earlier that I thought I would but when I got to a certain point it was… "End the book here, anything else will just be anti-climatic". So the rest of that scene will now start book three.

The scene prior to the last scene was not in the original synopsis… it was something that came to me while I was sleeping last night. I just felt that this issue needed a pure horror moment that hopefully will leave people creeped out. Hell, it creeped me out while I was writing it. And it was a good place to add in those curse words that Niles fans expect. (That's a running joke between Steve and I… I don't use curse words much at all in my writing.)

Now it's going to be interesting to see the rest of the issue meld together. I'm thinking I'm going to be a page or two short for what I have planned right now… but then again I don't have any large panel pages so I can probably gain that page or two just by giving the artist more room to draw. I think he would appreciate that.

Here are some pointers for all you who want to write comics. When you are approaching a story, make sure you know how it begins and ends. Take the time to know not only all the major plot points you want to include but also the number of scenes. The more you work out the structure of a story prior to starting the script, the better your story will come out and stay focused. Outlining and synopsis do not take away from the creative process. Even though I have all five issues laid out and approved by the editor, I still have the creative freedom to add a scene here and there that help move the story along. I know a lot of people that like the idea of just writing a script off the top of their head… that may work well for prose, but when you are working in an industry where you have 22 pages to tell a story and you need to bring the reader in and make them want to come back for more… doing free form writing is just going to drive you nuts.

Now I better get back to the script.

Showbiz Wednesday

So the big stuff on TV tonight are the end of American Idol and the season finale of Lost. I'm not watching either of them. I hear great things about Lost, but I just couldn't get excited about it in the beginning and it just seems like too much effort to figure it out now. Like trying to get back on the '24' bandwagon… just can't do it. And as for American Idol… I find it unwatchable. I watched Ruben win a few years ago, that was enough for me.

We are now entering the season when television is all re-runs and movies are all blockbusters. The Da Vinci Code did fine over the weekend; 77 million is a very strong opening for a movie that the critics say is horrible. I don't listen to critics because I've found that I disagree with them 99 times out of 100. I don't know what movie they are watching… but they all seem to think a movie has to be 'snooty' to be good. I want to go to a movie, be entertained for 2 hours and then go back to my life already in progress. I don't need to be emotionally moved by every movie I see.

I can't give my thoughts on the Da Vinci Code as I have not seen it yet. I've had a lot of work this week so Da Vinci waits till this weekend and X-Men 3 till next weekend. As for the earlier summer movie Mission Impossible… well, I might get that on DVD if it's a good sale.

I saw a trailer for the new Ghost Rider movie and saw some of the reaction to it. The trailer itself looks good to me. It's not Shakespeare but then again, it's Ghost Rider not Brokeback Mountain. The effects looked decent to me and Nicolas Cage is a good actor so I'm going to give it a shot. The reaction I've seen has been very negative. Things from "looks like Spawn", to "this is the same guy that brought us that horrible Daredevil movie". Well, I'm not in the group that hated Daredevil. In truth, I really LIKED the Director's Cut of Daredevil. When they threw out the love scene and put back in the Coolio sub-plot, it makes it a good movie.

Now I doubt the movie will do that well after X-Men and Superman this summer. Spider-Man and Batman Begins have set such a high bar now that everything is going to pale by comparison. For me, I just enjoy seeing the characters I grew up reading now on the big screen. I'll even go see Ant-Man if they actually make it.

And note to the producers trying to get Ant-Man done… if you need a writer, I'd like to take a swing at it.