I'm private
The inevitable descent.

Old people are something of an enigma to me. Inside that seemingly docile and non-threatening wrinkled, dry husk approximating skin on their gnarled and bent animated cadavers lays venom to rival that of any form of marine life on the planet. I don't know if it is a life time of experience, years of disappointment or a simple resentment of the younger, moister world at large- fermenting inside of their withered forms that creates this reservoir of spite, but I know this: my Nanna, is evil.

I don't think it's a brain parasite.

Old people appear to develop a complex pathology that is one part amnesia and one part tourette's . In essence, they forget not to say the malignant things slithering around in their minds. The pathogen remains dormant for the most part, only becoming apparent in and around company. Usually a mixture of family and acquaintance.

Thai restaurants just don't have enough hard liquor.

One example that springs to mind would be somewhere between the fish cakes and the Mee Goreng Noodles my Nanna randomly announcing that she was glad my sister had broken up with her boyfriend because nobody liked him and that obviously my sister had been unhappy because she looked terrible lately. This was essentially true save for two minor details. One: She hadn't actually broken up with her boyfriend. Two: He was indeed sitting four seats down from my Nanna.

Undiplomatic immunity.

Like any good disease or disorder it has developed a resistance to being treated, corrected or stamped out. This is in the form of a mid-generation relative, usually my father, dropping the universal excuse/explanation of, "She's old."

"No shit."

As if age suddenly excuses being an arsehole. "Excuse me, you seem to extinguished your cigarette in my child's eye and are now urinating on my suede couch. Oh, but I see you're old, can I get you some soft fruit or a boiled lolly?" Actually the old might excuse the urinating on the couch, but that doesn't excuse the blinding of my hypothetical offspring.

Wanted: Animal trainer, must have own bingo wheel.

In the previous eighteen months my sisters and I have developed what we refer to as The Thelma Protocols. These are basically a collection of prefabricated topics and physical cues to distract, disorientate or diffuse this matriarch of malice long enough to change the subject to a previously concocted neutral topic. This keeps her disorientated and unable to strike until she reacclimatises in which case we then shift topics again.

The red pill, or the blue pill?

The prospect of growing old fills me with ambiguity. On the one hand there is the bitter, twisted, wrinkled existence where making it to the toilet is a will I or won't I affair and constantly being overpowered anything heavier than a roll of Worthers Butterscotch. On the other hand there is the endorphin fuelled MDMA-like high these cronies seem to get when they lay the hate down on their near and dear. That somewhat may explain why they constantly suck on their dentures.

Nanna's underlying evil aside, she was right about one thing; my sister's ex-boyfriend is a total dick.

A Thief, a whore and a liar.

There's something to be said about an all expenses paid work conference. And that something is; they corrupt.

It should have been apparent to me as my boss and I cruised the inconceivably boring Brand Hwy in Western Australia that the excursion would be bleak. Picture 400km of (with the exception of 13 places) bolt straight road. "What only 400km?" I hear you say, "Harden up cupcake, out here we travel *insert distance greater than 400km* with no bends, scenery and only 4 colour CGA resolution."

The difference is, your road doesn't end in Geraldton.

Geraldton, a place that even the wind hauls ass through on it's was somewhere more exciting.

On the way up we discuss the 7 known murders and 6 missing persons cases along the route. We wonder how many other bodies are waiting out there. Victim of some highway wandering Rutger Hauer/Sean Bean or possibly people who died of boredom. Though, the nature of the road means that even if you did die behind the wheel, you would crash into anything until 220km up the road when you hit Dongara.

Dongara's claim to fame: We're on the way back from Geraldton.

There is a good pub there owned by a bloke we've worked with, so we hit him up for a few drinks and skip out when he mumbles something about sorting out payment.

Rolling into Geraldton we head straight to the hotel for check-in and suss out the bar. Good view, good access, but appalling refill times. Planning would be essential. Part of this plan consisted of finding out our colleagues' room numbers to bill our drinks to. Prior Planning Prevents Piss Poor Performance. Or Prior Planning Prevents Poor Pissup Performance in our case. I inadvertantly give the barmaid the wrong room number, 212 instead of my 214 so some unwitting schlub wound up with a hefty bar tab. By the time I had realised my error, I realised I was in too deep. I continued the lie figuring that after a few irate hours with hotel management, Mr & Mrs 212 would walk away with the bartab (mine and theirs) totally comp.

First night's dinner went well. I got quietly trashed with our contracts manager at the end of the table. I confess that I have no idea why I'm attending this conference as I'm not actually involved in any part of the fourteen page agenda. My copy has ninja stickmen on it already. Mike agrees without discussion or comment. My feelings are slightly hurt. I drown them in another company sponsored JD&Coke.

Get back to the hotel. Go for a nightcap in the bar. Cap turns into a a stetson hat. I am informed by the slightly lazy eyed barmaid that they're stopping service soon. I strike up a cheesey and embarrasingly flirty conversation hoping to extend the bar's trading hours. It works, but I have to make more physical contact than I am pleased about. It is around the time that another hotel patron and myself discuss the finer points of the aerodynamics and airspeed capabilities of Jatz crackers. Preliminary tests don't go well. We are ushered out by the manageress whilst the barmaid applies ice water to her good, swollen, buscuit crumb enrcrusted eye. I make a mental note to skip breakfast.

I make it back to my room without incident. That is until I have to use the swipecard lock on the door. VISA is accepted at over 24 million locations worldwide; however my door lock is not one of those locations. Substitute VISA for swipekey. Better result. Make it three feet into room and trip on "courtesy" mat. Eat shit hard onto the art-deco flavoured carpet. Seems like a nice enough place to spend the night. Why can I hear Jack Nicholson's voice?

One night down. Two to go.

I can taste vomit.
Click below for the full review to Ghostrider: The Movie.


Guilt makes things taste better.
We all have our guilty pleasures and indulgences we feel the need to hide or deny from the world at large. Something that brightens our day but isn't shared with those closest to us. It somehow makes it all the more special knowing that it's your guilty secret and yours alone. It's probably why affairs have been so popular throughout history. Aside from the constant shagging that is.
For some indulgence is gambling on sports, or playing air-guitar to "Masters of Metal vol 4." For others it's the feel of polyester and disco revivals; right through to bug collecting (it gets an element of creepiness after you start high-school; science majors excepted) and masturbation on public transport.
For me, it's Evanescence.
For a dedicated classic & hard rock enthusiast with an strong appreciation for metal and punk, owning up to this partiality was like telling your father, Machoman Randy Savage, that you abhor violence and bullying and oh yeah, you're pretty sure you're gay to boot.
But then
God, in the closing paragraph of an interview
, said it was okay.
And if Lemmy says it's okay, then colour me Emo-kid. I attended their Perth show, but I didn't buy any merchandise. And I rocked out to
Shihad,
who opened for them. So I figure that leaves most of my rock credentials still relatively intact. And, early in the night I did my best to start a blue with the event security. So another +1 Rock cred. (Shout out to "Big Pat" from Challenge Stadium security, I hope the Rogaine treatments work.)
This brings me to a somewhat errant rant: I enjoyed what were fine performances by both bands, and Amy Lee's impressive vocal stamina is better than ever. Well worth the money for the ticket. But bugger me with bottle-brush if I wasn't in teen-angst filled hell. One of the benefits of rocking up early to steal better seats, is that you have nonchalant eavesdropping time.
15 is the new 40.
15 yearolds today must have the market cornered on anti-depressants. Or more likely, sugar pills labelled as anti-depressants. I can only surmise that they receive a two month supply free with every tube of mascara or eye-liner. (Which appears to be applied with a paint roller.) Now don't get me wrong, I like the whole gothy / trashy badgirl look as much as the next guy, but at some point it stops being The Crow and merely becomes Raccoon. And on a 15 yearold, 45kg male it merely becomes the somewhat rhetorical precursor to his crackly lamentation, "Nobody understands me or takes me seriously."
Because you look like the recipient of a monochrome makeover delivered from a spray can. And you're 15. Nobody's interested in what you have to say. Deal with it. Have a coke and move on. It's a lesson that'll crop up throughout adulthood too.
At 15, I was incapable of taking myself seriously, let alone too seriously. Hell, I couldn't take anyone seriously. It's probably why I was referred to as "academically transient" for much of high-school. It's not that I didn't have any self-worth or esteem, just that I knew the likelihood of "being right" and "being heard" coinciding was as likely as O.J. finding the real killer; probably only going to happen when talking into the mirror. I knew what life had in store for me; mortgages, taxes, speed traps, failed relationships and the potential for back and shoulder hair. So why purposely cultivate the angst?
"After the time when I cut my wrist, I decided show my poetry and lyrics to get it out. Not out of me, but to see if there's anyone that will understand where I'm at. To see if they would help. If they would care."
I resent these little bastards squandering those precious few years before obligation and liability on bad poetry, worse myspace pages and what are just plain weak attention whoring suicide attempts. A nail-file is not the tool for the job. In my day, we used shotguns. You want attention? Do something worthwhile Picasso.
"The media is to blame for all of the youth suicides in the world. They only show rich and beautiful people. It's no wonder everybody's so depressed. They feel inadequate."
I resent the mollycoddling we've had to do through the various forms of media teaching them that it's okay to not take responsibility for your actions, because there's always an influence out there ripe to become a scapegoat. Pretty people exist. Deal with it. Television and movies are primarily about escapism and fantasy. Fantasy is much like a brothel, it's okay to visit, but you need to leave when your time's up. Television is not real life kiddies, if your using it as a yardstick you need to be beaten until you see all the colours of he test pattern.
I resent that they've pushed me into another generation. That I'm "the previous" generation. I'm old at 25 to these punks. That in this post, I've used the terms "In my day" and " # yearolds today". Most of all I resent the irony and hypocracy that has just hit me of my reprehension regarding their compulsion to fill the internet with half crafted web-pages littered with unintelligible feelings and unfinished thoughts.
Maybe I'm not that old after all.
I harbor deep seeded prejudice against a group of people that inhabit our world. For reasons I cannot explain, I find their proximity unsettling. On an almost subconscious level I find them shifty, untrustworthy and suspect them of deviant and criminal behavior. And although I don't know why it is, all I know is that I'm not alone. Like many others out there, every part of my blonde haired, blue eyed D.N.A. is coded to distrust the very sight of them. These people are of course, redheads.
To my knowledge I've never been wronged but a ginge, nonetheless, I'd never turn my back on one. The media is rife with examples.
David Caruso, with his slow, meandering delivery of lines. Like his words are designed to distract you whilst his mind is busy mentally filleting you and making earrings of your eyeballs. His anemic and slightly underweight, yet somehow paunchy form suggests his victims would me small. Like children.
The bloodnut indy actor Eric Stoltz, nutmegging across movie screens. His standout and defining creepy performance; The Butterfly Effect. In which he plays an alcoholic, incestuous pedophile. A performance that, in light of his phenotype, seemed too believable. The character fit him like a single, sequined glove.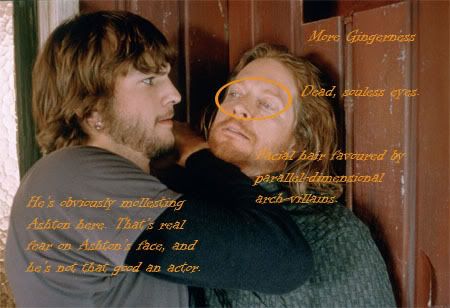 And I ask you which movie villains are scarier?
or


Maybe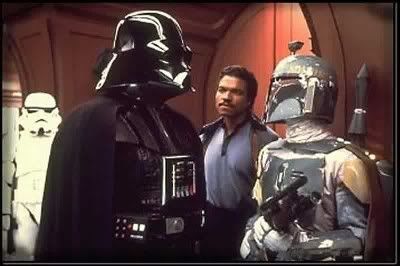 or


And who could forget


or


Redheads, they're like a sleeper-cell version of clowns.


...Pluto is not a planet.
Context is important.

I killed a kid's pet rabbit yesterday. It had been hit by a car, it's not like I just woke up this morning with the urge to murder kids' pets. The kid lives down the street from me and I saw him sitting in the middle of the road crying over the mangled form of his rabbit. I told him his rabbit couldn't be fixed and that it was in pain and the nicest thing to do was to stop the pain. I told the kid to go into his house and that I'd take care of his rabbit. Turns out that was a bad turn of phrase.

About an hour later, after dropping Thumper in the nearest bin, I hear a knock on the door. It's the kid from down the road and he asks with disgustingly big, sweet, teary eyes, "Do you have my rabbit?"
Gilding the truth slightly, I told him I'd buried his rabbit. The kid went spastic. He screamed, yelled and floundered about for a moment. I was a little surprised and confused until he wailed, "You said you'd take care of him!"

What followed was a lengthy movie-of-the-week explanation about the cycle of life and death. We sat on the curb for about forty minutes as I explained how some things only live a short time, some a long time and how death was nothing to be scared of. That it was as natural an occurrence as waking up or going to sleep. He was still feeling the loss of his rabbit so I told him that some people believe in reincarnation. That when something dies it is reborn, perhaps in a different form, this way nothing ever truly dies. He seemed to like that and said that he really wanted a dog but his parents had bought him the rabbit instead. He brightened up some and said maybe his rabbit would come back as a dog. I concluded the hallmark moment and told him to run off home and tell his parents what'd happened.

The nagging thought in my head.

Trying to sleep last night all I could think of was the contextual misunderstanding of "I'll take care of your rabbit". Then I started to think about what I'd said death being a natural part of life and how sometimes it's necessary to kill something. Then I thought of what I'd said about reincarnation and how he seemed almost excited at the prospect of his rabbit coming back as a dog…

What if the next pet his parents buy him is not a dog, but a cat? Is he going to strangle the cat and hope it comes back as a dog? What's going to happen when he wants a little brother, but gets a sister?

I'm not talking to kids anymore…..

"I go out on the weekend
To have me a little fun
But I find the darkened corner
'Cause I still miss someone

No, I never got over those blue eyes
I see them everywhere
And I miss the arms that held me
When all the love was there

I wonder if she's sorry
For leaving what we had begun
There's someone for me somewhere
And I still miss someone

At my door the leaves are falling
A cold wild wind will come
Sweethearts walk by together
And I still miss someone "

Happy Birthday.
An outcast in your own lounge-room.

Asian bird-flu; sure there's been a lot of talk, a bit of hysteria; even, some hoopla. But let's get serious, how many people has it life-alteringly affected world-wide? Aside from chicken farmers that is.
The worst 21st century pandemic to slime its insidious way into our lives has got to be reality television. It is totally resistant to medicine, quarantine and surgery; lobotomy excluded. However one could argue that's a case of curing a terminal disease by euthanasia.

The premise of television and entertainment, I have been led to believe, is based up providing audiences with fantasy or romanticized visions of life. Entertaining them through escapism and suspension of disbelief to ultimately distract them from the monotony of mundane life. Beautiful people, exotic locations and fantastical happenings.

Now, the latest craze seems to be; turn on the custard & jelly* to watch a house full of strangers going about their daily routine. It's seems after a long day of ordinary life, we like to come home, flip on the television and watch…. life.

Big Brother is possibly the greatest blow to your self esteem or status as a member of society or even a member of a clik, or niche. Even your place on the fringe is made haggard by Big Brother. Why you may ask?

They're so cool.

Think back to high school; most of us (excluding the painfully popular and terminally trendy amongst us – may your children's pets die young) at some point found ourselves at the back of the pack, the edge of the group, left out of the conversation or sitting at the farthest away table. You were an outcast.
Your couch is the farthest table.

We watch gleefully the edited wit, tantrums, philosophies, ranting and interludes of "ordinary" extroverts. We wonder what will they say next; who will they backstab this week; does he like her like she likes him; will she ever shower without that damned bikini?

The suspense, the drama, the reality, it just becomes all to much. You laugh, sympathize and argue with them; but it doesn't matter. Because you're not part of this conversation.

You're the dorky kid nobody wants to notice. The weird kid that collects things in his oversized pencil-case. The fat kid with the failing elastic on his pants that people change class schedules to avoid because they know at some point you're going to come too close to them. At some point you're going sully their coolness with your stench of social autism. A stench that still remains long after your stared down and you shuffle away with the top of your arse-cleavage poking out of your hand-me-down track-suit pants.

The reality of reality TV is, you survived the jungle of adolescence all the time honing a social skill-set, you survived the counterpoints of your clik and danced along the popularity razors edge by not burning too brightly, yet not fading away to fall off the fringe only to be eaten by the hordes of elastically challenged fat kids with oversized pencil-cases.; only to live out that very role on your couch.

When the Captain of the good ship Whatever-the-hell, is faced with the life and death decision that'll see his beloved crew or an entire planet be obliterated I can recognize that this is somewhat outside of my expertise and experience. I then sit back and say, "I'd best leave this one for the captain." I walk away from it knowing that although I may not be a master of interstellar diplomacy, I at least can form a cogent and balanced argument on the distribution of wealth in relation to how much of this week's grocery budget should go on food and how much on alcohol.

However, it seems every time one of these sad indictments on public education opens their mouth I'm held prisoner by their inanity. My instinct to preserve the genealogy of the species fuels my compulsion to either seek to help strengthen that feeble mind or, and most often, to spay the oxygen thieving cunt to make sure they don't further dilute our bloodlines.

"Why not just change the channel if you don't like?", you may ask. Simple. It's on every fucking channel, every fucking year. In fact, I've got to go, it's on in a minute…

*telly – Television.


Fat people aren't always jolly.

Today I begrudgingly stumbled into work and was immediately greeted with a three page report suggesting that the Fuck-up Fairy must've pulled a double shift overnight. After about three hours of 12point, Arial hell I reach for my as yet unused coffee cup and cereal bowl and head into the lunchroom to make some breakfast. No milk. No coffee. No tea. No scotch. No fucking way.

I trundle down the shop in the work car, intentionally grinding each gear and picking away at the loose threads on the seats. Low blood sugar brings out my goblin-esque habits.

The shopping was uneventful; coffee, milk, tea and at the last minute a back-up toothbrush made the cut. The checkout however, was a totally different matter.

Before I continue, I'd like to say, being a beefy-boy myself, I'm the last person to make fun of someone for being overweight. Well, maybe not the last but at the end of the queue. Towards the end part anyway. Last third of it at least. But, this woman was heee-uuuuggggeeee. Her little electric buggy used to facilitate journeys over 30 feet looked to be powered by a CAT560 diesel. And struggling.

Fat is fat though, it means little about who a person is. However when this amorphous mass wobbled its way with surprising agility to cut in front of me, I was immediately taken off side.

She is not my friend.

I had four items; she had about two dozen in her basket (that fit around her wrist like a bangle three sizes too small) and that's not counting the ones that she'd accidentally collected in her folds and gravitational wake as she ambulated down the now proportionately narrow aisles.

She is my enemy.

She shoehorns herself into the checkout spilling over the little rails that separate aisles. As her triple-crunch, deep-fried, rocky-road, cookie-dough, two gallon, now with a bonus 20% more tub of ice-cream is packed into a bag and strapped to the back of one of six sherpas whom obviously lug her shopping home for her, she opens her purse. Her shopping comes to $80 exactly. She reaches past the cash in her purse, (I counted $320 in various denominations) and goes for her credit card.

She is my nemesis.

Then the immortal words, "Oh, try this one. It probably won't work though."

I wish you had a terminal illness.

It's declined and she reaches for another. Also declined. When the third one comes out of her purse I feel it's time to let fluffy off the chain. "Look," I say trying to disguise my agony at her existence. "Can you maybe pay cash or choose a card that you know is going to work. I've got stuff I should be doing now so if you could please hurry up I'd appreciate it."

I wish you were on fire.

You may expect an irritable or curt response to this statement. I did. What I got however was pure rage. She screamed and huffed like an asthmatic rhinoceros and threw lolly-pops at me, (They must've been on the counter, unless she distilled the sugar stored in her finger fat into pure glucose) and hurled abuse.

I wish David Attenborough was here.

Dumbfounded at her reaction I took a step back and almost smiled in disbelief. At this moment an elderly Japanese man Kosami (Sam), whom had preceded Jabba through the checkout turned and said, "You should take it easy. Lady as big as you, have a heart attack if not careful." She immediately wailed at him like some racist banshee, "Fuck of back to your own country you yellow shit!"
Sam didn't even blink before he said, "In my country, we would harpoon you for scientific research."
I almost cracked up at this comment. Sam is 82 years old, has been in Australia since 1965 and has for 2 years been unsuccessfully trying to teach me to make an origami swan. He is a Mr. Miyagi, but I am no Daniel-san.

Infuriated, this gelatinous juggernaut shot out a stubby, pudgy battering-ram like arm and hit Sam in the chest, sending her 100lb, 82 year old opponent into a display shelf. I heard something make a hollow crack as he hit the ground. Hip. Had to be.

The lady behind the checkout ran to the store phone and called for help, I hurdled the other counter and ran over to Sam. He looked as much surprised and amused as he was in pain. At the same time the shaved down sasquatch started to make her get away by frantically straddling her buggy. It protestingly hauled her bulk away and she wheezed and spluttered more abuse as she escaped out the door of the shop.

Fortunately the coppers called it through to local security patrol and they found her 15 minutes later, and only about 500 yards, down the road escaping at about 3mph.

So there you have it. Sam's hip is indeed broken and he's undergoing surgery tomorrow, but says he is really enjoying the pethadeine. The police have identified the malicious, human beach-ball that assaulted him but haven't laid charges yet. I left the coffee and milk in the shop (not having much luck with milk) and all this before breakfast.

JANUARY 2008
1
2
3
4
5
6
7
8
9
10
11
12
13
14
15
16
17
18
19
20
21
22
23
24
25
26
27
28
29
30
31
DECEMBER 2007
1
2
3
4
5
6
7
8
9
10
11
12
13
14
15
16
17
18
19
20
21
22
23
24
25
26
27
28
29
30
31
NOVEMBER 2007
1
2
3
4
5
6
7
8
9
10
11
12
13
14
15
16
17
18
19
20
21
22
23
24
25
26
27
28
29
30
OCTOBER 2007
1
2
3
4
5
6
7
8
9
10
11
12
13
14
16
17
18
19
20
21
22
23
24
25
26
27
28
29
30
31