Carment4 if I were twice the man I could be I'd still be half of what you need.
I'm private
On my way to a full blown bubbler dragon.
And this makes me happy.
Though he kinda reminds me of these guys.
My make up jobs this last Halloween.....
Some more of my more recent glass work! Everything shown is in our Etsy shop if you are interested at all. Just search for Thriftyhead!
Another week, and I need to sell some damn glass!
and its the worst time for diets during the year!!!! The holidays....wtf....candy......turkey.....ham....presents. I can't win. lol
Hello everyone! Happy Belated Halloween! Hopefully all went well, and the candy was delicious.
ersonally life was a bit difficult the passed month, and Halloween snuck up on me. Added my kids costumes kicked all over my ass and I was left with only enough time to throw on the Crow make up, my leather trench coat and Punisher shirt. WTF it came out great, and the make up I did for my midgets was amazing, compliments and people taking photos wherever we went. It makes me proud to see my artwork appreciated. Well hopefully life is great for everyone, I will blog more when I get the chance!!
My wonderful evil midgets of joy hell bent on taking over the world tested for their belts in Kenpo Karate last night and passed. They are half way to their children level black belts. I am very proud today, to proud to let financial woes and physical problems damper my mood.
Well, I ate too much yestrday, but there were fucking tamales, and that is like comfort food crack to me. Damn it. Also have to quit my MMA and karate classes for a while because I need the extra $$$ for bills and survival. That sucks because now that I have an injured foot I have to focus primarily on good ol dieting.....blech. On a good note my friend has loaned me an awesome torch for my glassblowing needs. And thats all for today, hope you have all had good luck and good times!!!!w
I severely need some help selling glass and just being a salesmen in general.
Not too great a day for me, the moods kinda going down like the checking account.
Some more of my glass blowing gone awry. This time my piggy banks!
These are all on Ebay right now.
Glow in the Dark Pig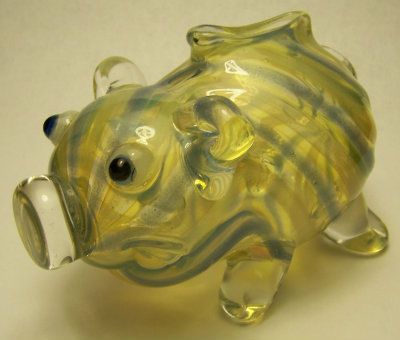 Inside Out Pig
Fumed Cobalt Pig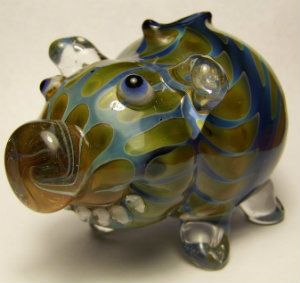 Wrap and Rake Black and Gold Pig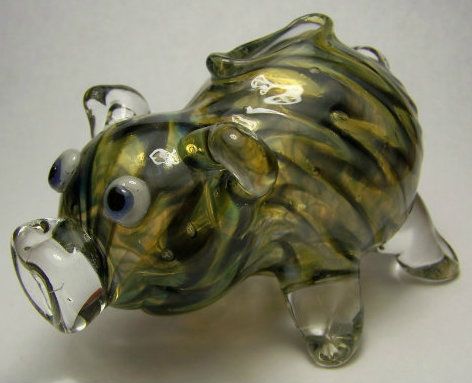 Wrap and Rake Red and Purple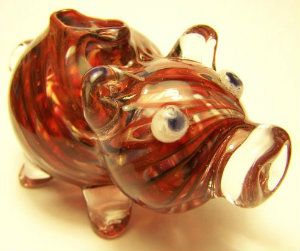 Blue Dashed Lines Pig
Some more of my glass work, the piggy banks. They are all listed on Ebay right now also.
to be posted